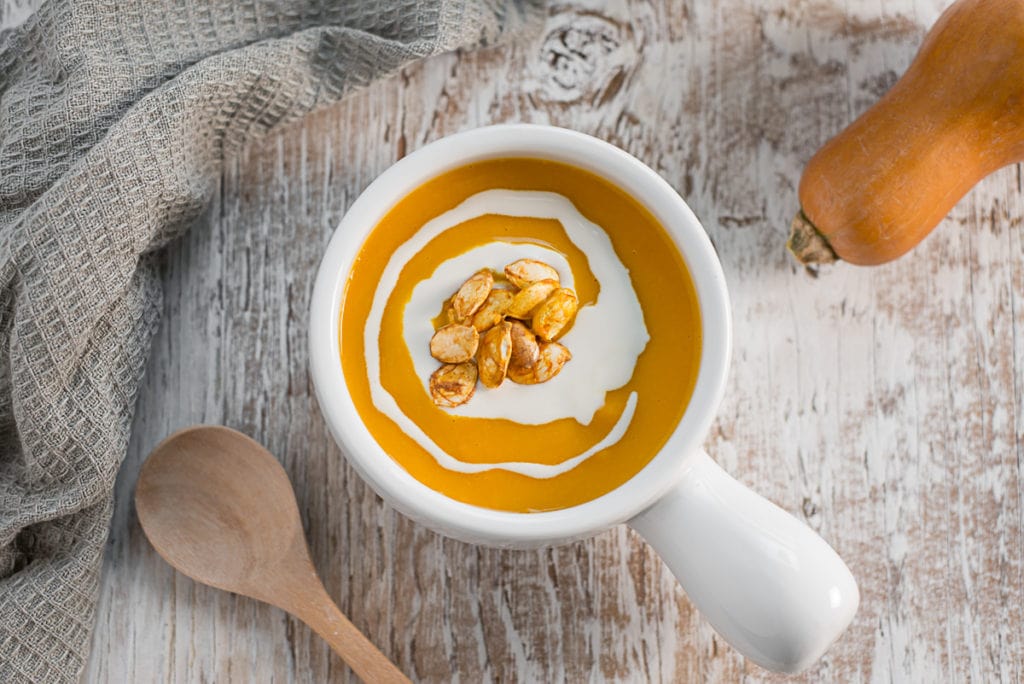 The winter has hit us hard and heavy already this year (here in Ontario at least), so you best believe I've been making a ton of soup!
Butternut Squash Soup is a favourite around here. It's one of those soups I just can't wait to have once autumn hits. I especially love when it's seasoned with some warming spices (like in this recipe), it makes the perfect remedy to warm the bones after a dreary autumn day, or after a fun day out in the snow!
Fun Fact - Squashes, gourds, pumpkins and melons all belong to the same family!
Three Reasons Why I love Butternut Squash
1. The Butternut is a winter squash, which means they are harvested in the fall but can be stored up to six months, just long enough to last through the winter.
2. Butternuts have a squashy flavour that's more on the mild side. It's not overpowering, making it the perfect match for soups, pasta dishes, salads and more!
3. Squash provides a hardy dose of anti-ageing and immune-supporting nutrients!
-Butternut squash is rich in carotenes, a powerful group of antioxidants which are protective against macular degeneration, heart disease, cancer and more. Carotenes also help to protect against the shrinking of the thymus gland (which happens due to stress and the natural ageing process). The thymus gland mediates many immune functions, which can be improved with adequate carotene intake.
-Beta-carotene specifically, can be converted to vitamin A, either in the small intestine or the liver (this process is helped by bile salts, fatty acids and other antioxidants). Vitamin A can help to prevent the signs of ageing as it stimulates the growth of skin cells and gives them their structural integrity.
-Butternut Squash is also a good source of Vitamin C, another powerful antioxidant, an essential nutrient for the adrenals to help combat stress and is needed for the production of collagen.
​
-Pantothenic Acid (vitamin B5) is another nutrient found in squash. B5 is known as the anti-stress vitamin as it increases the production of cortisone and other adrenal hormones, which can help to prevent signs of ageing as well as toxic effects from antibiotics and radiation. It is also known to help reduce the symptoms of many conditions including, arthritis, allergies and psoriasis.
-Last but not least, butternut squash is a good source of dietary fibre. Fibre plays an important role in our health, immune system and as we age, as it helps to keep the colon healthy and moving; ridding the body of toxins along with excess hormones and cholesterol.
How to store butternut squash
Choose a butternut squash that is firm and heavy for its size, also looking for a dull rind rather than shiny. The firmer and heavier they are, the more flavour they pack!
Watch out for any signs of mould or decay. They usually appear as a greyish-brown spot or a soft spot on the rind.
Store in a dark space (avoiding direct light), between 50 and 60 degrees F.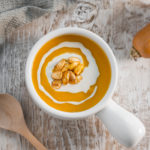 CREAMY VEGAN BUTTERNUT SQUASH SOUP
Cozy up with a bowl of this delightfully creamy & warming Butternut Squash Soup. Plant-Based & Gluten-Free
Print
Pin
Rate
Ingredients
1

medium-large

Butternut Squash

(or 2 small)

1

cup

Vegetable Broth

3

cups

Dairy Free Milk

(I like using Tigernut)

1-2

Garlic Cloves

(minced)

1

medium

Onion

(diced)

1

Apple

(cut into quarters)

2 - 3

tbsp

Olive / Avocado Oil

1

tsp

Himalayan / Sea Salt

½

tsp

Nutmeg

½

tsp

Cumin Powder

¼

tsp

Turmeric Powder

¼

tsp

dried coriander

Dash of

Cinnamon

Dash of

Pepper
Instructions
Using a peeler, remove the outer skin of the squash, then slice it in half, longways. Scoop out the seeds and guts with a spoon. Chop Squash into large 1-inch cubes.

Peel and core the apple, chop into quarters.

Place the squash cubes and apple on the baking sheet. Drizzle with 1 tbsp of avocado or olive oil, mix well making sure all the squash cubes are evenly coated.

Place in the oven and bake for 35-40 minutes or until juices begin to release and the squash is soft.

Once the squash is roasted, remove from the oven and set aside.

Coat the bottom of a large pot with the remaining 1-2 tbsp of avocado or olive oil. Turn the heat to medium-low, add onion and garlic, sauté for a few minutes or until onion is transparent and fragrant.

Stir in the squash and apple cubes, then pour in the vegetable broth and milk.

Cover and bring to a boil and then turn down the heat to low. Stir in the spices and salt. Cover and let simmer for about 15 minutes.

Remove from heat and remove the lid to allow the steam to release. Let cool for a few minutes before transferring to a blender. 

Once the soup is cool enough to handle, pour into a blender and blend on high until smooth (or alternatively blend everything right in the pot with an immersion blender).

If using a regular blender, pour back into pot and heat over low, if necessary.
Notes
Garnish with cashew sour cream and toasted squash or pumpkin seeds.