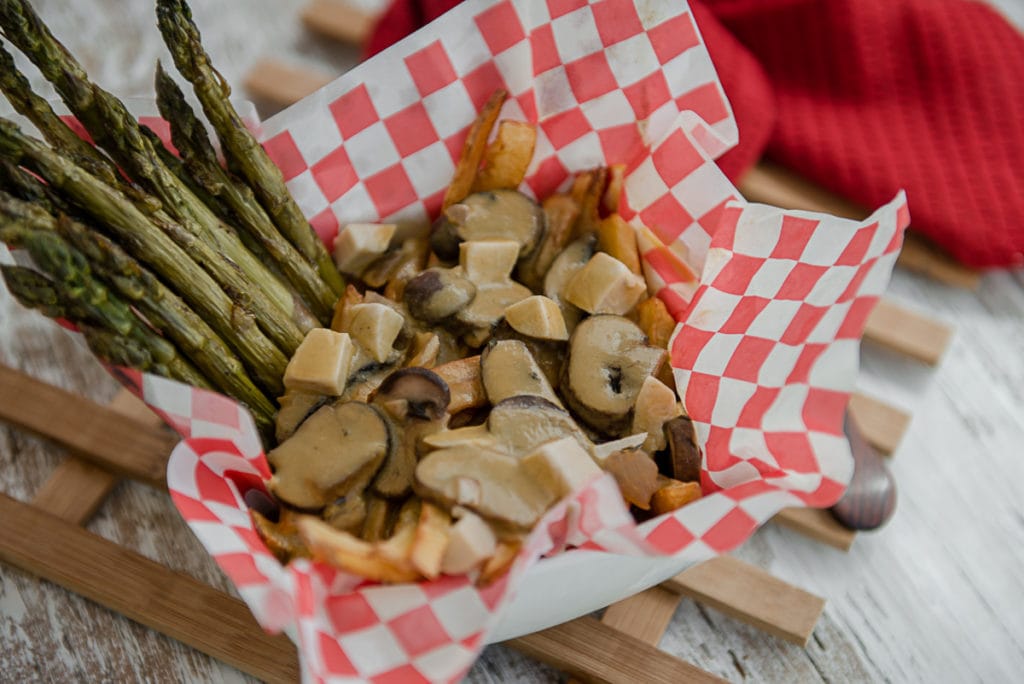 Eating healthy does not mean we have to stop eating the foods we love. In my opinion, it's actually healthier to indulge every so often rather than completely restricting ourselves. Food is one of the greatest pleasures in life, so I say, live a little and eat what you enjoy!
Even if a little indulgence here and there is A-okay, it is possible to make our guilty pleasures a little cleaner and a little easier on the bod. Creating healthier versions of the not-so-healthy dishes I craved is pretty much how I taught myself to cook after developing a plethora of food sensitivities. When there's a will, there's always a way!
This Canada Day long weekend, we indulged in the famous Canadian dish, poutine! We added some yummy roasted asparagus, Zengarry's Double Creme Cashew Cheese and the perfect mushroom gravy. This is seriously like heaven in a bowl!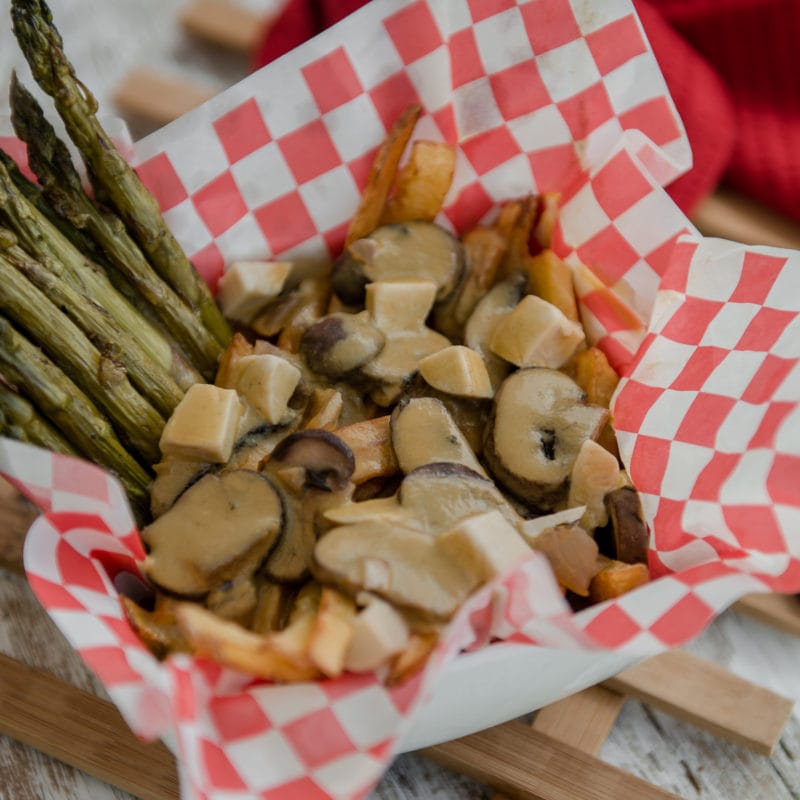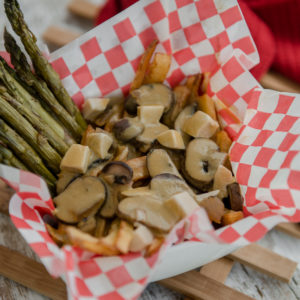 Vegan Poutine
No need to be afraid to delve into this delicious, healtified vegan poutine!
Pin Recipe
Rate Recipe
Ingredients
Asparagus
1

bunch

Asparagus

1

tablespoon

Avocado / Olive Oil

1

tablespoon

White Wine Vinegar

2

Garlic Cloves

Pinch

Himilayan / Sea Salt
Fries
4

Medium

Organic Russet Potatoes

1

cup

Avocado / Olive Oil

Pinch

Himalayan / Sea Salt
Musgroom Gravy
half

Medium Onion

(chopped)

2

heaping cups

Cremini Mushrooms

3

cups

Vegetables

1

cup

Water

3

tablespoon

Arrowroot Flour

2

tablespoon

Garlic

(minced)

1

tablespoon

Tamari / Coconut Aminos

½

teaspoon

Himalayan / Sea Salt

1

teaspoon

Dried Thyme
Instructions
Asparagus
Line Baking Sheet with unbleached parchment paper.

Place asparagus on a baking sheet and drizzle with oil and white wine vinegar.

Press garlic with the flat edge of a knife (to release the juices) and cut into chunks.

Sprinkle the garlic chunks over asparagus and place it into the oven.

Bake for 30 minutes, stirring or flipping the asparagus halfway.
Fries
Peel the potatoes (if they're not organic or if preferred, I left some skin on mine).

Slice the potatoes to your desired thickness.

Pour the oil in a large frying pan and heat over medium-high heat.

Add a handful of sliced potatoes, enough to fill the pan but leaving some space to flip them (you may need to do them in a few batches).

Fry the potatoes until they become golden brown or to your desired crispiness.

Remove from pan and allow to cool on a cooling rack (with a baking sheet underneath to catch the oil).
Mushroom Gravy
Heat oil in a medium saucepan.

Add onion, garlic, mushrooms, thyme and tamari/coconut aminos.

Simmer on medium-low heat until the mushrooms are tender and the onions become transparent. (If you would like whole mushroom and onion chunks in your gravy, remove half from the saucepan and place in a bowl at this point).

Add vegetable broth, water and arrowroot flour.

Bring to a low boil over medium-high (Too high of a heat will make the arrowroot lose its thickening ability).

Once it begins to bubble, turn the heat down to low and let simmer for about 5 minutes, stirring intermittently.

Remove from heat and let cool.

Once cool, add salt and blend until smooth.

If whole mushrooms were removed, stir them back in.
Nutrition
Calories:
826
kcal
|
Carbohydrates:
69
g
|
Protein:
12
g
|
Fat:
59
g
|
Saturated Fat:
7
g
|
Polyunsaturated Fat:
8
g
|
Monounsaturated Fat:
41
g
|
Sodium:
457
mg
|
Potassium:
1433
mg
|
Fiber:
11
g
|
Sugar:
4
g
|
Vitamin A:
7794
IU
|
Vitamin C:
34
mg
|
Calcium:
108
mg
|
Iron:
6
mg