Need a refreshing reset to your morning routine? Wake up to paradise in a cup with this Healthy Pineapple Smoothie! It's the perfect summer drink for your stay-cation or just the refresh your morning routine needs. This pineapple smoothie is dairy-free, contains no added sugar and is full of gut-loving and anti-inflammatory ingredients. It only takes a few minutes to whip up, and trust me, you will feel like you're sipping on a tropical smoothie by the ocean!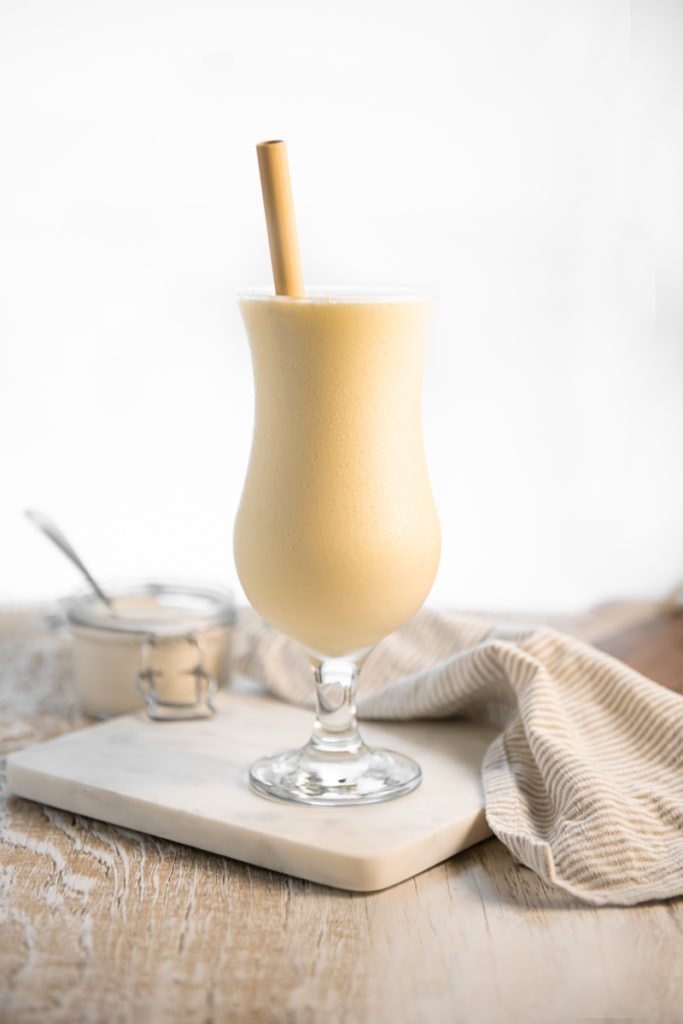 Not only is this pineapple smoothie over-the-moon delicious, it also offers some pretty amazing nutritional benefits. It's made with only a handful of ingredients, and it's even vegan to boot!
What Makes This Pineapple Smoothie Healthy?
This Healthy Pineapple Smoothie does get its name for a reason! First off, it's made with only four real-food ingredients - pineapple, banana, vegan cashew yogurt, and coconut milk. Secondly, it contains no added sugar or dairy and is full of fibre, along with the many nutrients all four ingredients provide.
Health Benefits of Pineapple
In addition to being a great source of dietary fibre, there are many other health benefits of pineapple. It's full of beneficial vitamins and minerals, including vitamin C, vitamin B1, copper and magnesium. But, that's not all! Pineapple contains a highly nutritional compound called Bromelain. This compound is made up of a group of enzymes that are a very effective aid for digestion. Bromelain is also a potent anti-inflammatory agent as it inhibits many different inflammatory actions throughout the body.
As well as the nutrients listed above, pineapple is also an excellent source of the trace mineral manganese. This mineral isn't often heard of, but it plays a very crucial role in our immune system. Not to mention, it's essential for healthy joints! Thanks to the pineapple, just one of these smoothies provides over 100% of the daily recommended value of manganese. A delightful way to get your daily dose in, I'd say!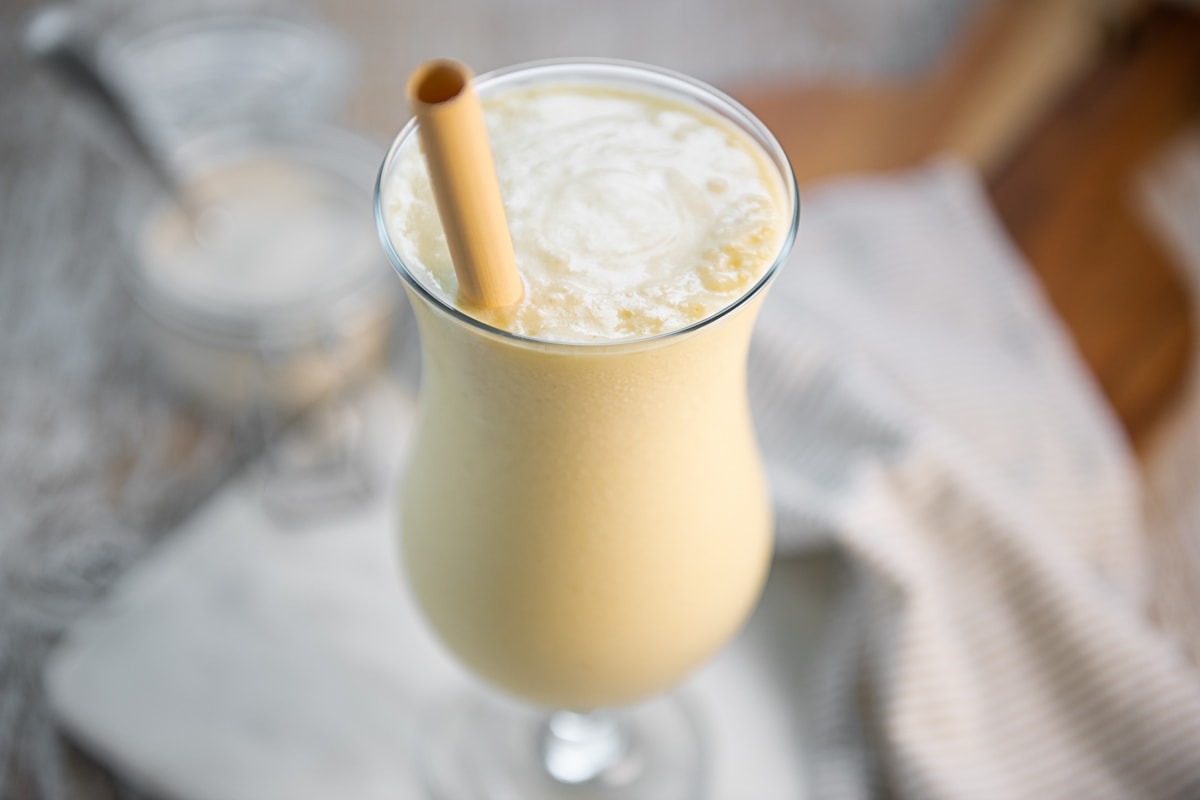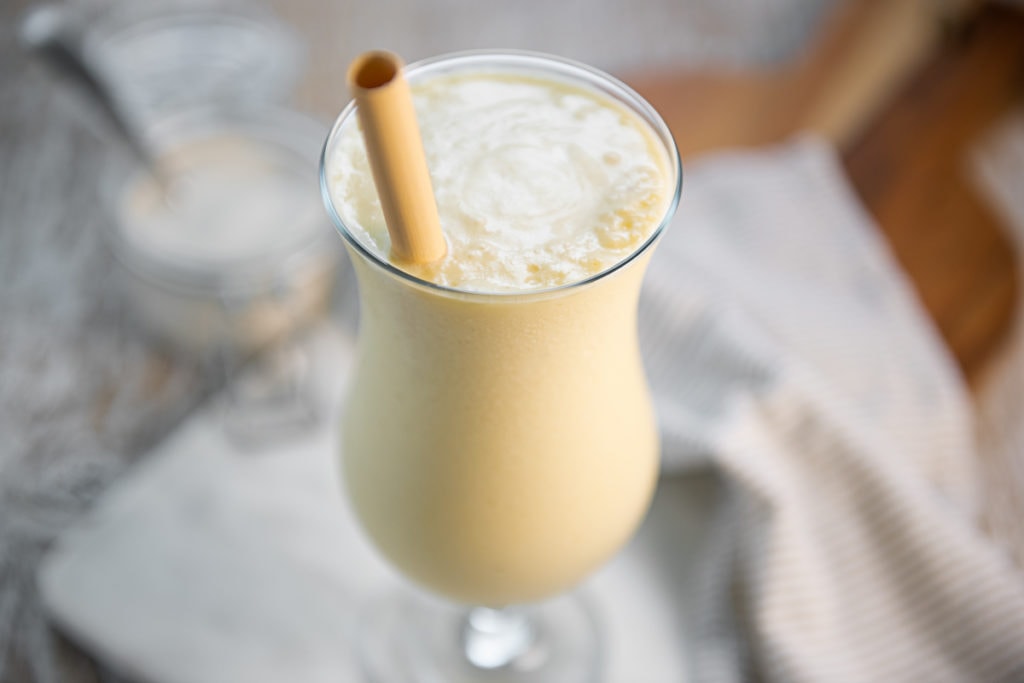 Health Benefits of Bananas
Most of us know that bananas are a great source of potassium. But, did you know they are also a great source of many other essential nutrients? In addition to blood-pressure regulating potassium, they are also rich in vitamin C, vitamin B6 and magnesium. Another great thing about bananas is that they're quite soothing to the gut! This is because of their high pectin content, a soluble fibre that has cholesterol-lowering and bowel normalizing effects.
Health Benefits of Cultured Yogurt
Cultured foods are a vital part of our diet that have sadly been phased out in the Standard American Diet. However, the good news is this crucial information is resurfacing, and it's becoming common knowledge just how beneficial properly (and naturally) fermented foods are for us. Believe it or not, we are more than 90% bacteria, and for the average weighing adult, the microbiome weighs around five pounds!
The bacteria we are essentially made up of plays a vital role in our immune regulation and digestion. It also plays a crucial role in the production of vitamins such as B12 and the synthesis of neurotransmitters such as serotonin. When our microbiome is out of balance, it can cause an array of health issues like depression, brain fog, anxiety, inflammation and much worse if it goes unchecked.
When we eat cultured foods such as yogurt, apple cider vinegar, kimchi, sauerkraut and kefir, we are basically populating our gut (and our entire microbiome) with many different strands of beneficial bacteria. A healthy microbiome contains many different strains of bacteria. And as mentioned above, a healthy microbiome means a healthy immune system!
Benefits of Coconut Milk
Along with the other ingredients in this tropical pineapple smoothie, coconuts are another nutritional powerhouse. They are a great source of medium-chain saturated fat, which is actually a beneficial fat! This type of fat raises HDL, the type of cholesterol we want to increase.
Like pineapples, coconuts are also a great source of manganese. Coconuts are rich in zinc and copper too! Not only does this smoothie provide the health benefits of pineapple, but the benefits and nutrients of the other three ingredients well.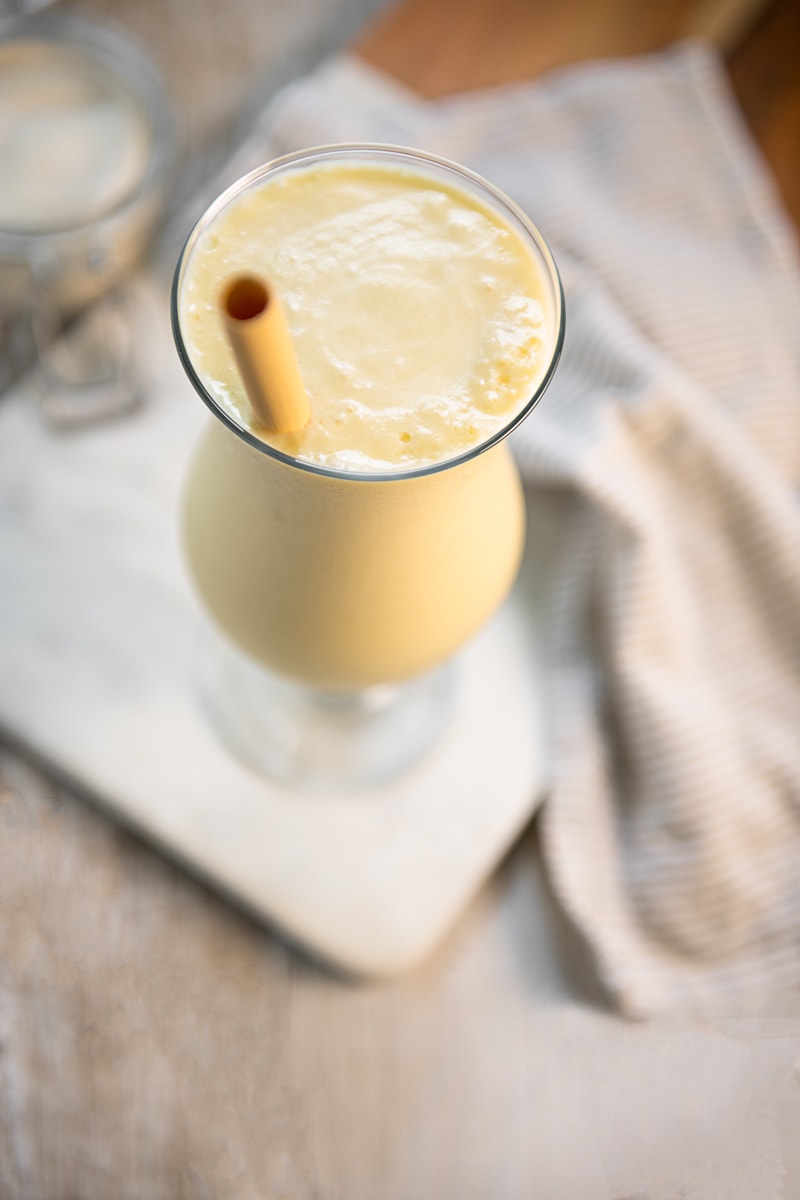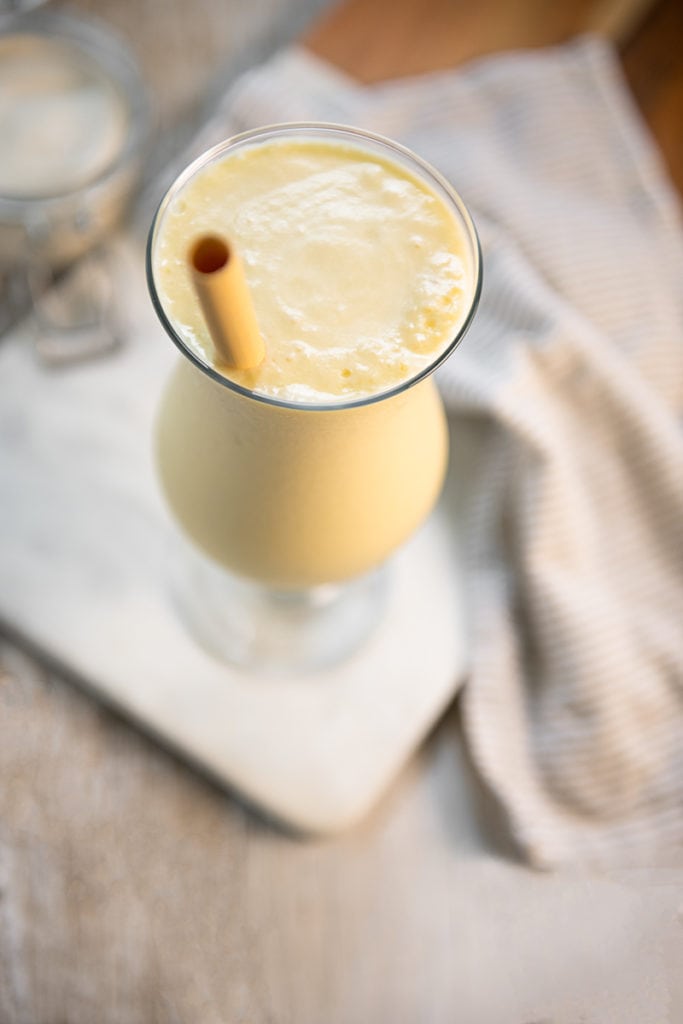 How to Make this Healthy Pineapple Smoothie
This pineapple smoothie recipe is incredibly quick and easy to make! All you need is a few minutes, all the ingredients and a blender.
First, toss all the ingredients into your blender, starting with the milk. Blend for about 30 seconds, or until there are no more chunks of banana or pineapple. Pour into your favourite fancy smoothie glass and enjoy!
More Smoothie Recipes To Try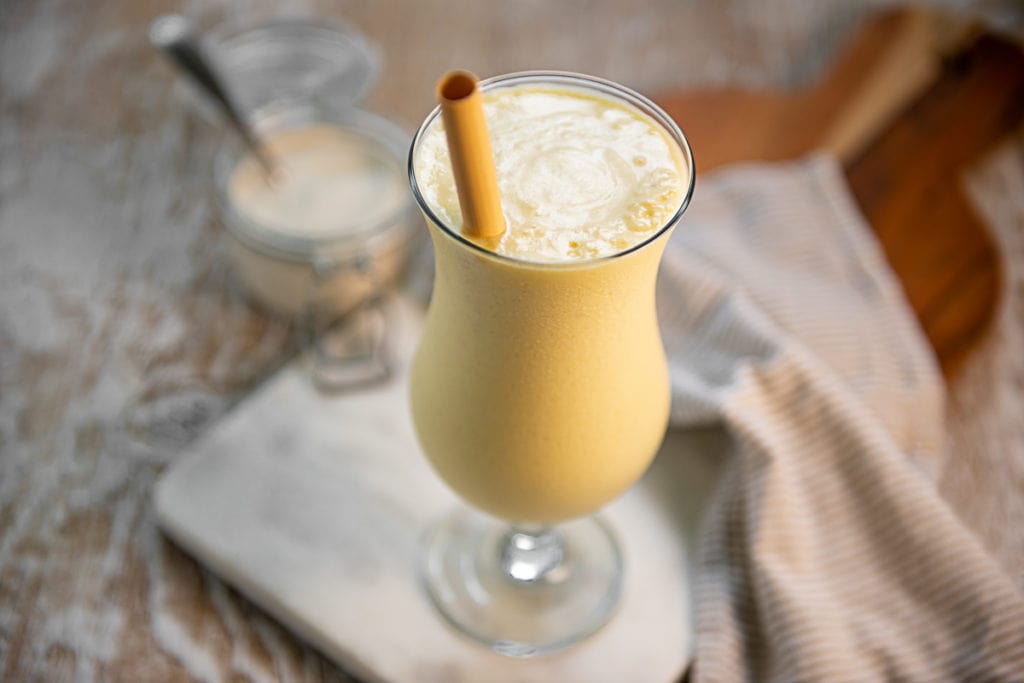 If you try this Healthy Pineapple Smoothie, let me know how it turns out by leaving a comment and/or a rating below! And make sure you're following along on Pinterest, Instagram and Facebook for more deliciously nutritious recipes!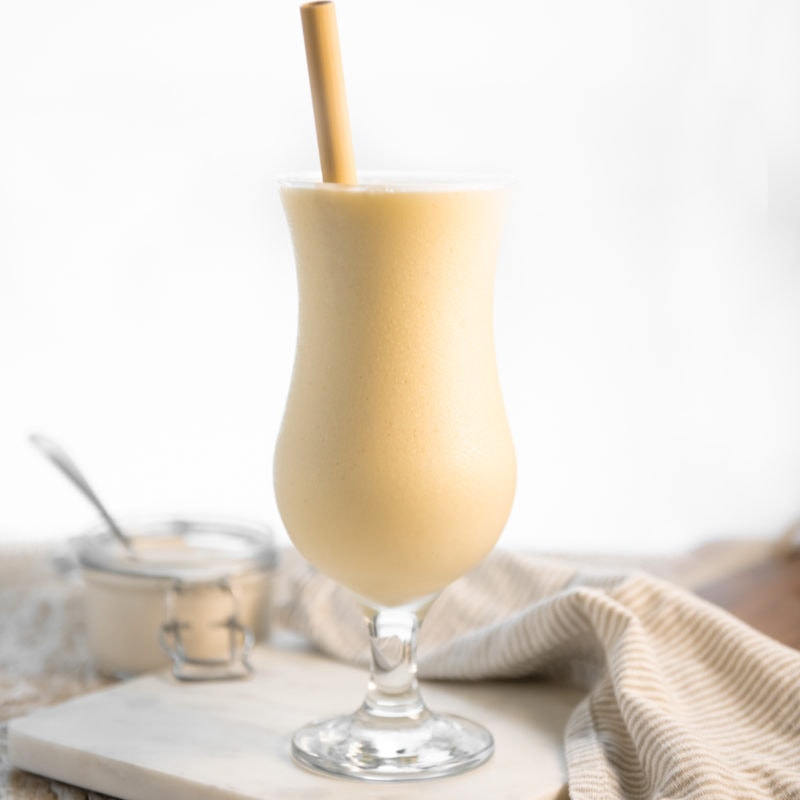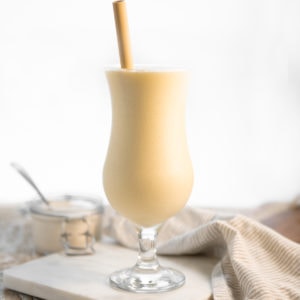 Healthy Pineapple Smoothie
A refreshing tropical smoothie that is gut-loving, nutrient-packed and divinely delicious!
Pin Recipe
Rate Recipe
Instructions
Toss all the ingredients in your blender, starting with the coconut milk. Blend for about 30 seconds, or until there are no more chunks of banana or pineapple. Pour into your favourite fancy smoothie glass and enjoy!
Notes
If you want to really feel like you're in the tropics, garnish with a slice of fresh pineapple!
---
*Nutritional calculations are an approximate estimate and will vary depending on ingredient substitutions.
Nutrition
Serving:
1
cup
|
Calories:
392
kcal
|
Carbohydrates:
36
g
|
Protein:
5
g
|
Fat:
29
g
|
Saturated Fat:
22
g
|
Polyunsaturated Fat:
1
g
|
Monounsaturated Fat:
3
g
|
Sodium:
18
mg
|
Potassium:
661
mg
|
Fiber:
4
g
|
Sugar:
20
g
|
Vitamin A:
110
IU
|
Vitamin C:
65
mg
|
Calcium:
43
mg
|
Iron:
5
mg