This Avocado and Moringa Green Smoothie is a simple and delicious way to kick-start the day! It's filled with fibre, antioxidants, good fats and many vitamins and minerals. It's also vegan, gluten-free and naturally sweetened.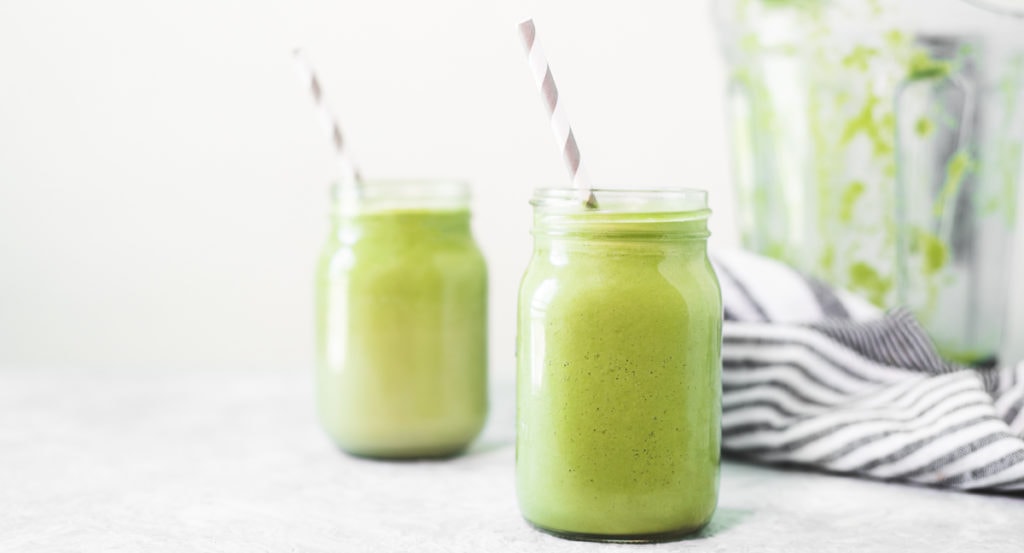 *Nutrition Disclaimer: Although Michelle holds certification in Holistic Nutrition, Yoga and Energy Medicine, the health, fitness and nutritional information provided on this site is designed for educational purposes only. You should not rely on this information as a substitute for, nor does it replace, professional medical advice, diagnosis, or treatment. Please read our disclaimers page for more information.
There's nothing like a nourishing green smoothie to give the body a little boost! This simple Moringa smoothie is quick and easy to make. Plus, its a nutritional powerhouse that'll fuel you for the for the morning. It's also great for nursing mothers!
If you've had Moringa before, you'll know it has a quite a distinct taste. It has a slight peppery flavour, and you only need a very small amount. Trust me, you don't want to add more than a teaspoon to your smoothie! You get a lot of bang for your buck with this superfood!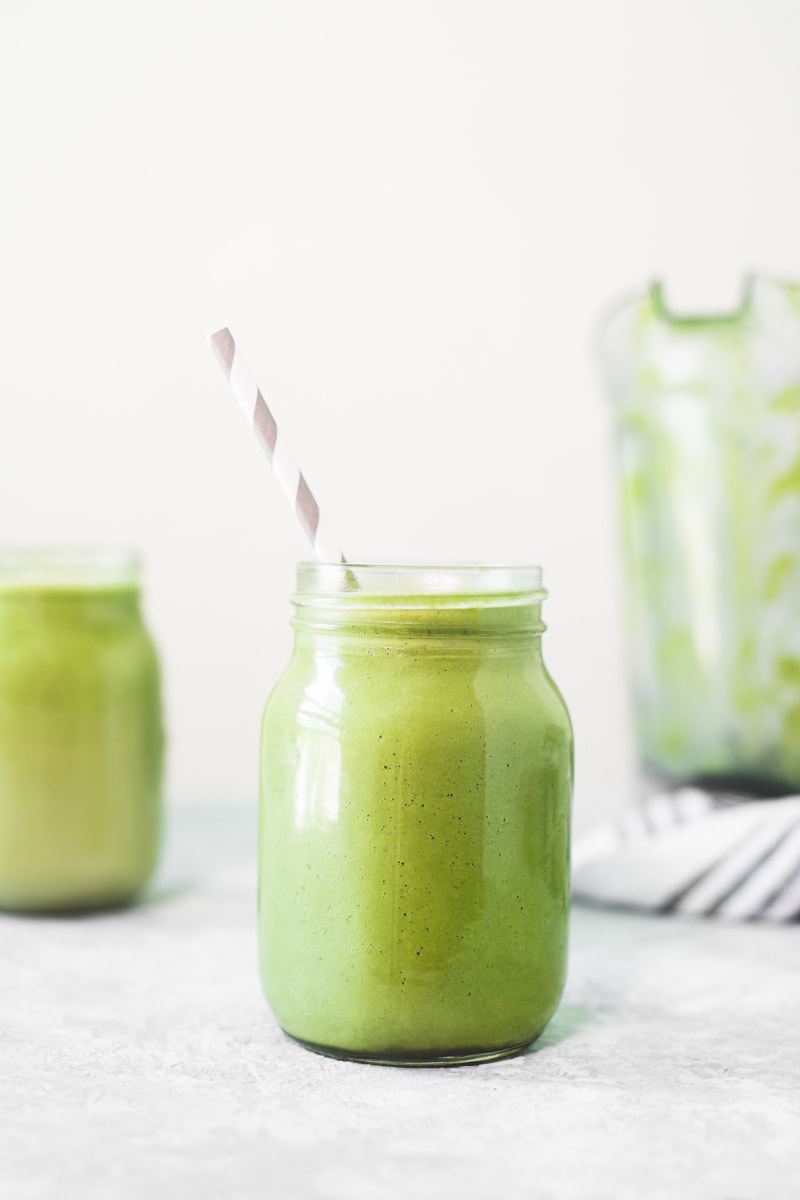 What is Moringa Powder
Moringa powder is derived from the leaves and seed pods of the Moringa Oleifera tree. Which, in fact, belongs to the brassica family. The Moringa Oleifera tree grows all over the subtropics but is native to the sub-Himalayas in northwest India.
The Moringa tree has rightfully gained the nickname 'miracle tree' by locals due to its plethora of health benefits and healing attributes. Moringa has been used for centuries to treat a wide array of ailments, from anxiety to skin and lung disorders, even blood impurities and anemia.
Health Benefits of Moringa
Superfood (Extremely Nutrient Dense)
Studies show that Moringa is one of the most nutrient-dense foods. It contains many vitamins and minerals in extremely high amounts. And research continues to find that Moringa possesses many healing properties. Some of these include anti-inflammatory, anti-tumour, anti-cancer, anti-microbial, antispasmodic, cholesterol-lowering, blood sugar balancing and very high antioxidant activity.
Galactagogue / Lactogenic
Moringa also contains lactogenic properties. Meaning it stimulates and increases the secretion of a mother's milk. It is a great natural remedy for mothers who have trouble producing enough milk for their little ones.
Rich in Antioxidants
As mentioned above, Moringa provides high antioxidant activity. This is due to the many different antioxidant compounds it contains. Possessing carotenoids, flavonoids, ascorbic acid, and polyphenols, Moringa is definitely a superfood when it comes to combating free radical damage.
Rich In Many Vitamins & Minerals
Much like all the different antioxidant compounds, Moringa contains an unusually high amount of vitamins and minerals. To name a few, it's rich in vitamin C, calcium, iron, potassium and beta-carotene. Moringa also contains many essential amino acids making it a great source of plant protein.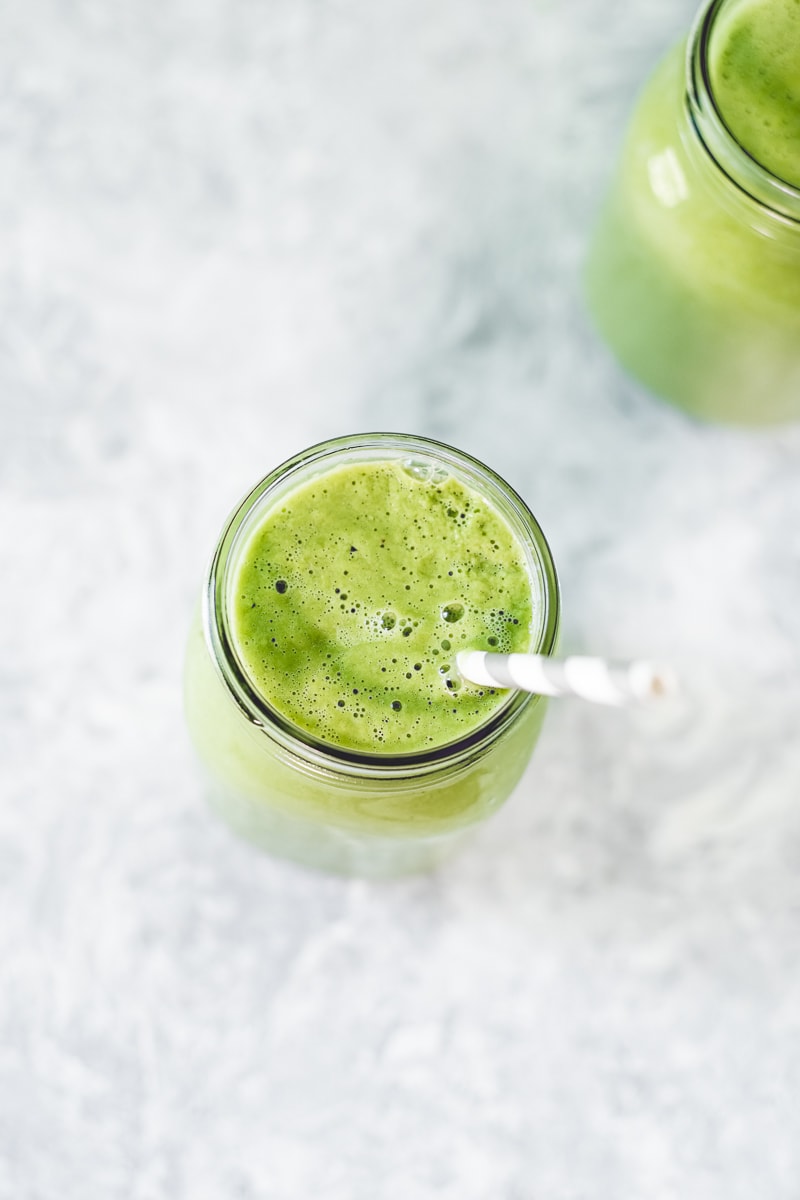 More Benefits of This Avocado & Moringa Green Smoothie
Contains healthy fats. Avocado is an excellent source of beneficial fats. It mainly contains health-promoting monounsaturated fats with smaller amounts of polyunsaturated and saturated fats. Avocados are also a great source of vitamin E!
Good source of fibre. Even though smoothies are all blended up, they still provide us with a decent amount of fibre. Both bananas and avocados are a great source. This smoothie provides a little more than one-fourth of our RDA (recommended daily allowance) of fibre intake.
High in vitamin C. Moringa leaves are especially known to contain a very high amount of vitamin C. According to the Asian Vegetable Research and Development Centre (AVRDC), just 100 grams of dried moringa leaf provides twelve times more vitamin C than an orange! And even though bananas are known for their high potassium content, it's almost forgotten that they too are a great source of vitamin C.
Rich in potassium. As mentioned above, bananas are known for their high potassium content. However, did you know avocados contain the potassium content of about two to three bananas combined? So, between the banana and avocado, this smoothie is loaded with potassium!
Satiating & filling. Thanks to healthy fats, carbs and protein, this green smoothie is satiating and filling.
How to Make A Moringa and Avocado Green Smoothie
Making this moringa and avocado green smoothie is incredibly simple!
What You Need
All you need is a blender, the ingredients (banana, avocado, moringa powder, vanilla extract, plant-based milk) and a cup to sip it out of!
Other Add-Ins
You can also add in other superfoods or supplements to your smoothie! Here's a list of some of my favourite things to add.
Collagen Powder
Chaga Powder
Reishi Powder
LionsMane Powder
Spinach
Dandelion Greens
Beet Greens
Hemp Hearts
Fermented Greens Powder
Making Your Avocado and Moringa Green Smoothie
Place two cups of non-dairy milk (I like using coconut, tigernut or oat), half an avocado, one banana and a handful of greens into a blender. Next, add a teaspoon pure vanilla extract and half to one teaspoon moringa powder. If you've never had Moringa before, go with half a teaspoon. Like I mentioned above, you don't want to add more than one teaspoon (unless you're tripling the batch). Moringa is a potent superfood, and you don't need much to reap its benefits. It also has quite a strong flavour that, if overdone, can cause a burning / acid-reflux-like sensation.
Once you've added all the ingredients to your blender, turn it up to a medium speed and blend until smooth. I find two cups of dairy-free milk is perfect for a nice thick smoothie, but if you prefer a thinner smoothie, you can add an extra half to one cup of milk.
I should also note, if you added extra powders, greens or hemp hearts, it might change the consistency. So, you may need to add a bit more milk to make it slurpable.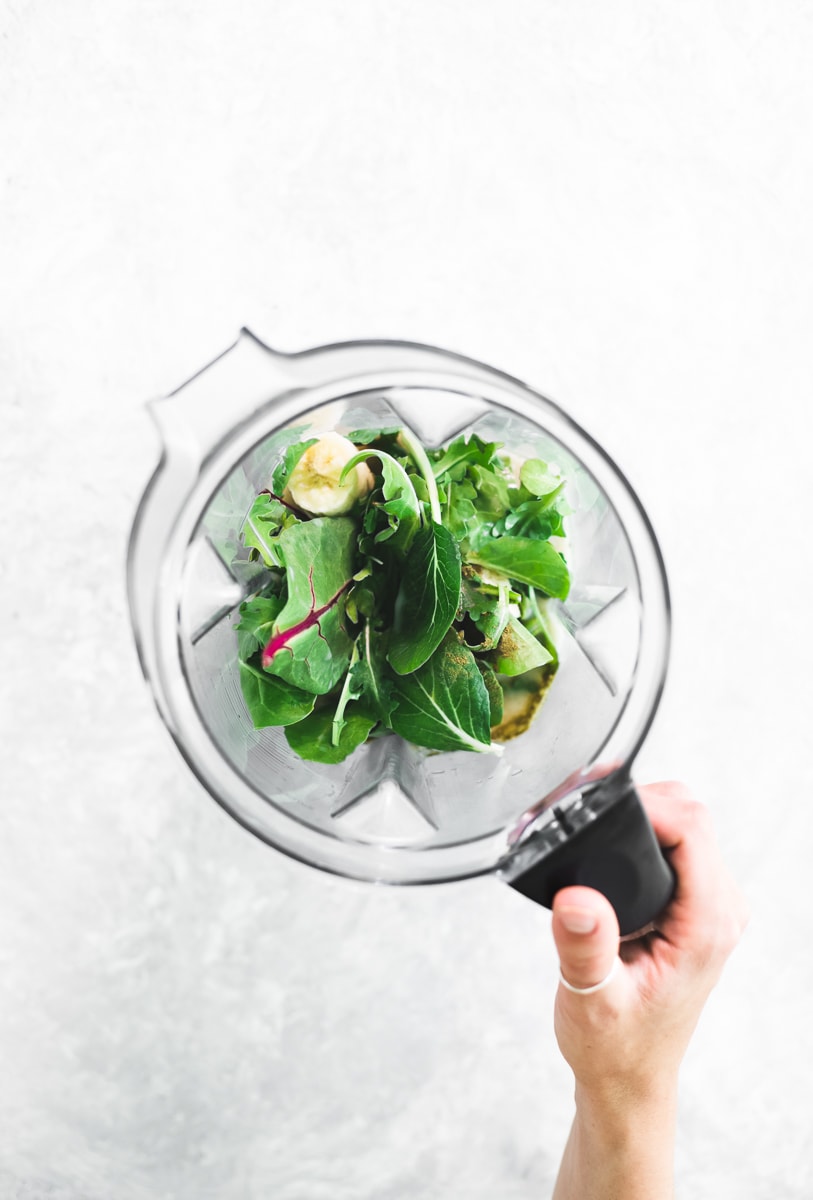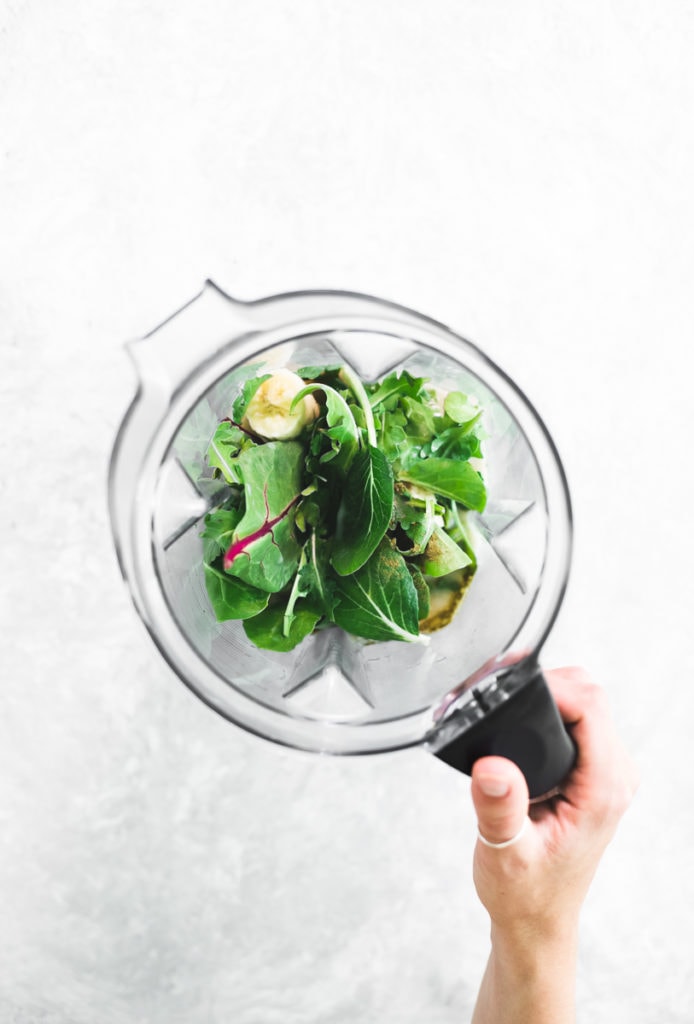 Turn It Into A Smoothie Bowl
As mentioned above, this is a pretty thick smoothie and can easily be enjoyed as a smoothie bowl! To do so, simply add less milk. I find one to one and a half cups of milk does the trick for a perfectly smooth, creamy and thick smoothie bowl!
Again, I should note, if you added extra goodies like hemp hearts or powders, you might need to add a little more milk.
Moringa & Avocado Smoothie Bowl Topping Ideas
If you decided to make an Avocado and Moringa Green Smoothie Bowl, you will 100% want to top it with some goodies! Here's a list of my favourite smoothie bowl toppings.
Toasted Coconut Flakes
Hemp Hearts
Dry Roasted Cashews
Pumpkin Seeds
Cacao Nibs
Shredded Dark Chocolate
Toasted Almonds
Sunflower Seeds
Fresh Berries
Banana Slices
Pineapple
Dried Cranberries
Pecans
Walnuts
Goji Berries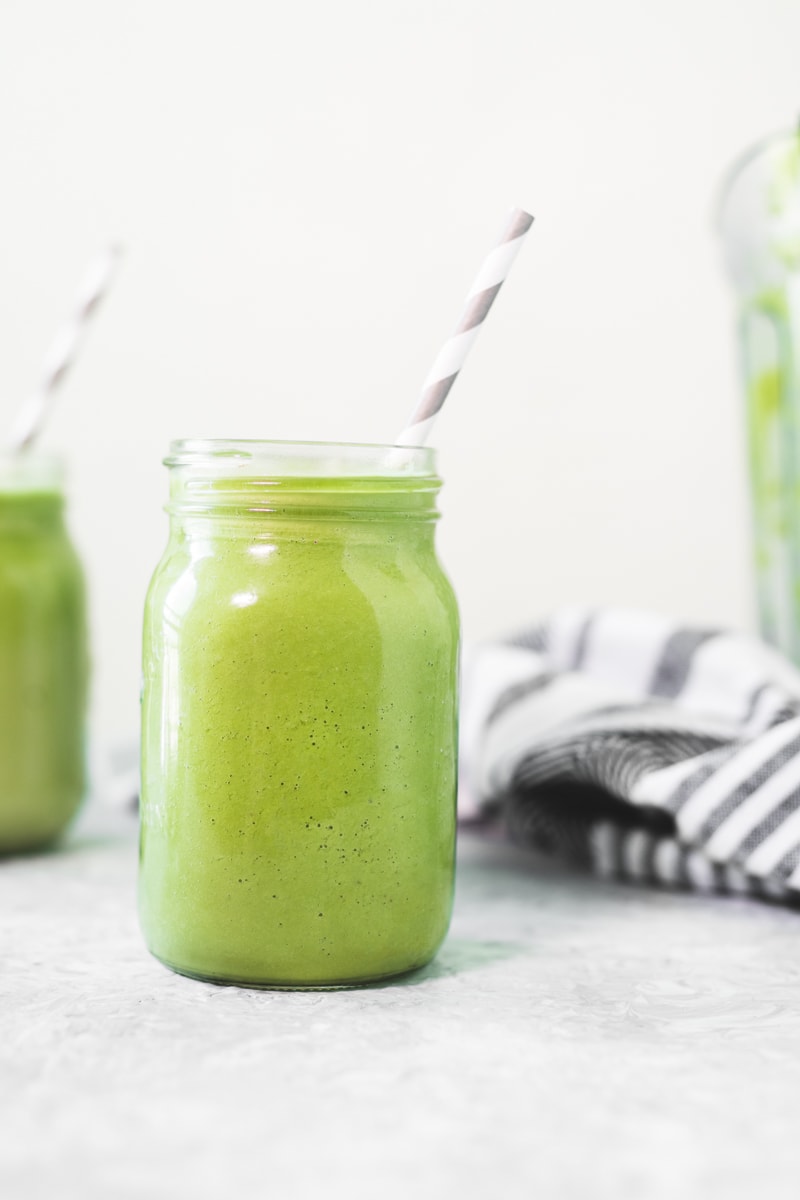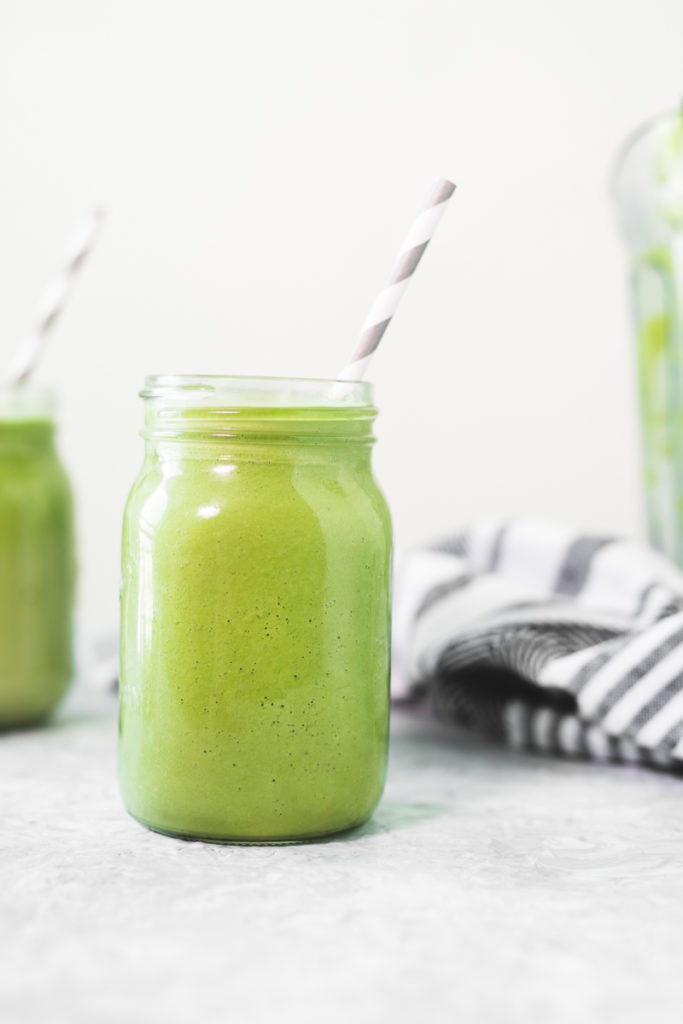 When to Enjoy This Moringa Smoothie
Spring & Summer
Moringa (and most smoothies) have a cooling effect on the body. So, this Moringa and Avocado Smoothie is best enjoyed in warmer temperatures or anytime you would benefit from cooling foods.
If you live somewhere tropical, smoothies are wonderful to enjoy all year round! However, if you live further away from the equator, it's best for most to avoid cooling foods during the winter months. The reason being, the body has to heat up cold foods before it can digest them. This takes much more energy to do in cold temperatures. However, if it's a must, it can help to add some warming spices, like in this Vanilla Spice Adaptogenic Smoothie.
Away from Other Foods
If you are struggling with digestion and following a food combining protocol, this smoothie is best enjoyed away from other foods (at least twenty minutes).
Fruit is generally best enjoyed on its own, and some say even avocado can hinder digestion when eaten with other foods. Of course, we are here to live and enjoy, so this is just a tip if you're looking for optimal digestion.
That being said, smoothies in general are easier to digest, and nutrients are more easily absorbed since everything is broken down into liquid form.
More Superfood Recipes You Might Enjoy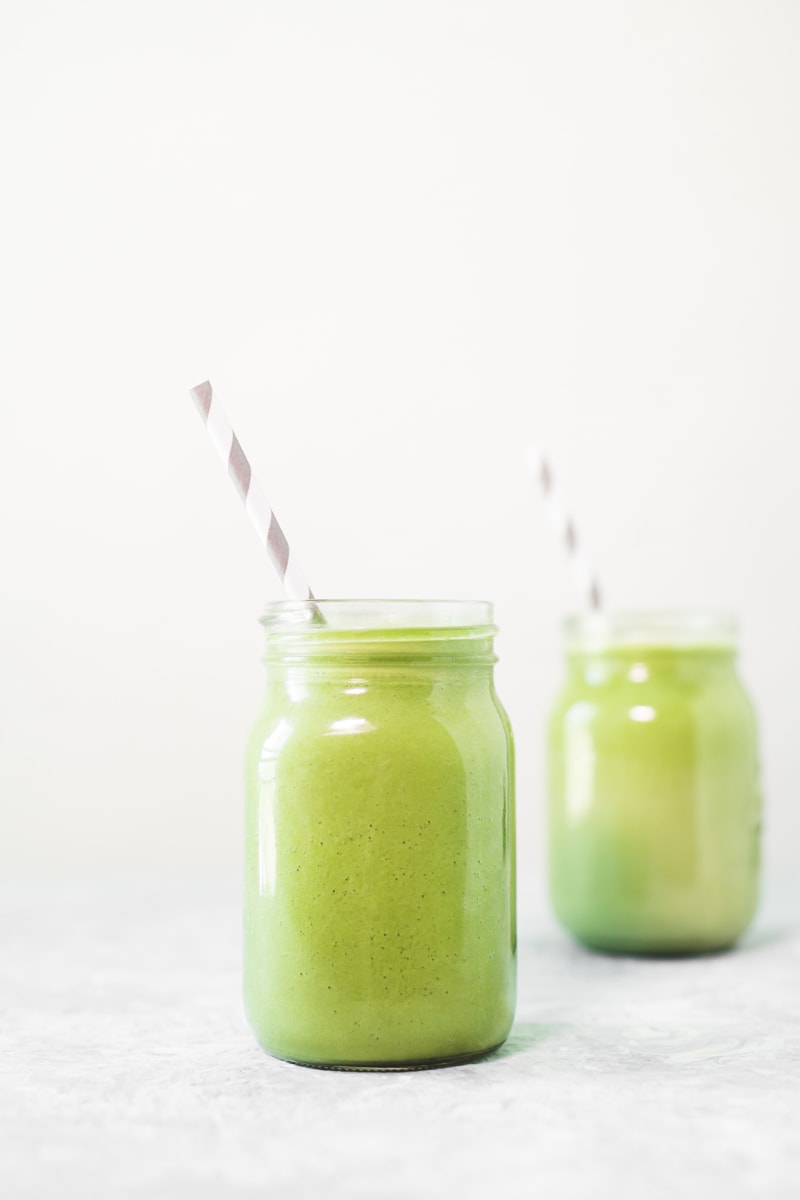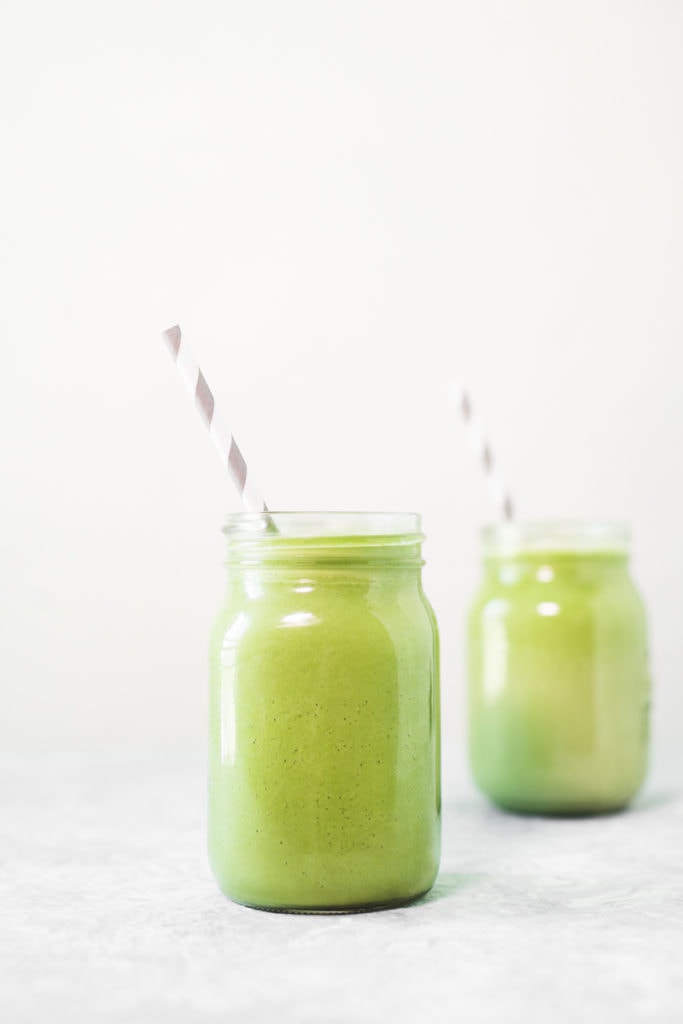 If you try this Avocado & Moringa Green Smoothie recipe, let me know how it turns out by leaving a comment and/or a rating below! And make sure you're following along on Pinterest, Instagram and Facebook for more wildly nutritious recipes!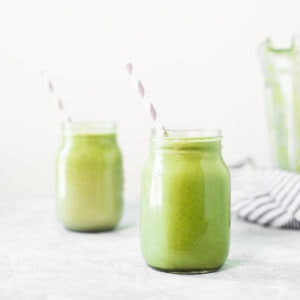 Avocado & Moringa Green Smoothie (Nutrient Rich, Lactogenic)
This Avocado & Moringa Green Smoothie is a delicious and nutrient-rich sip! Plus, its lactogenic properties make it perfect for nursing mothers.
Pin Recipe
Rate Recipe
Ingredients
1

Ripe Banana

½

Avocado

½ - 1

teaspoon

Moringa Powder

(*see notes)

1

teaspoon

Pure Vanilla Extract

1

handful

Fresh Greens

2

cups

Non-Dairy Milk
Instructions
Place the banana, half of an avocado, half to one teaspoon moringa powder (go with half a teaspoon if you've never had moringa before), one teaspoon vanilla extract, a handful of fresh greens and two cups of milk into your blender jug.

Blend on medium-high until smooth. This is a thicker smoothie so if you added extra goodies, you may need to add more milk.

Once everything is blended smoothly, pour into your favourite mason jar or smoothie cup and enjoy!
Notes
---
*If you've never had moringa before, I would suggest only using half a teaspoon. As mentioned in the post, you don't want to add more than one teaspoon (unless you're tripling the batch). Moringa is a potent superfood and you don't need much to reap its benefits. It also has quite a strong flavour that if overdone can cause a burning / acid-reflux-like sensation.
---
Easily turn this smoothie into a smoothie bowl by adding less milk! Using one to one and half cups (instead of two) will make a nice, thick Avocado and Moringa Smoothie bowl.
Nutrition
Serving:
1
cup
|
Calories:
172
kcal
|
Carbohydrates:
19
g
|
Protein:
7
g
|
Fat:
8
g
|
Saturated Fat:
1
g
|
Polyunsaturated Fat:
3
g
|
Monounsaturated Fat:
4
g
|
Sodium:
106
mg
|
Potassium:
586
mg
|
Fiber:
5
g
|
Sugar:
9
g
|
Vitamin A:
3514
IU
|
Vitamin C:
25
mg
|
Calcium:
277
mg
|
Iron:
2
mg
This post contains affiliate links where I may earn a small commission for purchases made through the links. I only recommend products and brands that I trust and use myself. All opinions and information provided have come from my own experience and research. Please read my full disclosure and privacy policy for more information.