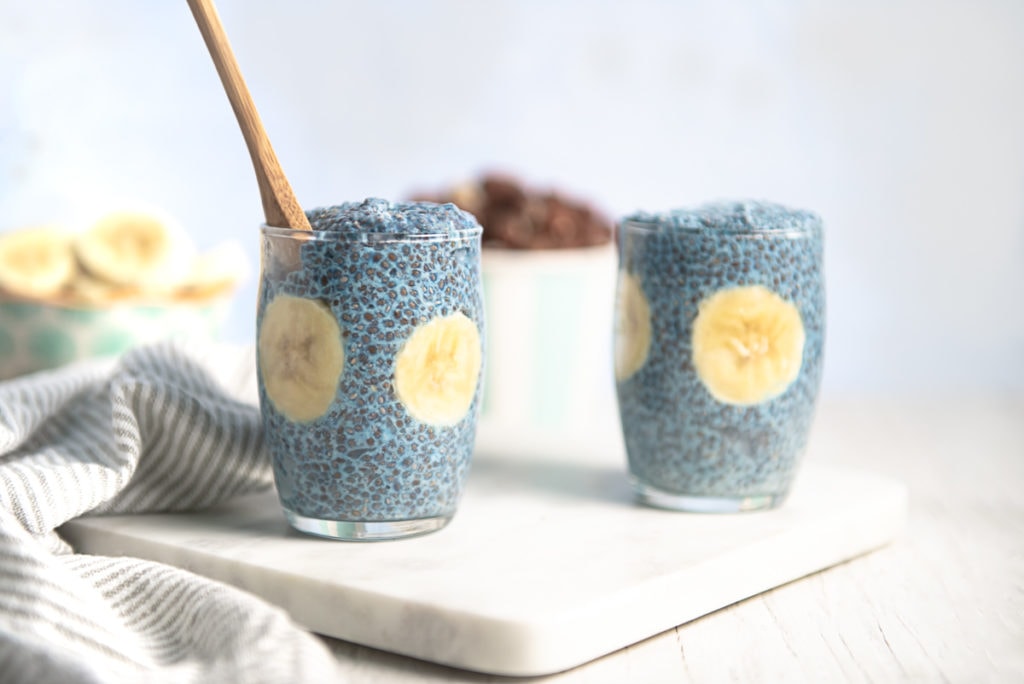 Today, we're jumping right on that chia seed pudding bandwagon!
If you're on the fence about trying it, I can assure you, you won't be disappointed. When I first saw chia pudding, I wasn't sure I was going to like it because I'm a big texture person. You know those yogurt cups with the mushy fruit at the bottom? Well, I would always gag when I got to the mushy fruit part. Don't get me wrong, I LOVE fruit in my yogurt and parfaits are one of my favourite breakfasts of all time, but I much prefer adding my own fresh fruit. I've just never been a fan of the slimey, chunky texture of fruit that's been sitting in my creamy yogurt or pudding. However, much to my surprise, I love chia pudding! The texture can take a little getting used to, but I can assure you, it's nothing like those gag-reflex triggering, mushy fruit yogurt cups!
This blue Majik chia pudding, in particular, is my personal fave. It tastes like a plain vanilla chia pudding, so it goes with any toppings, but it has a little extra nutritional punch using E3 Live's Blue Majik powder. Plus, it's just so magically beautiful to create!
Blue Majik is a proprietary extract of spirulina (a freshwater blue-green algae called Arthrospira Platensis). This vibrant blue powder not only makes deliciously beautiful blue creations but also offers many health benefits. First off, it's loaded with antioxidants. If you've been following along, you'll know I talk a lot about adding colourful foods into our diet. The more colourful the food, the more antioxidant activity it has (and we're, of course, talking real foods here, not the chemically coloured candy crap). Antioxidants protect us against free radical damage caused by oxidative stress. We encounter oxidative stress daily, as it naturally occurs in our bodies when we exercise, digest and get sun exposure. However, we are also bombarded with it from chemicals on our food, in our air, and not to mention the increasing amount of radiation we are exposed to through radio waves, wifi and cell phone use.
In all honesty, that would be enough to get me on board, but the benefits of this blue-green algae don't stop there! Blue Majik is also an excellent source of protein (making it a great addition to a plant-based diet). On top of that, it's packed with anti-inflammatory and anti-cancer properties! You literally can't lose with this stuff.​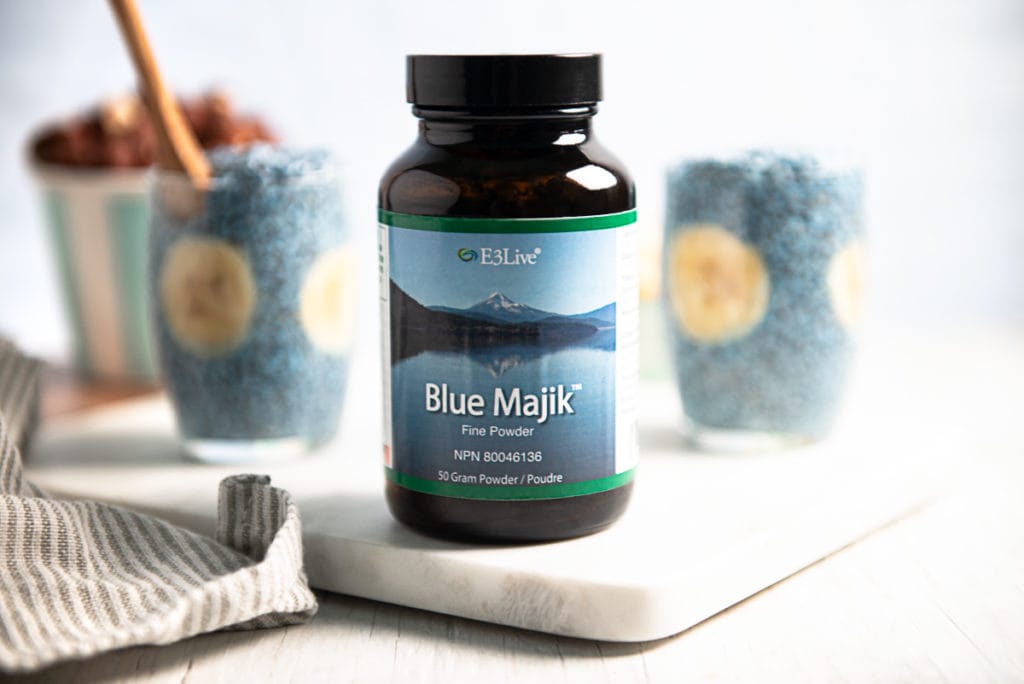 Chia seeds are also a powerhouse of nutrition. They too, are full of antioxidants and are a great source of protein. They are also an excellent source of Omega-3 fatty acids and an amazing source of fibre. They release a mucilage that protects the intestines while the seeds help to scrape out any stuck residue, a true colon cleanser! And did you know the ancient Aztecs consumed chia seeds as a dietary staple? Believe it or not, Chia is the Mayan term for "strength."
The true breakfast of champions, you could say.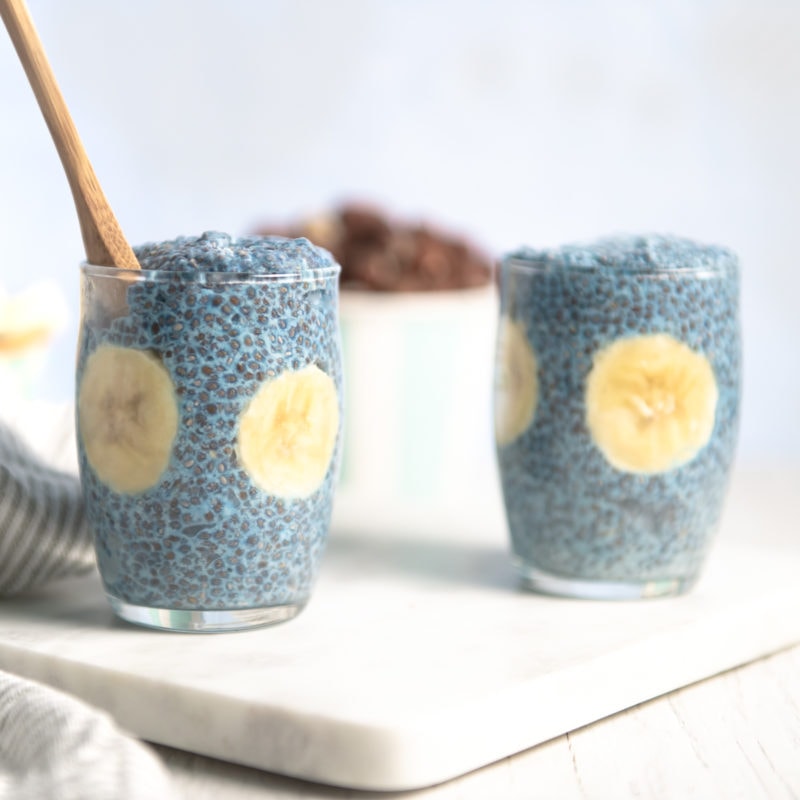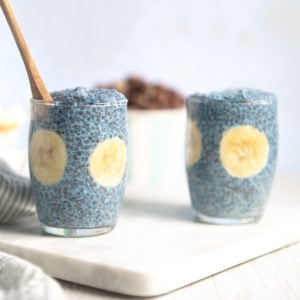 BLUE MAJIK CHIA PUDDING
A beautifully delicious blue chia pudding, featuring the nutrient-packed, spirulina extract, Blue Majik.
Pin Recipe
Rate Recipe
Ingredients
2

cups

Dairy-Free Milk

( I used Homemade Tigernut)

4

tablespoon

Chia Seeds

1

scoop

Blue Majik

1

teaspoon

Pure Vanilla Extract

1

tablespoon

Pure Maple Syrup
Instructions
Pour milk into a sealable jar, stir in the chia seeds, Blue Majik, maple syrup and vanilla extract.

Stir until the Blue Majik Powder is well blended, and the chia seeds begin to release enough mucilage that they begin to distribute evenly. (At first, some will sink to the bottom, and some will stay at the top, after stirring for a minute or two they will be begin spread out evenly.)

Once all the ingredients are mixed well, seal with a lid and place in the fridge to set for at least four hours.

Once your chia pudding is set, enjoy as is, or top with your favourite garnishes! Some of my faves are banana slices, shredded coconut, berries, hemp hearts, pumpkin seeds and cashew cream.​
Notes
Chia pudding will last up to three days in the fridge!
Nutrition
Serving:
1.25
cups
|
Calories:
256
kcal
|
Carbohydrates:
25
g
|
Protein:
11
g
|
Fat:
12
g
|
Saturated Fat:
1
g
|
Polyunsaturated Fat:
8
g
|
Monounsaturated Fat:
2
g
|
Trans Fat:
1
g
|
Sodium:
123
mg
|
Potassium:
456
mg
|
Fiber:
9
g
|
Sugar:
12
g
|
Vitamin A:
940
IU
|
Vitamin C:
17
mg
|
Calcium:
493
mg
|
Iron:
3
mg
This post contains affiliate links where I may earn a small commission for purchases made through the links. I only recommend products and brands that I trust and use myself. All opinions and information provided have come from my own experience and research. Please read my full disclosure and privacy policy for more information