This Clean Eating Broccoli Crack is gluten-free, dairy-free, vegan, and can be made nut-free. Not to mention, it's incredibly tasty!
If you've never tried Broccoli Crack (or Crack Broccoli), you're in for a treat!
This delicious baked broccoli makes a perfect side, salad topper or snack. With hints of lemon and a salty crunch, this stuff seriously hits the spot. It's so satisfying; it could quite possibly become an addiction (hence the name!). But, I guess if there's any addiction to have, it may as well be to something as nutritious as this!
Health Benefits of Broccoli
Broccoli is a surprisingly nutrient-dense food. It's an excellent source of vitamins C, K, A and folate. It's also rich in magnesium, phosphorous, and potassium. Not to mention, it's a great source of fibre and plant protein!
One great thing about broccoli is that, for the most part, cooking it increases its nutritional value. While the heat does cause a reduction in some vitamins and minerals, such as vitamin C, it does the reverse with other nutrients. Studies have shown that cooking broccoli increases the level of certain health-promoting antioxidants.
Broccoli, being a part of the Brassica family, contains goitrogens. These compounds inhibit the absorption of iodine. Which makes raw broccoli beneficial in the case of hyperthyroidism. However, in the case of hypothyroidism, these iodine blockers are not at all beneficial. Cooking broccoli (or any other brassica veg), deactivates the goitrogens, allowing proper iodine absorption.
More Clean Eating Recipes You Might Like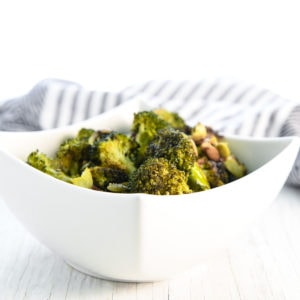 Clean Eating Broccoli Crack
Addictively delicious baked broccoli with a crispy lemon-garlic coating. Dairy-Free & Gluten-Free
Pin Recipe
Rate Recipe
Ingredients
2

heads

Broccoli

(chopped)

¼

cup

Avocado Oil

1

tablespoon

Apple Cider Vinegar

1

tablespoon

Nutritional Yeast

4

Cloves

Garlic

(minced)

1.5

teaspoon

Lemon Juice

(Freshly Squeezed)

1

tablespoon

Almond Flour

⅓ - 1

cup

Pumpkin Seeds

(or any other desired nut or seed)

½

teaspoon

Himalayan / Sea Salt
Instructions
In a large bowl, mix oil, vinegar, lemon juice, garlic, nutritional yeast and almond flour.

Once the mixture is well combined, add in the broccoli florets and toss until broccoli is evenly coated.

Pour onto a baking sheet and spread out evenly.

Place in the oven and bake for 10 minutes. Flip the broccoli and place back in the oven to bake for another 10 minutes.

Remove from the oven and serve warm.
Notes
Chopped almonds make a delcious topping in place of the pumpkin seeds. Mixed nuts and seeds are great option too!
---
This Broccoli Crack is also great grilled on the BBQ! Follow the same instructions, it may  just take a little longer on the grill.
Nutrition
Calories:
244
kcal
|
Carbohydrates:
17
g
|
Protein:
11
g
|
Fat:
17
g
|
Saturated Fat:
3
g
|
Polyunsaturated Fat:
4
g
|
Monounsaturated Fat:
9
g
|
Trans Fat:
1
g
|
Sodium:
262
mg
|
Potassium:
792
mg
|
Fiber:
7
g
|
Sugar:
4
g
|
Vitamin A:
1265
IU
|
Vitamin C:
182
mg
|
Calcium:
108
mg
|
Iron:
3
mg