This Cinnamon Berry & Beetroot Smoothie Bowl is exploding with flavour, rich in antioxidants, a great source of fibre and many other health-promoting nutrients.

*Nutrition Disclaimer: The information provided on this site is designed for educational purposes only. You should not rely on this information as a substitute for, nor does it replace professional medical advice, diagnosis, or treatment. Please read our disclaimers page for more information.
If you're on the fence about beet smoothies and smoothie bowls, you have to give it a try before you knock it! Despite their earthy flavour, beets are actually quite sweet. And chances are, you've had beet sugar without even knowing it!
Now, the trick to beet smoothies and smoothie bowls is RAW beets. Cooking, blending or juicing beets makes them a whole lot sweeter. So, roasted beets then blended in a smoothie is way too much sweetness (and not in a good way).
You might be wondering whether beet smoothie bowls are actually healthy, given all that sweetness. And you might be surprised to know they contain blood sugar-balancing properties. However, that's not all! Beets are full of nutrients and health-promoting properties.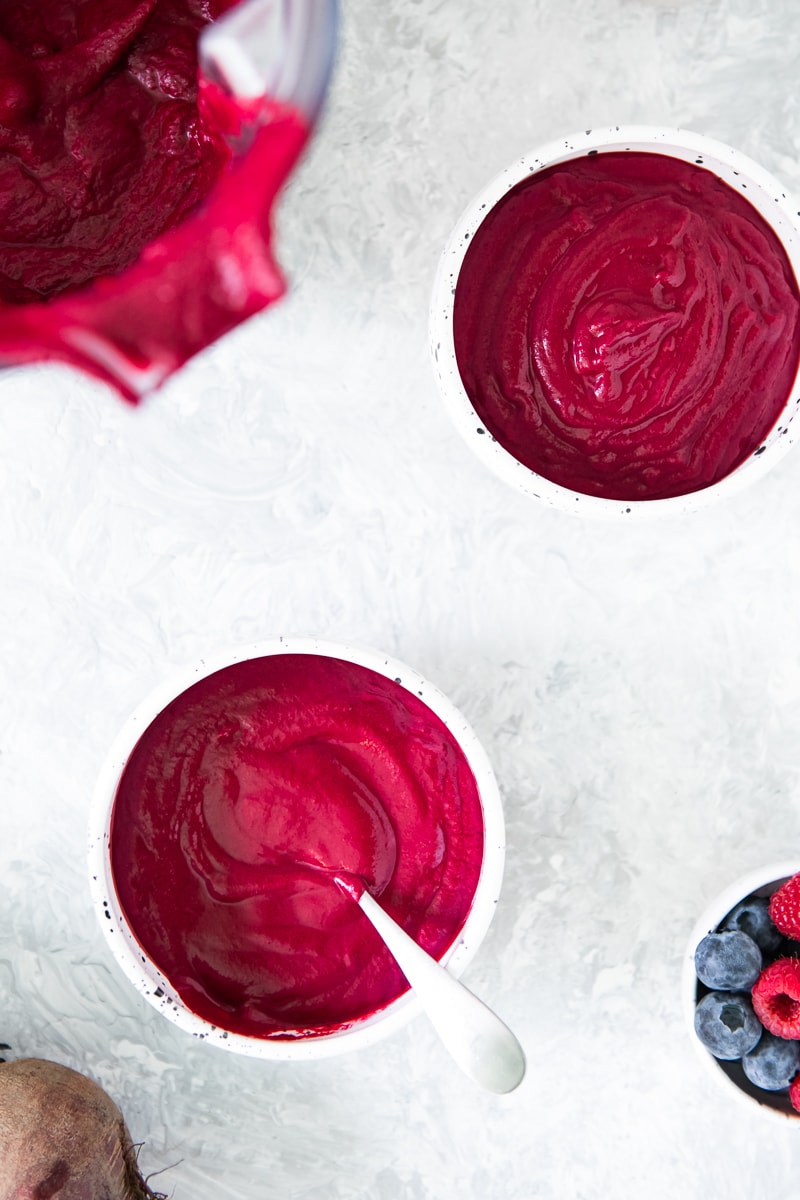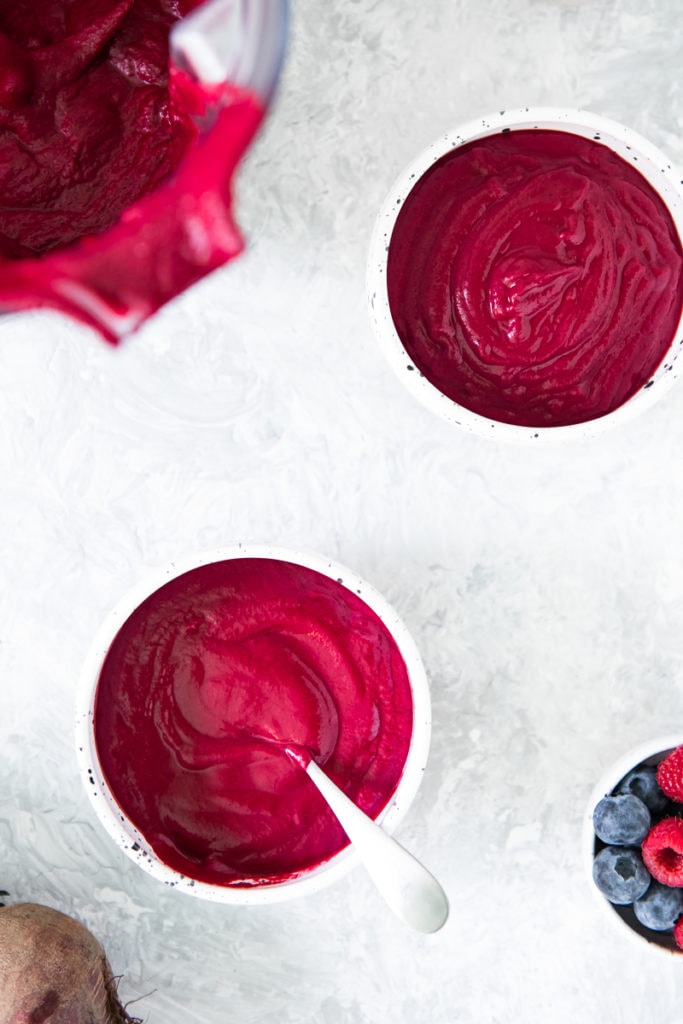 Health Benefits of Beets
As mentioned above, beets are bursting with health-promoting properties and have been used as a nutritious staple for centuries. but let's not BEET around the bush (sorry, I couldn't resist!)
Beneficial to Liver Health
One big benefit of beets is that they are a great detoxifier! They contain protective properties that stimulate the liver's detoxification process. Their high fibre content also helps rid the body of toxins and excess hormones.
Source of Antioxidants
We all know colourful foods are high in antioxidants. So, of course, beets are no exception. Their deep red colour means they are a potent source of antioxidant power! Beets are especially high in the antioxidant betacyanin, which studies show has a highly beneficial effect on colon health (more on that below).
Blood Sugar & Cholesterol Lowering Properties
Despite beets being pretty high on the glycemic index, they actually have a balancing effect on blood sugar levels. This is due to their make-up of high fibre, certain vitamins, minerals and other compounds. Beet fibre is also found to have a positive effect when it comes to lowering cholesterol levels.
Source of Vitamins & Minerals
Another reason beets are so nutritious is that they are a great source of many vitamins and minerals. Beetroots are high in folic acid, manganese and potassium. However, never throw away those beet greens! Beet greens are an excellent course of vitamin A, vitamin C, calcium and iron.
All in all, I think it's safe to say, beet smoothies and smoothie bowls are a healthy choice!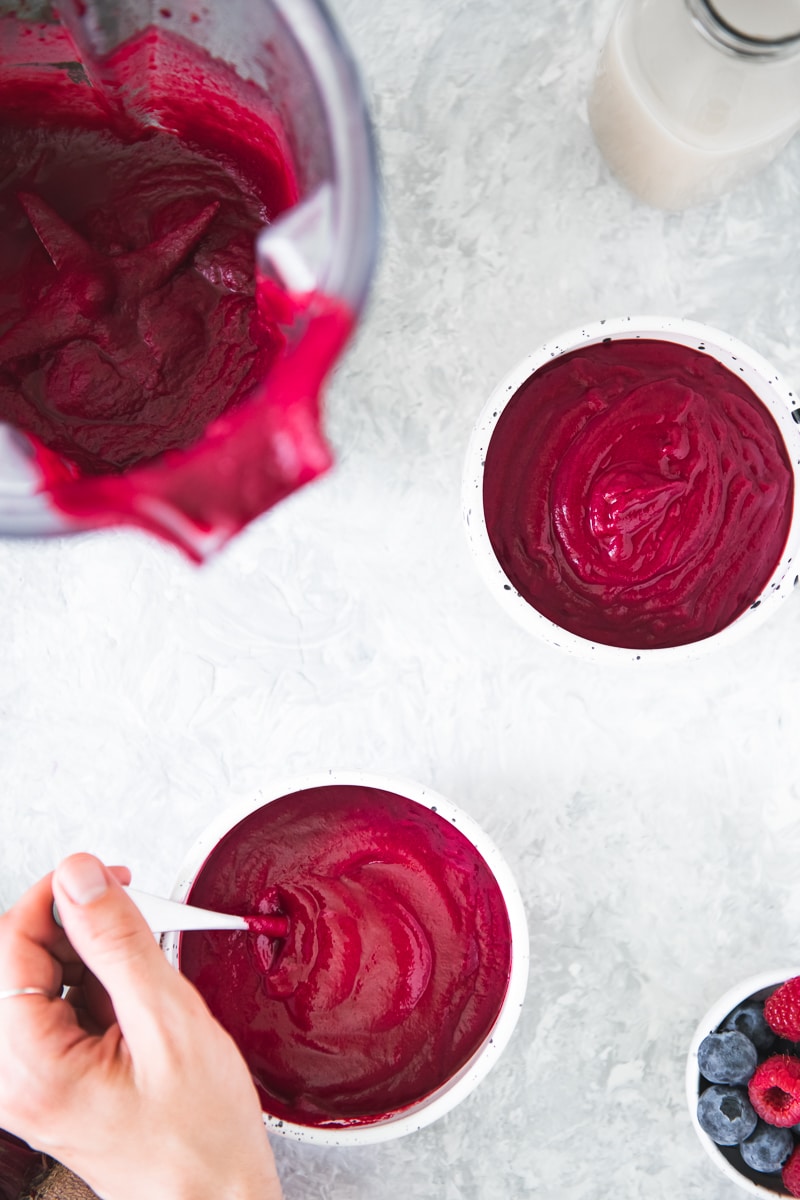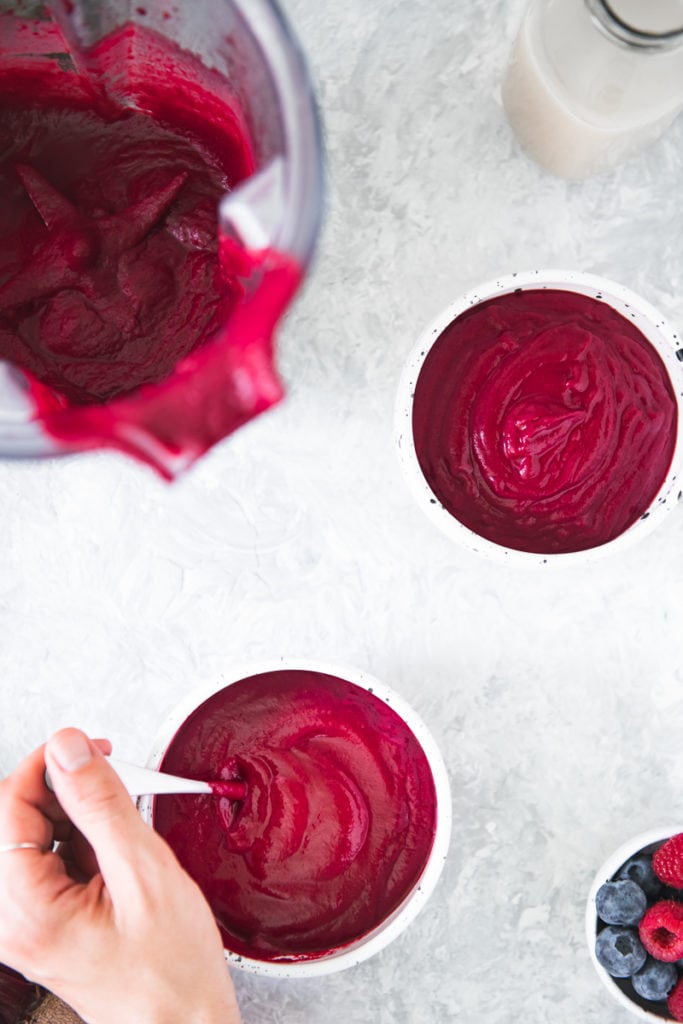 How to Make A Cinnamon Berry & Beetroot Smoothie Bowl
Alright, since you now know all about the nutritional goodness, here's a little more about this delicious, vegan Cinnamon Berry & Beetroot Smoothie Bowl!
This healthy smoothie bowl is both easy and versatile. To start, you can use fresh or frozen berries, plus you can use mixed berries or just your favourite! Not to mention, you can use any milk of your choice. However, it turns out exceptionally well with homemade tigernut or coconut milk.
Peel & Chop the Beet
The first step in making this delicious vegan berry and beet smoothie bowl is to peel and chop your beet. You'll need one medium-sized beet or two small. You can chop the beet into cubes or large chunks. It doesn't really matter the size, just as long as your blender can handle them.
Add Ingredients to Blender
Now, all you have to do is add everything into your blender. Some say, it's easier on the blender to add the liquid first. But, you know your equipment best, so add the beets, berries, banana, avocado, cinnamon, superfood powder and plant-based milk in your desired order.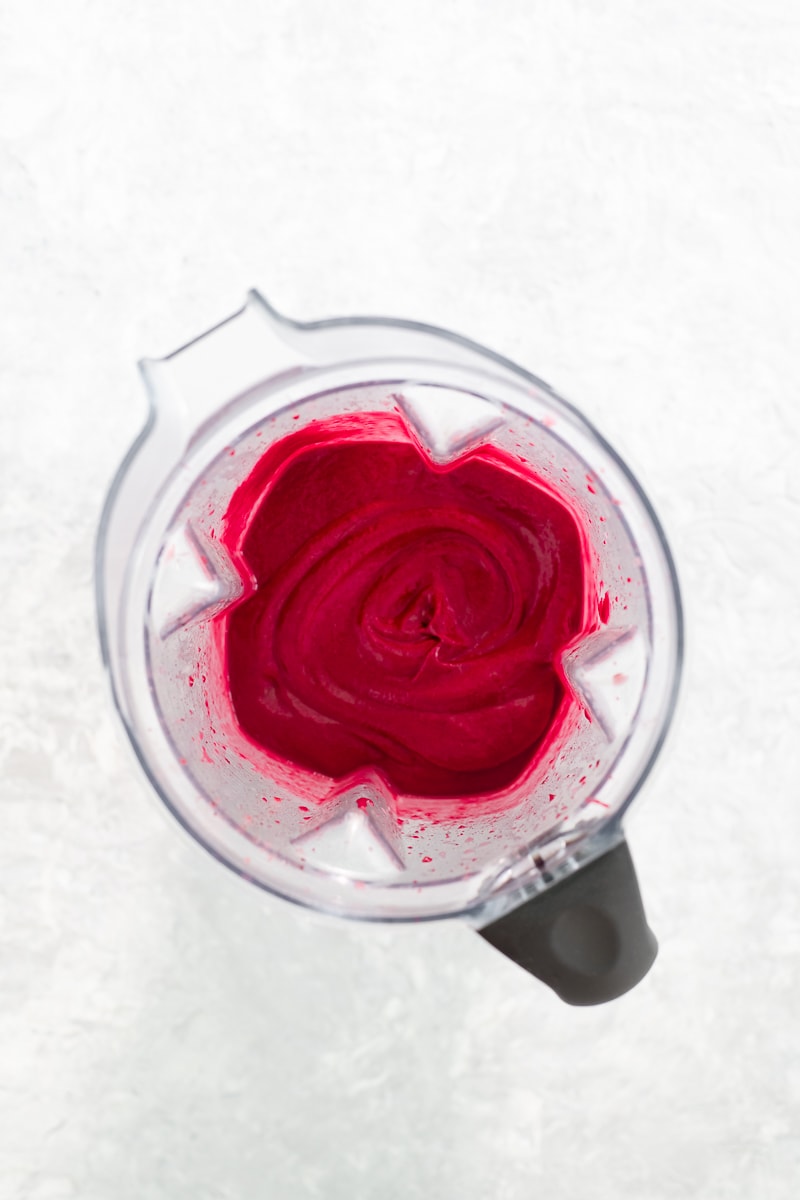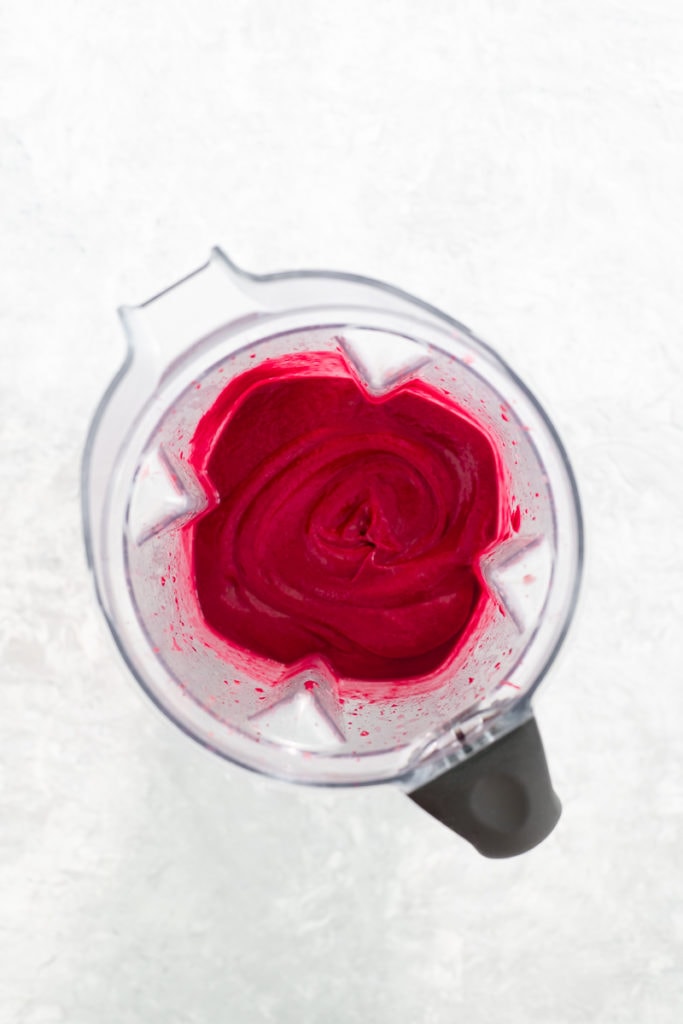 Blend Until Smooth
Next, turn your blender on and increase speed to medium or medium-high and blend until smooth. It shouldn't take more than 45 seconds, and you definitely don't want your beet smoothie getting warm! This smoothie bowl isn't overly thick, so it should blend up nicely. However, you can always use the tamper (if your blender has one) if needed.
Pour & Serve
Once your vegan beetroot smoothie bowl is nice and smooth, pour into serving bowls, a container for later, or a cup if you turned into a sippable smoothie!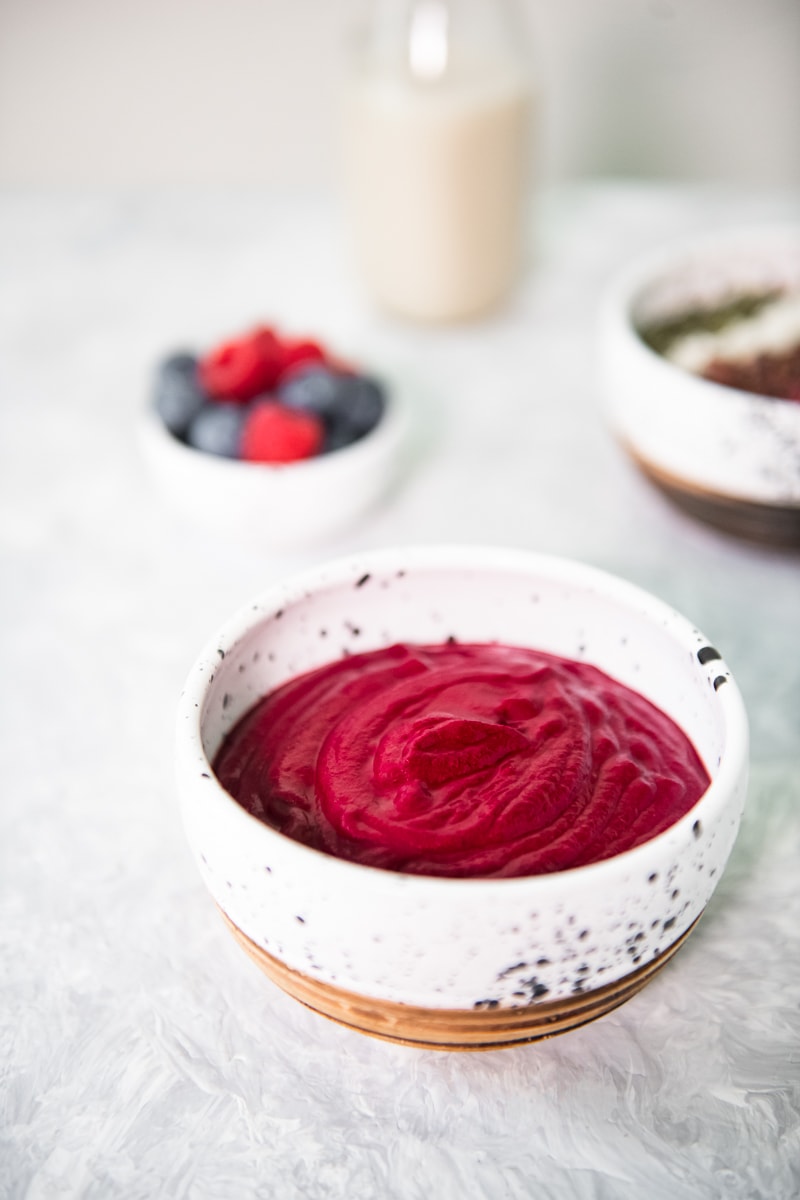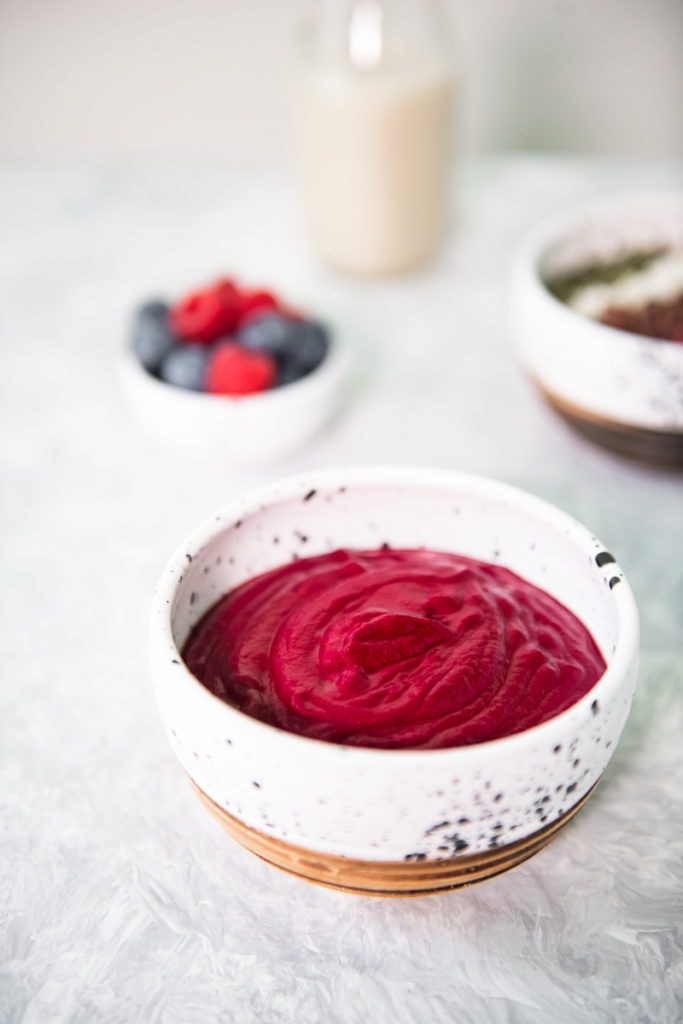 Top With Your Favourite Toppings
There are so many options for smoothie bowl toppings! Here's a convenient list of some of my faves.
Cacao Nibs
Coconut Shreds or Flakes
Chopped Pistachios
Crunchy Granola
Hemp Hearts
Pumpkin Seeds
Sunflower Seeds
Fresh Berries
Banana Slices (dried or fresh)
Dried Fruits
Toasted Cashews
Toasted Almonds
Walnuts
Pecans
(Pretty much any nut or seed!)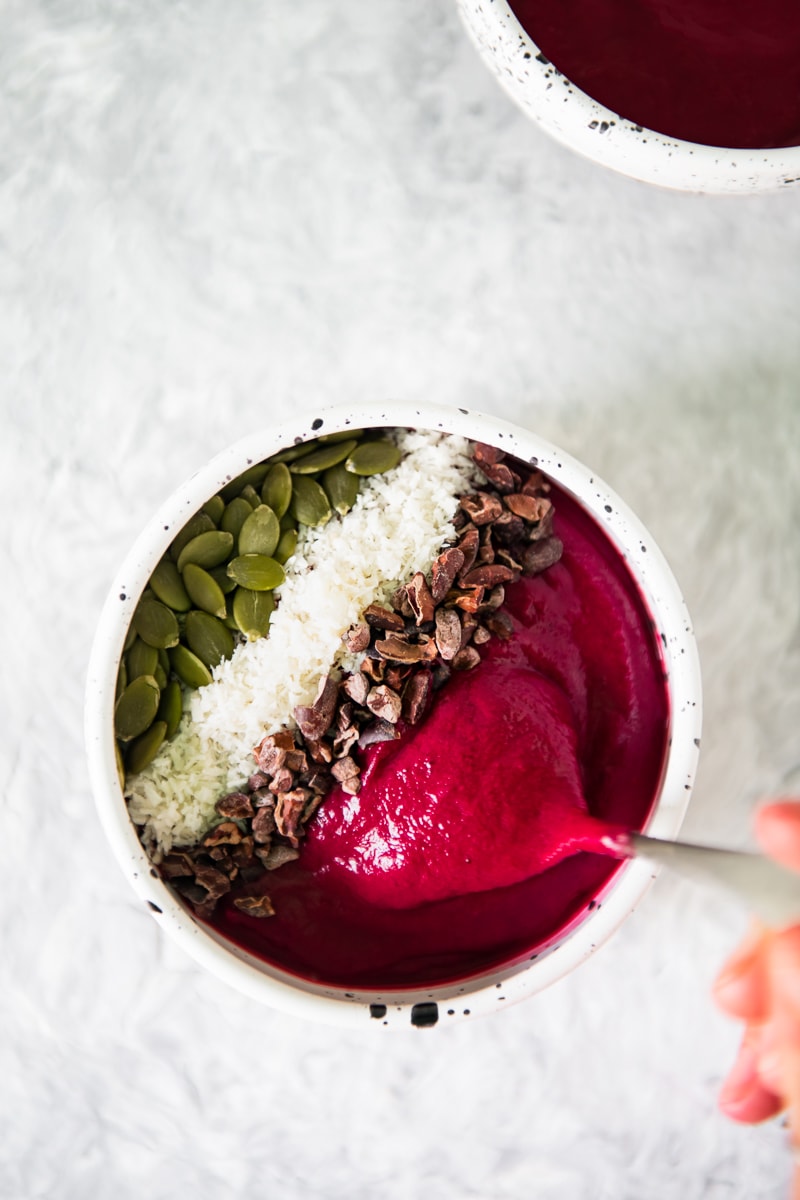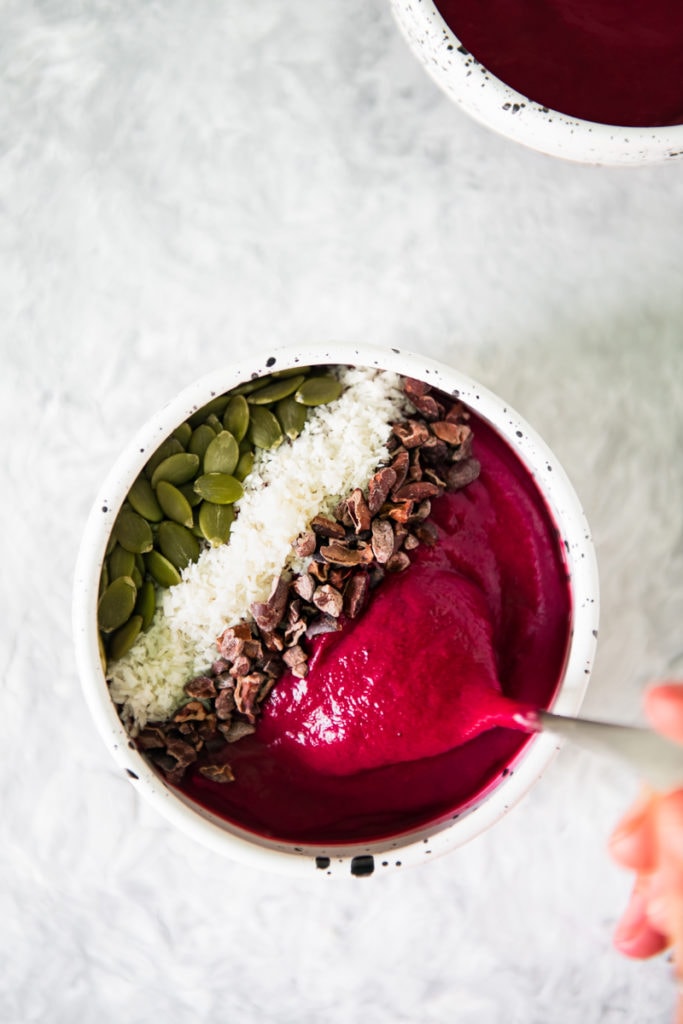 More Reasons You'll Love This Recipe
No added sugar. Between the berries, beets and banana, this smoothie bowl doesn't require any added sugar or sweetener!
Friendly for most diets. This smoothie bowl is nut-free, dairy-free and gluten-free, making it suitable for many diets.
Make it slurpable. You can also easily turn this smoothie bowl into a slurpable smoothie! Just slowly add more plant milk as it's blending until it reaches your desired consistency.
Serve as a topping. This delicious smoothie can not only be topped but also used as a topping itself! It makes a scrumptious topping for waffles, pancakes or crêpes, which makes it wonderfully versatile to serve with a big breakfast or brunch spread.
Add extra nutrients. Make your Beetroot Smoothie Bowl even more nutritious by adding your favourite superfood powder. This recipe does call for camu powder. However, there are plenty of other nutrient-dense powders you can swap it out for.
Here's a list of some of my other favourite superfood powders to add to this beetroot smoothie bowl.
Medicinal Mushrooms (Chaga, Lions Mane, Reishi),
Dragon Fruit (aka Pitaya)
Maca
Ashwagandha
Lucuma
Baobab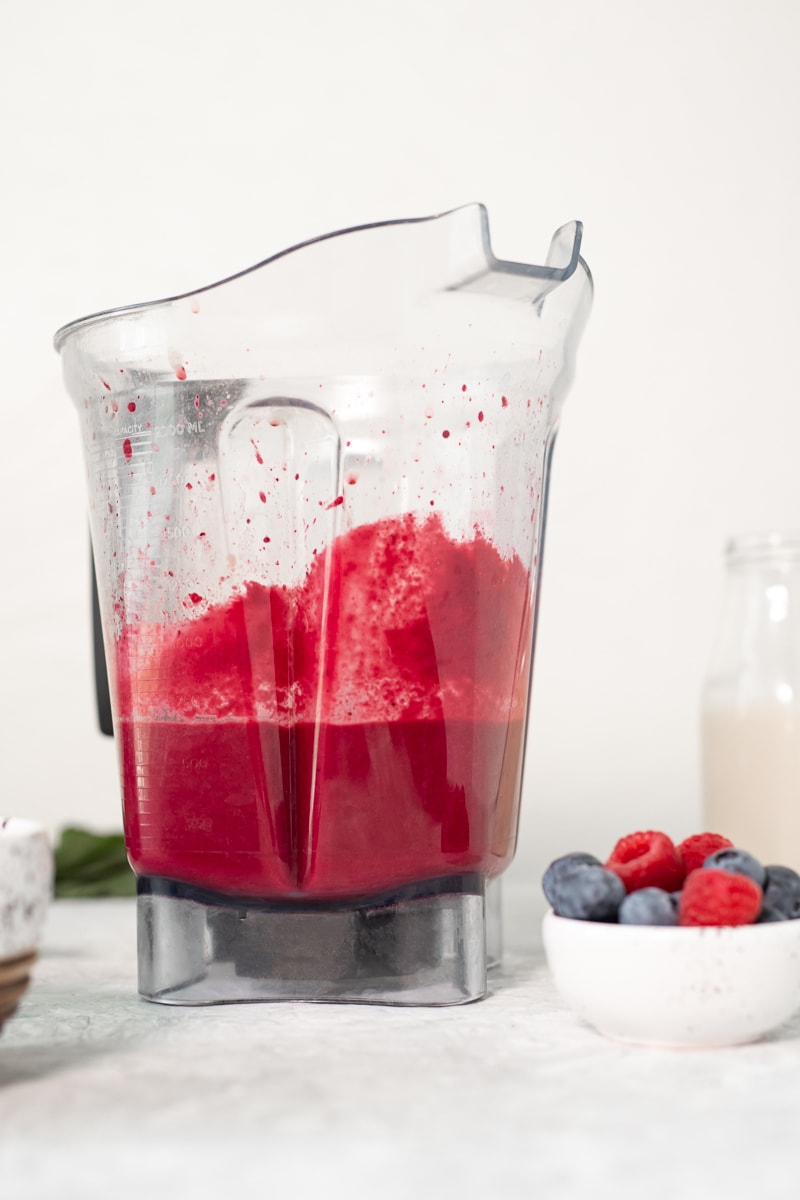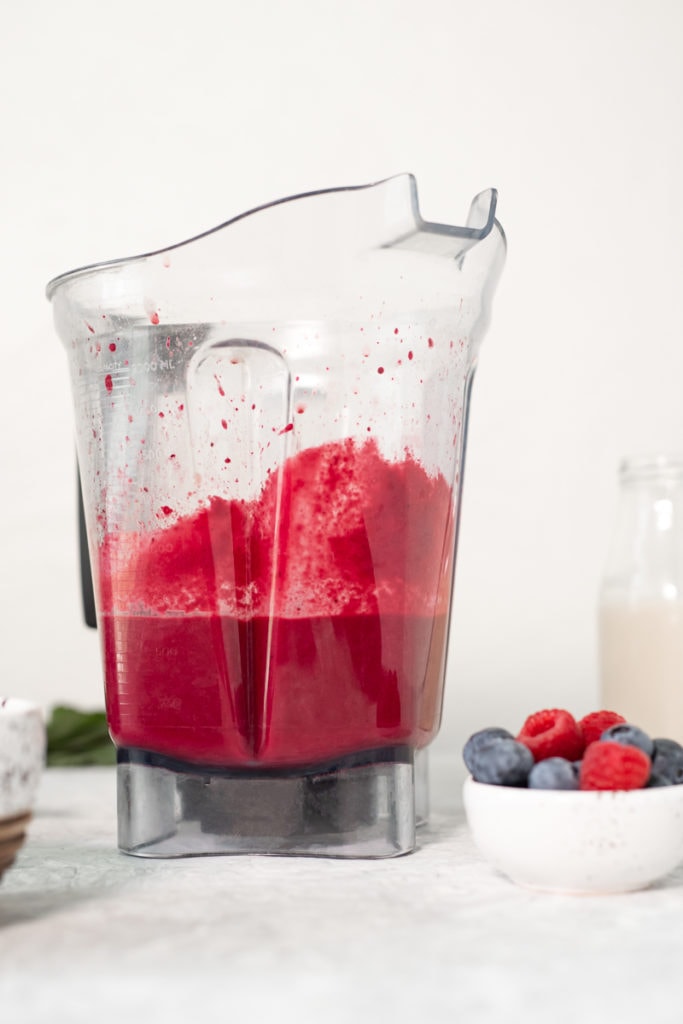 Best Times To Enjoy A Beetroot Smoothie Bowl
Smoothies and smoothie bowls are, of course, a great way to start the day! They offer a nutritional boost that's easy to digest and still a good source of fibre. We need carbs, fat and fibre to keep us feeling satiated throughout the day. So, a well-designed smoothie or smoothie bowl (toppings included) can help curb those munchies that keep you grabbing the wrong foods!
Seasonally speaking, this Cinnamon Berry & Beetroot smoothie bowl is especially great for the spring and early autumn. These are great times to support the detoxification system and give the liver a little boost. Although this is a great spring and autumn smoothie bowl, you can always enjoy it year-round! The warming cinnamon makes it a lovely winter snack or the perfect fresh breakfast for a summer morning.
More Smoothie Recipes You Might Enjoy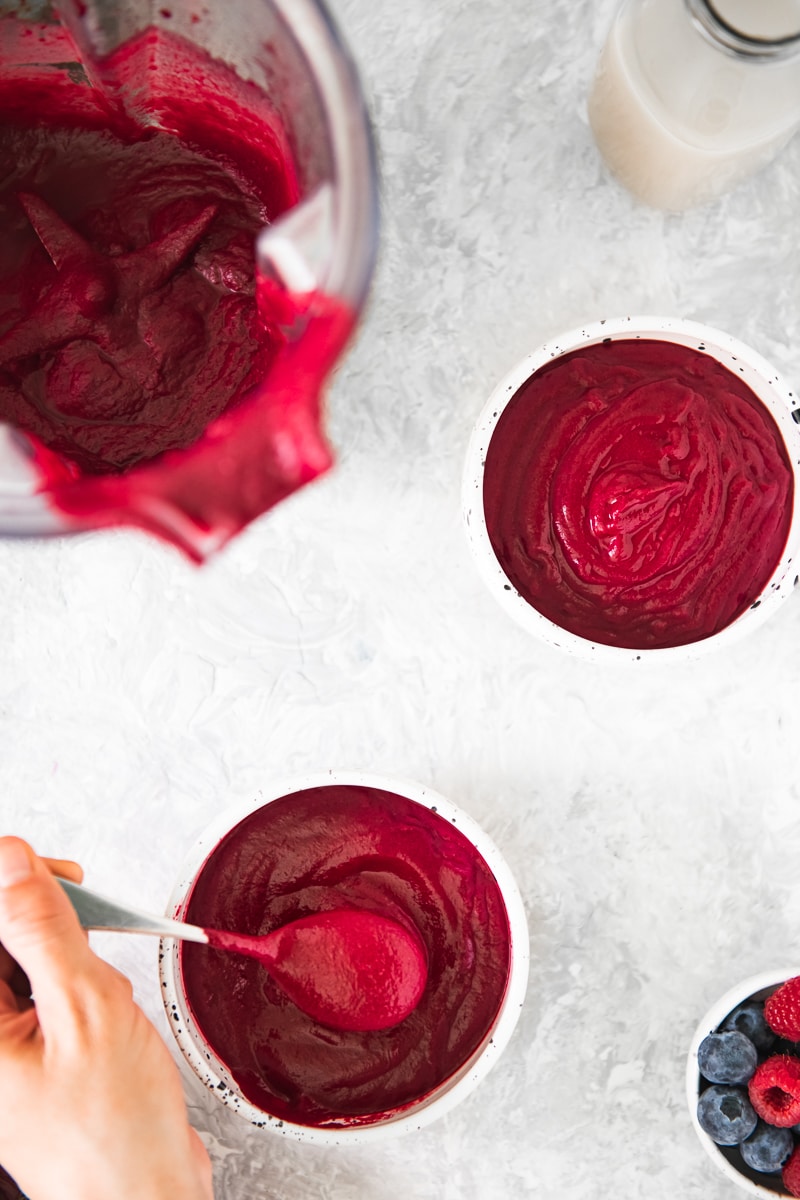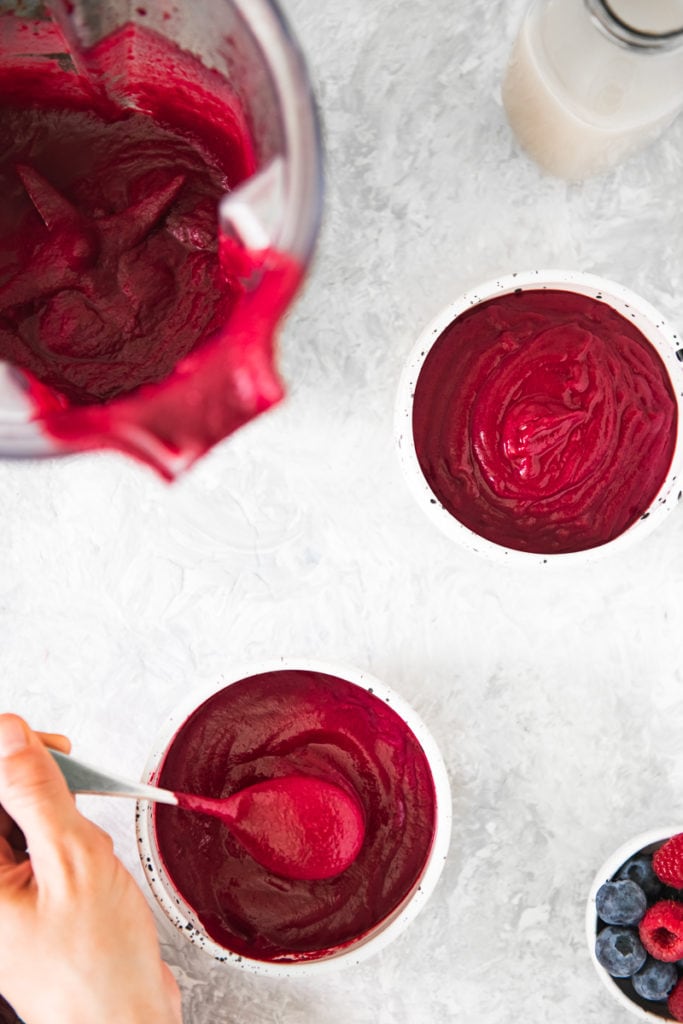 If you try this Cinnamon Berry & Beetroot Smoothie Bowl, let me know how it turns out by leaving a comment and/or a rating below! And make sure you're following along on Pinterest, Instagram and Facebook for more wildly nutritious recipes!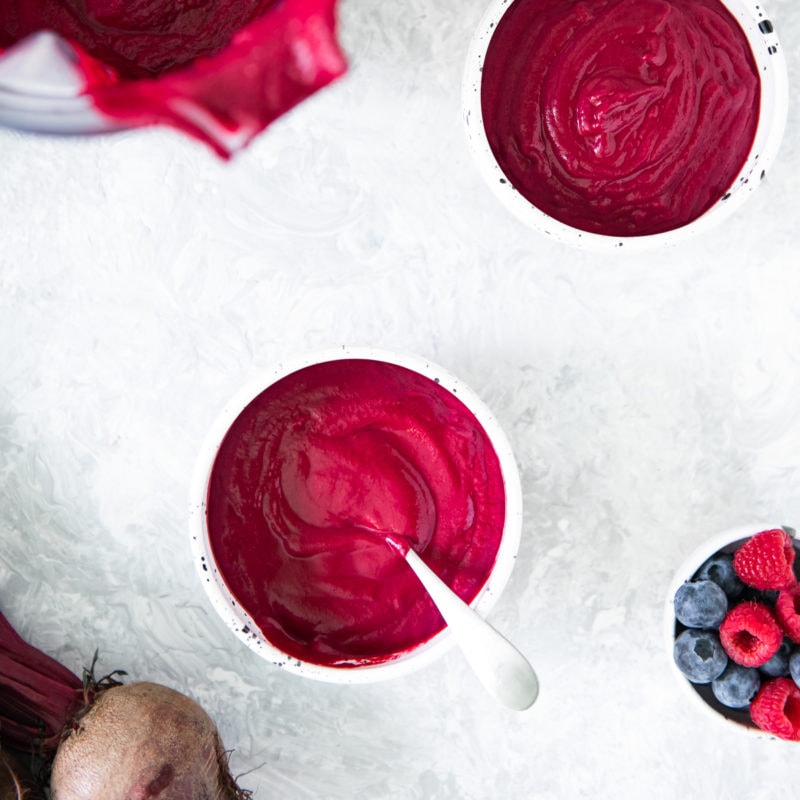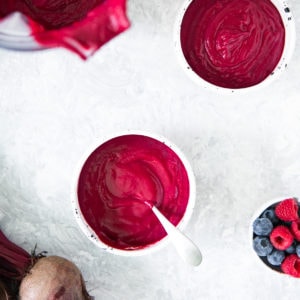 Cinnamon Berry & Beetroot Smoothie Bowl (Raw, Vegan)
This Cinnamon Berry & Beetroot Smoothie Bowl is exploding with flavour and packed full of nutrients. Plus, you will love how quick and easy is it to make!
Pin Recipe
Rate Recipe
Ingredients
1

medium

Beet

½

Avocado

1

cup

Mixed Berries

(fresh or frozen)

½

cup

Milk of Choice

(I like using coconut)

½

Banana

½

teaspoon

Cinnamon

1

teaspoon

Camu Camu Powder

(optional)

Squeeze

Of Lemon
Instructions
Peel and chop 1 medium beet into small - medium cubes and set aside. (Chop them the night before and refrigerate in an airtight container to make mornings easier!)

Pour ½ cup of your favourite milk into a blender jug.

Next, add ½ of a ripe banana, ½ of a ripe avocado, 1 cup mixed berries (fresh or frozen) and a squeeze of fresh lemon.

Then add ½ teaspoon cinnamon and 1 teaspoon camu camu powder (if you're adding).

Turn the blender on and up to medium-high, depending on your blender's strength. Blend until smooth, it should take about 30 - 60 seconds.

Pour into individual bowls, enjoy as is or top with your favourite smoothie bowl toppings!
Notes
Shredded coconut, nuts and seeds, hemp hearts and cacao nibs all make great toppings!
---
Nutrition
Serving:
1.25
cups
|
Calories:
295
kcal
|
Carbohydrates:
31
g
|
Protein:
4
g
|
Fat:
20
g
|
Saturated Fat:
12
g
|
Polyunsaturated Fat:
1
g
|
Monounsaturated Fat:
6
g
|
Sodium:
78
mg
|
Potassium:
794
mg
|
Fiber:
9
g
|
Sugar:
16
g
|
Vitamin A:
157
IU
|
Vitamin C:
14
mg
|
Calcium:
42
mg
|
Iron:
3
mg