There's nothing like a healthy smoothie to start the day. However, when there's a nip in the air, it's not very beneficial to slurp back a cold, cooling summer smoothie. That's why I created this flavourful warming, adaptogenic smoothie, perfect for chilly mornings and the winter months!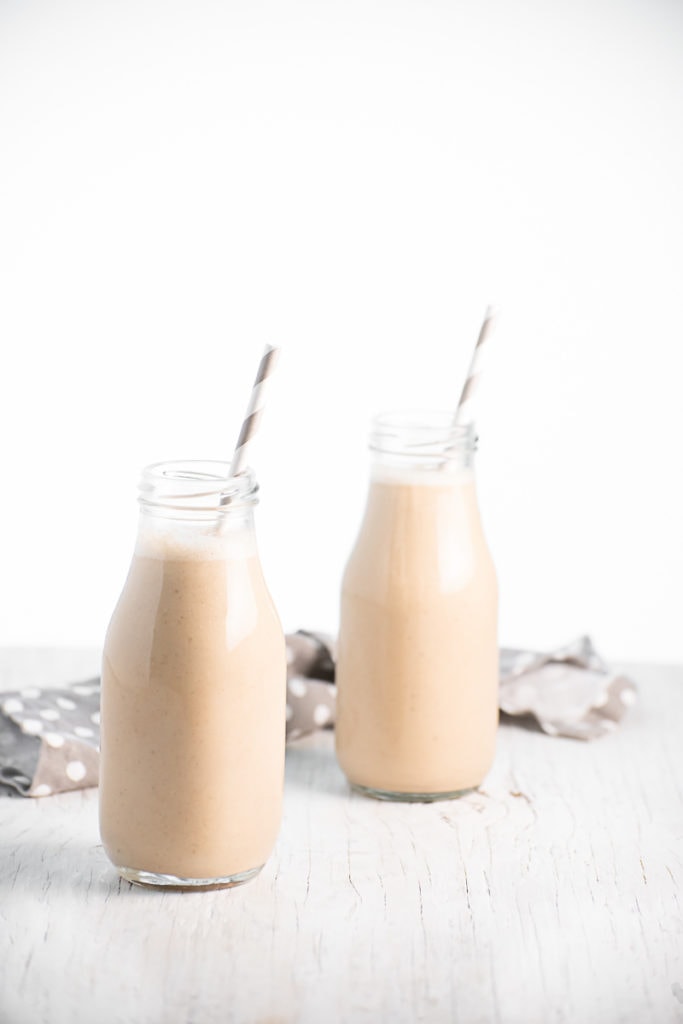 *Nutrition Disclaimer: Although Michelle holds certification in Holistic Nutrition, Yoga and Energy Medicine, the health, fitness and nutritional information provided on this site is designed for educational purposes only. You should not rely on this information as a substitute for, nor does it replace professional medical advice, diagnosis, or treatment. Please read our disclaimers page for more information.
NUTRITIONAL HIGHLIGHTS
This vanilla spice adaptogenic smoothie is full of healthful ingredients that provide many incredible benefits! The star being adaptogenic Ashwagandha Powder.
BENEFITS OF ASHWAGANDHA
I'm sure you've heard of Adaptogens by now, as they're becoming a growing trend among health and wellness devotees. However, they have been around for thousands of years, first used in Ayurvedic practices and Chinese medicine. It's without a doubt that they provide some miraculous benefits!
Stress-Busting
I like to think of them as little harmonizers for our bodies. They work in synergy with the body, increasing resistance to the detrimental effects of stress; while also restoring and supporting regular physiological function. Basically, they help the body cope with and recover from stress through a kind of balancing act.
There are a variety of plants that provide this adaptogenic effect. A few of them include Ashwagandha, Maca Root, Holy Basil, Licorice Root, Ginseng, Rhodiola and Reishi Mushrooms. Some of them are more potent herbs, (such as Rhodiola, Ginseng and Licorice Root) and may not be best used in conjunction with certain medications or under health certain conditions. Others like Reishi, Ashwagandha and Holy Basil offer more gentle effects and may be used on a more regular basis to reap their benefits. Adding adaptogens to smoothies warms drinks, spice mixes, salad dressing, and even sweet treats is a great way to incorporate them!
Warming
This Vanilla Spice smoothie features ashwagandha as the adaptogenic hero. However, there are lots of other health-promoting spices also packed into this delicious smoothie! It's great for spring as it features cinnamon, nutmeg and ginger, which are warming spices. Even though spring calls us to start leaning towards lighter and more cooling foods, it's generally still chilly here in the northern hemisphere, which means it is still a good idea to incorporate warming and grounding foods in our diets.
Vitamin C Rich
Another key player in this smoothie is baobab powder, which comes from the baobab tree. It is an excellent source of vitamin C, which is a crucial nutrient that provides antioxidant activity and immune system support. Vitamin C also plays an important role in the body's stress response.
All in all, this smoothie is a delicious way to mix up your morning routine or for a little afternoon boost. It's light, deliciously sweet yet earthy and, of course, offers grounding, warming and adaptogenic properties!
If you try this Vanilla Spice Adaptogenic Smoothie, let me know how it turns out by leaving a comment and/or a rating below! And make sure you're following along on, Pinterest, Instagram and Facebook for more wildly nutritious recipes!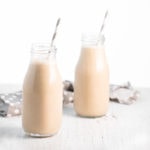 Vanilla Spice Adaptogenic Smoothie
Change up your morning routine with this deliciously spiced, adaptogenic smoothie!
Print
Pin
Rate
MAKES :
2
Smoothies / 20 oz
Ingredients
2

cups

Milk of Choice

(I like using Tigernut)

1

ripe

Banana

1

tsp

Pure Vanilla Extract

¼

tsp

Ashwagandha Powder

½

tsp

Baobab Powder

½

tsp

Cinnamon

½

tsp

Ground Ginger

¼

tsp

Ground Cardamom

Dash

of Nutmeg
Instructions
Place all ingredients in a blender and blend until smooth.

Pour into your favourite smoothie glass and enjoy!
Nutrition
Serving:
10
oz
|
Calories:
455
kcal
|
Carbohydrates:
8
g
|
Protein:
5
g
|
Fat:
48
g
|
Saturated Fat:
43
g
|
Polyunsaturated Fat:
1
g
|
Monounsaturated Fat:
2
g
|
Sodium:
30
mg
|
Potassium:
514
mg
|
Fiber:
1
g
|
Sugar:
1
g
|
Vitamin A:
2
IU
|
Vitamin C:
2
mg
|
Calcium:
47
mg
|
Iron:
8
mg