Tigernut milk is a delicious, dairy and nut-free milk alternative that's easy to make at home! If you've been let down by other non-dairy milk, give this one a try! Tigernuts truly do make a smooth, creamy and slightly sweet plant milk, perfect for teas, coffee, and even drinking on its own!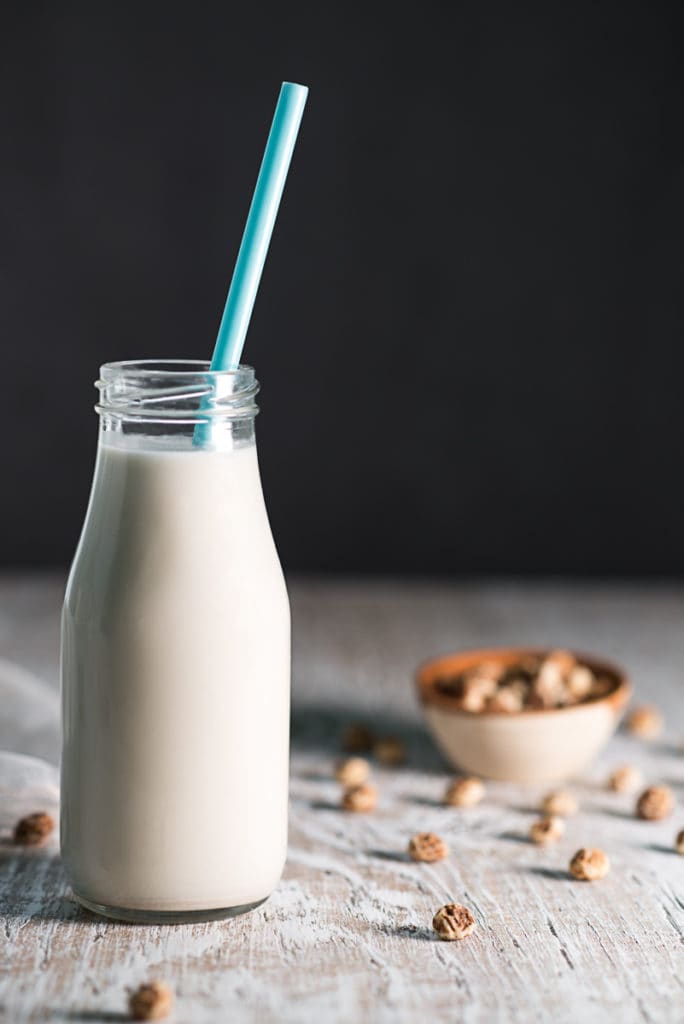 But, before we get ahead of ourselves, let's get one thing cleared up straight away because if your mind is anything like mine, I know exactly what you're thinking…
The tigernuts we're talking about here do not come from any part of a tiger's anatomy!
Alright, now that we've got that cleared up… let's talk nutrition!
What Are Tigernuts?
Tigernuts (also known as chufas) are, in fact, mini tubers, not nuts! They come from a plant called yellow nutsedge (hence the name). This plant is part of the sedge family, which are actually grasslike and considered a weed in some areas (far from tree nuts). Although they do kind of resemble a nut, these little tubers (tignernuts) grow underground. They are a part of the plant's root system. They are round, have little craters all over, and their skin is an earthy orange-brown, while underneath, they are creamy-white. After they are harvested, they are usually dried for long-term storage. However, once dried, they become quite hard, so they're best enjoyed after re-soaking, anywhere from 12 - 48 hours.
Health Benefits of Tigernut Milk
Superfood
The health benefits of tigernuts date back thousands of years. There have even been findings that the ancient Egyptians consumed them! With so many beneficial nutrients, it comes as no surprise that tigernuts are known as a superfood.
Great Source Of Many Vitamins & Minerals
Tigernuts and tigernut milk are a great source of many vitamins and minerals. They are rich in vitamins A, B, C and E, as well as the minerals calcium, iron, magnesium and phosphorus.
Brain Health
Tigernuts contain not only the many vitamins and minerals listed above but also a very important amino acid, known as glutamic acid. Glutamic acid also acts as a neurotransmitter crucial for healthy brain development and function.
Beneficial Fats
Contrary to what many believe about fat, good fats play a crucial role in maintaining many aspects of our health. Tigernuts are a good source of some of these beneficial fats, including the monounsaturated fat, oleic acid. This specific type of fat has anti-inflammatory effects and supports HDL (the good cholesterol). Good fats are also crucial for brain health, joint health, bowel movements, skin, hair, and so much more! And believe it or not, consuming good fats can also actually help with weight loss.
Digestive & Gut Health
Tigernuts can be a life savour when it comes to digestive troubles. First off, since they aren't a nut or a grain, they are much easier to digest. Secondly, tigernuts contain three different digestive enzymes, which help to break them and other nutrients down to be absorbed by the body. They are also very high in fibre, primarily resistant starch, making them an exceptionally beneficial prebiotic and a great aid in digestion and gut health.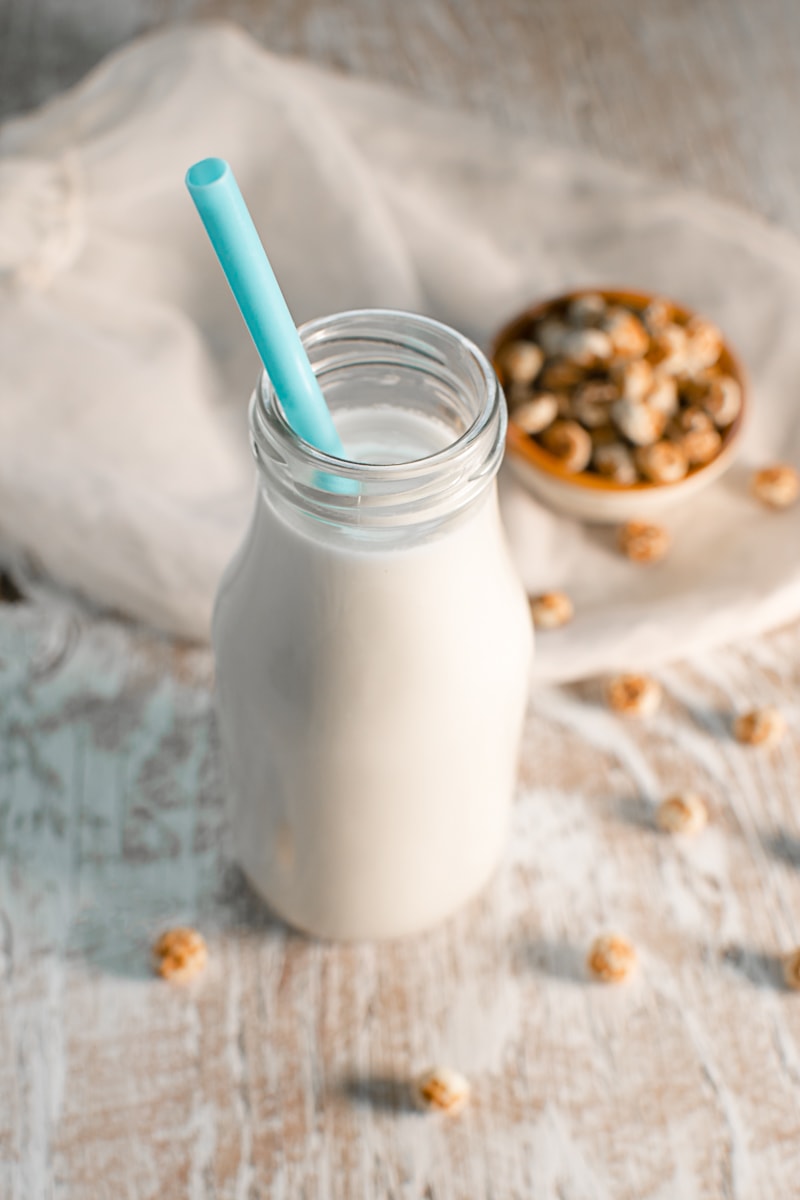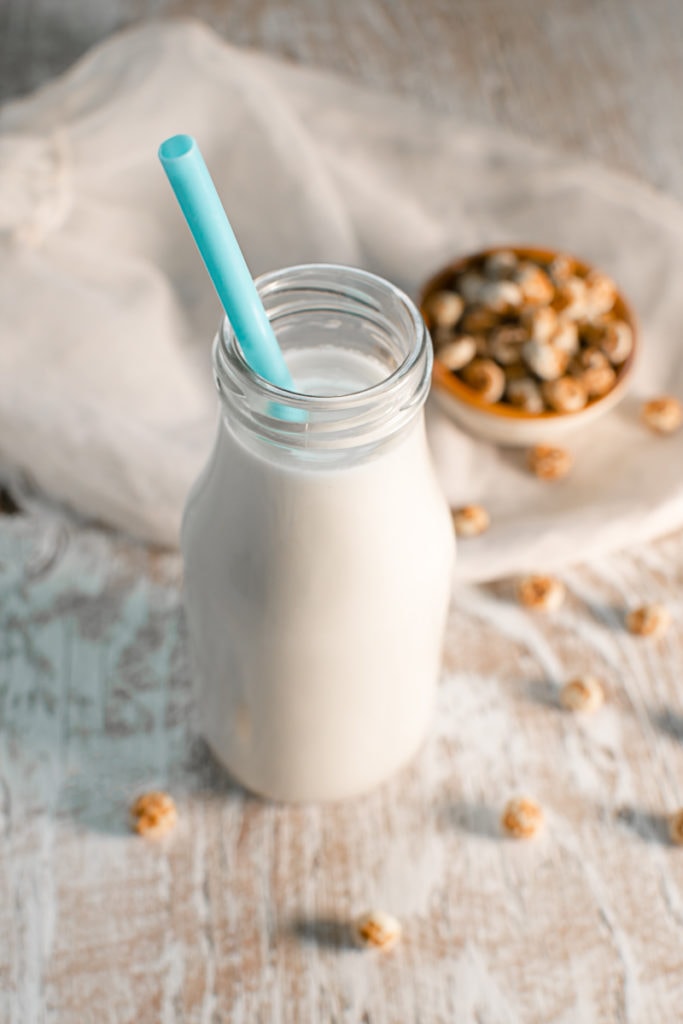 How to Prepare Tigernut Milk
Tigernut Milk (commonly known in Spanish as Horchata de Chufa) is easy to make and is so incredibly delicious. The hardest part is waiting for them to soak.
What You Will Need
To make tigernut milk, you really only need a few things!
Tigernuts
Filtered or Spring Water
A Good Blender
Nut Milk Bag / Clean Cloth
Container to Store In (Preferably Glass)
Soaking Your Tigernuts
As mentioned above, tigernuts are quite hard and best soaked for at least 12 hours but preferably 24 - 48 (it just gives the milk that perfectly smooth, creamy richness).
To soak your tigernuts, place them in a container and cover with water. Add enough water, so they are fully submerged. They do expand a little so make sure to leave about an inch of water above. Cover and leave in the refrigerator for 12 to 48 hours.
How to Make Tigernut Milk
Once your tigernuts have soaked for at least 12 hours, you can either drain the soaking water or use it in your milk for a little more flavour. If you drained your tiger nuts, add them to your blender with four cups of water. If you're using the soaking water, pour the water along with the tigernuts into your blender and add about three cups of water.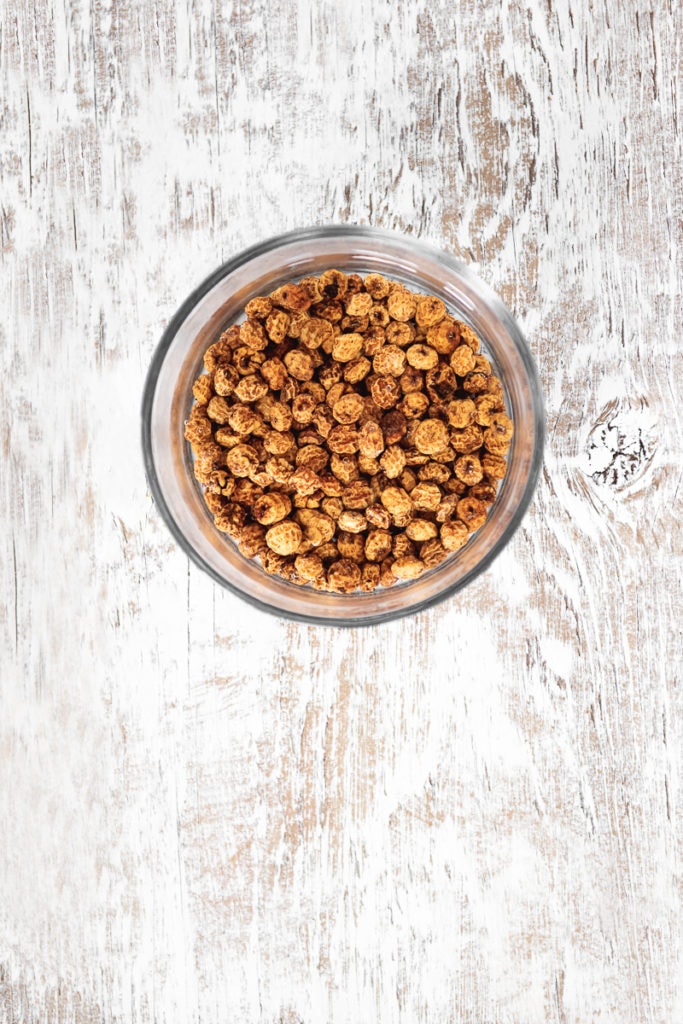 Blend the tigernuts and water for one to three minutes or until the tigernuts have all broken down. They won't give you a completely smooth milk right away like cashew milk. You will see tiny bits floating around (especially if your tigernuts have not been skinned). Once your milk is blended to your liking, pour through a nut milk bag or a clean cloth and squeeze out the milk.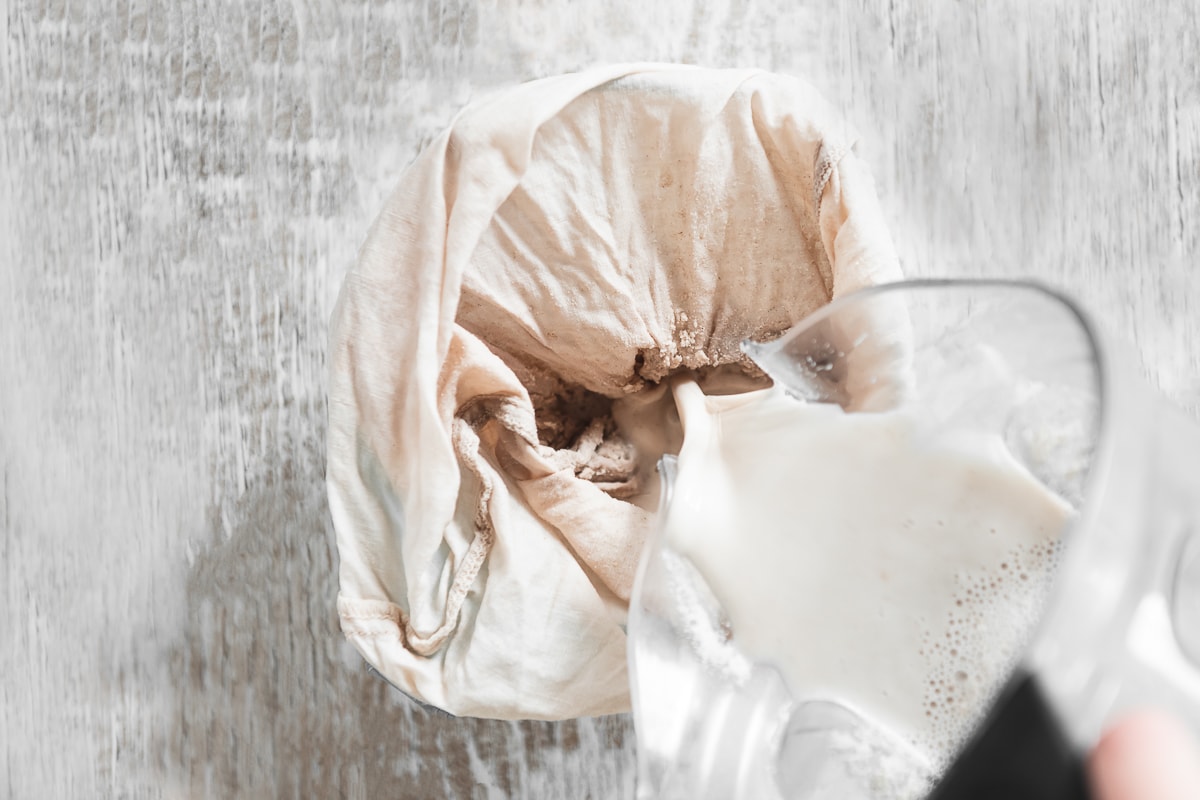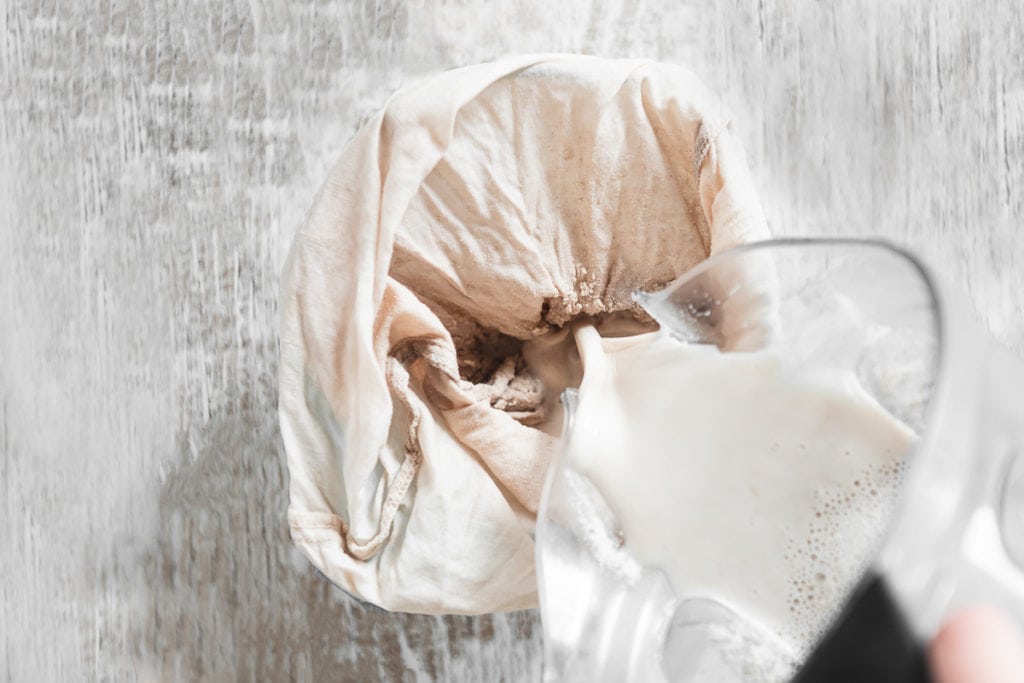 You don't have to waste all that tigernut pulp either! It contains lots of good fibre, so be sure to save it to make some energy balls, edible cookie dough and more! Stay tuned for some recipes.
Ways to Use Tigernut Milk
More Reasons You'll Love This Recipe
Nut-free. One thing I love about tigernut milk is that, despite the name, it's actually nut-free!
As mentioned above, tigernuts are, in fact, tubers that grow beneath the dirt just like potatoes and are classified under the sedge family, making them an excellent alternative for those with nut allergies.
Two simple ingredients. All you need is two simple ingredients to make Tigernut Milk, water and tigernuts.
No Added Sugar. Tigernuts have a natural sweetness that makes them the perfect substitute for cow's milk. This means tigernut milk doesn't require any added sugars or sweeteners to enhance its palatability.
More Dairy-Free Staples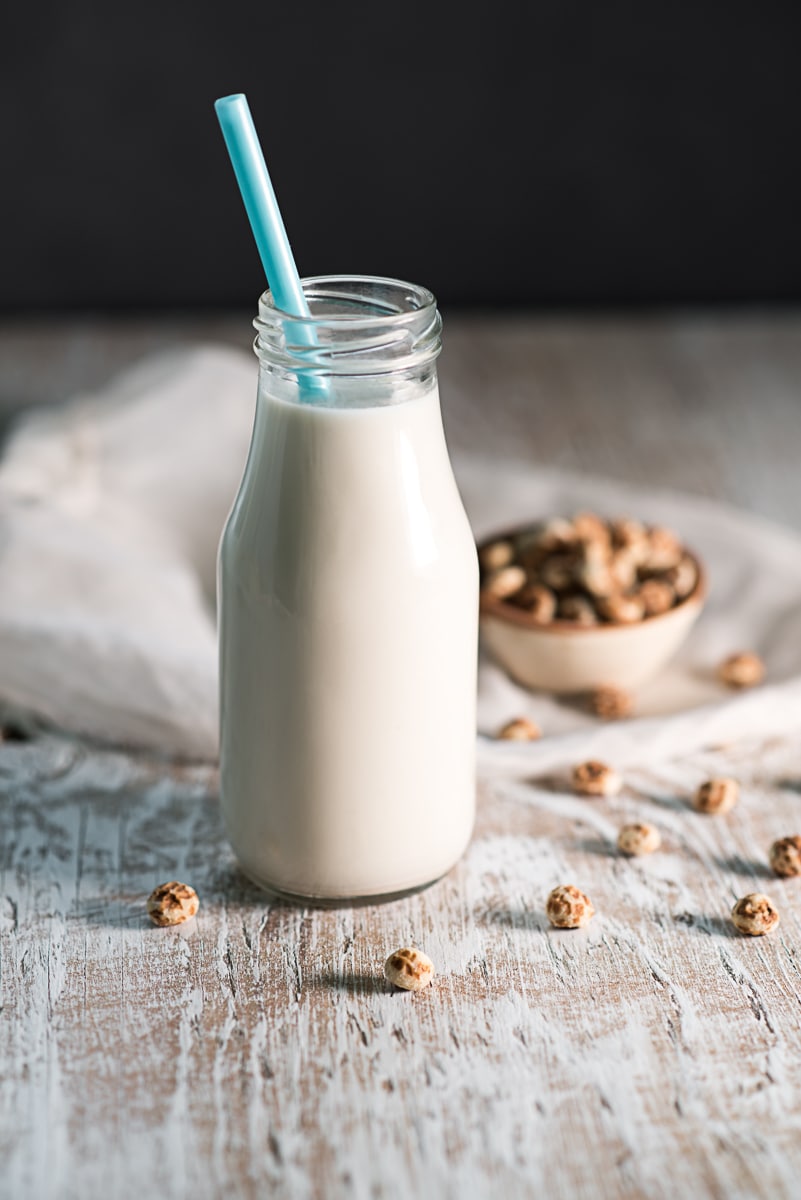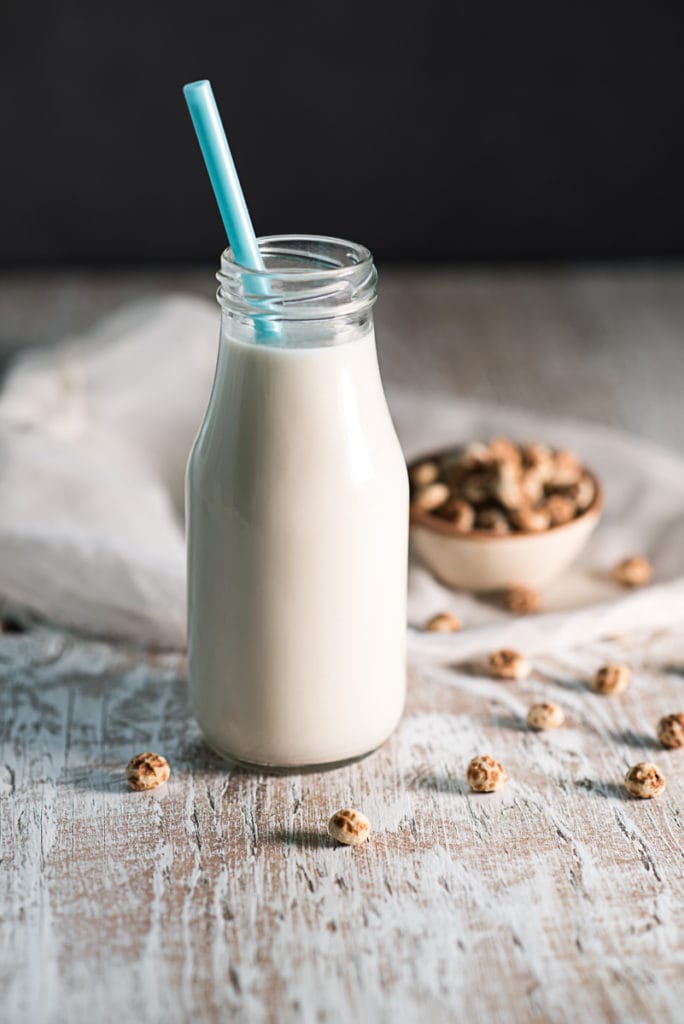 If you've tried this Homemade Tigernut Milk recipe, let me know how it was by leaving a comment and/or a rating below! And make sure you're following along on Pinterest, Instagram and Facebook for more wildly nutritious recipes!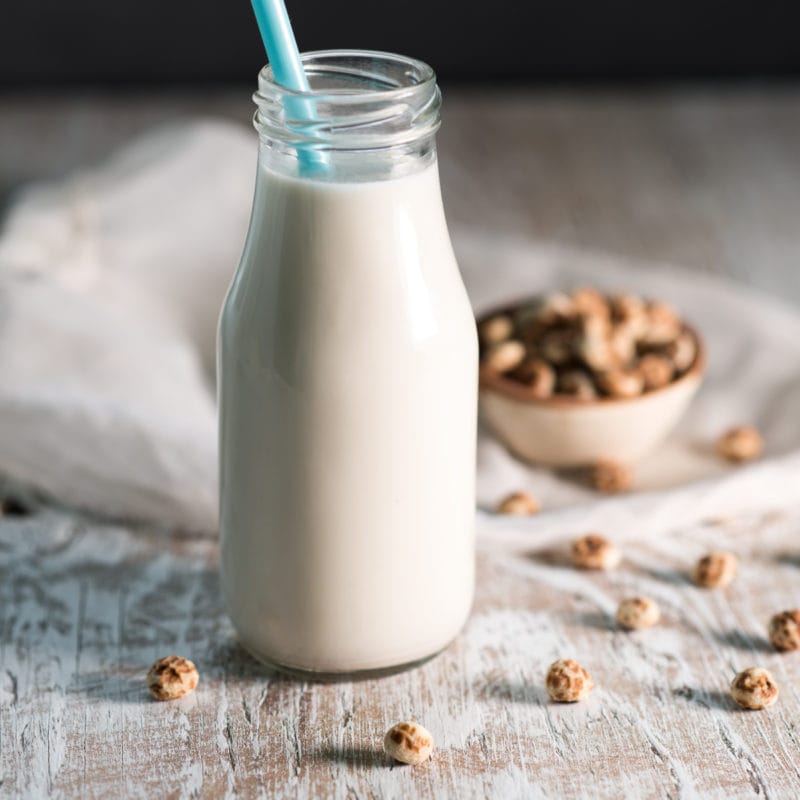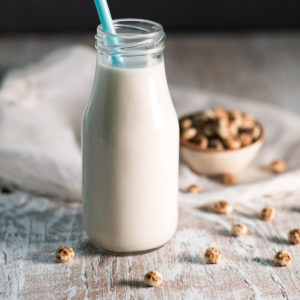 Homemade Tigernut Milk (Horchata De Chufa)
Homemade Tigernut Milk is a dairy-free and nut-free alternative that is creamy with a natural sweetness, making it perfect for teas, coffee and lattes!
Pin Recipe
Rate Recipe
Ingredients
4

cups

Filtered Water

(plus extra for soaking)

1

cup

Tigernuts
Instructions
Place tigernuts in a glass container and cover with water (giving an inch or two above as tigernuts will soak up some of the water).

Cover with a lid and let the tigernuts soak for 24 - 48 hours.

Strain the water and rinse the tigernuts if you're not using the soaking water. If you prefer a more flavourful milk, add the tigernuts along with soaking water into your blender.

Add four cups of filtered water if you strained your tigernuts. Add three cups if you added the soaking water.

Blend on high for a few minutes and get the tigernuts ground as much as you can. You will see little bits floating around, especially if the tigernuts have not been skinned.

Once the tigernuts are blended to a fine pulp, pour through a nut milk bag or a clean cloth and squeeze the milk out. This will give you a smooth, pulp-free milk!

Use up right away or store in the refridgerater in a sealed jar for up to three days.
Notes
---
You can always play around with the water - tigernut ratio to get the consistency of your liking. Add less water to get it thicker and more to make it thinner.
---
*Shake well before using as all the nutritious fibre settles to the bottom!
Nutrition
Serving:
1
cup
|
Calories:
270
kcal
|
Carbohydrates:
36
g
|
Protein:
3
g
|
Fat:
16
g
|
Saturated Fat:
3
g
|
Sodium:
15
mg
|
Fiber:
6
g
|
Sugar:
9
g
|
Calcium:
7
mg