Learn how to make cashew cream like a pro! It's a versatile vegan staple that makes dairy-free cooking a dream. Turn it into yogurt, pasta sauce, cheese and more!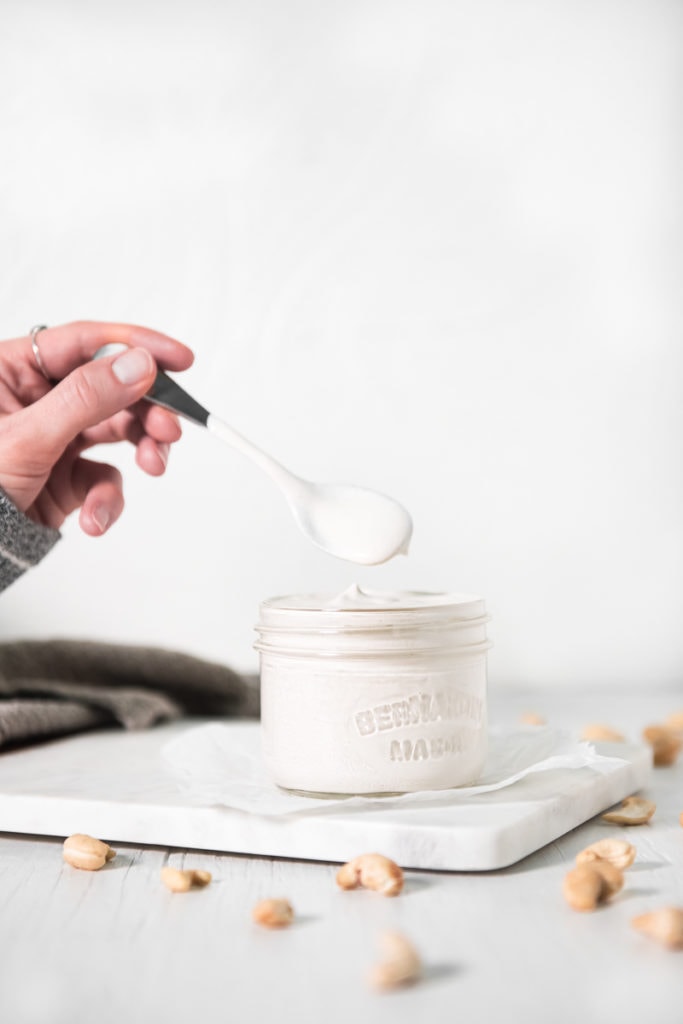 Cashew cream is a great alternative for those who avoid dairy. As long as you're not allergic or intolerant to tree nuts, cashews are a blessing when it comes to a plant-based or dairy-free diet.
Cashew cream can be used in countless dishes, both sweet and savoury! It is a clean and healthy alternative to heavy cream. So, it's perfect for making all the favourites like creamy pasta sauces, pudding, dairy-free whipped cream and even vegan cheese!
Health Benefits of Cashews
Cashews offer some great nutritional value, especially if you eat a plant-based diet!
Beneficial Fats
Cashews are a great source of monounsaturated fats, which are known to protect against heart disease and cancer.
Vitamins & Minerals
Cashews are a good source of many vitamins and minerals, including magnesium, potassium, zinc, iron and copper, as well as vitamin A, biotin and vitamin E.
Protein & Carbohydrates
Although cashews are a great source of beneficial fats, they are actually lower in fat than most nuts! In fact, they have a higher protein and carbohydrate content. Because of their high protein, carb and fat content, they make a perfect satiating snack. They are also great to use in vegan cooking for this same reason.
Where Do Cashews Come From?
Cashews grow in tropical climates and are native to the coastal areas of northeastern Brazil. They are tree nuts, so of course, they grow on trees. But did you know they are really the seed of a fruit called the cashew apple?
The cashew nut we all know grows at the bottom of this fruit. It's also encased in a hard shell that contains caustic oils. We never see cashews in their shells because these caustic oils are toxic. Not to worry, the cashew seed itself does not contain these toxins, and soaking or lightly roasting your raw cashews will help to remove any residue. Although I should note that roasted cashews will not work for this recipe. Using soaked, raw cashews will give you the best and smoothest results.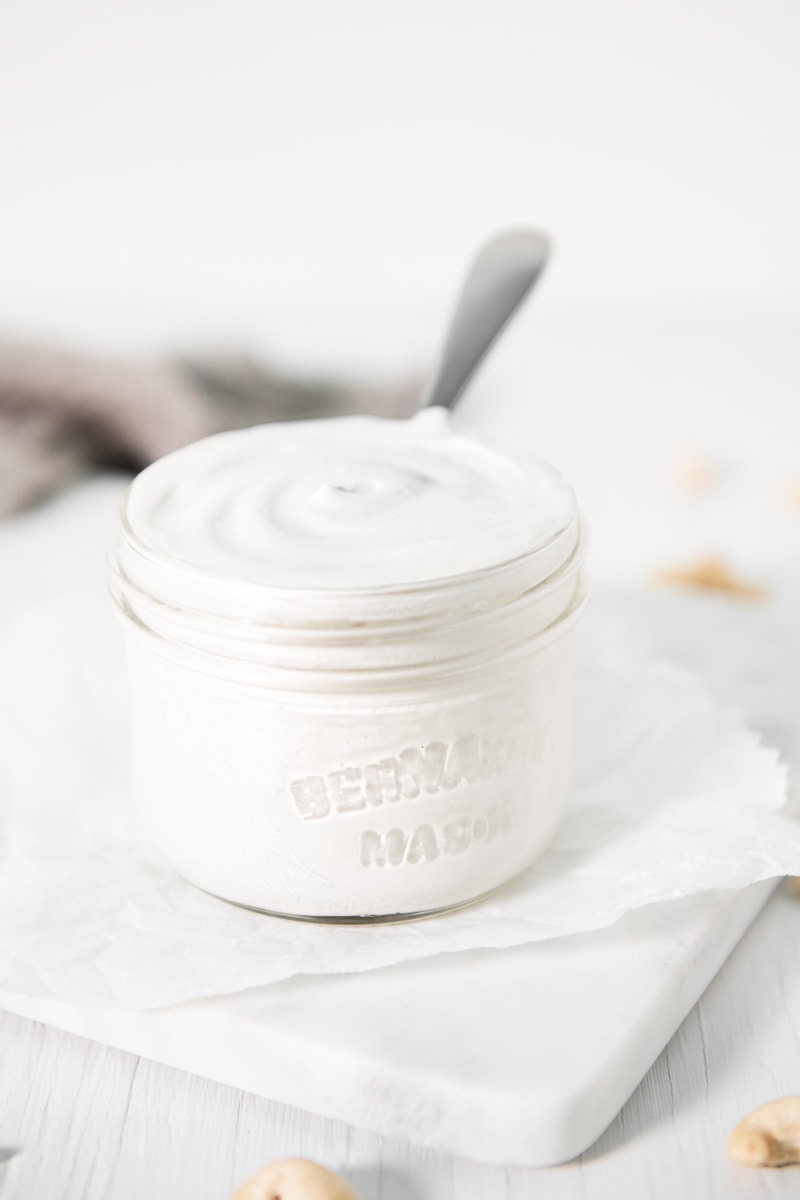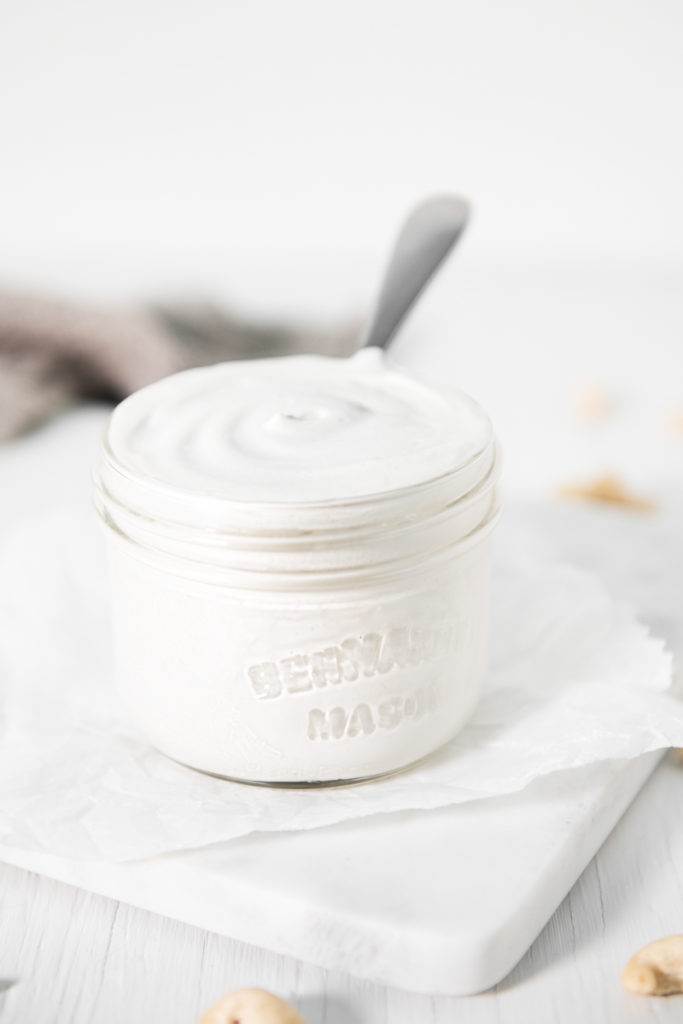 Uses For Cashew Cream
Cashew cream is the perfect substitute for heavy cream. This means cashew cream can be used as the base ingredient to make a variety of things, from salad dressings to dairy-free cheese.
Cream Sauces
Cashews are great for making cream sauces! With this easy Cashew Cream, you can easily satisfy those cravings for creamy vegan pasta, casseroles and more! It's perfect for making delicious plant-based Alfredo, mac and cheese and basically any other cream-based sauce of your desire.
Cheese
Cashews are the base of many delicious plant-based cheeses. They can make a creamy yet firm cheese, and they don't have an overpowering flavour. So, cashews can make a milder dairy-free Brie or take on sharper flavours. You can also turn this recipe into a yummy cream cheese!
Sour Cream
Once you have this cashew cream base whipped up, it's almost effortless to turn it into sour cream or cream cheese. All you need to do is add a few simple ingredients, and it's transformed!
Yogurt
Just like sour cream, turning this cashew cream into yogurt is incredibly easy! All you need to do is add probiotics, a bit of natural sugar and let it ferment overnight. You can then use it as is or add more sweetness, fruit or flavour. Here's the full recipe for Homemade Cashew Yogurt.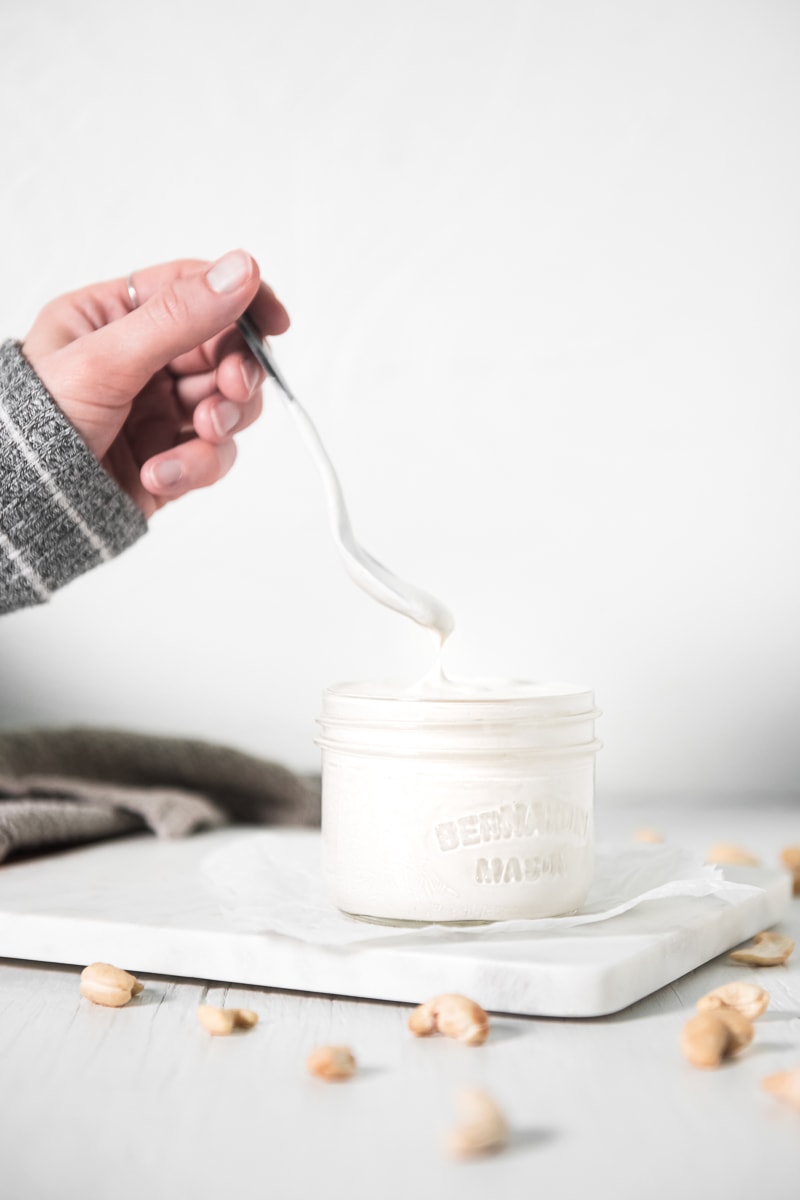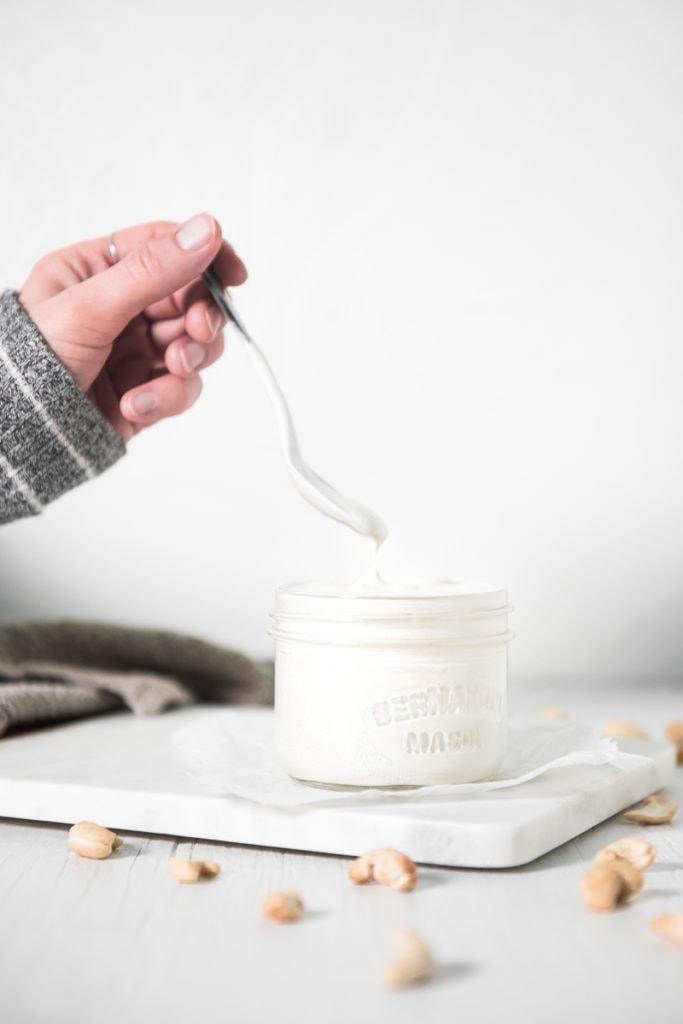 Salad Dressing
If you love creamy salad dressings, this vegan cashew cream will be your best friend! It's perfect for making dairy-free versions all you're favourite dressings like Caesar, ranch and poppy seed. Simply add some more liquid (oil, vinegar or water) spices, a bit of salt and voila!
Dips & Condiments
Cashew cream really is the perfect substitute for nearly any dressing or dip. You can turn it into a variety of creamy dipping sauces such as garlic, dill, ranch or chipotle. It can even become a vegan mayonnaise or aioli!
Dairy-Free Milk
Another great thing about making a batch of plain cashew cream is that it's even effortlessly turned into milk! All you have to do is add water; the more you add, the thinner it will become. You can even make flavoured milk by blending it with soaked dates, cacao powder, cinnamon or vanilla.
Creamy Desserts
Cashew cream is great for making creamy desserts! Add a bit of maple syrup or honey, and you have yourself a sweet cream. It also makes a delicious Maple Vanilla Whipped cream that's perfect for pie, crumbles and hot chocolate. Or turn your cashew cream into pudding, tarts, vegan cheesecake or peaches and cream!
Creamy Soups
There's nothing like a cream-based soup to warm the bones! This cashew cream makes it easy to make creamy plant-based soups and chowders. You can use it in place of heavy cream or add a little water to use in place of milk.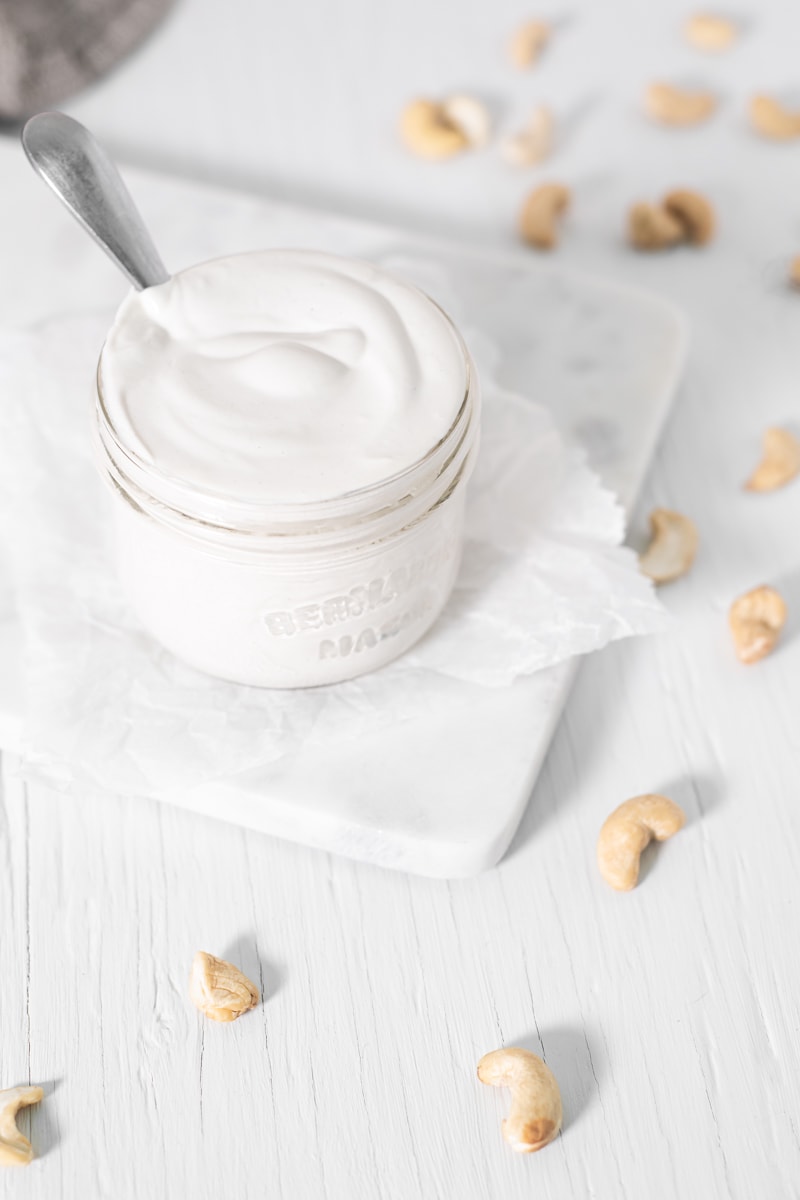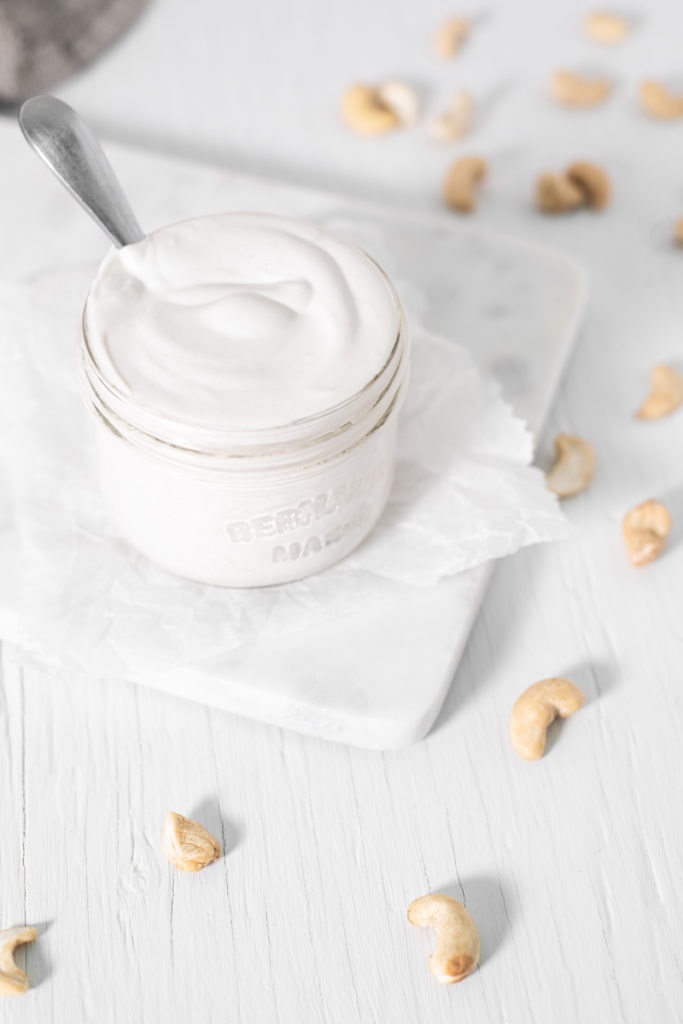 How to make cashew cream
Making cashew cream is surprisingly easy! All you need is two ingredients and a few pieces of equipment.
Equipment You Will Need
You don't need much to make cashew cream. Not even a cheesecloth!
Blender - To make extra smooth cashew cream, you do need a good, high-speed blender.
Colander / Strainer - You will need to rid of the soaking water and rinse your cashews. A strainer or colander works best for this.
Kettle / Stove & Pot (optional) - If you need cashew cream in a pinch, you will also need a way to boil water to soak your cashews quickly.
Glass Jar / Container - If you're planning to store your cashew cream for a few days, you'll need a sealable jar or container to store it in (preferably glass).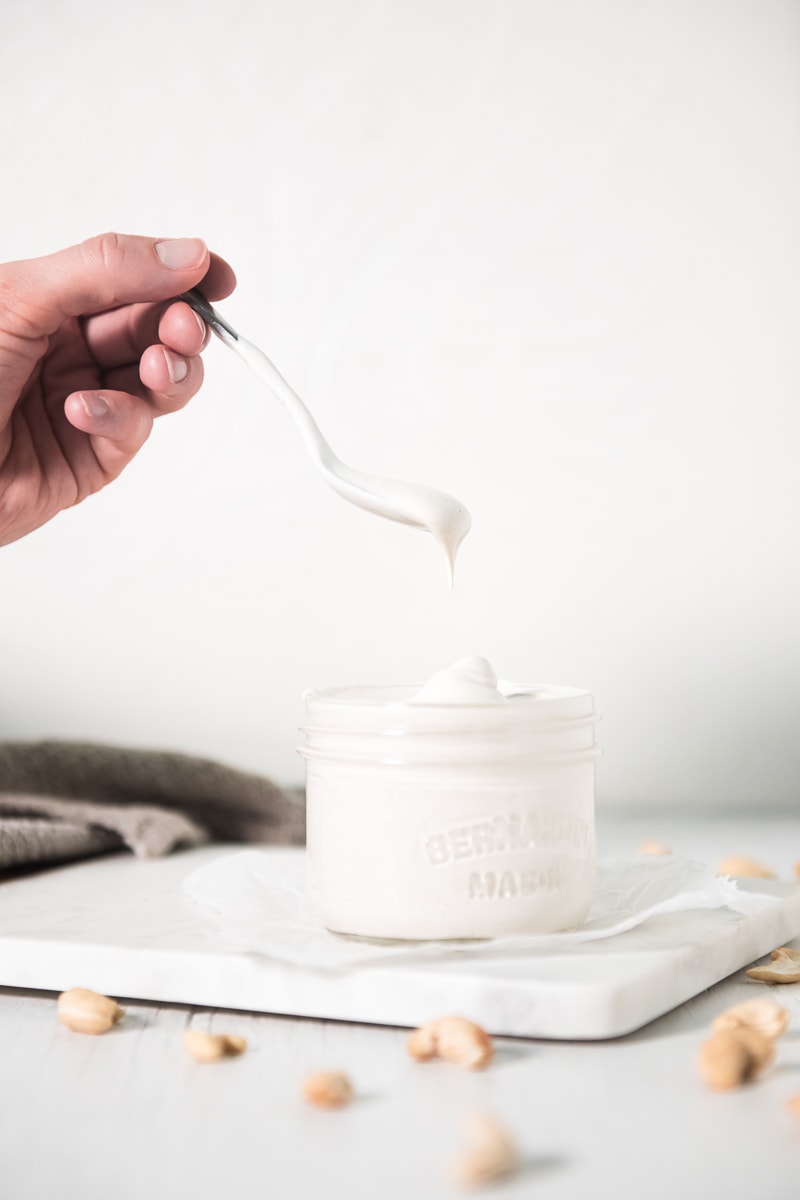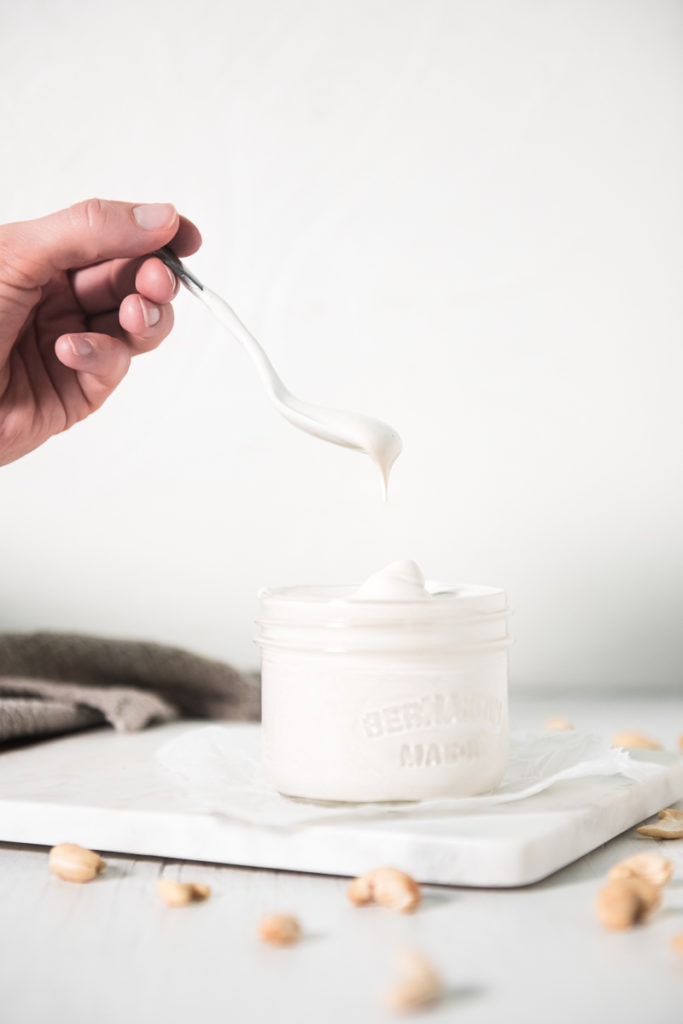 Ingredients
Raw Cashews - Of course, you will need cashews, and I must add, they need to be raw. Roasted cashews won't give you that light, creamy texture. They will, however, give you cashew butter (a similar texture to peanut butter).
Filtered Water - Water is the only other ingredient you will need. You can make your cashew cream a thicker consistency by adding less water and a thinner consistency by adding more.
Apple cider vinegar - This one is an optional ingredient. You can add a tablespoon to your soaking water to further break down toxins and compounds that are hard on the digestive system. It also helps to soften the cashews a little more, making them easier to blend.
Making Your Cashew Cream
Although making cashew cream is relatively easy, I know it can seem a little intimidating at first. All the soaking and blending had me hung up for far too long. However, these really are the two keys to getting a perfectly smooth cashew cream. And once you do it a few times, you'll find it's not all that time-consuming or difficult.
Step 1 - Soak
There are two ways you can soak cashews, overnight or in warm water for fifteen to twenty minutes.
Overnight Soak
My preferred method is overnight or for eight to twelve hours. Simply place your cashews in a bowl or glass container, and cover with water, giving some room for the cashews to expand, and add a tablespoon of apple cider vinegar (optional). Then place in the fridge overnight (or for eight to twelve hours).
I find that this method lessens the cashew taste, making it a great option for making lightly flavoured creams and sauces.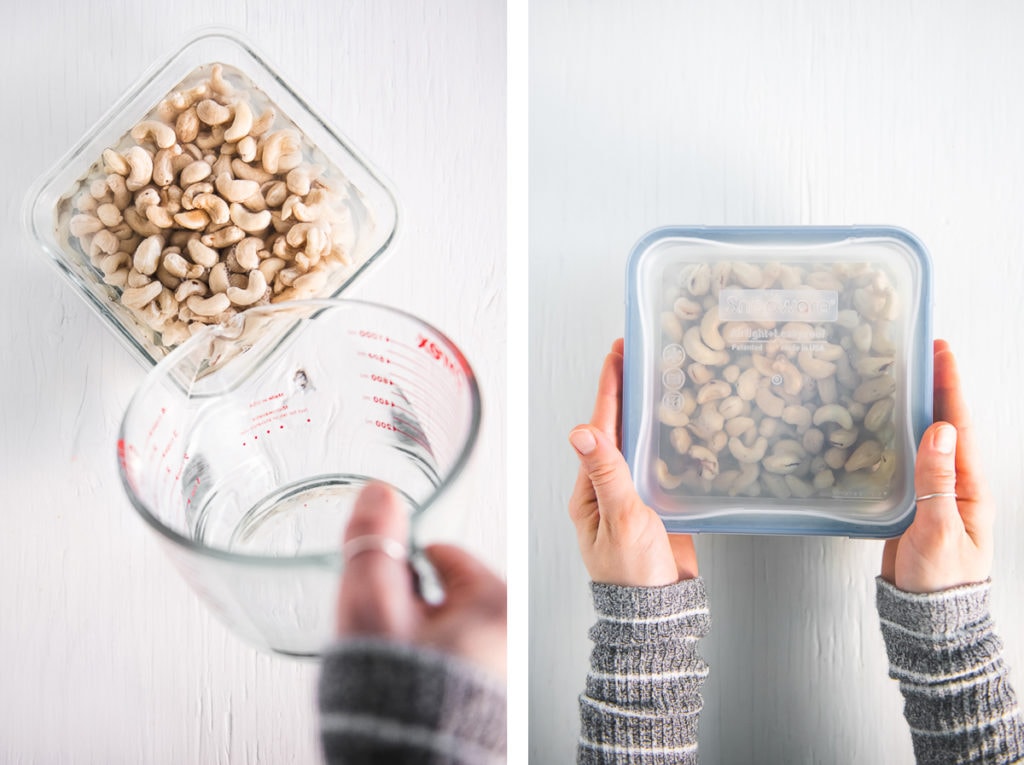 Warm Water Quick Soak
Although overnight soaking is my preferred method, you will catch me using this method a lot. Because it's quicker, life happens, and we get hungry!
Bring a few cups of water to a boil (enough to cover your cashews). Let it cool down for a few minutes before pouring over your cashews. Once the water is warm but not boiling, pour over the cashews and let them soak for fifteen minutes to a half-hour.
You can also add some apple cider vinegar to help the softening process.
Step 2 - Strain & Rinse
Once your cashews are soaked, they should be nice and soft. It's normal that the soaking water turns a little murky. This isn't anything to worry about, and you're going to toss it anyway!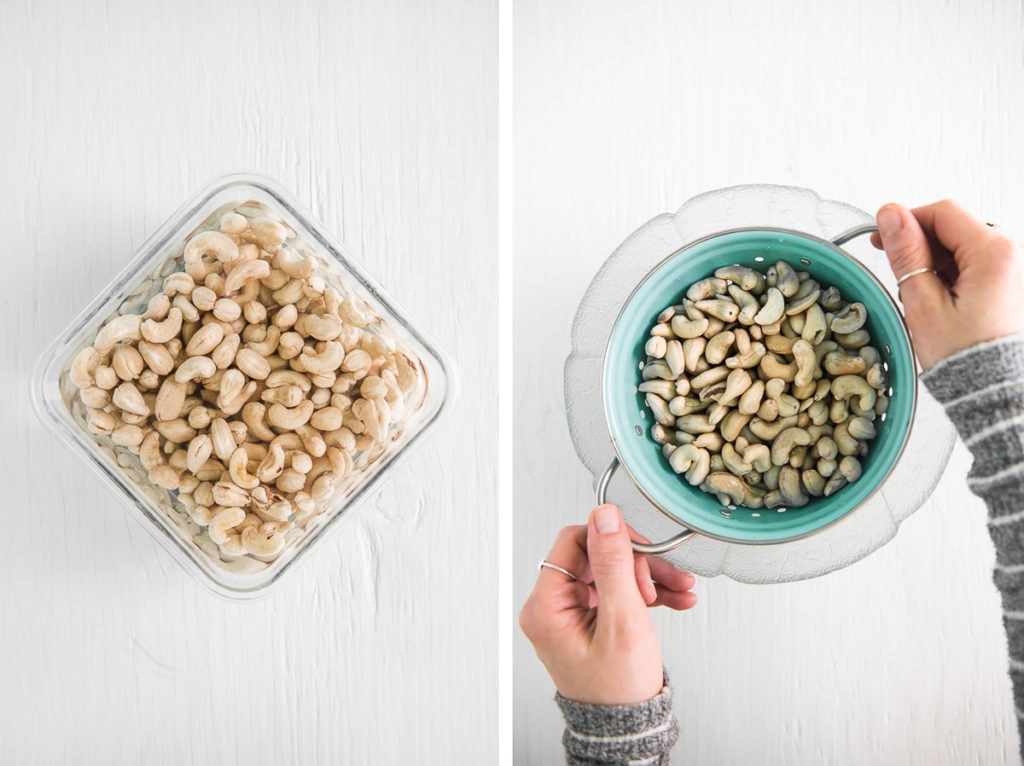 Pour the cashews into a colander or strainer over a sink and rinse the cashews well. Shake the colander to get any excess water out.
Step 3 - Blend
Next, add your soaked, rinsed and strained cashews into your blender and add fresh, filtered water. I usually add just enough to almost cover the cashews (about one and one-quarter cup). I find this makes the perfect consistency for yogurt, pudding, and using as a heavy cream for pasta sauce. If you're making a firmer cheese, you may want to add less water, so it becomes a thicker consistency.
If you're unsure, go with less water. You can always add more if you need.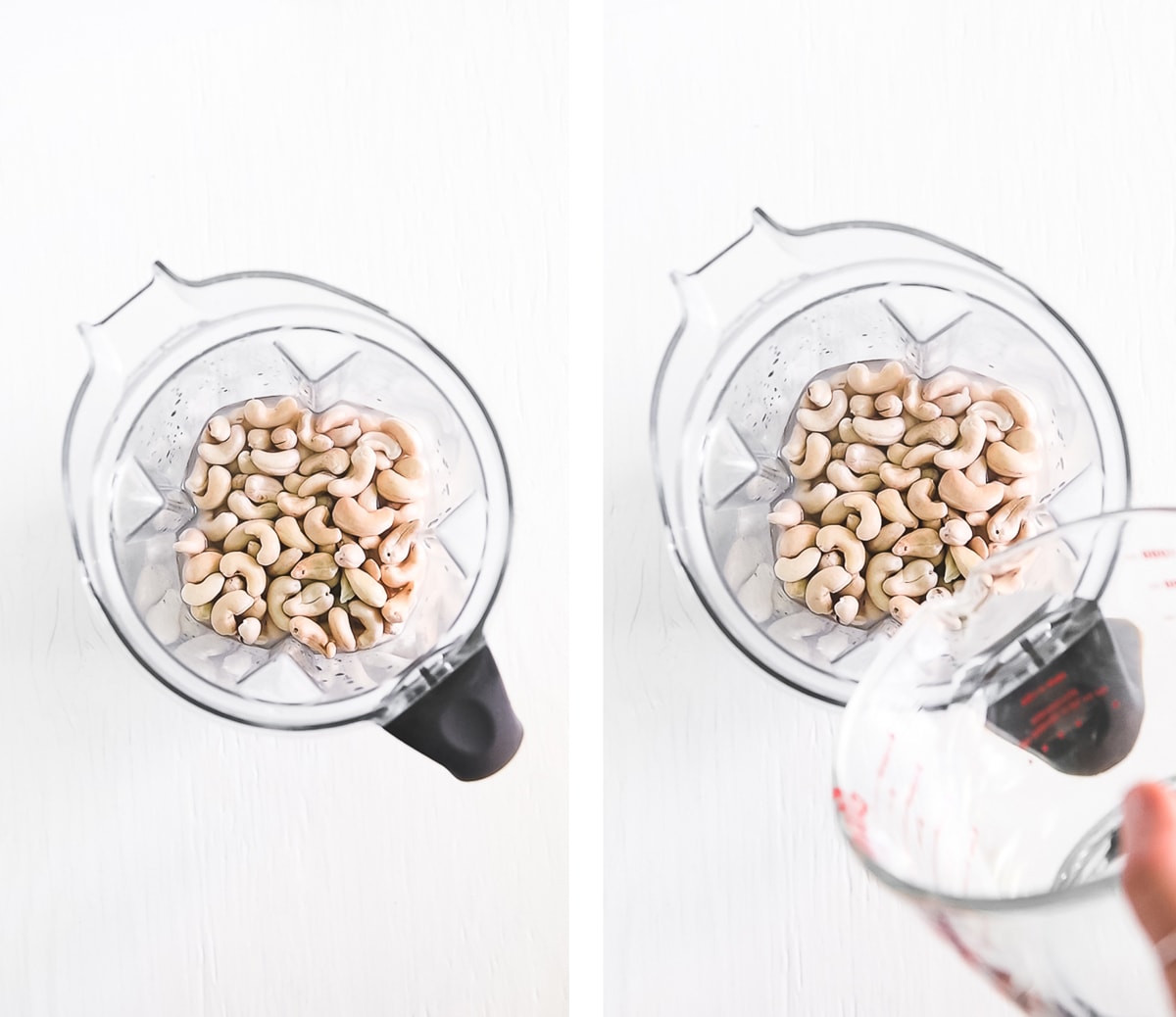 After you add your cashews and water to the blender, blend for thirty seconds to a minute. Or until it's blended into a smooth cream.
If your blender isn't very high-powered, or you're having trouble getting a perfectly smooth cashew cream, add another quarter cup (totalling one and a half cups). Blending the cashews with warm water will also help to get a smoother blend.
And keep in mind, the more water you add, the thinner and more milk-like it will become.
Step 4 - Use or Store Your Fresh Cashew Cream
Use your cashew cream right away to make creamy pasta sauce, salad dressing, yogurt, sour cream, and so much more!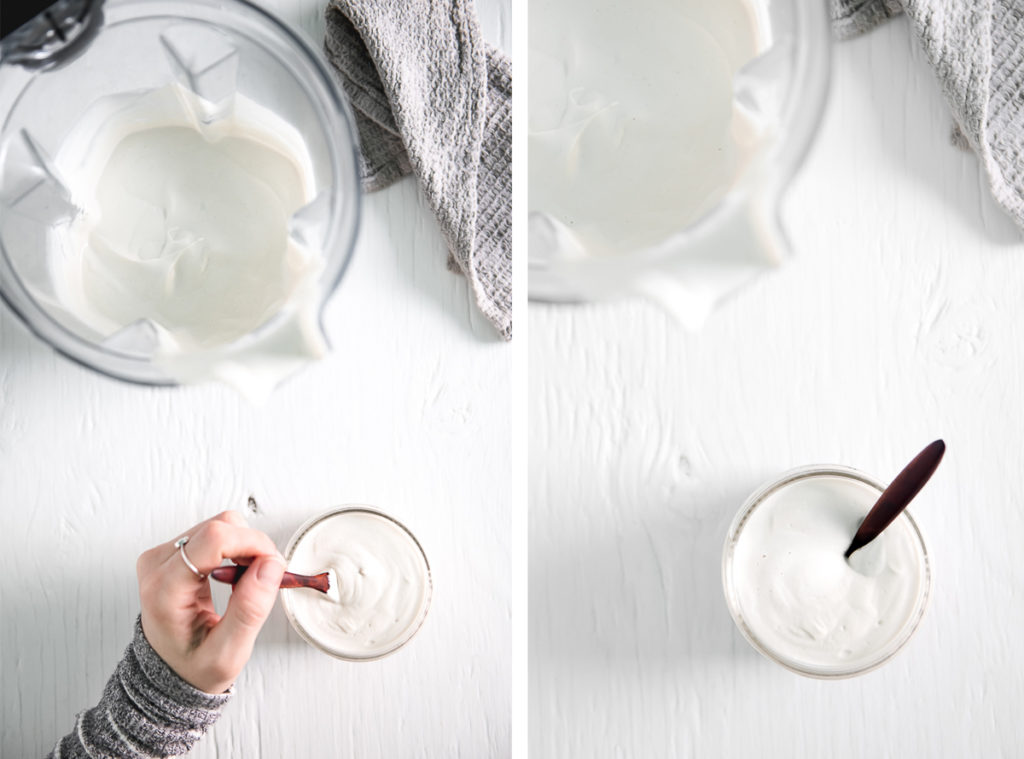 If you're saving it to use later, place your cashew cream in a sealable jar and keep it in the refrigerator.
How Long Does Cashew Cream Last
When stored in a sealed container in the refrigerator, cashew cream will last up to seven days. If you know you won't use it up by then, you can always turn it into cashew yogurt to make it last another seven days!
Ways to Use Cashew Cream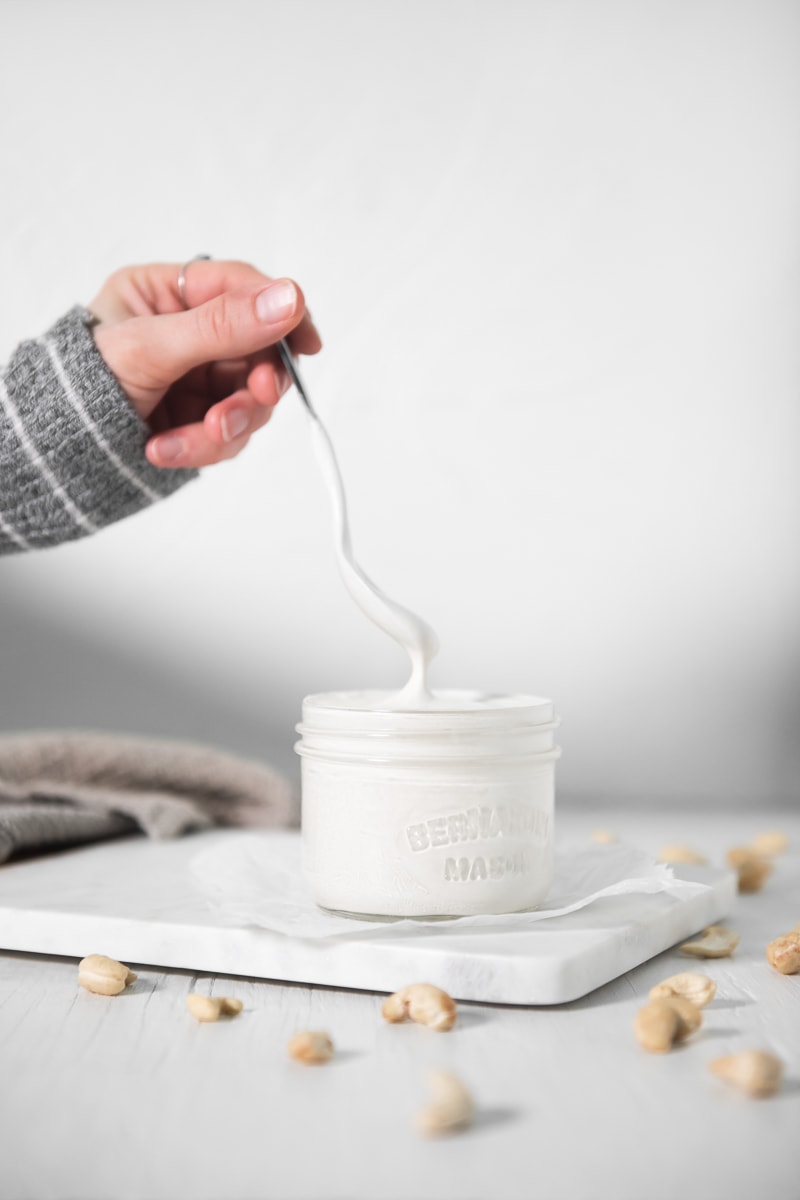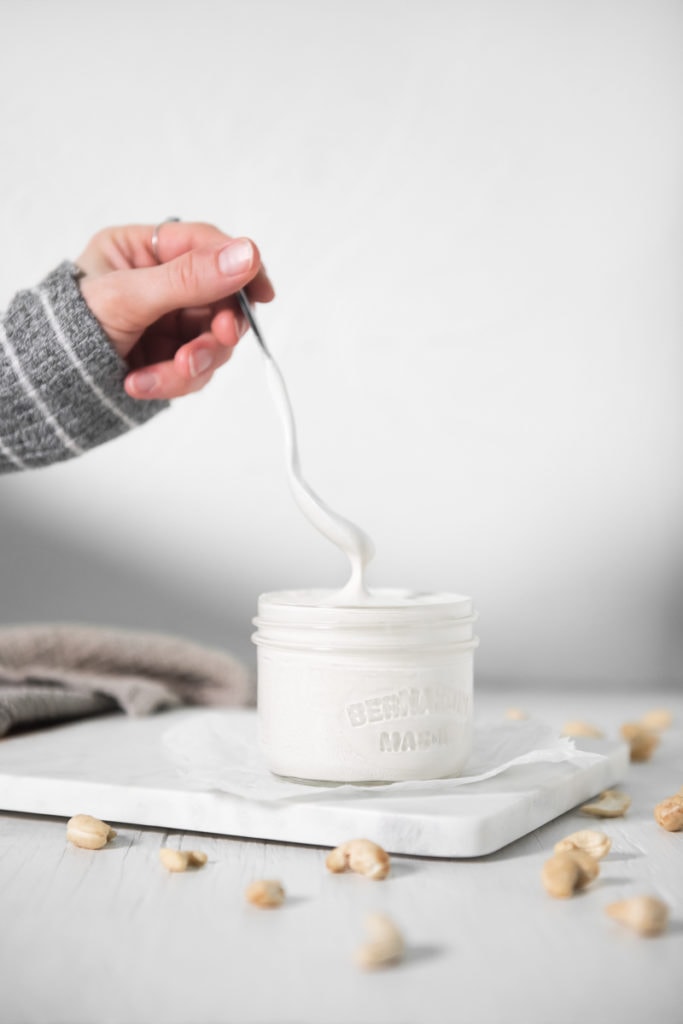 If you try this Homemade Cashew Cream recipe, let me know how it turns out by leaving a comment and/or a rating below! And make sure you're following along on Pinterest, Instagram and Facebook for more wildly nutritious recipes!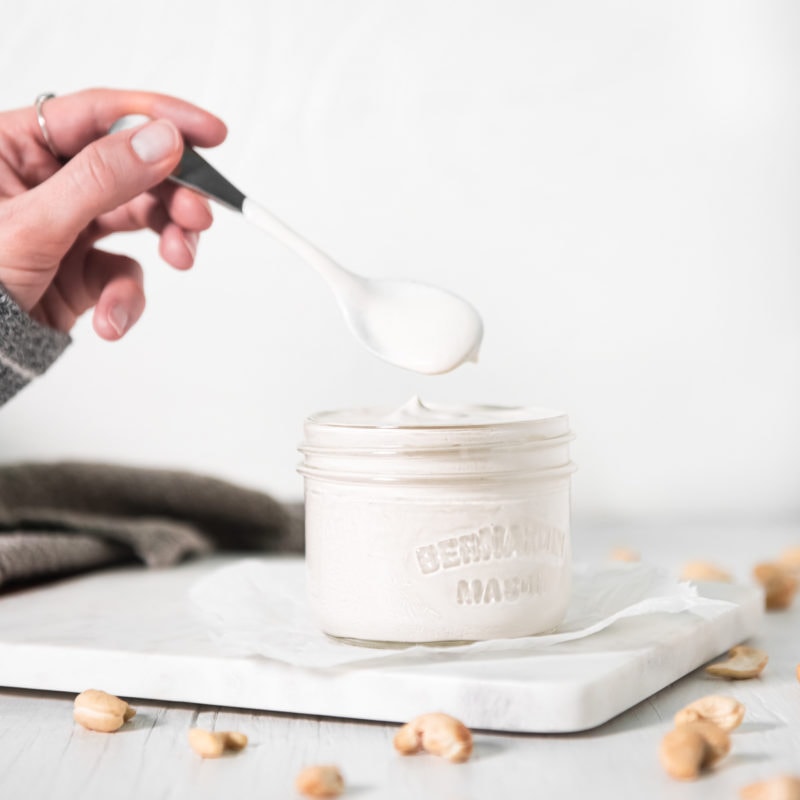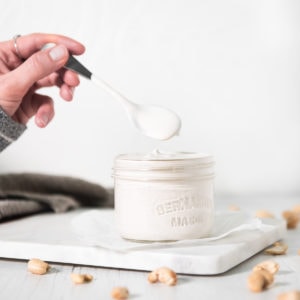 How To Make Cashew Cream
This Homemade Cashew Cream is an incredibly simple dairy-free staple to make. Use it to make numerous dairy-free recipes, including salad dressing, pasta sauces, milk, yogurt, pudding and more!
Pin Recipe
Rate Recipe
Equipment
High Speed Blender

Strainer / Colander

Kettle / Stove Top & Pot (Optional)
Ingredients
2

cups

Raw Cashews

1 ¼

cup

Filtered Water

(plus extra for soaking)

1

tablespoon

Apple Cider Vinegar

(optional)
Instructions
Add 2 cups of raw cashews to a bowl or sealable container.

Next, pour in enough water to cover the cashews fully. You can add a tablespoon of apple cider vinegar to improve digestibility and further soften the cashews for blending.

Let the cashews soak overnight or for eight to twelve hours.

*If you are in a pinch and need your cashews soaked right away, soak them in hot water for 20 - 30 minutes.

Once your cashews are soaked and softened, pour into a colander to strain the soaking water. Rinse the cashews well.

Add the cashews, along with 1 to 1.5 cups of fresh water, to a blender and blend until smooth (usually about 30 seconds to a minute).

Once your cashew cream is blended and smooth, you can use it right away or store it in an airtight container for up to seven days.
Notes
If you need your cashew cream to be a thicker consistency add less water, if you need it thinner, add more.
---
*If your blender isn't high-powered or if you're having trouble getting a smooth cashew cream, add a little extra water (warm will help even more) and blend for at least 30 seconds.
Nutrition
Serving:
2
Tablespoons
|
Calories:
89
kcal
|
Carbohydrates:
5
g
|
Protein:
3
g
|
Fat:
7
g
|
Saturated Fat:
1
g
|
Polyunsaturated Fat:
1
g
|
Monounsaturated Fat:
4
g
|
Sodium:
3
mg
|
Potassium:
107
mg
|
Fiber:
1
g
|
Sugar:
1
g
|
Vitamin C:
1
mg
|
Calcium:
7
mg
|
Iron:
1
mg