This homemade cultured cashew yogurt is the perfect plant-based replacement! It's incredibly creamy, easy and versatile. Use it for baking, salad dressing, topping soup, pancakes and more!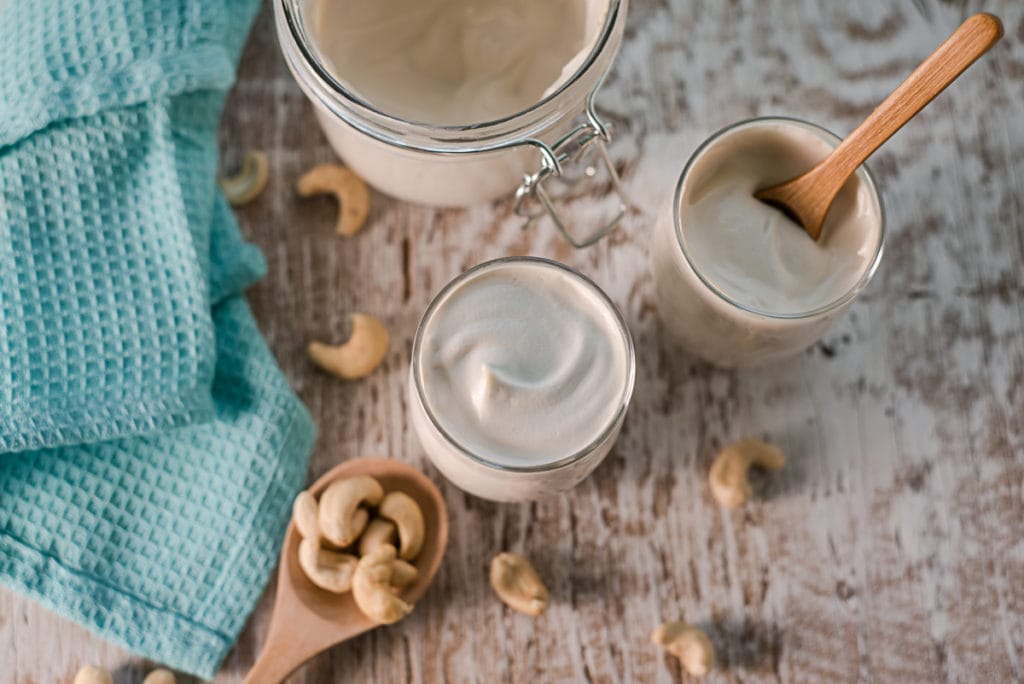 I used to think making a plant-based yogurt would be a tedious process. But, to my surprise, it's just the opposite! Thankfully, during my Nutrition training, I learned an extremely simple way to make homemade, vegan yogurts. Needless to say, I haven't bought any yogurt since!
This is an unflavoured, plain cashew yogurt. So, even though it requires a bit of natural sugar, it is not a sweet yogurt. It's perfect for adding to savoury dishes, making salad dressing and baking, or if you're on a low sugar diet.
You can also use it as a base to turn it into any flavour of your liking.
How to Make Cultured Cashew Yogurt
Soaked cashews blend up so nice and creamy; they make the perfect plant-based yogurt. The best part is, it doesn't take much effort at all. Especially if you already have a batch of cashew cream whipped up!
Either way, it only takes a few simple steps to make creamy cultured cashew yogurt.
Step 1 - Make Cashew Cream
To make cashew yogurt, you'll first need to make a batch of cashew cream. Not to worry, it's a simple and easy process! Here's a step-by-step guide.
Step 2 - Add Probiotics & Natural Sugar
Once you have a batch of cashew cream whipped up, add in your probiotics. I find 30 - 50 billion organisms work best. If your probiotics are in capsule form, break open the capsule and pour the contents into the cashew cream. Next, stir in a teaspoon of natural sweetener. I like using pure maple syrup, but any other unrefined sugar will work. I also should note, it does have to be a sugar, not a sugar substitute. In order for the fermentation process to work, sugar is needed to feed the probiotic bacteria.
Step 3 - Ferment For 8 - 24 Hours
Now all you have to do is cover the mixture with a clean, breathable linen cloth or paper towel. Secure your cover with an elastic band and simply place the jar on the counter where it won't be disturbed for 24 hours. To speed the process up, you can leave it in the oven with the light on for eight to twelve hours (or overnight).
Once your cashew cream has fermented into yogurt, use it up right away or keep it refrigerated in an airtight container for up to 2 weeks.
Ways To Use Your Homemade Cultured Cashew Yogurt
There are many different ways you can use this homemade cashew yogurt!
You can use it in place of sour cream for tacos and nachos. You can top your soups and oatmeal with it. It's also great for baking, turning into salad dressing, adding to smoothies and making yummy parfaits!
Plus, you can use it as a base to turn it into any naturally flavoured, vegan yogurt of your desire!
Recipes Using Cashew Yogurt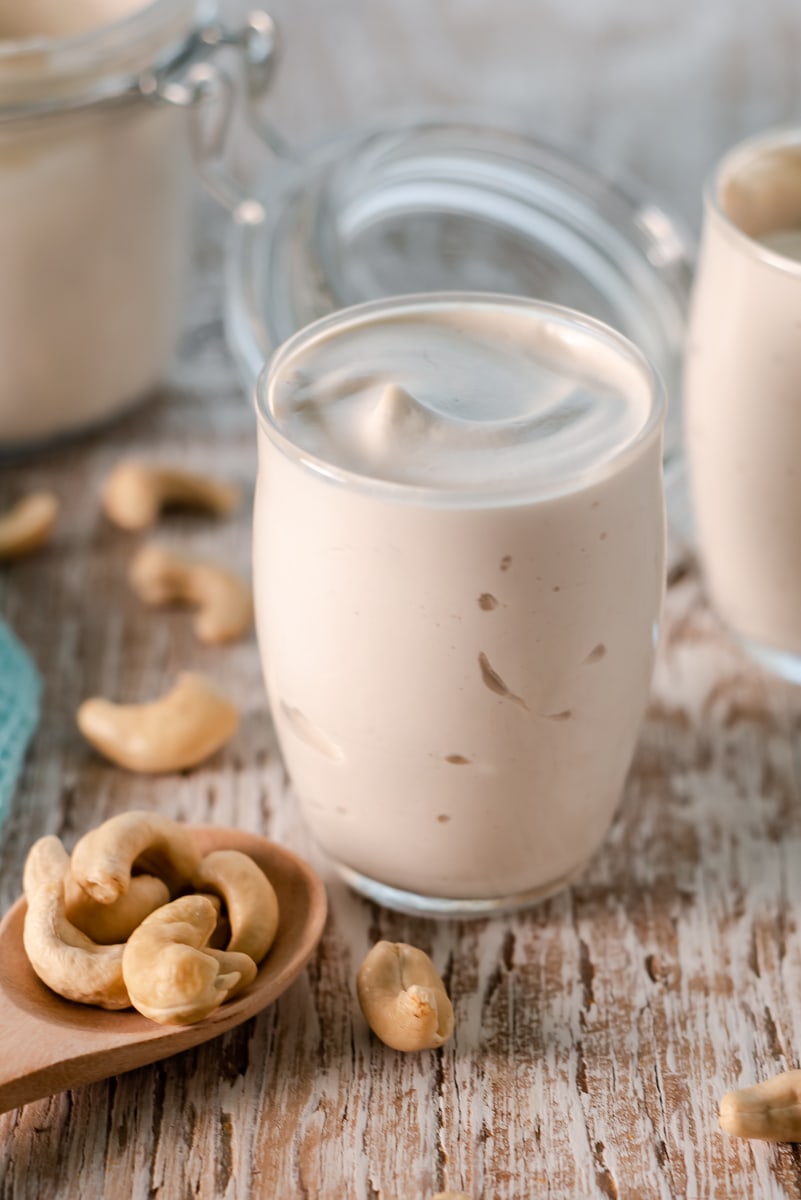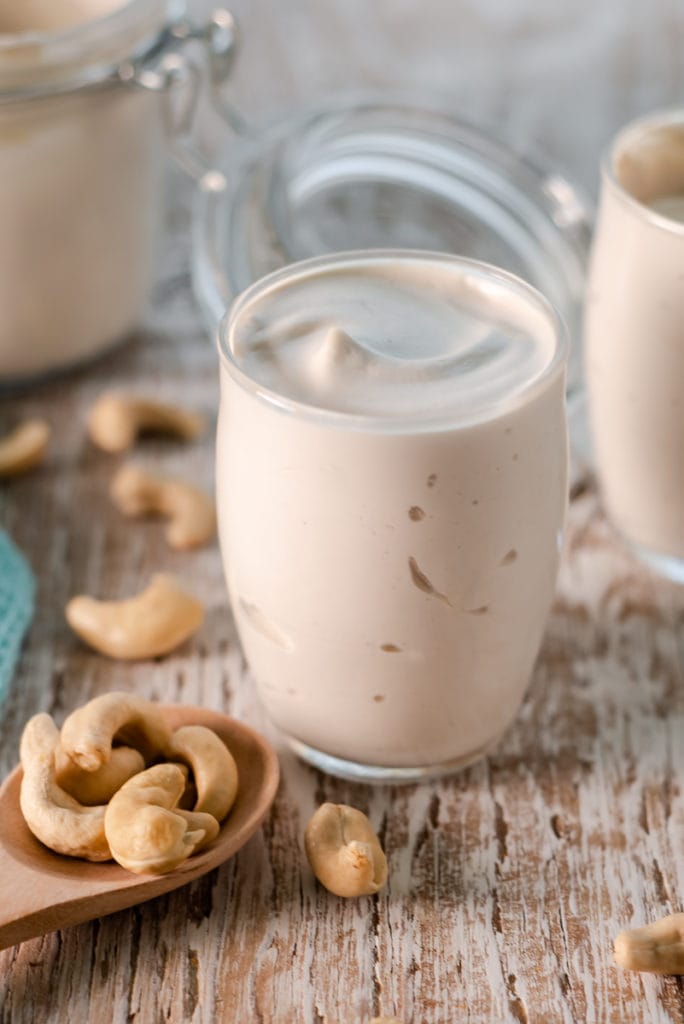 Is Cashew Yogurt Healthy?
As long as you don't have a nut or mould allergy, homemade cultured cashew yogurt can provide some great nutritional benefits, especially if you eat a vegan diet!
I also say homemade is always best! When you make something yourself, you know exactly what's in it. Plus, love is hands down the most nutritious ingredient you can add!
And it isn't to say you can't find any clean dairy-free yogurts on the market; you most certainly can! It's a little more difficult, however. Many are filled with loads of sugar, preservatives, fillers, binders and gums. Hence why it's more often healthier, easier and cheaper to make your own.
Homemade Cultured Cashew Yogurt Benefits
Cultured foods are extremely beneficial for our health, and this creamy yogurt provides even more nutritional value thanks to cashews!
Cashews
Cashews have some great nutritional benefits, especially for those who eat a plant-based diet!
Good Source of Protein
Cashews are an excellent source of plant protein. They contain all the essential amino acids making them a complete protein.
Good Source of Minerals
Cashews are also a great source of minerals, including magnesium, potassium, iron and zinc.
Healthy Fats
Another great thing about cashews is that their fat content is 65% oleic acid (a monounsaturated oil known to provide protective benefits against heart disease and cancer)..
Great Source of Energy
Lastly, cashews have a higher carbohydrate content than most nuts! Combined with their high fat and protein content, this makes them a great food to eat before workouts and to keep you full longer.
Organic Is Always Best!
All that being said, it's important to buy organic whenever possible as many nuts grown in North America can be with sprayed glyphosate. Click here to learn more about the detrimental effects of glyphosate and the importance of choosing organic.
Naturally Sweetened
Just as I mentioned above, one thing I love about homemaking is that you have complete control over the ingredients you use. So, you can have peace of mind that you're providing your body with the most nutritious foods.
Although this cashew yogurt itself is not sweet or sweetened, it does need some sort of sugar to feed the probiotics. This is how the fermentation process works. Thankfully, natural sweeteners work wonderfully well, so you don't have to use any refined sugars. I like using maple syrup the best for my cashew yogurt, but coconut sugar, date sugar, raw cane sugar, or any other natural sugar will work just as well.
Immune, Brain & Gut-Loving
One of the best foods for our guts and immune systems are live-cultured foods. They provide so many health benefits!
For one, cultured foods offer our bodies beneficial bacteria. It's essential that we eat various fermented and live-cultured foods to ensure a balanced gut flora. If our flora (or microbiota) becomes out of balance, it can cause problems like yeast infections, acne, cravings, anxiety and brain fog!
Our microbiome and gut health is directly connected to our overall health. It also plays a critical role in our brain function and mental health. So, keeping our flora healthy increases our chances of warding off harmful bacteria and pathogens, as well as depression, mental illness, and neurodegenerative disease.
Eating naturally fermented foods and switching up your probiotic strain is a great way to keep that immune system and brain in tip-top shape!
More Recipes You Might Enjoy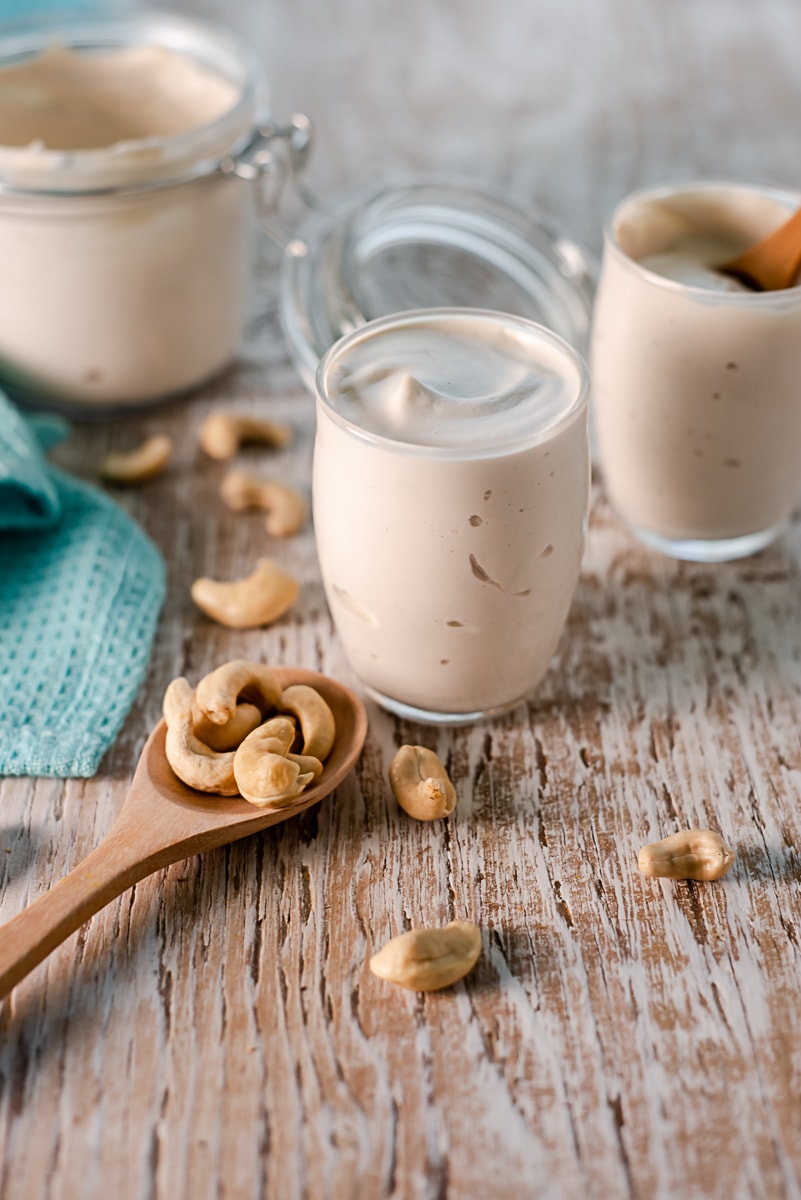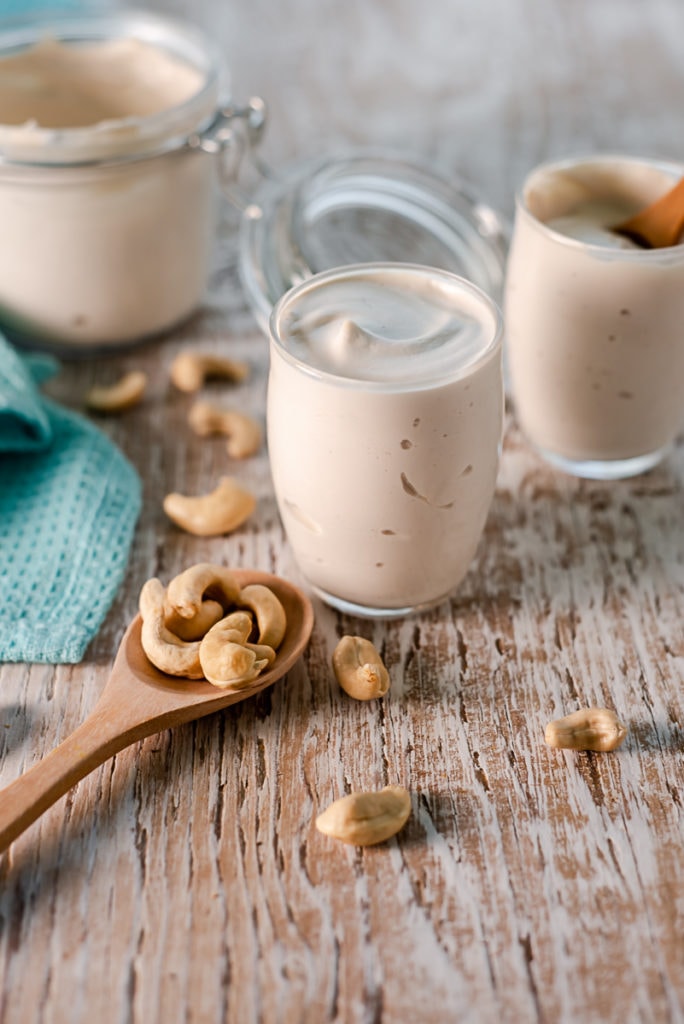 If you try this Homemade Cultured Cashew Yogurt, let me know how it was by leaving a comment and/or a rating below! And make sure you're following along on Pinterest, Instagram and Facebook for more wildly nutritious recipes!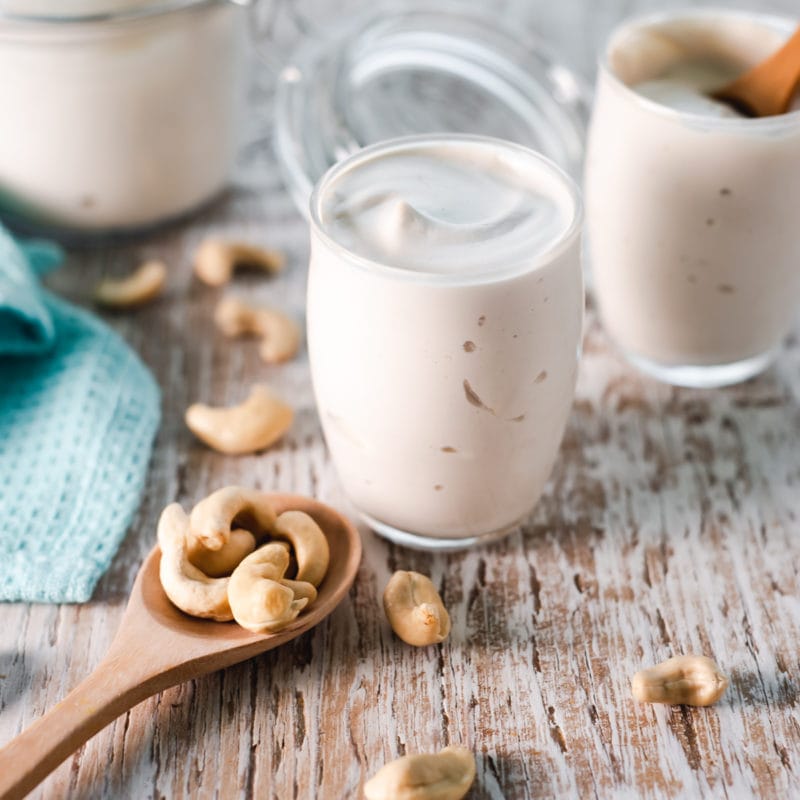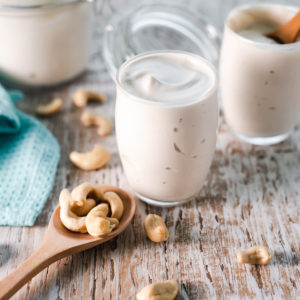 HOMEMADE CULTURED CASHEW YOGURT
This Homemade Cultured Cashew Yogurt is simple to make and is the perfect dairy-free substitute!
Pin Recipe
Rate Recipe
Ingredients
2

cups

Cashew Cream

1

teaspoon

Pure Maple Syrup / Coconut Sugar

1

Capsule

Probiotics

(30 - 50 Billion Organisms)
Instructions
Add 2 cups of cashew cream to a clean glass jar or container.

Break open one probiotic capsule of 30 - 50 billion organisms, and pour the contents into the cashew cream.

Add 1 teaspoon of maple syrup (or any other natural sugar) and mix well.

Cover the jar or container with a clean cotton cloth or paper towel and secure with a rubber band.

Next, place it in a spot where it won't be disturbed and allow it to sit at room temperature for 24 hours. Or, to speed up the process, place in the oven with the light on for 8 - 12 hours (or overnight).

You will be able to tell your yogurt is ready when natural air pockets form. It will be thick and creamy. The longer the it ferments, the tangier it will get. If you prefer it on the very tangy side, you can continue to let it ferment for up to 48 hours.

Once your cashew yogurt has tanginess ofyour liking, use it up right away or keep it refrigerated in an airtight container for up to 2 weeks.
Notes
Store your leftover yogurt in the fridge, it will last up to two weeks!
---
It is normal for some separation to occur. If liquid forms on the top of your yogurt, just give it a good stir!
Nutrition
Serving:
1
Tablespoon
|
Calories:
90
kcal
|
Carbohydrates:
5
g
|
Protein:
3
g
|
Fat:
7
g
|
Saturated Fat:
1
g
|
Polyunsaturated Fat:
1
g
|
Monounsaturated Fat:
4
g
|
Sodium:
2
mg
|
Potassium:
107
mg
|
Fiber:
1
g
|
Sugar:
1
g
|
Vitamin C:
1
mg
|
Calcium:
6
mg
|
Iron:
1
mg