This Creamy Vegan Beetroot Soup is a vibrant, nutrient-dense dish that's surprisingly delicious! It's so smooth and perfectly spiced, enhancing its grounding power. Trust me, you'll want a big bowl of this healing soup.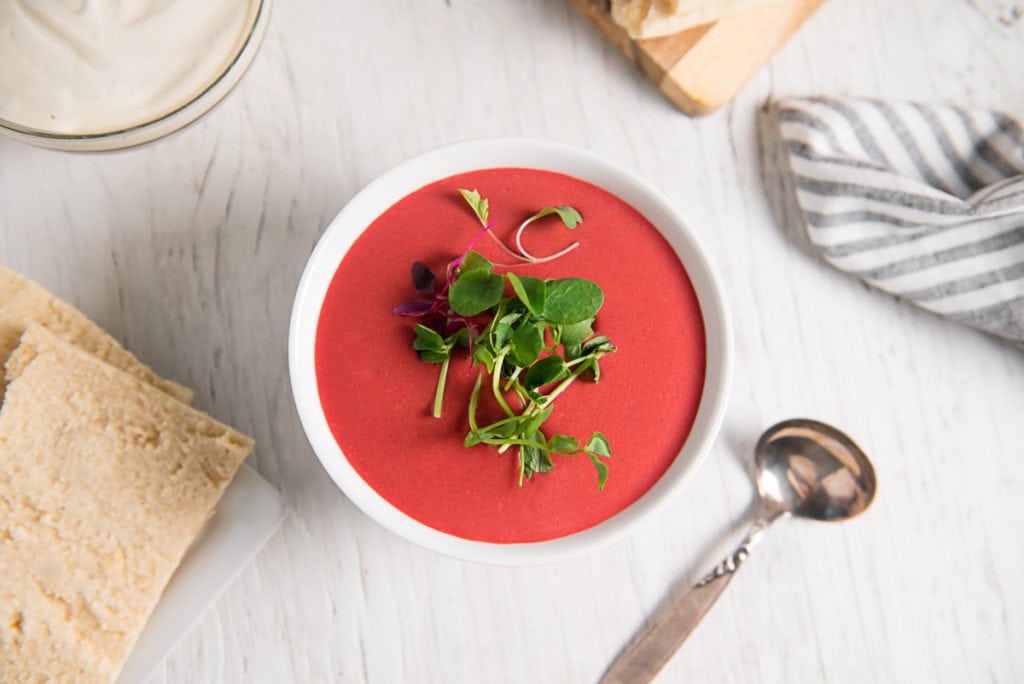 This isn't your traditional beet soup (or Borscht)! It's a smooth and creamy twist, spiced with a delicious blend of healing herbs.
This Creamy Vegan Beetroot soup is a great one to eat during the spring and winter months! Between the beets, coriander, nutmeg and turmeric, it offers great grounding power. Beets also provide some pretty amazing health benefits!
Their deep red colour makes for nutrient-dense dishes that are also stunning to look at!
There's a reason they make candy so bright and colourful; we are instinctually attracted to vibrantly coloured foods. However, candy is not the kind of colourful food you want to be filling up on. It's nature's colourful fruits and vegetables that we are meant to be eating up, like candy! Which isn't too hard to do when you have a vibrantly delicious creation, like this Creamy Vegan Beetroot Soup!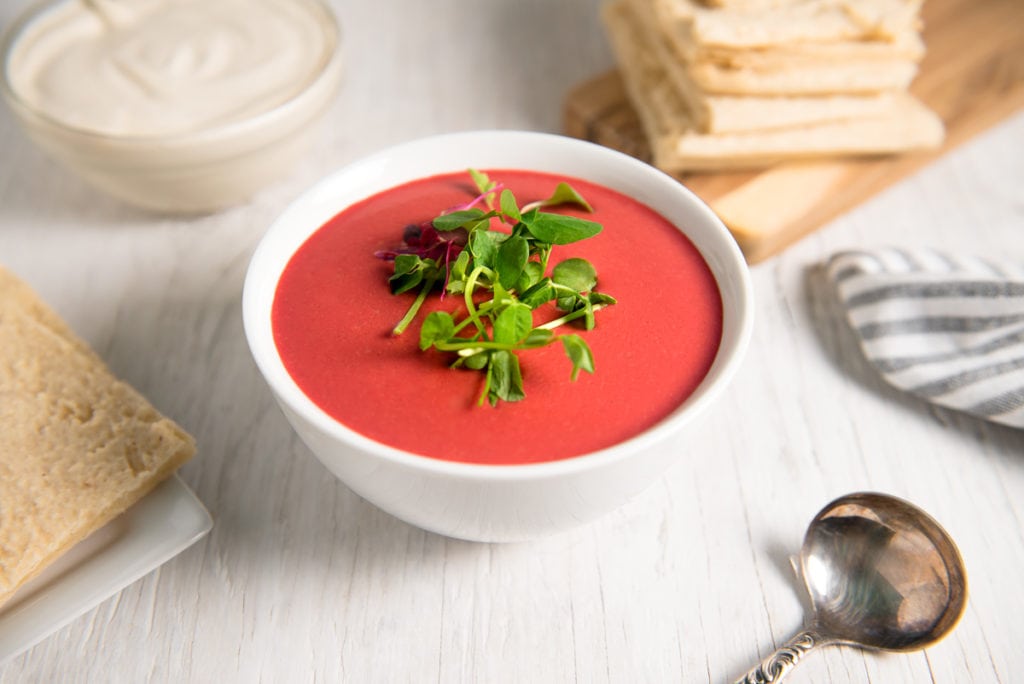 HEALTH BENEFITS YOU CAN'T "BEET"
Anti-Cancer Properties
Beets aren't just pretty to look at; their vibrant colour comes from the pigment betacyanin, a powerful antioxidant known for its cancer-fighting properties.
Detoxifying
Beetroots stimulate the liver's detoxification process, helping to eliminate toxins, excess hormones and cholesterol.
​High In Fibre
Beetroots are a great source of fibre, which is essential for proper bowel function and gut health. Because of the high fibre content, beets specifically are known to have a very positive effect when it comes to lowering cholesterol levels.
Grounding / Root Chakra Activating
Root vegetables are a great way to ground the body. Carrots, parsnips, turnips, potatoes, turmeric and other roots and tubers offer the same effect. Grounding is important, especially when we're going through the seasons of change (spring and autumn). It's also important when we're going through major life changes, stress or if you're a naturally flighty person—if you're like me and prone to anxiety, incorporating grounding foods into your diet is a great one to add to your toolbox.
Sometimes circumstances in our lives or traumas we've been through can put us into survival mode. This can cause the root chakra (Muladhara) or the first energy centre to become imbalanced or blocked. When this happens, we often feel unsafe, ungrounded and insecure. Eating root veggies, tubers and naturally red foods is a simple and effective practice to help bring the roots chakra back into balance.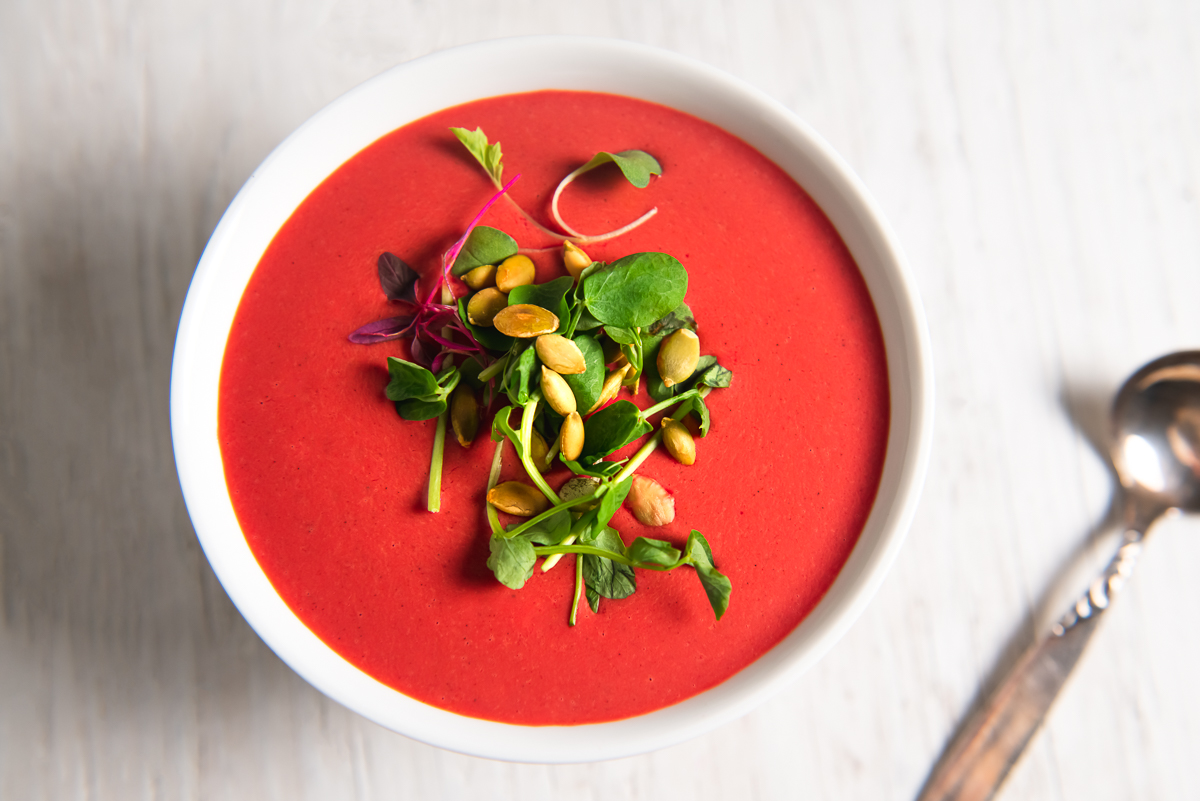 BUYING & STORING BEETS
Buying beetroots with the greens still attached ensures they are the freshest. Try to avoid buying beets in plastic bags; this can harbour mould and mildew (and we should all ditch the plastic anyway). Beets should be firm to the squeeze and vibrantly coloured. If they are soft and very dark in colour, they are past their prime.
Remove the beet greens (if attached), place the stems in a jar of water, and store in the refrigerator.
You can store beetroots in the refrigerator for up to three weeks. Keeping them in a dark container such as a roasting pan helps preserve their freshness a little longer.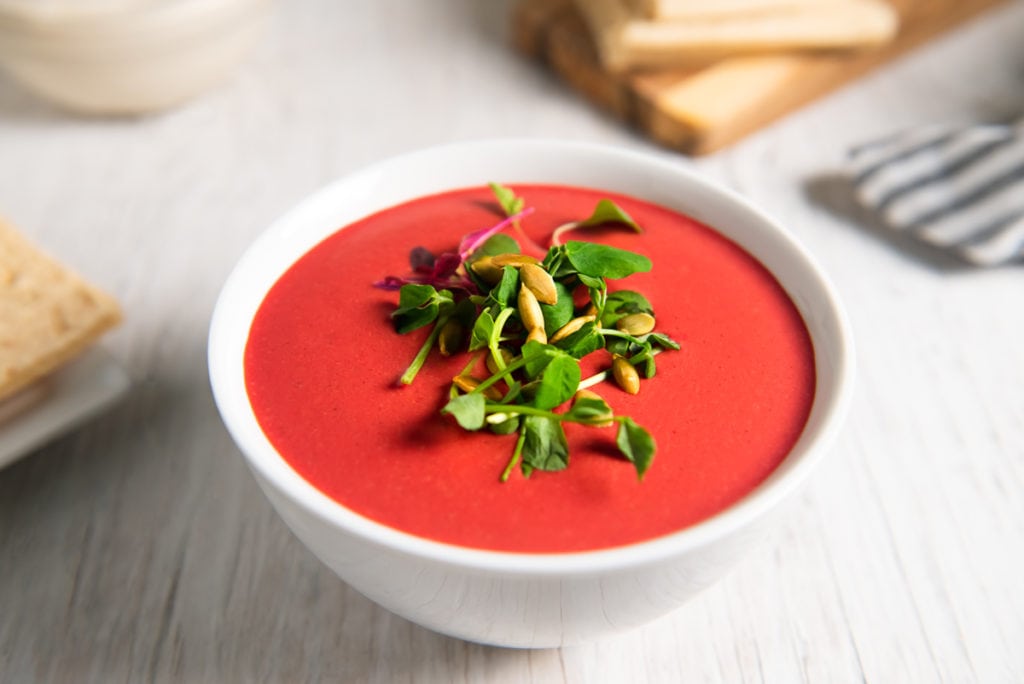 How To Make Creamy Vegan Beetroot Soup
This Creamy Vegan Beetroot Soup is incredibly easy to make, and it only takes about 40 minutes until it's all said and done!
Chop and Prepare
Start by peeling the beetroots, remove the greens if they are attached. Next, peel and chop the ginger. Then mince the garlic and chop the onion.
Heat the Oil & Cook
Add the avocado or extra virgin olive oil to a large pot. Turn the heat to medium-low and let heat for about 30 seconds.
Lightly Cook Garlic and Onion
Now you'll want to add the onion and let cook for about a minute, stirring often.Once the onion starts to become fragrant, add the minced garlic. Stirring frequently, cook for another minute, or until the garlic begins to become fragrant. Make sure not to cook for too long or over too high of heat to avoid burning.
Add Beets & Cook Lightly
Once the garlic has become fragrant, add in the chopped beets and ginger and cook for another couple of minutes. Stir often to avoid sticking and burning.
Pour In Vegetable Broth
After your beets and ginger have been lightly sautéed with the onion and garlic, pour in the vegetable broth.
Bring To A Boil
After you add the vegetable broth, cover the pot and bring to a boil.
Add Spices & Simmer
Once boiling, turn the heat down to medium, add in the coriander, turmeric, cardamom, nutmeg and dill. Cover and let simmer for about 15 minutes, or until the beets are tender. You should be able to poke a fork right through.
Cool Before Blending
Once the beets are tender, remove the pot from the heat and allow to cool before pouring it all into the blender.
Blend
After the soup has cooled down, pour everything into a blender. Add the salt, lemon juice and hemp hearts. Cover and blend until smooth. If you have a high powered blender, it should only take about 30 seconds to a minute.
Serve & Enjoy!
Once your beetroot soup is nice and smooth, serve and enjoy! This soup is best served warm. So, if yours needs reheating, add to a clean saucepan and warm over medium heat.
Garnishes
This Creamy Vegan Beetroot Soup is delicious garnished with cashew cream or yogurt, sprouts and pumpkin seeds!
MORE HEALTHY RECIPES YOU MIGHT ENJOY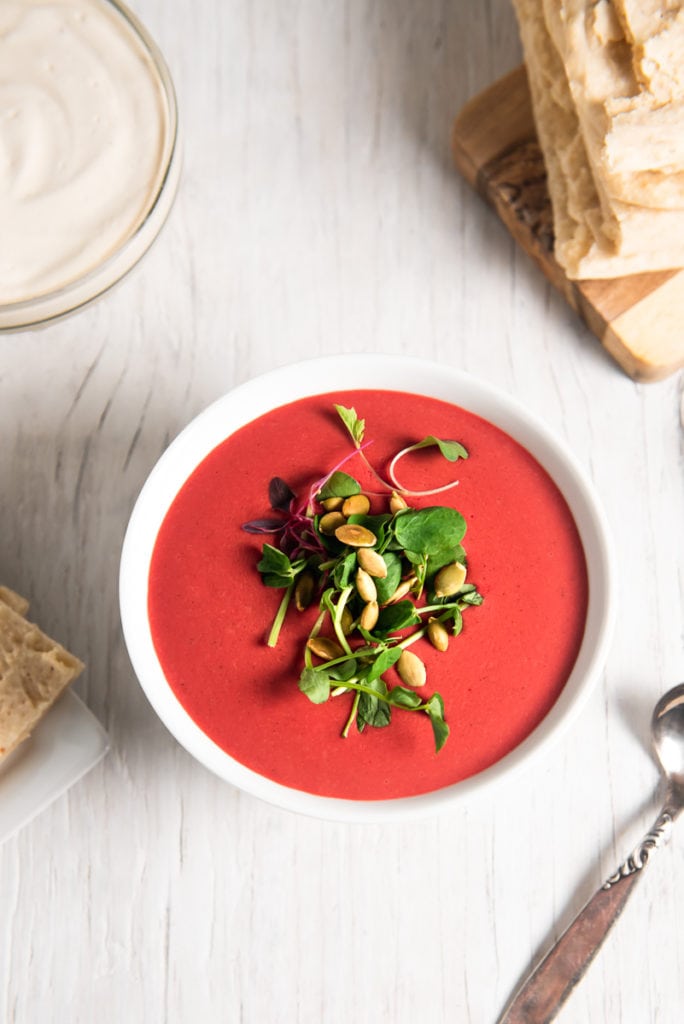 If you've tried this Creamy Vegan Beetroot Soup recipe, let me know how it was by leaving a comment and/or a rating below! And make sure you're following along on, Pinterest, Instagram and Facebook for more wildly nutritious recipes!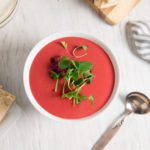 Creamy Vegan Beet Soup
With a blend of healing spices, no added sugars and whole-food ingredients, this is a nutritious and creamy twist on classic beetroot soup!
Print
Pin
Rate
Ingredients
2

large

Beets

(chopped)

I

Medium

Onion

(chopped)

1

medium

Garlic Clove

(minced)

1-inch Hunk

Ginger

(peeled and chopped)

3

cups

Dairy-Free Milk

(I like using Tigernut)

5

cups

Vegetable Broth

½

tsp

Turmeric Powder

¾

tsp

Ground Coriander

½

tsp

Cardamom

½

tsp

Dried Dill

½

tsp

Nutmeg

¼

cup

Hemp Hearts

1

tbsp

Freshly Squeezed Lemon Juice

1

tbsp

Avocado / Olive Oil

1

tsp

Himalayan / Sea Salt
Instructions
Heat the oil in a large saucepan.

Add the onion and garlic cook for until they become fragrant, stirring occassionly. Then, add in the beets and ginger and cook for a few more minutes, stirring often.

Pour in the vegetable broth, cover and increase the heat to bring to a boil.

Once boiling, reduce the heat to medium-low. Stir in the turmeric, coriander, cardamom, nutmeg and dill. Cover again and let simmer for about 10 - 15 minutes, or until the beets are tender enough to poke through with a fork.

Once the beets are tender, remove from the heat to cool for a few minutes before transfering to the blender.

Once the soup is cool enough to handle. Pour into the blender along with the hemp hearts, lemon juice and salt. To reheat the soup, heat over medium-low, stirring consistently.Serve and enjoy!

To reheat the soup, heat over medium-low, stirring consistently.
Notes
This soup is delish on it's own or garnished with
cashew cream
or
yogurt
, sprouts and toasted pepitas (pumpkin seeds).
Nutrition
Serving:
1
cup
|
Calories:
132
kcal
|
Carbohydrates:
13
g
|
Protein:
6
g
|
Fat:
7
g
|
Saturated Fat:
1
g
|
Polyunsaturated Fat:
4
g
|
Monounsaturated Fat:
2
g
|
Sodium:
976
mg
|
Potassium:
362
mg
|
Fiber:
3
g
|
Sugar:
8
g
|
Vitamin A:
719
IU
|
Vitamin C:
11
mg
|
Calcium:
148
mg
|
Iron:
2
mg