This Vegan Peaches and Cream is a healthy, dairy-free and delicious version that comes very close to the classic! This yummy seasonal dessert packs a heap-load of peachy flavour while boasting a light cinnamon crunch, thanks to the Maple Cinnamon Granola Topping.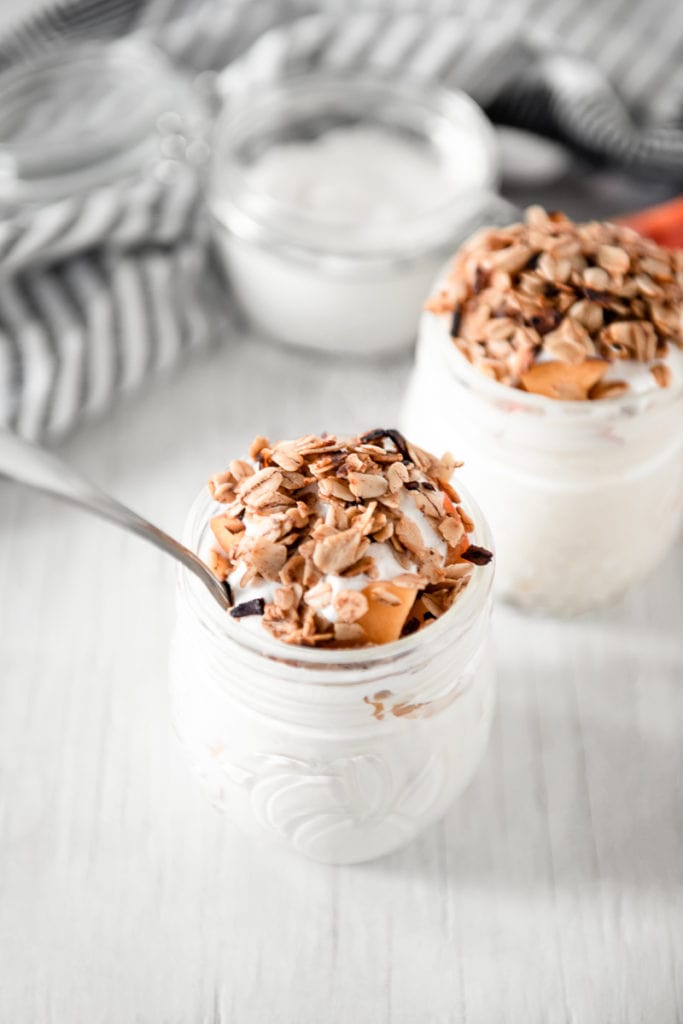 Peach season seems to come and go so quickly! That's why I tend to go a little nuts and stock up on them while I can. However, they don't last forever, and it can sometimes be a challenge to use them all up before they take a turn for the worse. And let's face it, there are times life just gets in the way of making that homemade pie or jam we had originally stocked up for.
That's one reason this recipe is so perfect! It doesn't take a ton of time, especially if you already have some cashew cream whipped up! And Peaches and Cream is one of those nostalgic, seasonal recipes that almost everyone loves. So, it's a simple way to use up all those juicy, ripe peaches!
This Vegan Peaches And Cream is also perfect for parties and gatherings because it's quick, easy and making it ahead of time gives it an even richer peach flavour. Not to mention, it makes the cutest dessert cups!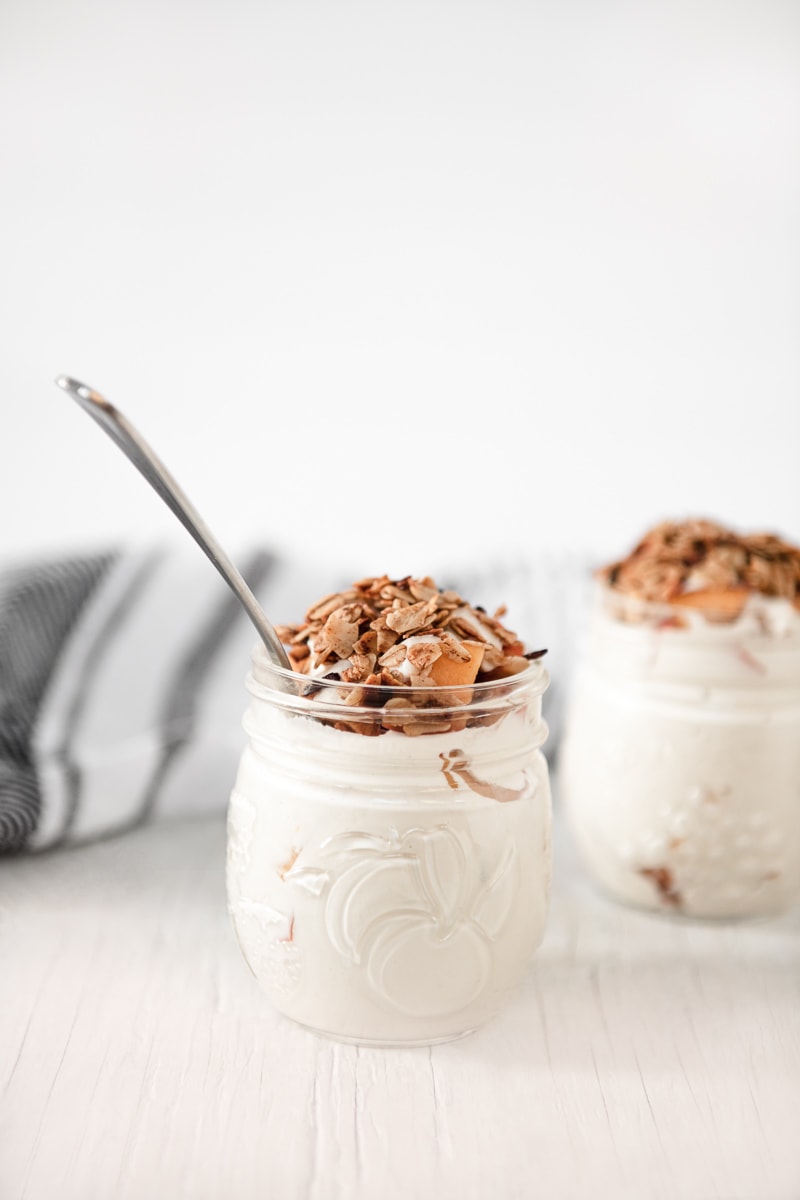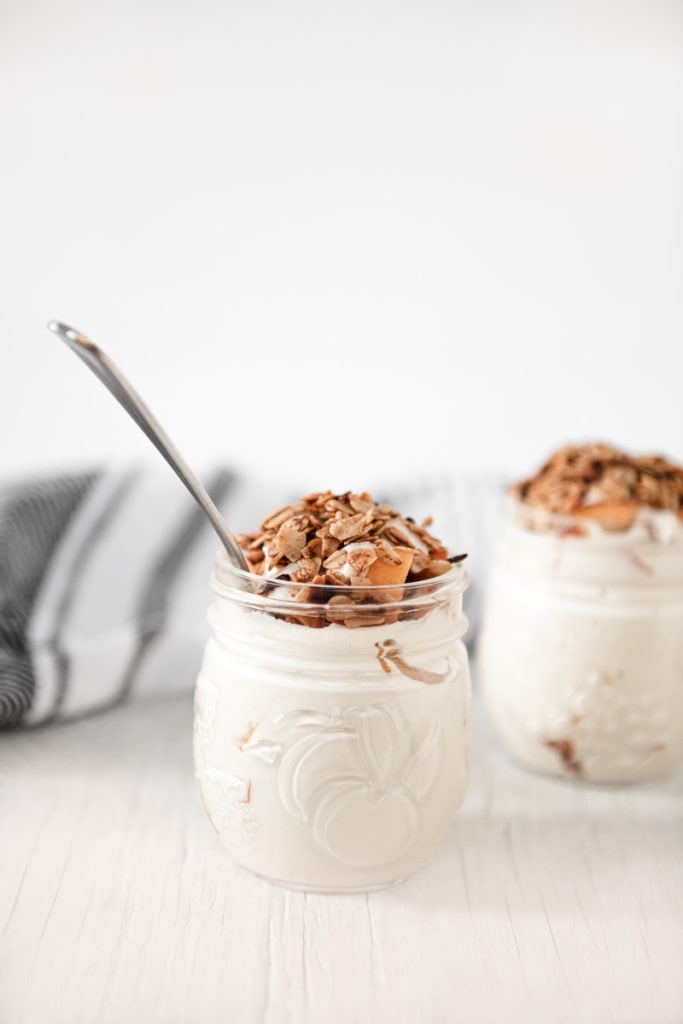 What Makes This Peaches And Cream Healthier?
Peaches
Fresh, local, organic peaches will, of course, offer the highest nutritional benefits. Here in Canada, peaches are in season from late July to early September. Naturally, this is the best time to indulge in them, bake with them, and preserve them!
Like all fruits and vegetables, peaches offer some great nutritional benefits. For one, they are a good source of potassium, making them beneficial to heart health and blood pressure. They are also rich in carotenes and flavonoids, important phytonutrients that protect us against inflammation, cellular degeneration and more. Flavonoids can also extend the activity of vitamin C!
As we know, the more colourful the fruit and vegetable, the higher the antioxidant activity they will provide. So, make sure to choose peaches that are the richest and brightest in colour!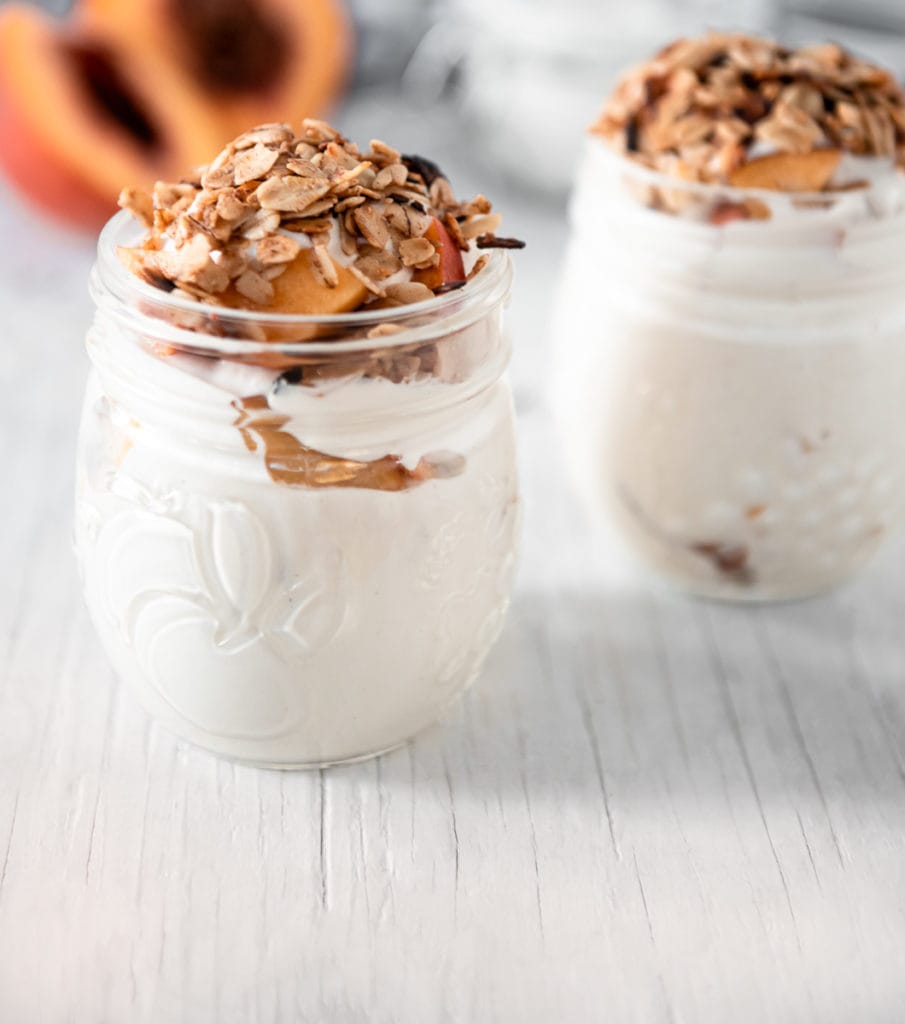 Cashew Cream
Cashew Cream is a delicious alternative to dairy! It's easy to make (as long as you have a good blender) and provides many uses for many different dishes and desserts. I love making it without any salt or sugar, and then it can be turned into either a sweet dessert or a savoury cream sauce. And I can't forget to mention, it can even be turned into milk with a little added water, if need be! You can find a complete guide to making cashew cream here.
Like most nuts and seeds, cashews offer excellent nutritional benefits. For one, they are a good source of minerals as they are rich in magnesium, potassium, copper, iron and zinc. They are also a good source of plant protein and biotin. Not to mention, cashews are a great source of monounsaturated fats, which are known for their protective benefits against heart disease and cancer! However, one thing to note about cashews is that they're high in oxalates. This means large amounts should be avoided by those prone to kidney stones.
Naturally Sweetened
Since the peaches lend their natural sweetness to the Cream, this recipe doesn't need much more added sugar anyway. Both the Cashew Cream and the Granola are minimally sweetened with maple syrup.
Unlike refined sugar, maple syrup is an excellent source of manganese. In fact, just two tablespoons provide nearly 40% of the recommended daily value! Maple syrup is also a great source of zinc! Both of these trace minerals play an essential role in our overall health. Zinc helps with wound healing, acne and contributes to a healthy immune system. Manganese also plays a vital role in keeping us healthy as one of our key free radical fighters, Superoxide Dismutase, requires manganese to function.
I'd say that's a pretty great alternative to the empty calories of refined sugar!
How To Make Vegan Peaches And Cream
Making the Cashew Cream and Granola ahead of time makes this an even quicker dessert to throw together!
Cashew Cream
If you haven't already, soak your cashews overnight. Or, if you're in a pinch, soak them in hot water for at least 15 minutes. Once the cashews are nice and soft, strain out the water and rinse them well.
Add the cashews, vanilla, maple syrup, lemon juice and water to a high-speed blender and blend until smooth.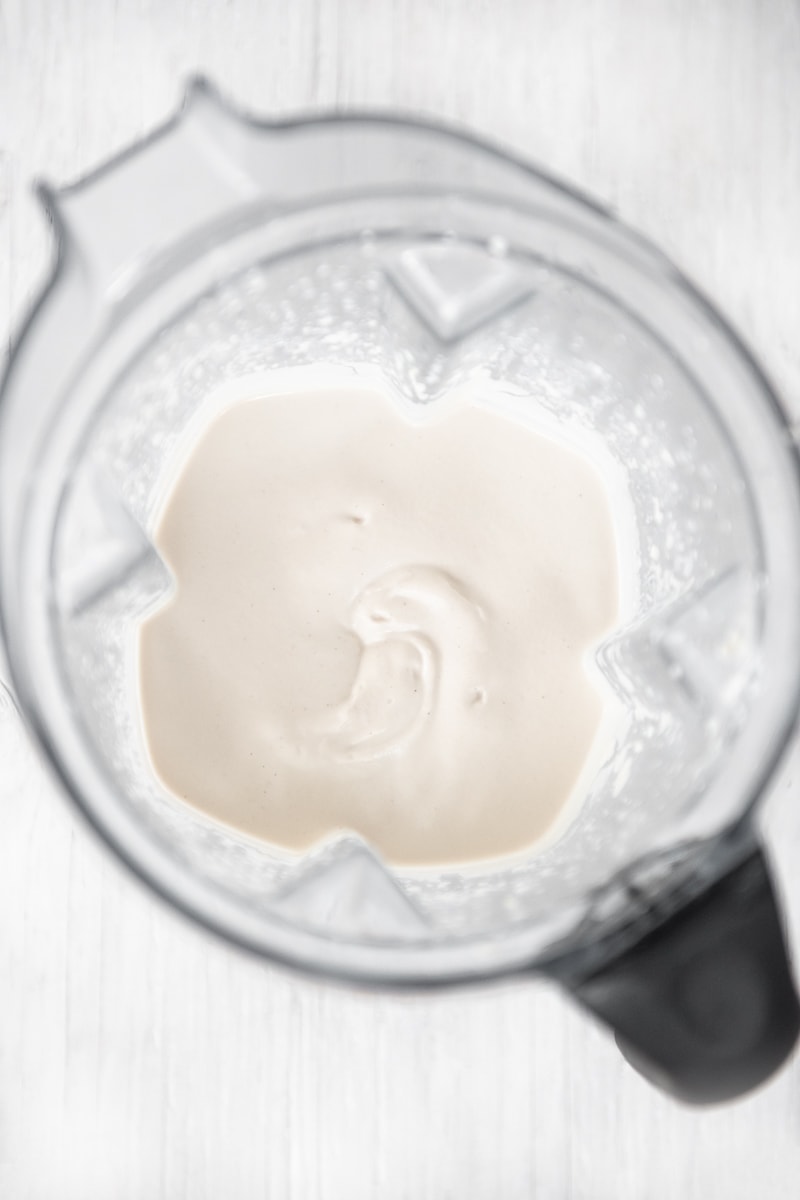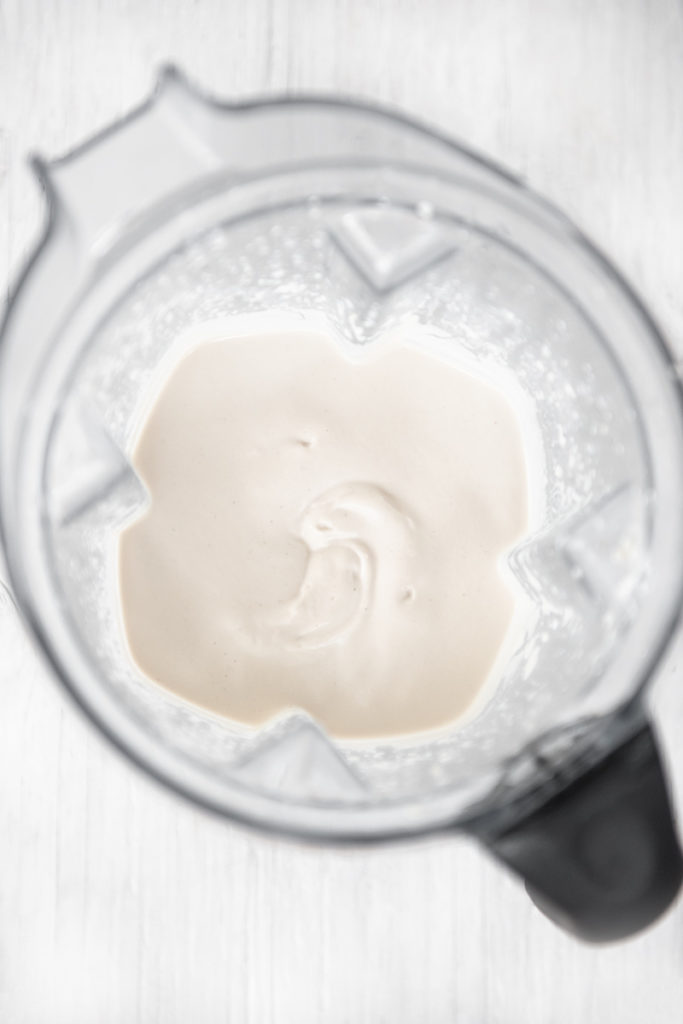 Chop the peaches into small cubes or medium slices.
If you're making this in a big batch for yourself and don't care what it looks like, mix the peaches and cashew cream in a medium bowl. Cover and place in the fridge. Let it sit for 30 minutes to 24 hours to allow the peach flavour to fuse into the cashew cream (the longer you let it sit, the more peachy the Cashew Cream becomes).
Letting it sit is also totally optional. If you're a little impatient like me, you can always eat it straight away. It will still be delicious!
If you're making these for a party or as pretty individual servings, spoon one layer of cashew cream into each cup/container and then add a layer of peaches and keep repeating for another few layers. Place in the fridge and let sit for 30 minutes to 24 hours to allow the peach flavour to fuse into the cashew cream.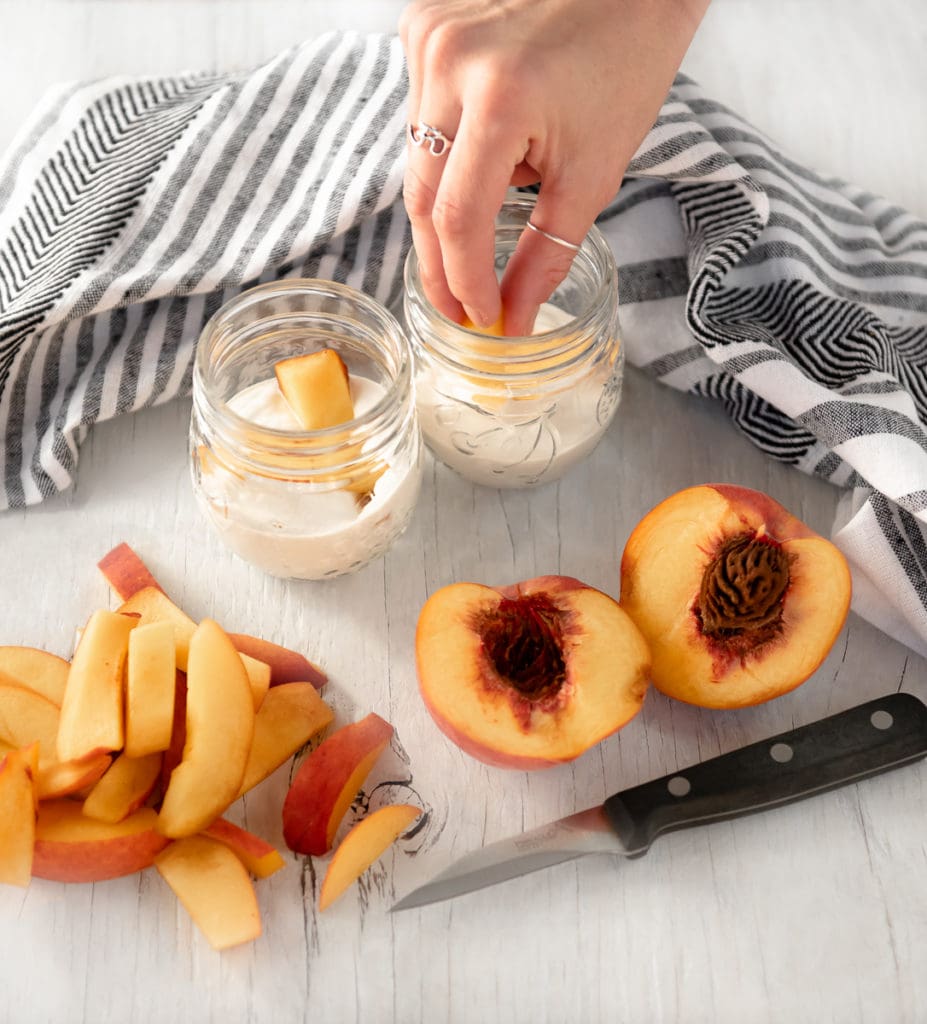 Skillet Granola
First, add the coconut oil to your skillet. Allow it to melt and ensure to coat the pan evenly. Then toss in your rolled oats and stir until they're all covered in coconut oil. Next, sprinkle the cinnamon, vanilla and maple syrup over the oats. Keep stirring while cooking over medium heat until the oats begin to brown. Once they are browned to your preference, remove the skillet from the heat and let sit for a few minutes to cool.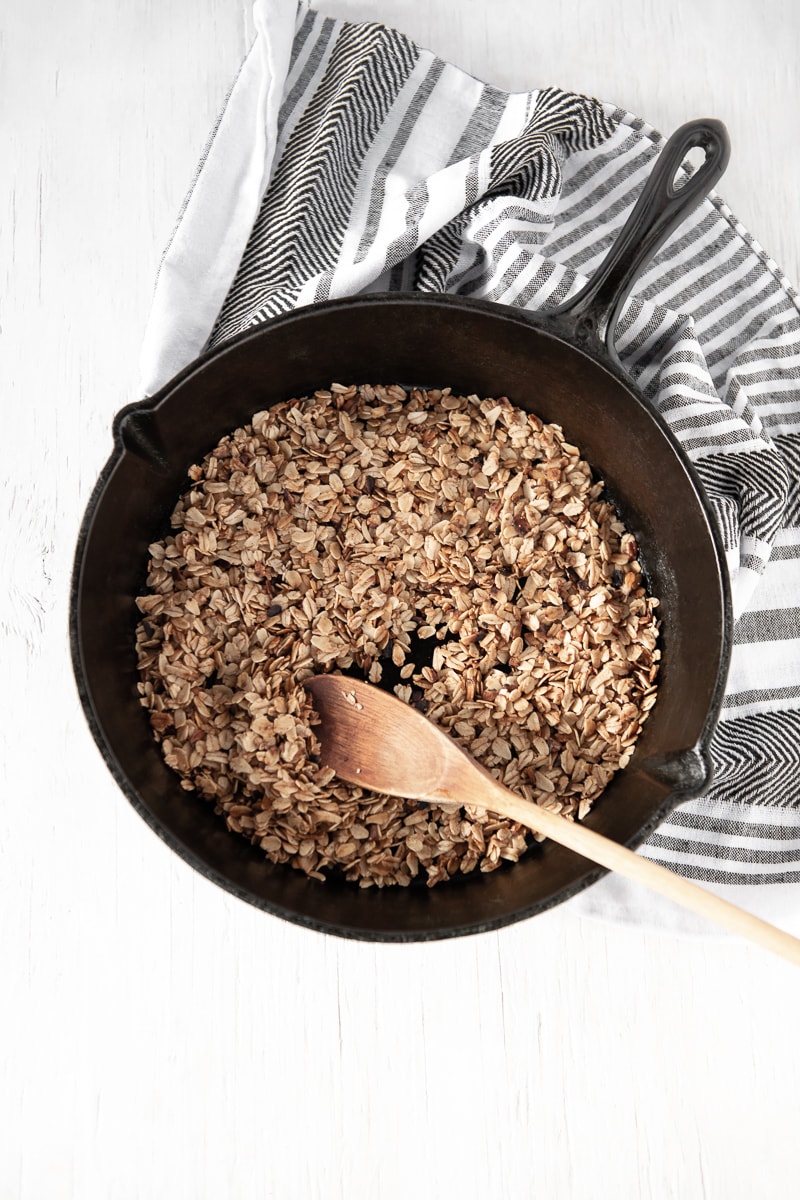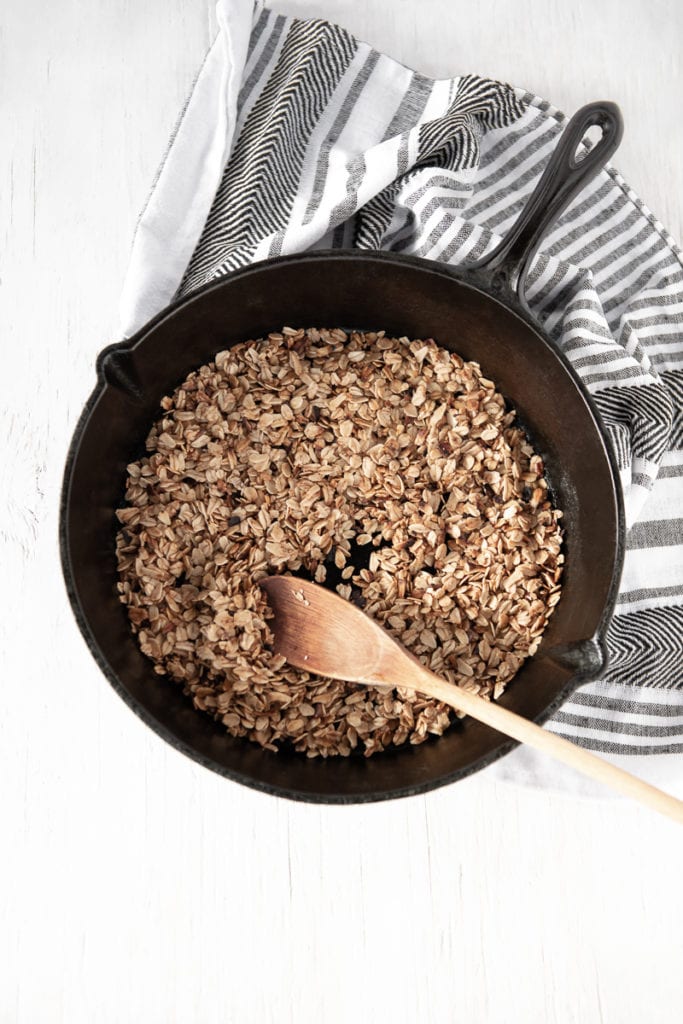 Putting Your Peaches and Cream Together
Once the granola is cool enough to handle, top your Vegan Peaches And Cream with a few spoonfuls of warm Skillet Granola.
*PRO TIP: If you're a dark chocolate lover, a little bit shaved on top pairs so well with the peach and cinnamon flavours!
You can also top this Peaches And Cream with anything else your heart desires! Shredded coconut, cacao nibs and hemp hearts are all great options. Or, if you prefer a strictly traditional Peaches and Cream, you can always enjoy it without any toppings at all!
MORE HEALTHY DESSERTS TO TRY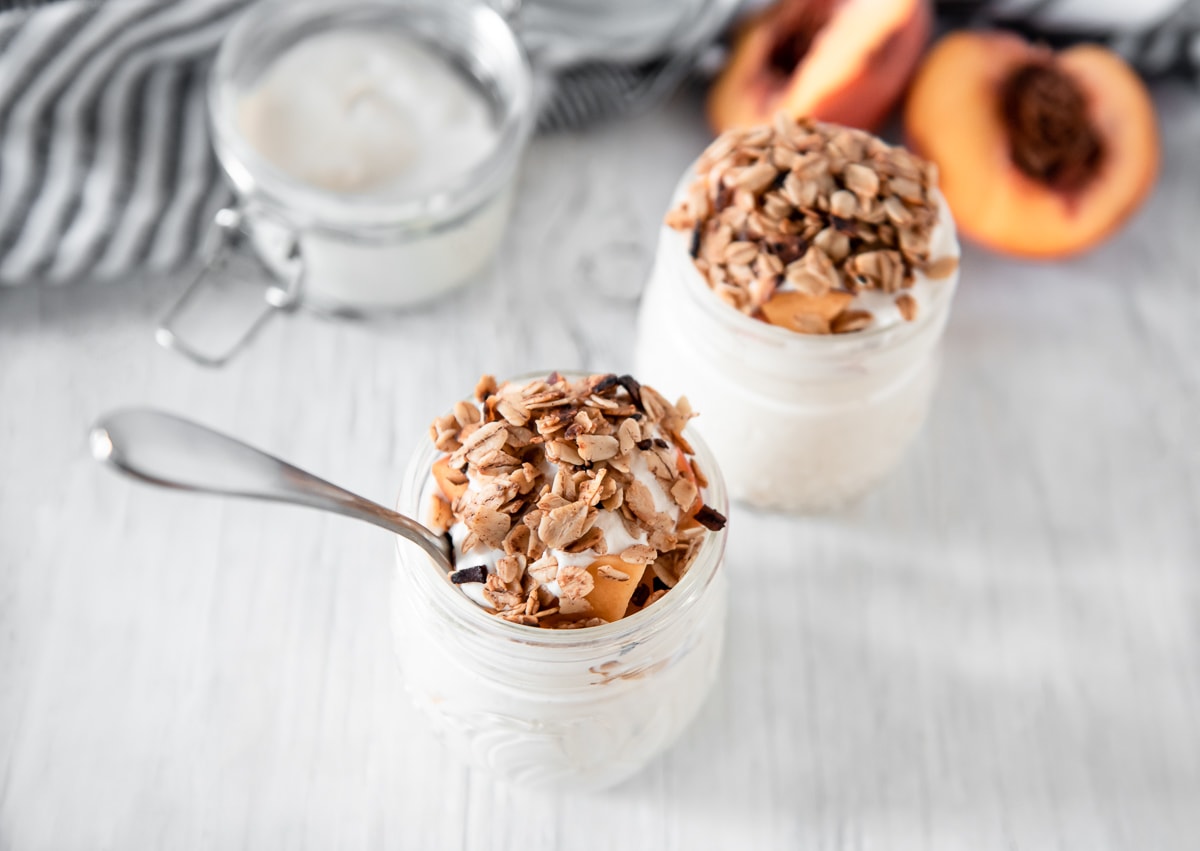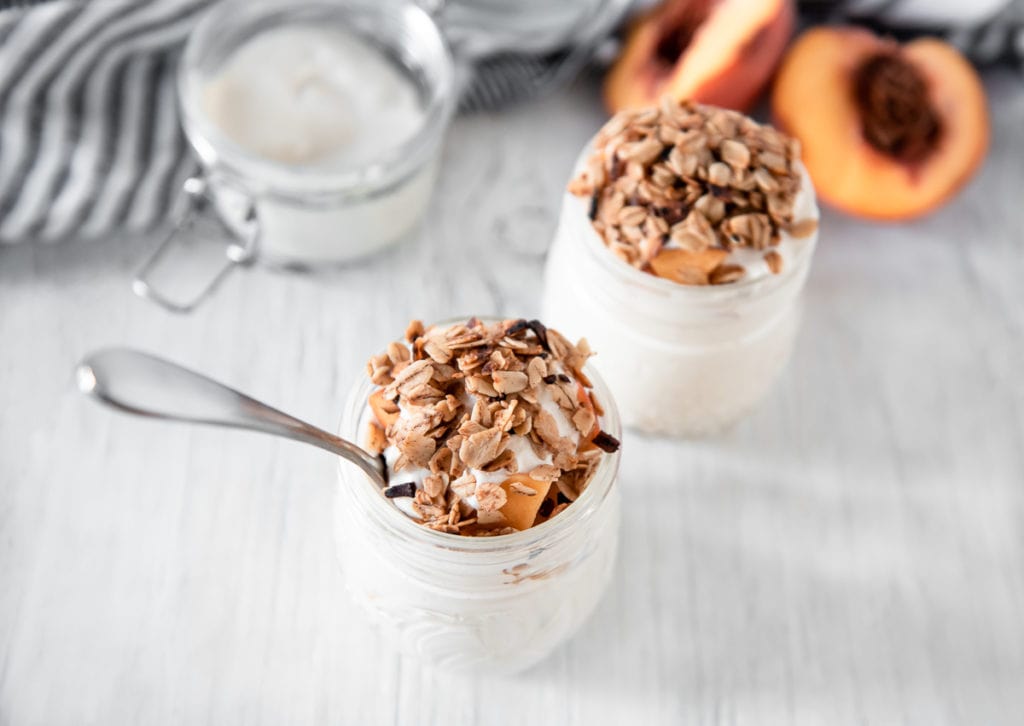 If you've tried this Vegan Peaches and Cream, let me know how it was by leaving a comment and/or a rating below! And make sure you're following along on, Pinterest, Instagram and Facebook for more wildly nutritious recipes!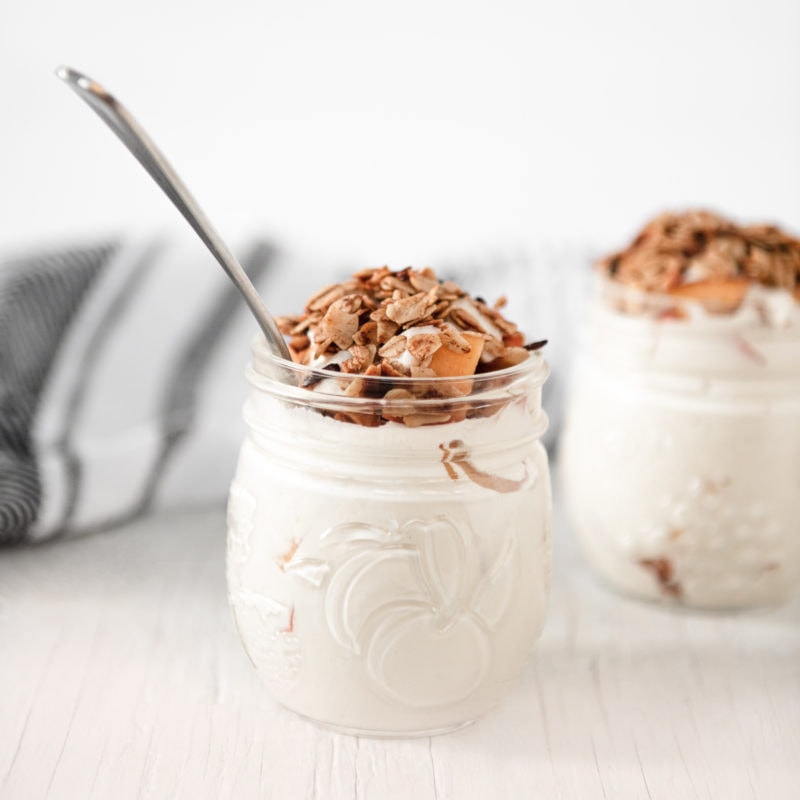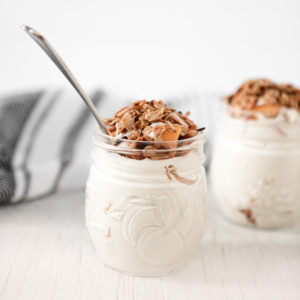 Vegan Peaches and Cream
Made with smooth cashew cream, fresh peaches and naturally sweetened with maple syrup, this Vegan Peaches and Cream is a healthier take on the classic southern treat!
Rate Recipe
Ingredients
Naturally Sweetened Cashew Cream
2

cups

Cashew Cream

1

tablespoon

Pure Maple Syrup

(You add another ½ - 1 tablespoon if you prefer it sweeter)

1

teaspoon

Pure Vanilla Extract

1

squeeze

Fresh Lemon Juice

1

pinch

Himalayan Salt
Granola Topping
1.5

cups

Rolled Oats

3

tablespoon

Coconut Oil

1

tsp

Pure Maple Syrup

1

teaspoon

Pure Vanilla Extract

1

teaspoon

Cinnamon
Peaches & Cream
2

ripe

Peaches

2

cups

Naturally Sweetened Cashew Cream

4-6

tablespoon

Maple Cinnamon Skillet Granola

(or anything other toppings you'd like!)
Instructions
Naturally Sweetened Cashew Cream
Stir the maple syrup, lemon juice, vanilla extract and salt into the cashew cream and mix well. (You can even toss it all into the blender if you're making a fresh batch of cashew cream)

Pour into a sealable container and set aside.
Maple Cinnamon Skillet Granola
Heat the coconut oil over medium-low heat in large skillet. Stir in the oats, making sure to coat evenly with the coconut oil.

Stir in the Maple syrup, followed by the vanilla and cinnamon.

Turn the heat down a notch or two and continue to stir consistently.

Cook until the oats are golden brown and remove the skillet off the heat.
Peaches and Cream
Chop the peaches into cubes or slices and mix with the cashew cream in a medium bowl. Cover and place in the fridge for at least 30 minutes, and up to 24 hours. (The longer the peaches sit the in cashew cream, the peachier the flavour!)

Once the Peaches and Cream have set to your liking, spoon out into individual cups and top with a few tablespoons of Maple Cinnamon Granola!
Notes
*If you're a dark chocolate lover, a little shaved on the top pairs so nicely with the peach and cinnamon flavours!
---
To make this dessert even healthier or to enjoy as a breakfast parfait, you can always use Cultured Cashew Yogurt instead of the Cashew Cream!
---
Nutrition
Serving:
0.5
cups
|
Calories:
585
kcal
|
Carbohydrates:
45
g
|
Protein:
16
g
|
Fat:
41
g
|
Saturated Fat:
14
g
|
Polyunsaturated Fat:
6
g
|
Monounsaturated Fat:
17
g
|
Sodium:
20
mg
|
Potassium:
557
mg
|
Fiber:
5
g
|
Sugar:
8
g
|
Vitamin A:
3
IU
|
Vitamin C:
1
mg
|
Calcium:
52
mg
|
Iron:
6
mg