This Fresh Turmeric Golden Milk (or sunshine in a cup, as I like to call it) is surprisingly quick and simple to make! It's naturally sweetened, full of nutritional goodness and contains a secret ingredient that adds a heavenly touch!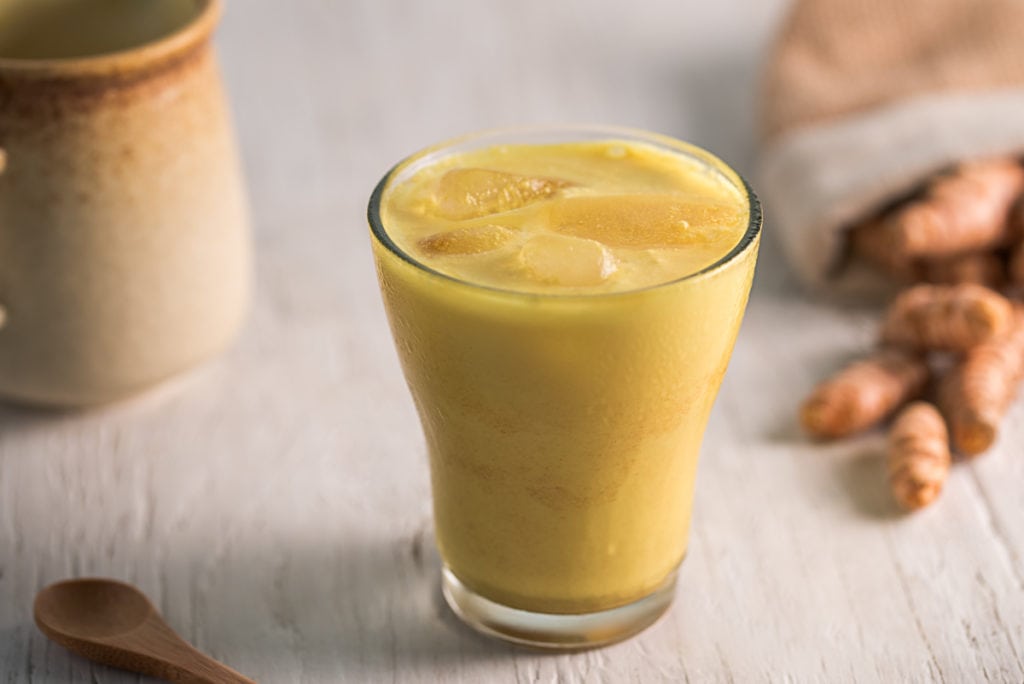 While Golden Milk and Turmeric Lattes have become all the rage in the western world, its easy to assume its a new-age trend. But, believe it or not, Golden Milk is an ancient drink derived from India. Traditionally called Haldi Ka Doodh and made with just hot milk and turmeric. It was used to remedy many minor ailments. Its also long been consumed as a preventative measure for overall health.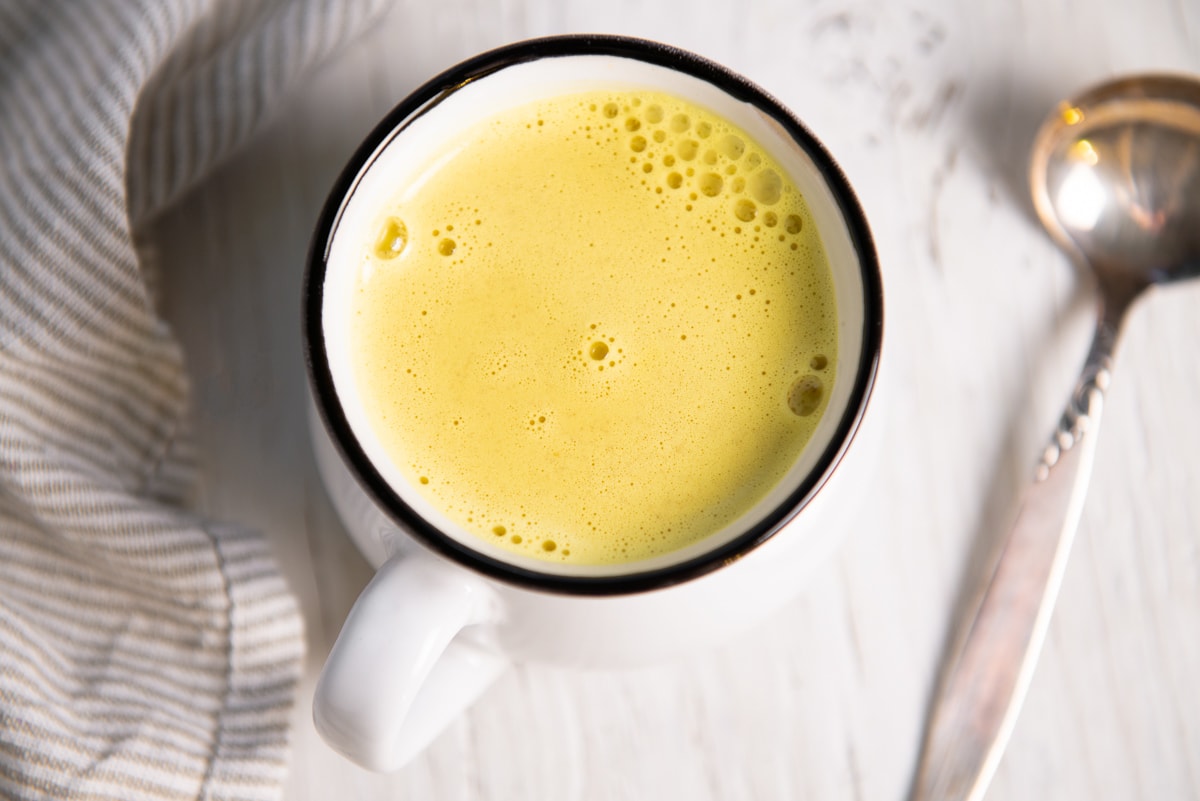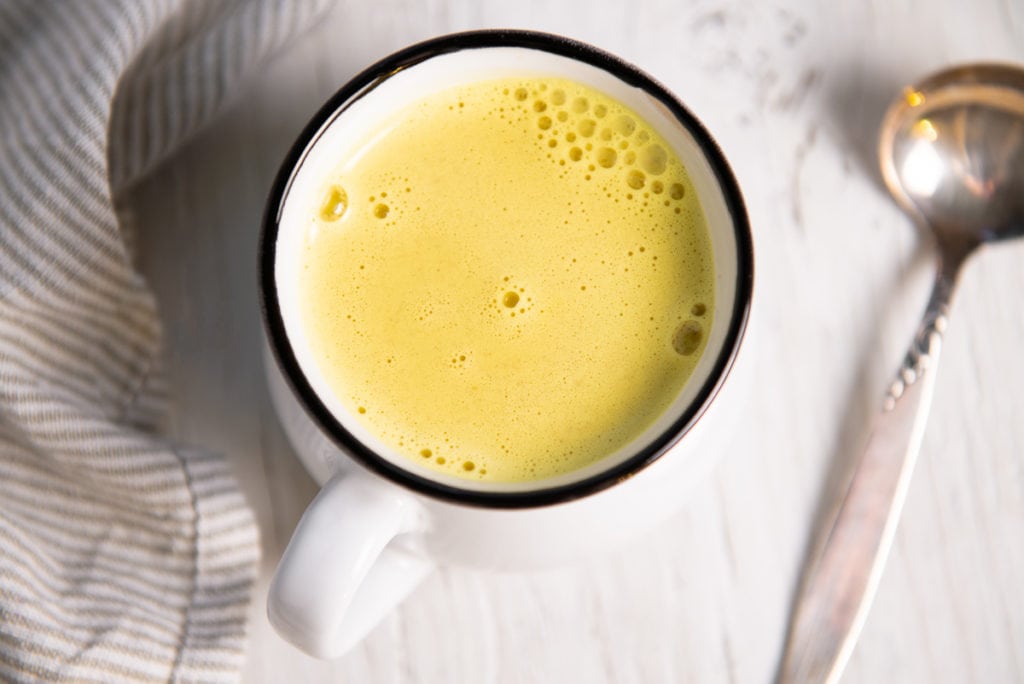 Health Benefits of Fresh Turmeric Golden Milk
Each Ingredient in this Golden Milk makes a nutrient-dense elixir that also tastes great.
Turmeric
Contains anti-Inflammartory properties. Thanks to curcumin, turmeric is rich in properties that can help reduce inflammation.
Source of antioxidants. Although turmeric is known for its potent anti-inflammatory effects, it quietly boasts some pretty powerful antioxidant activity as well. The antioxidants present in turmeric are known to be protective against cancer, heart disease and degenerative neurological diseases.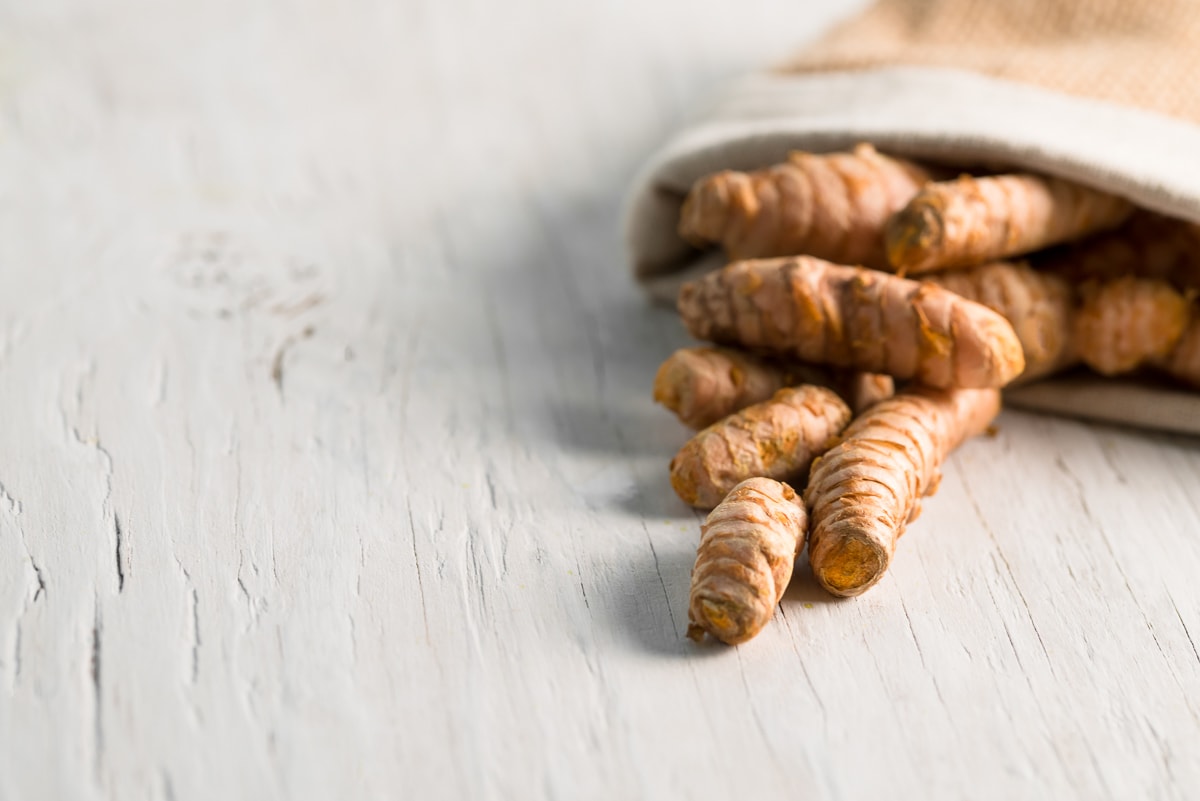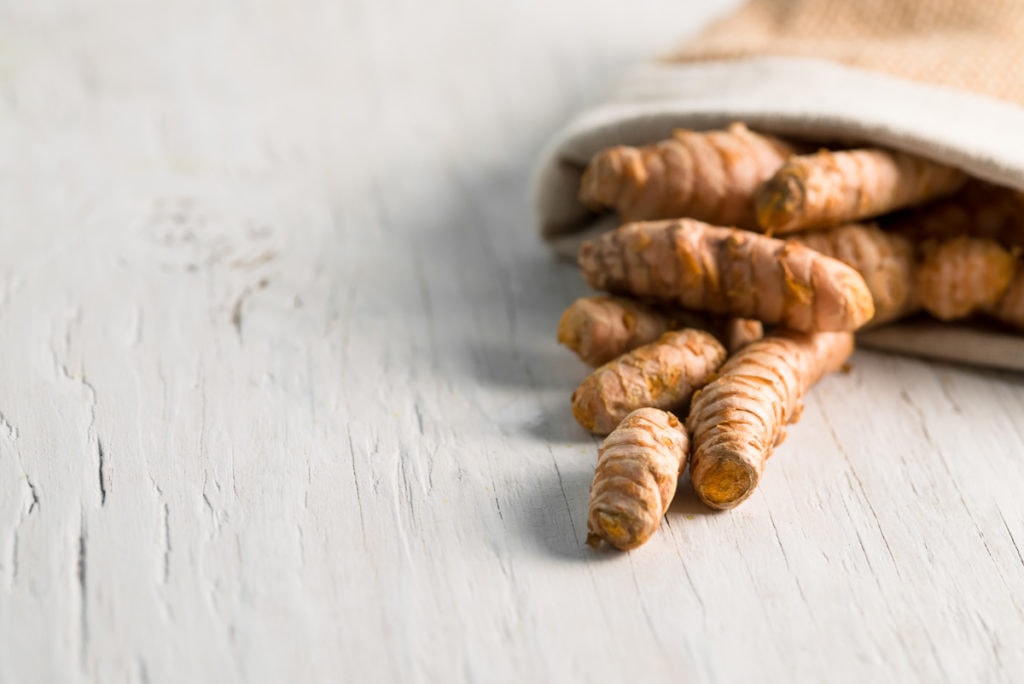 Ginger
May reduce nausea. Ginger is considered to be a carminative. This means it can be very effective in relieving nausea and motion sickness, as well as promoting healthy elimination. One great thing about ginger is that it's safe to consume during pregnancy!
Cinnamon
Beneficial for blood sugar. We often only think of cinnamon as a yummy spice to add to autumn and holiday baked goods. However, cinnamon contains compounds that can have a blood sugar balancing effect.
Supports Immune System. Cinnamon also has antibacterial effects and can aid in soothing gastrointestinal distress. It also provides a warming effect which makes it great to consume during the autumn and winter months.
Cacao Butter
Source of beneficial fats. If you've been wondering, cacao butter is the secret ingredient in this Golden Milk! When making it dairy-free, it adds some good fats, more grounding power and a deliciously subtle flavour that blends so nicely with the warming spices.
Source of antioxidants. Cacao butter also contains powerful flavonoids that are known to have the same effect as aspirin in preventing blood clot formation. Despite what the mainstream narrative says about saturated fats, it's important to look at how the whole food interacts with the body. And in the case of cacao butter, there is much more than just saturated fat present. The many other antioxidants and compounds make it a powerful superfood that can even be beneficial to heart health.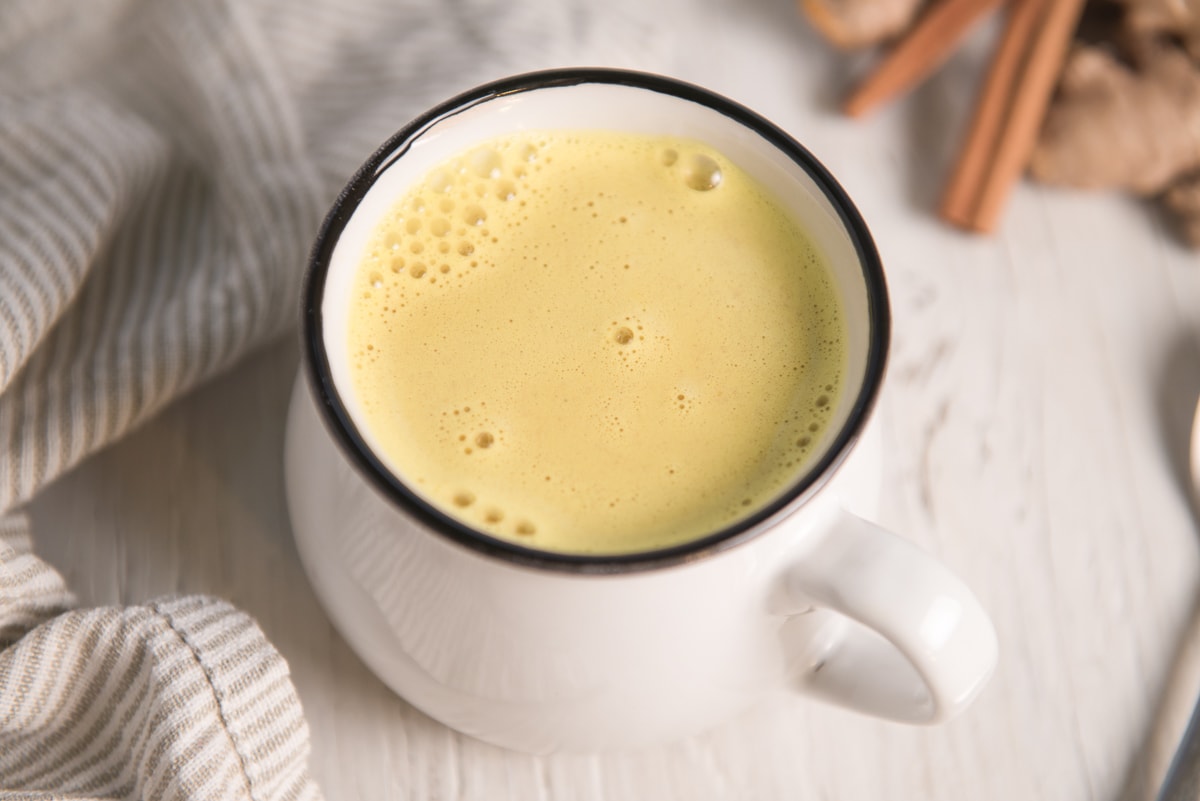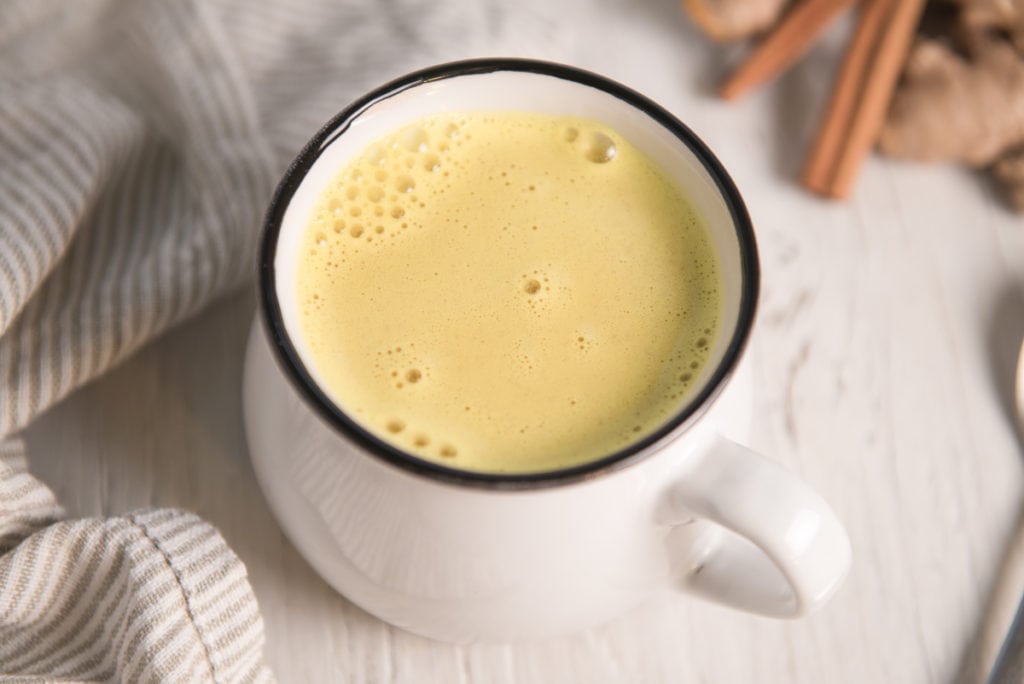 Naturally Sweetened
Honey contains beneficial enzymes. Golden Milk is commonly sweetened with honey. Which if its raw and unpasteurized (and of course ethically sourced) offers some great benefits. Raw honey is full of beneficial enzymes, is a complete protein and is a great source of many vitamins and minerals.
Source of minerals. If you are making this Golden Milk Vegan, I recommend using pure maple syrup. Maple syrup is an excellent source of the trace minerals manganese and zinc.
Pepper
Increases bioavailability. Now, you might be wondering why on earth one would add pepper to this sweetened twist on traditional Golden Milk. And the answer is simple, bioavailability! You see, it's quite hard for the body to absorb and distribute curcumin. But, when consumed with our friend pepper, its bioavailability increases by 2000%! And no, that third zero isn't a typo. Pretty amazing stuff, eh?
With all the benefits listed above, it's no surprise that Golden Milk and Turmeric Lattes have made appearances in many coffee shops and even on grocery store shelves (in instant powdered form). It's an exciting time in the health and wellness world, and while this is wonderful and very convenient, you really don't need to head out to your favourite coffee shop or spend big bucks to enjoy this dreamy, medicinal delight.
How to Make Golden Milk
Making Golden Milk is surprisingly easy and quick if you have the ingredients on hand. Plus, this recipe uses fresh turmeric rather than powdered, so all that anti-inflammatory goodness is in full force! (and not to worry, I also provide powdered turmeric and ginger measurements for those times when fresh is not available).
If you're making this Golden Milk with powdered ginger and turmeric, all you need to do is throw all the ingredients in a blender and blend until smooth (a few seconds).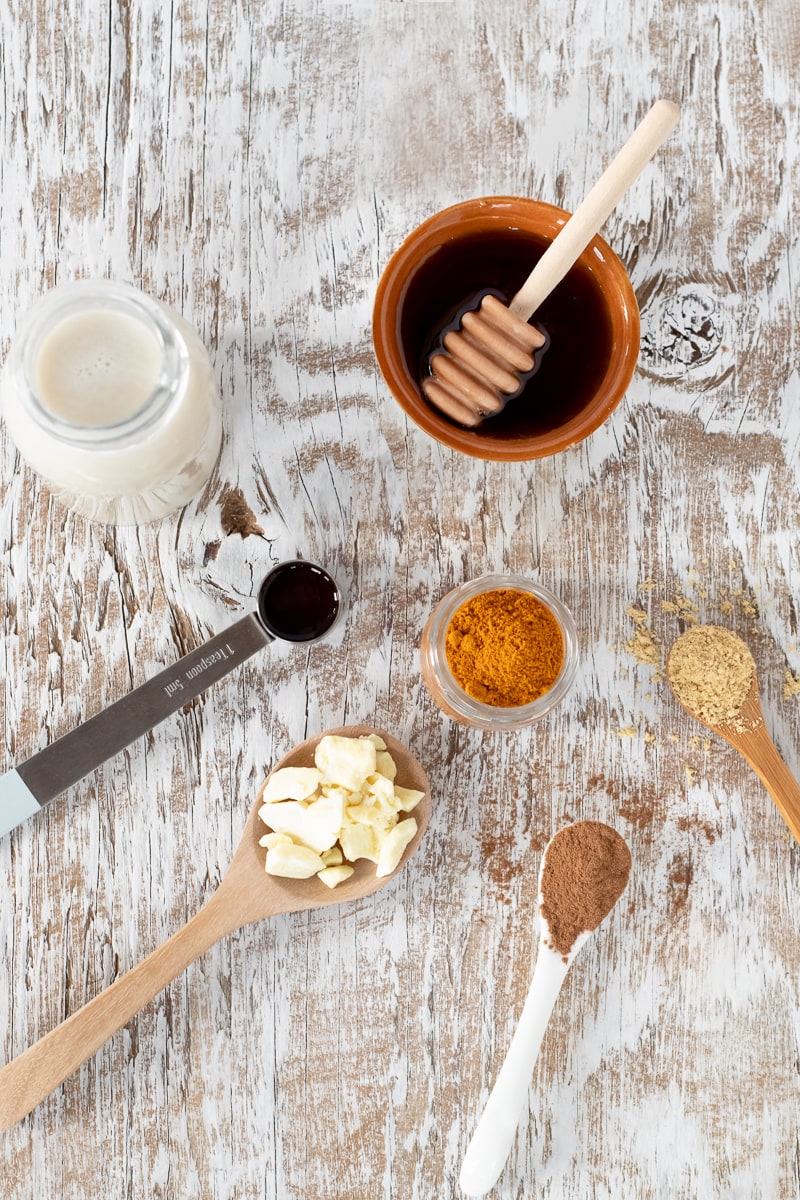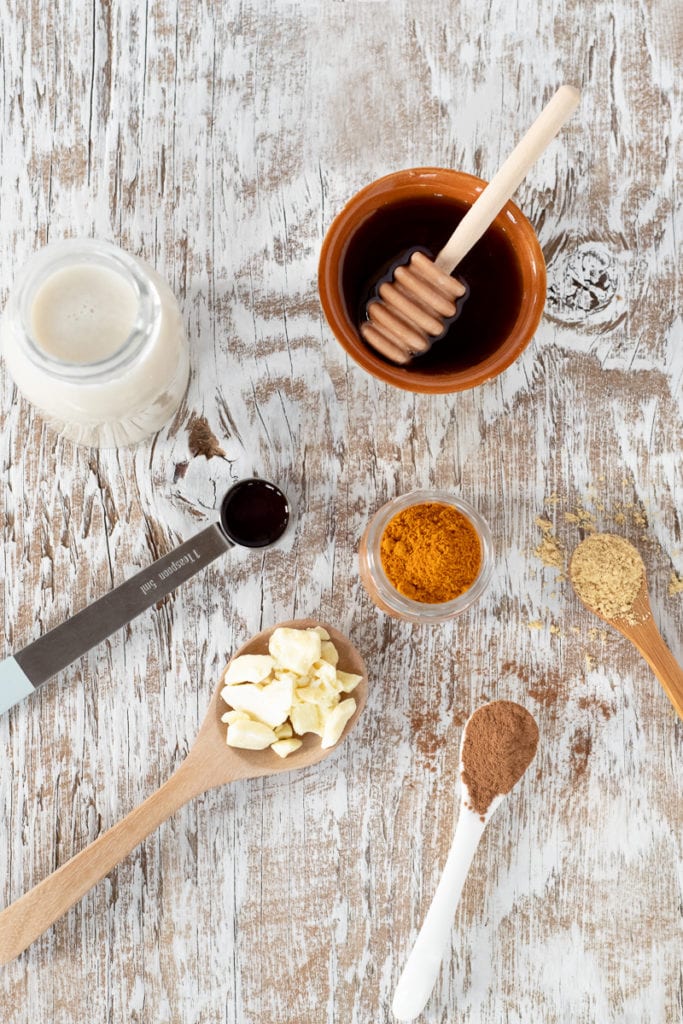 Peel & Chop
If you're making this Golden Milk with Fresh ingredients, you will just need to peel and chop your ginger and turmeric before tossing in the blender. You'll want to use about 1-2 inches of fresh ginger and turmeric (or more or less depending on how strong you like each flavour).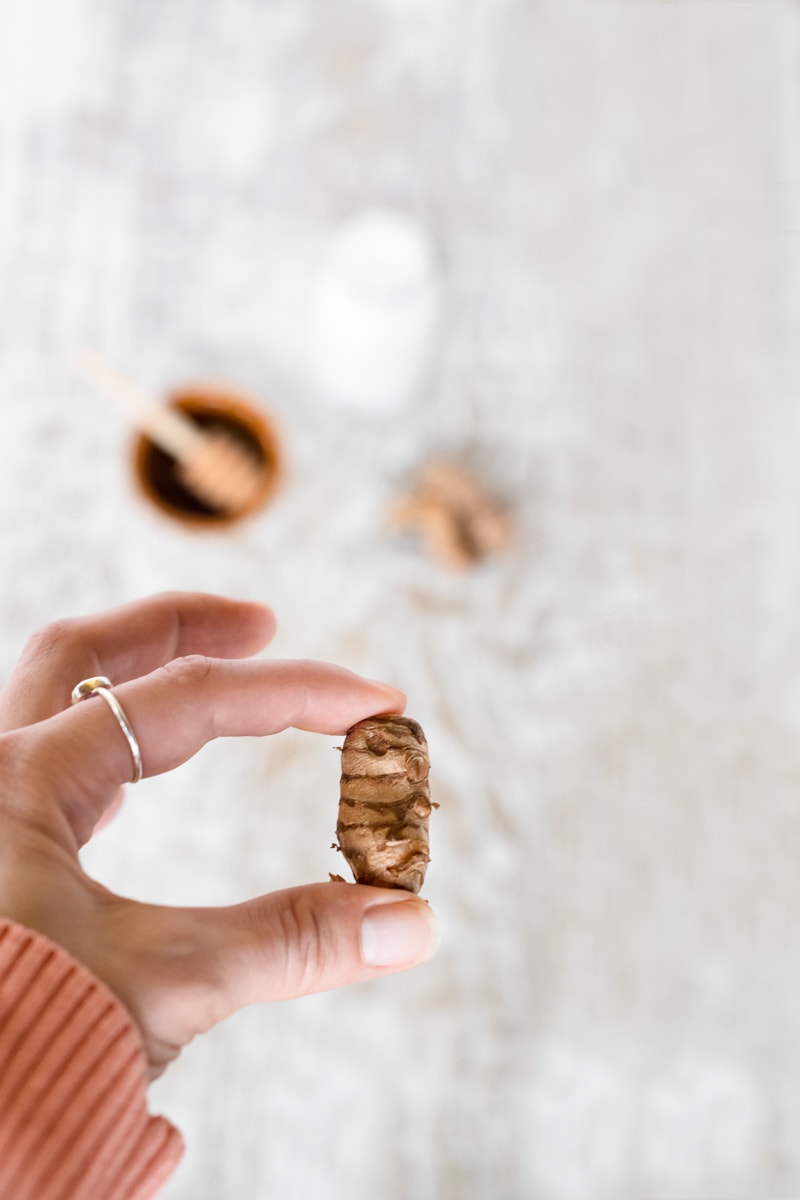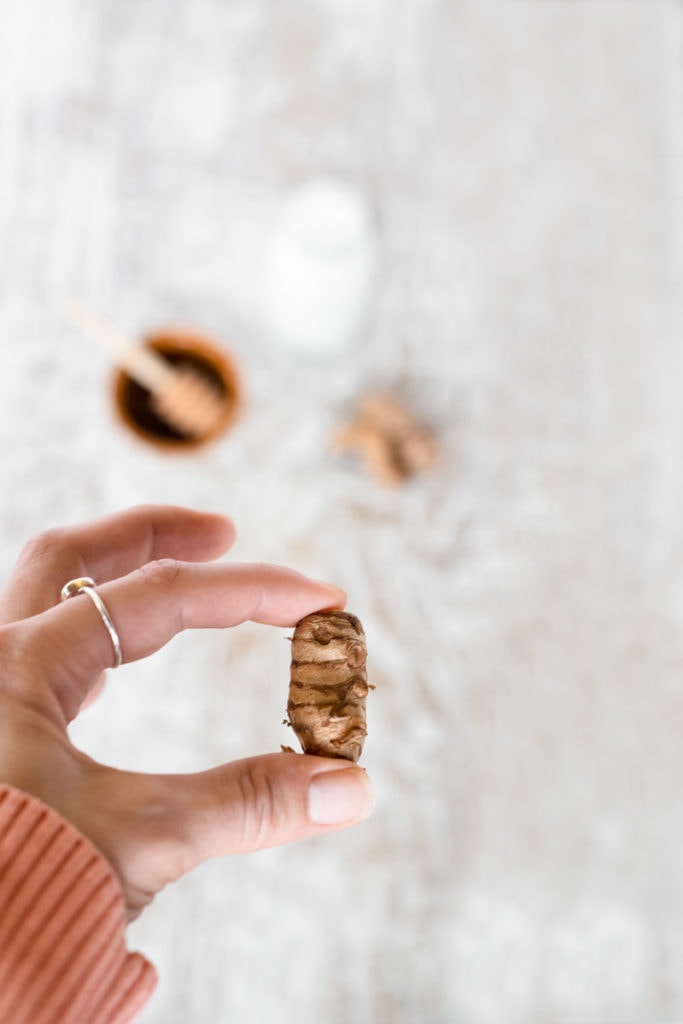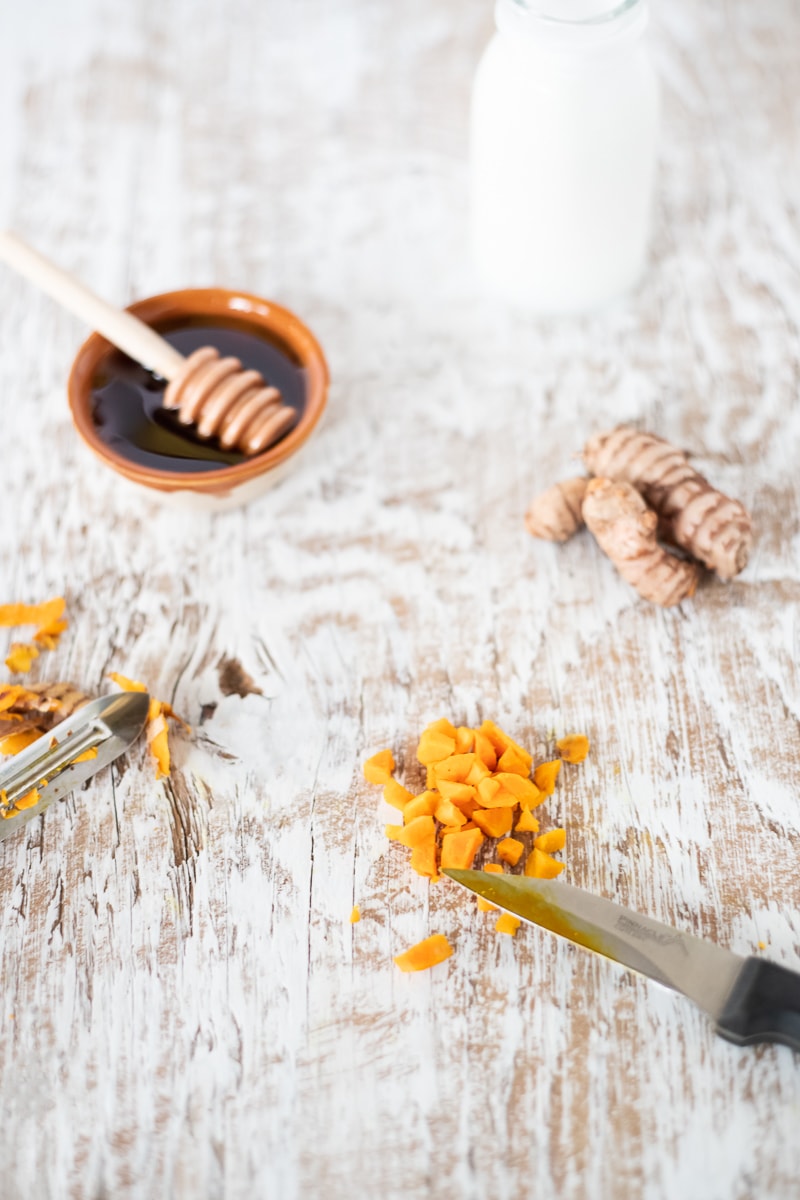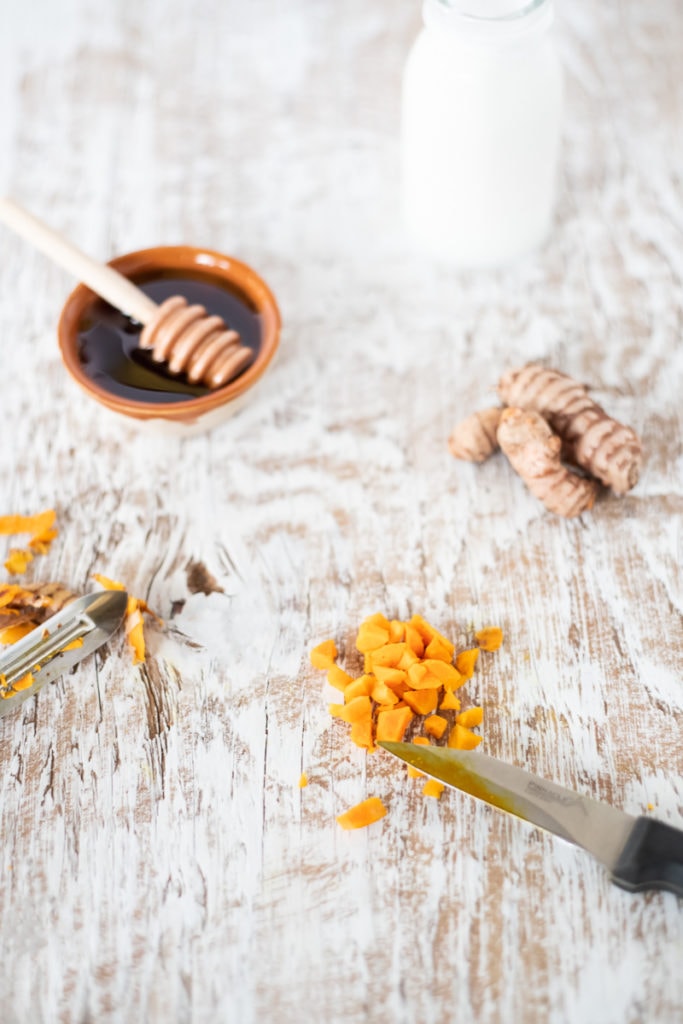 Blend
Once the turmeric and ginger is peeled and chopped into small cubes, throw it all in the blender with the remaining ingredients and blend until smooth (30 seconds to a minute).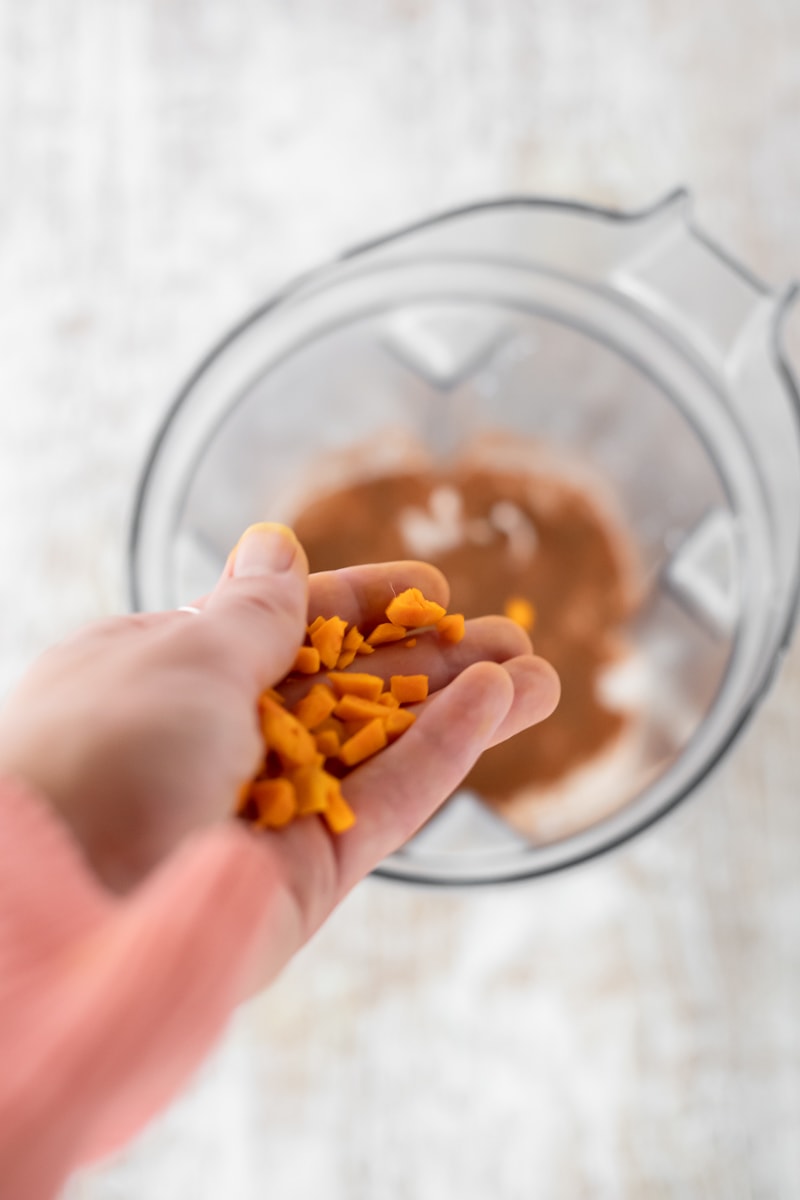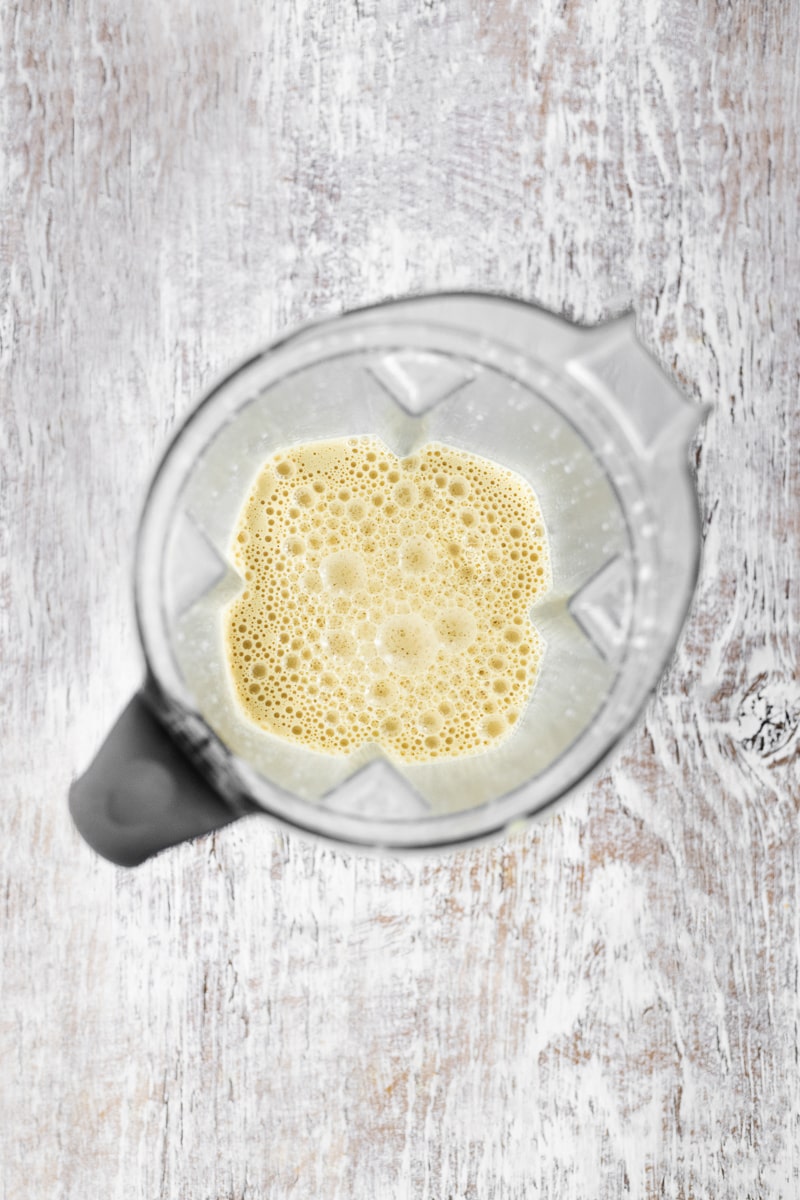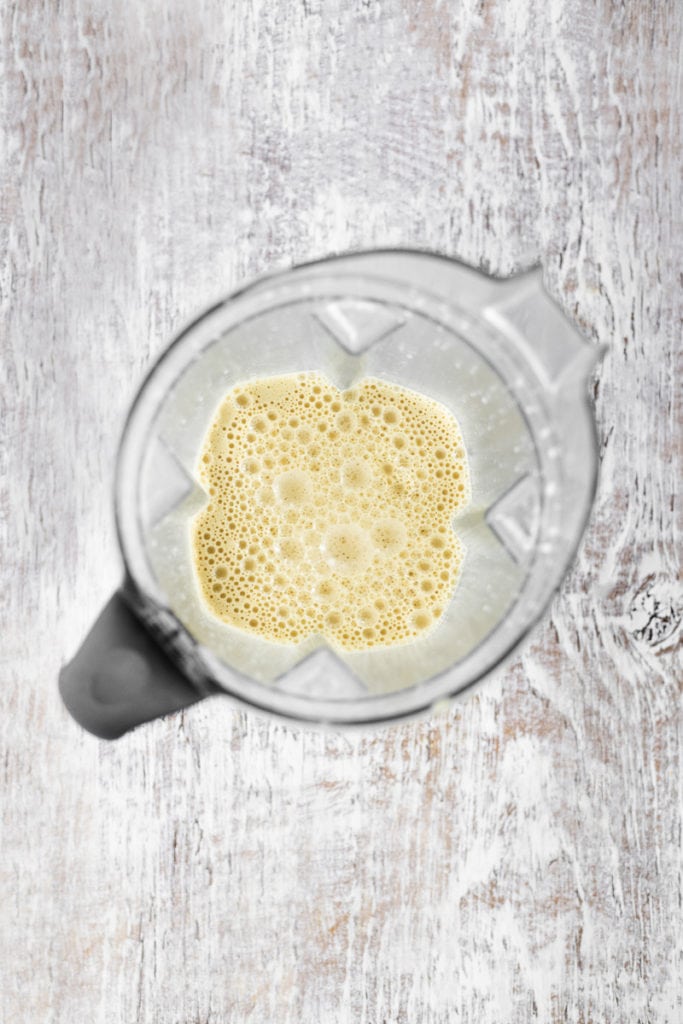 Enjoy!
To enjoy cold, pour over ice.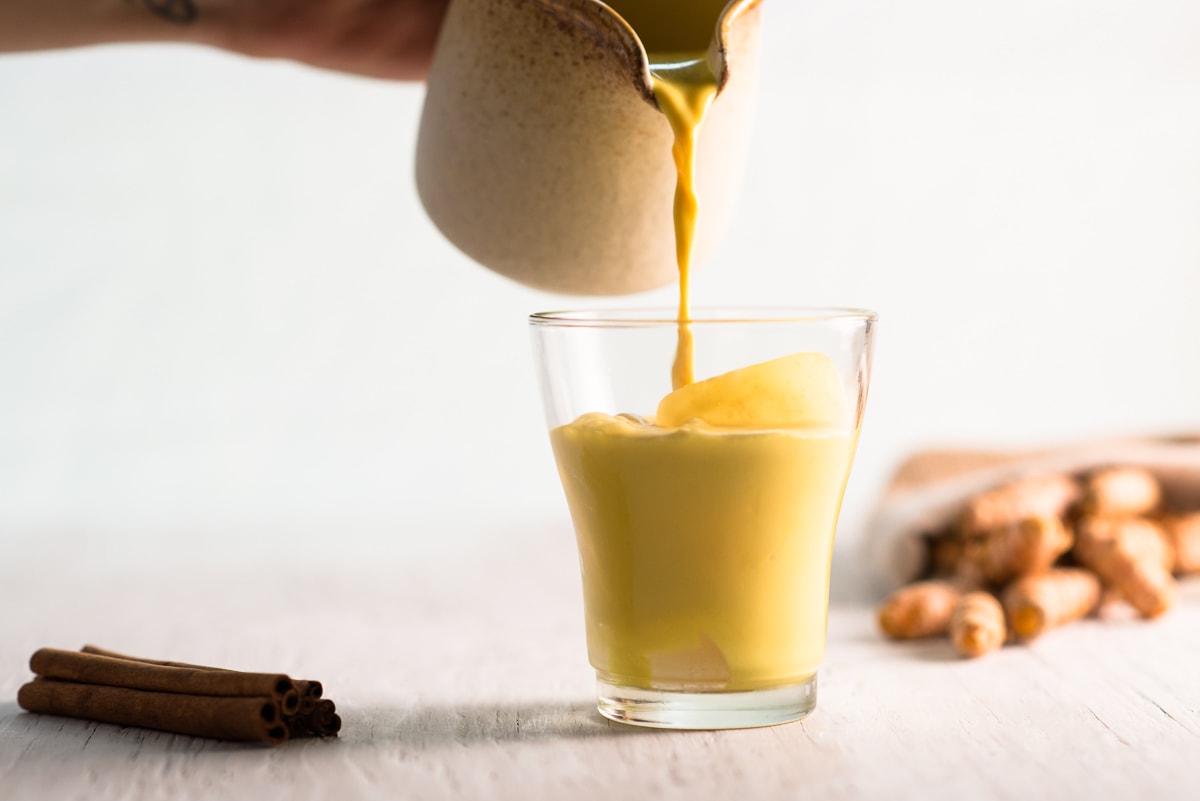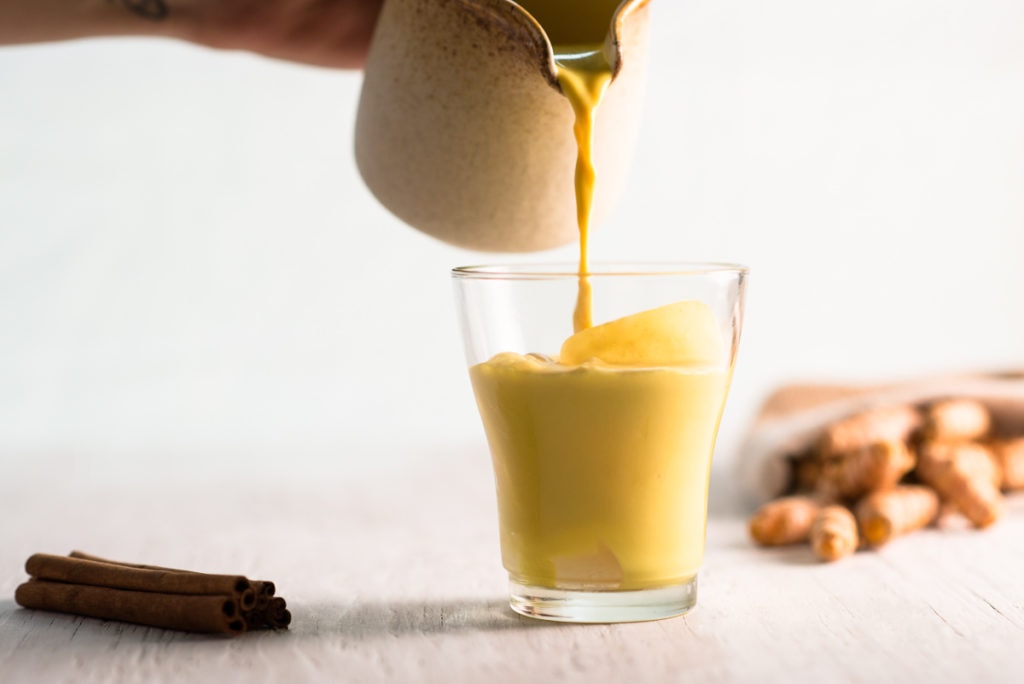 To enjoy warm, heat in a small saucepan over medium-low for a few minutes. Stir often to prevent any sticking. Once steam begins to rise, remove from the heat and pour into your favourite mug!
Making This Golden Milk Dairy-Free? Check Out These Homemade Plant-Based Milk Recipes
The Best Times to Enjoy Golden Milk
Autumn / Winter / Spring
One of the best things about Golden Milk is that it's delicious both hot and cold! It makes for a refreshing, creamy sip on sunny spring days. But, it especially makes for the perfect cup of warm sunshine on cold, snowy days.
Warming
Cinnamon, Turmeric and Ginger are all warming spices. This means they heat the body and are beneficial to consume during the cooler seasons. A hot cup of this delicious dairy-free Golden Milk is perfect for those bitter or damp days, helping to warm us from the inside out!
Grounding
These warming spices, along with the good fats in this golden milk, also offer a grounding effect. Eating grounding foods is especially beneficial during the seasons of change (spring and fall). Since we are in the ether/space and air elements during these seasons, its easier to get lost in the mind and other realms. For some, this can provoke anxiety, stress and depression. Grounding foods (and practices) help bring us back into our bodies; into the physical and into the present moment.
More Reasons You'll Love This Recipe
Made with fresh ingredients. While powdered Golden Milk mixes can be quick and convenient, making it with fresh ingredients means it's more nutrient-dense.
Drink it hot or cold. This recipe can be enjoyed both hot and chilled.
Simple to make. Even though it takes a little extra effort than a premade mix, this recipe is still incredibly simple to make and only takes about 10 minutes in total.
More Drink Recipes You Might Enjoy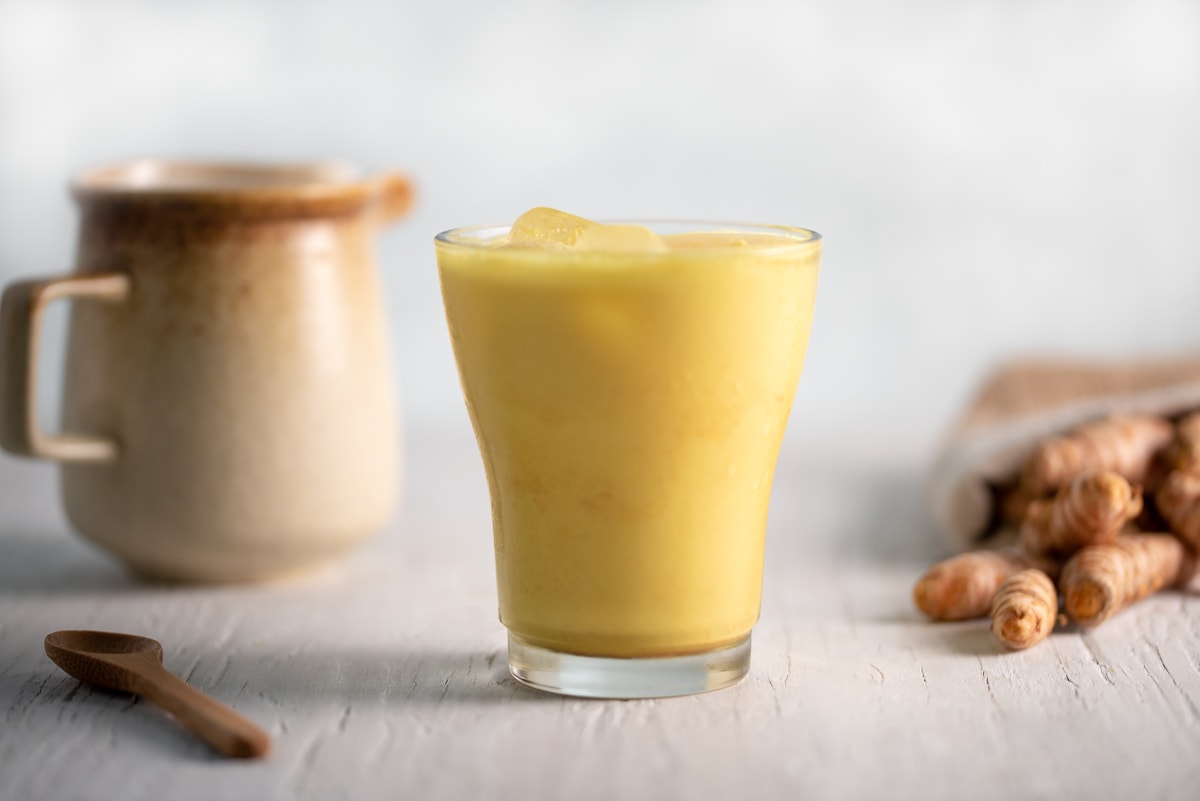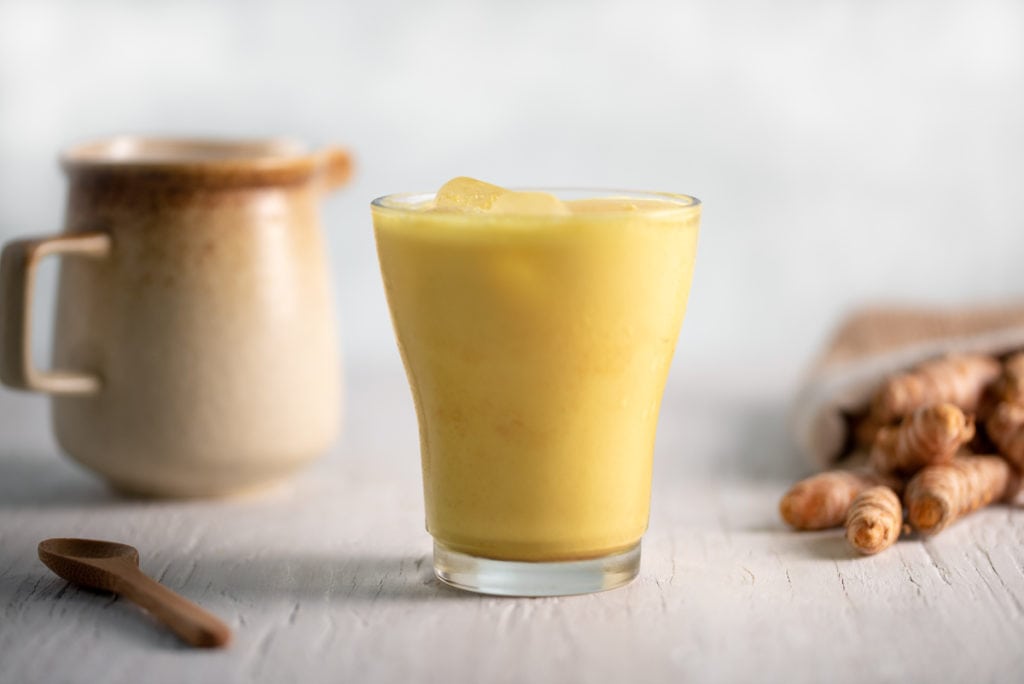 If you try this Golden Milk recipe, let me know how it was by leaving a comment and/or a rating below! And make sure you're following along on Pinterest, Instagram and Facebook for more wildly nutritious recipes!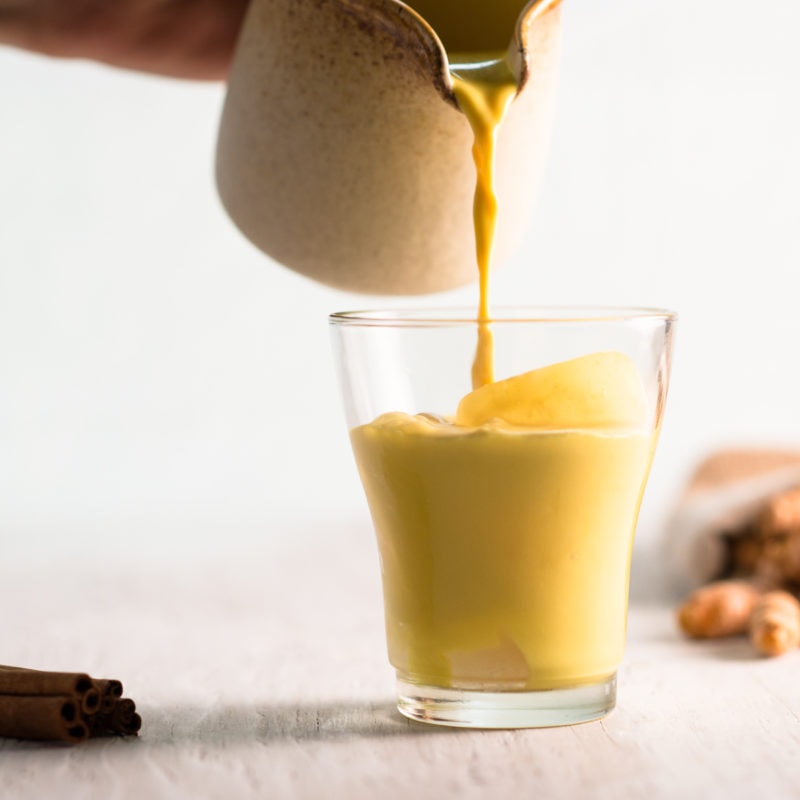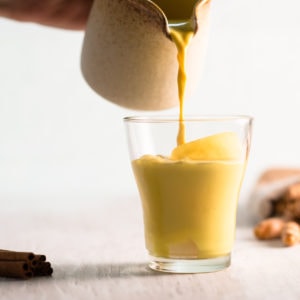 Fresh Turmeric Golden Milk
Smooth, creamy and full of comforting flavour, this Fresh Turmeric Golden Milk is surprisingly easy to make! Plus, it's naturally sweetened and made with whole food ingredients.
Pin Recipe
Rate Recipe
Ingredients
1.5 - 2

teaspoon

(A 1-2 inch peice) Fresh Turmeric, peeled and chopped

(½ teaspoon if using powder)

½

teaspoon

(About a 1 inch chunk) Fresh Ginger, peeled and chopped

(¼ teaspoon if using powder)

1 - 2

teaspoon

Maple Syryp / Raw Unpasteurized Honey

(ethically sourced)

½

teaspoon

Cinnamon

½

teaspoon

Pure Vanilla Extract

1

teaspoon

Raw Cacao Butter

((optional))

Dash

of

Pepper
Instructions
Place all ingredients into a blender and bend until smooth.

To serve cold, pour over ice and enjoy!

To serve hot, pout into a small saucepan and heat over medium-low for a few minutes, stirring often to prevent sticking.

Once Golden Milk has reached your desired temperature or begins to steam, remove from the heat and pour into your favourite mug and enoy!
Notes
Sprinkle more cinnamon on top or add some coconut whipped cream for an extra special treat!
Nutrition
Serving:
1
cup
|
Calories:
514
kcal
|
Carbohydrates:
18
g
|
Protein:
5
g
|
Fat:
51
g
|
Saturated Fat:
44
g
|
Polyunsaturated Fat:
1
g
|
Monounsaturated Fat:
2
g
|
Sodium:
31
mg
|
Potassium:
597
mg
|
Fiber:
1
g
|
Sugar:
9
g
|
Vitamin A:
1
IU
|
Vitamin C:
3
mg
|
Calcium:
53
mg
|
Iron:
9
mg