Learn how to make Chive Blossom Infused Vinegar with this step-by-step guide! With a light onion-like flavour, it makes the perfect addition to dressings, dips, marinades and sauces. This infused vinegar also makes a beautiful and nutritious DIY gift.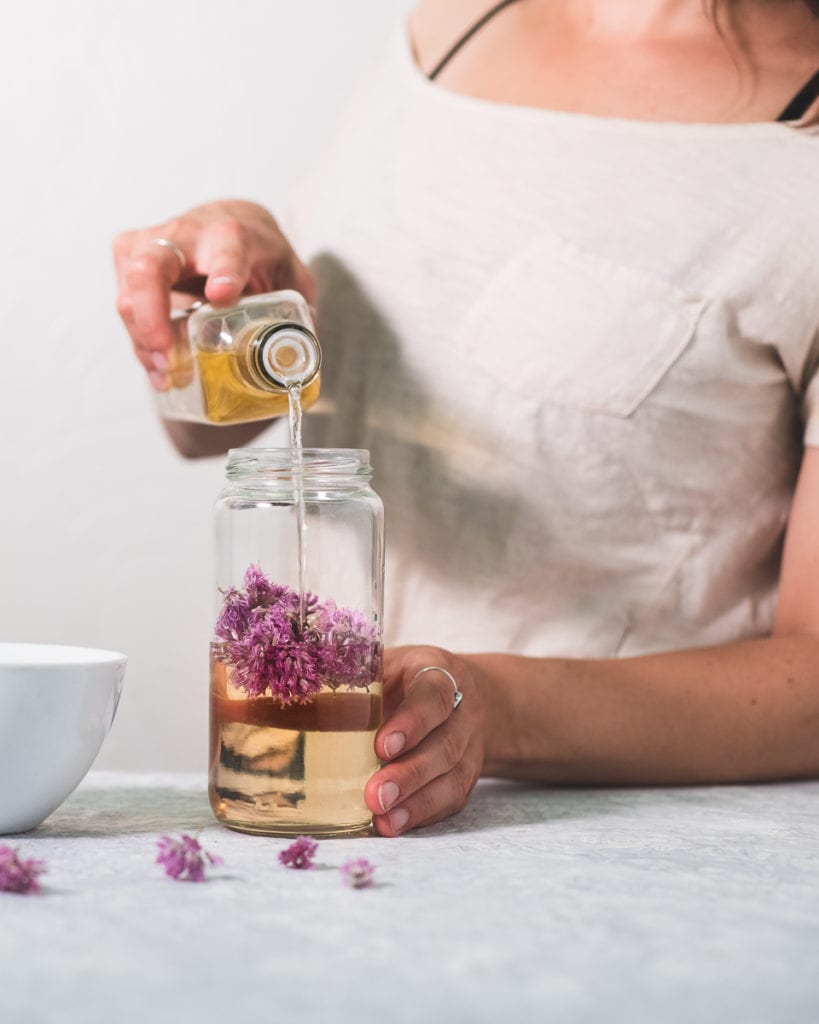 *Nutrition Disclaimer: Although Michelle holds certification in Holistic Nutrition, Yoga and Energy Medicine, the health, fitness and nutritional information provided on this site is designed for educational purposes only. You should not rely on this information as a substitute for, nor does it replace professional medical advice, diagnosis, or treatment. Please read our disclaimers page for more information.
Making infused vinegar, especially this Chive Blossom Vinegar, is surprisingly simple. You only need a few ingredients, a few minutes for preparation and a cool, dark place to let it infuse.
Chive Blossom Infused Vinegar makes a fun springtime project for the whole family to enjoy! If you grow chives, you'll know they only bloom for a short time in late spring / early summer, depending on the year. And once they're done, they're done for the season. So, make sure to grab em' while you can!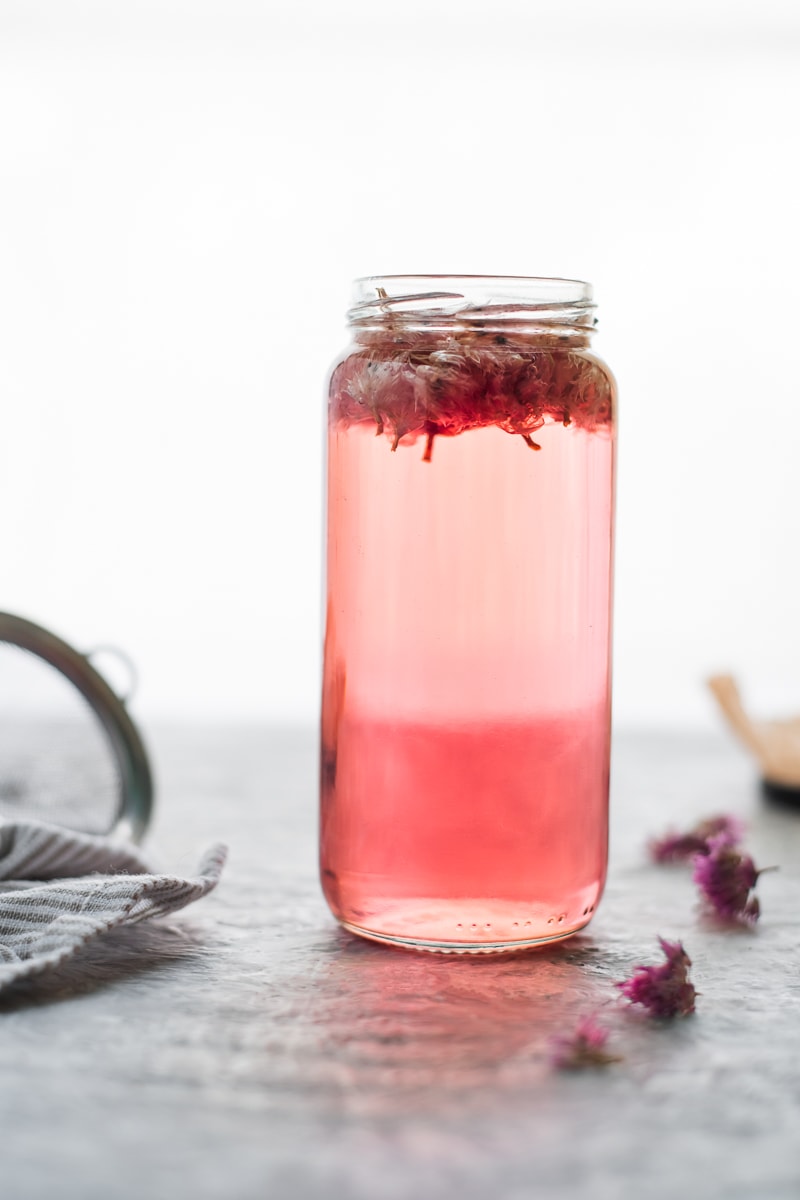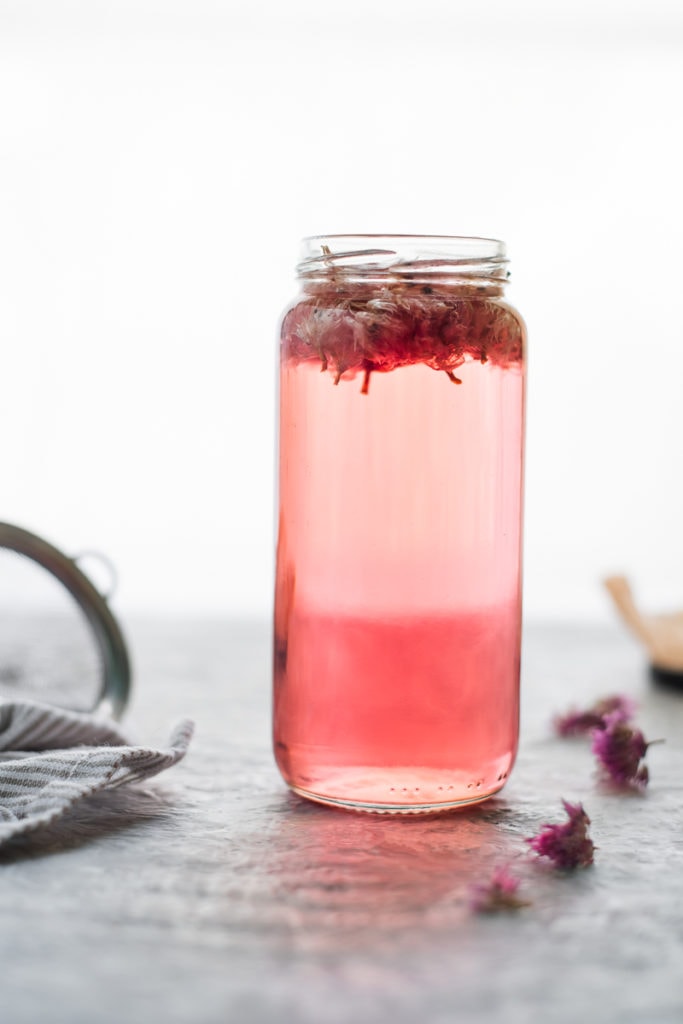 What Are Chive Blossoms
Chive blossoms are just as they sound. They are the flowers that bloom on chives. They are usually a beautiful lavender-pink colour and have a spikey, rounded form. However, they are soft to the touch. So, no need to worry about picking them with bare hands.
Chives are a part of the allium family. So, they are related to onions and garlic. Hence, their mild onion and garlic-like flavour. Although, they are not to be confused with green onions (which are just baby bulb onions). Chives have skinnier, grass-like shoots, and as mentioned above, a more mild flavour.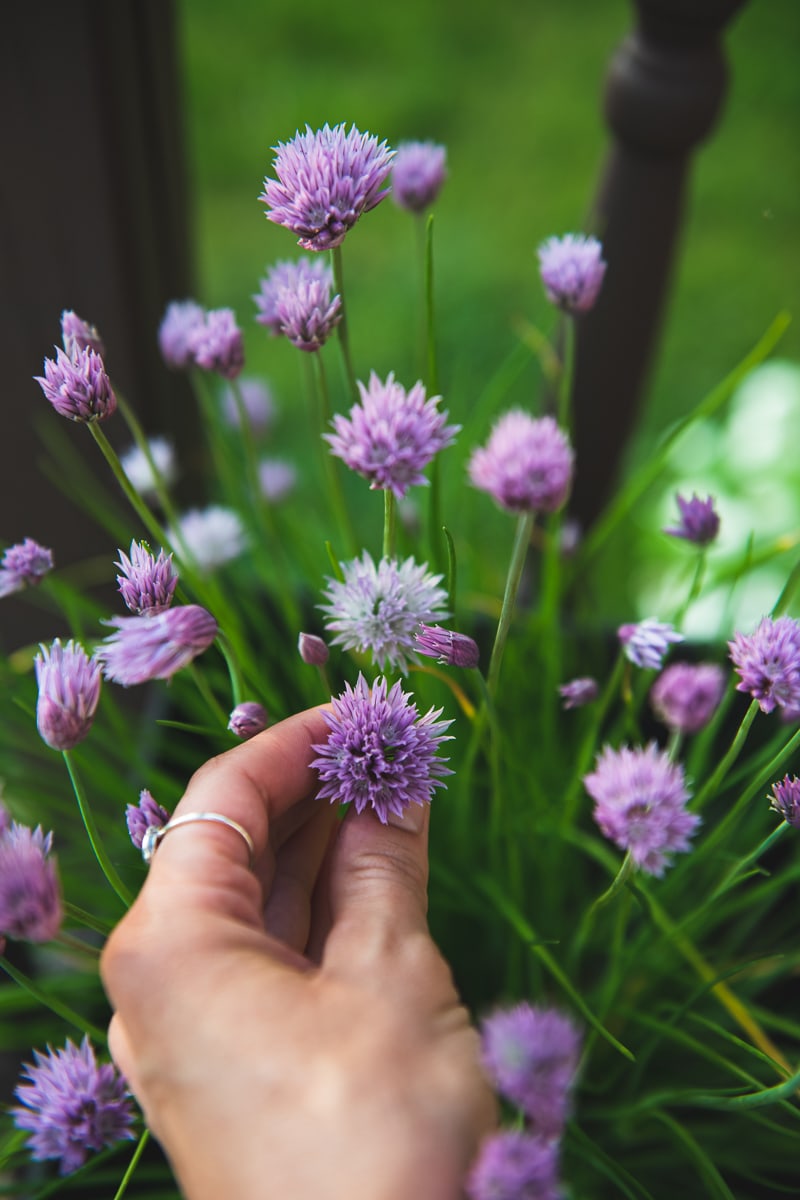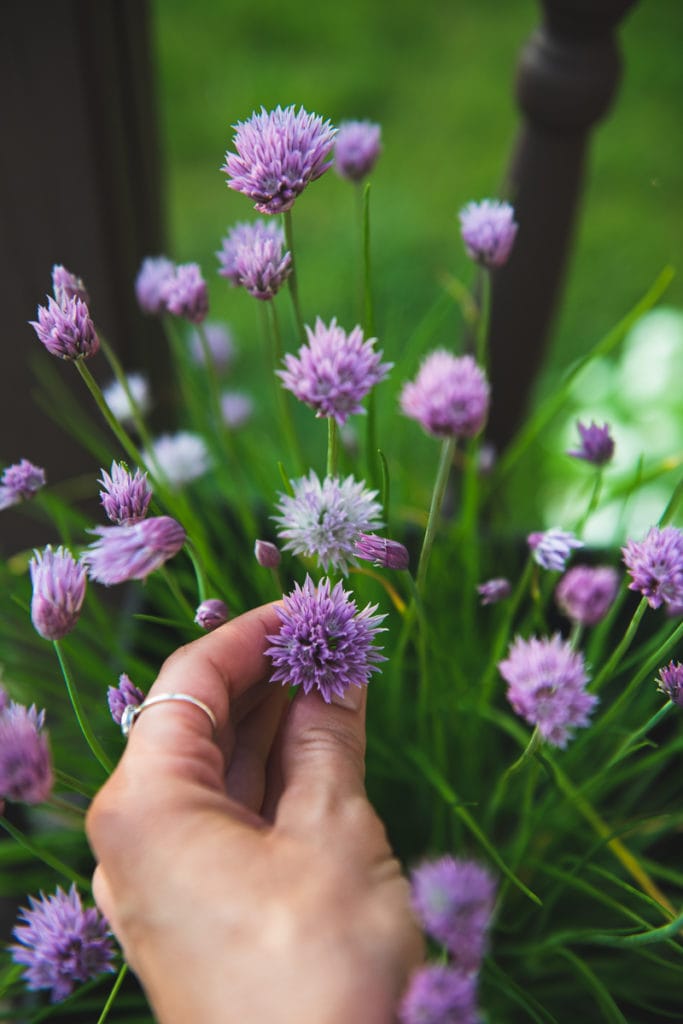 Thankfully, those beautiful chive flowers take on that same delicious oniony-garlic-like flavour. That's why this Infused Vinegar is perfect for making homemade salad dressings, marinades, dips, or even just drizzling alone over fresh greens (with a little olive oil, of course).
Health Benefits of Chive Blossom Vinegar
Anti-Aging Nutrients
The nutrients and compounds that make this Chive Blossom Vinegar so vibrant contribute to giving us that vibrant glow too! Chive blossoms are rich in flavonoids, carotenoids and chlorophyll, while they also have a very low toxic oxygen radical (aka free radical) level. This makes them a great anti-aging food. They have the potential to play a role in preventing signs of aging, as well as cardiovascular disease and tumour growth.
Chive blossoms are also rich in vitamin C, another tremendous anti-aging nutrient! Vitamin C is required for the body to make collagen (which is one of the key compounds that keep our skin, hair and nails healthy). Not to mention, collagen is also plays an essential role in joint and gut health.
Digestive Stimulant
Both chives and apple cider vinegar are great for digestion. Chive leaves and blossoms have been used for centuries to aid and stimulate digestion. At the same time, apple cider vinegar is excellent for increasing stomach acid and reducing acid reflux.
This one could also go hand-in-hand with anti-aging. When digestion is functioning at optimal capacity, nutrients are better absorbed. This improves overall health and, of course, helps to give us that glow from the inside out.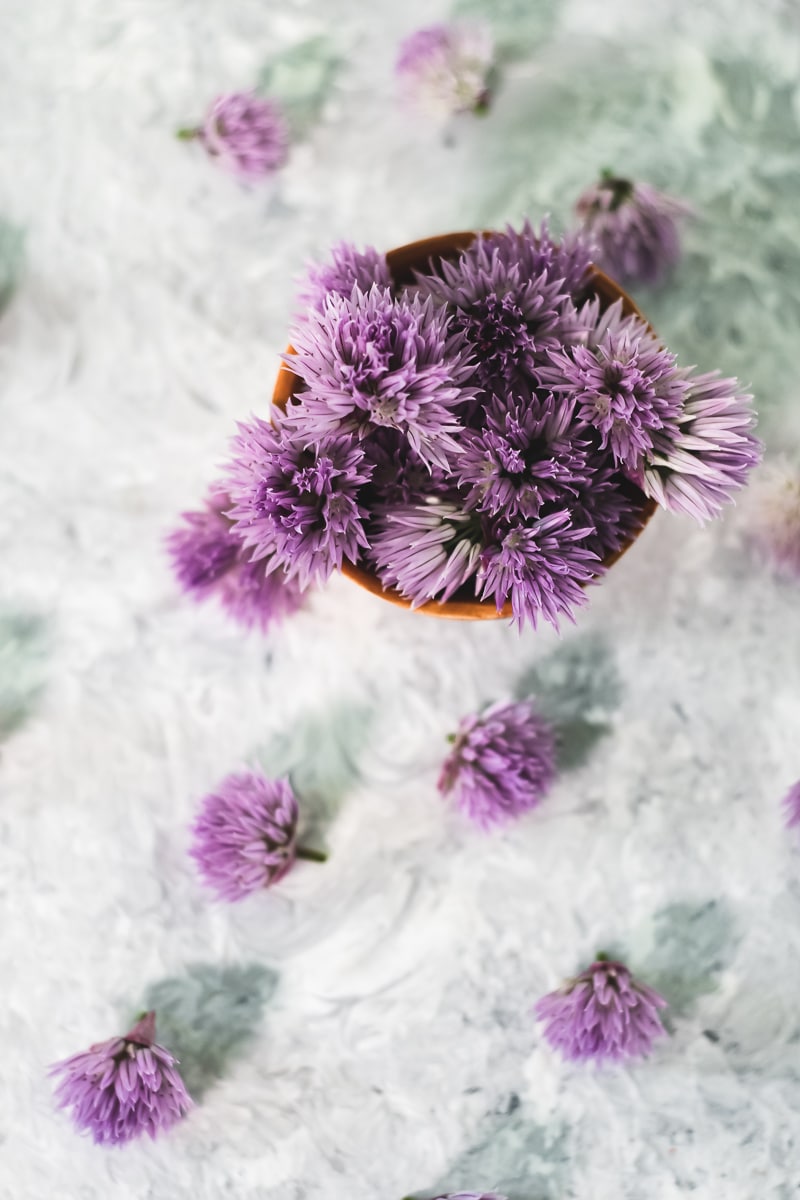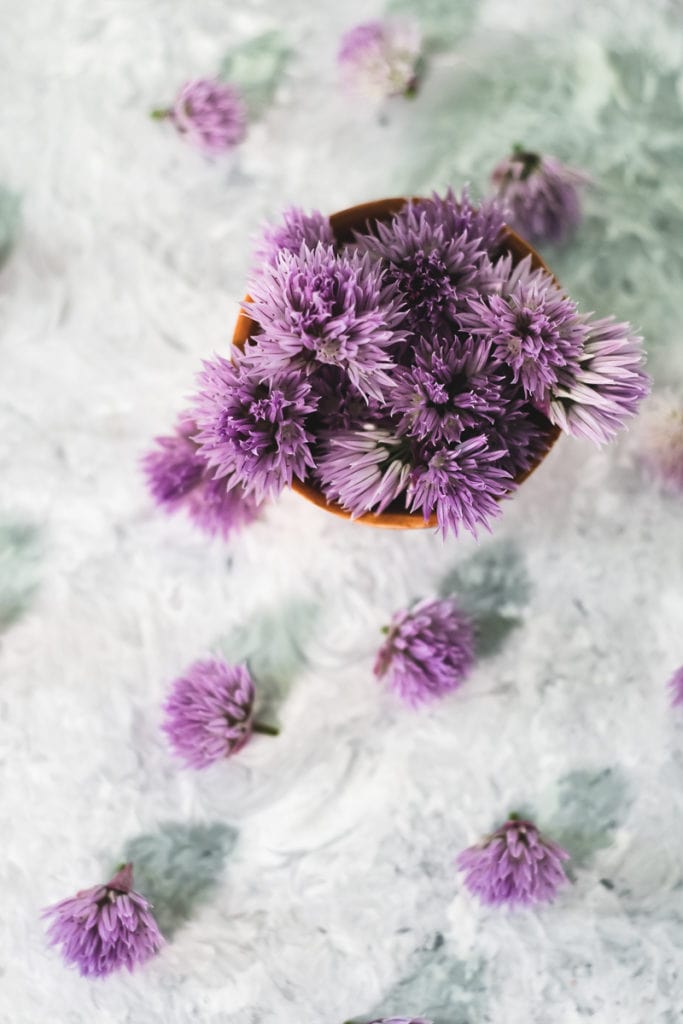 Improves Circulation & Reduces Inflammation
Chives have long been used in Traditional Chinese medicine to treat a wide array of ailments. They are known to help reduce blood pressure and improve circulation, which helps to reduce inflammation in the joints and increase libido.
Detoxifying
Chives also have a detoxifying effect. According to Chinese Medicine, they stimulate the spleen and liver. The liver is responsible for processing and filtering out toxins, while the spleen filters our blood.
Warming / Yang Tonifying
Again, according to Traditional Chinese Medicine, Chives have a warming effect on the body, especially in the mid-section (where our spleen and liver sit). This means chives are best eaten fresh in the spring (when their nutrients are at their peak)—and dried or infused throughout the winter months.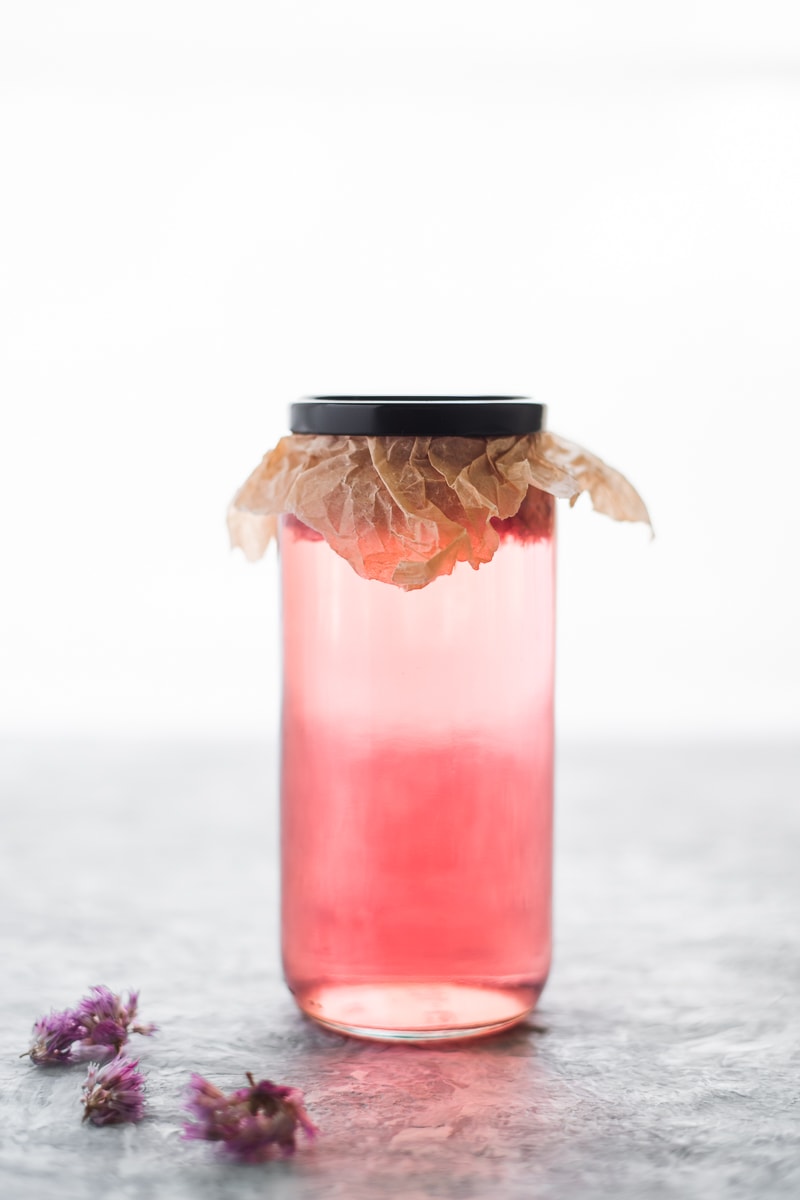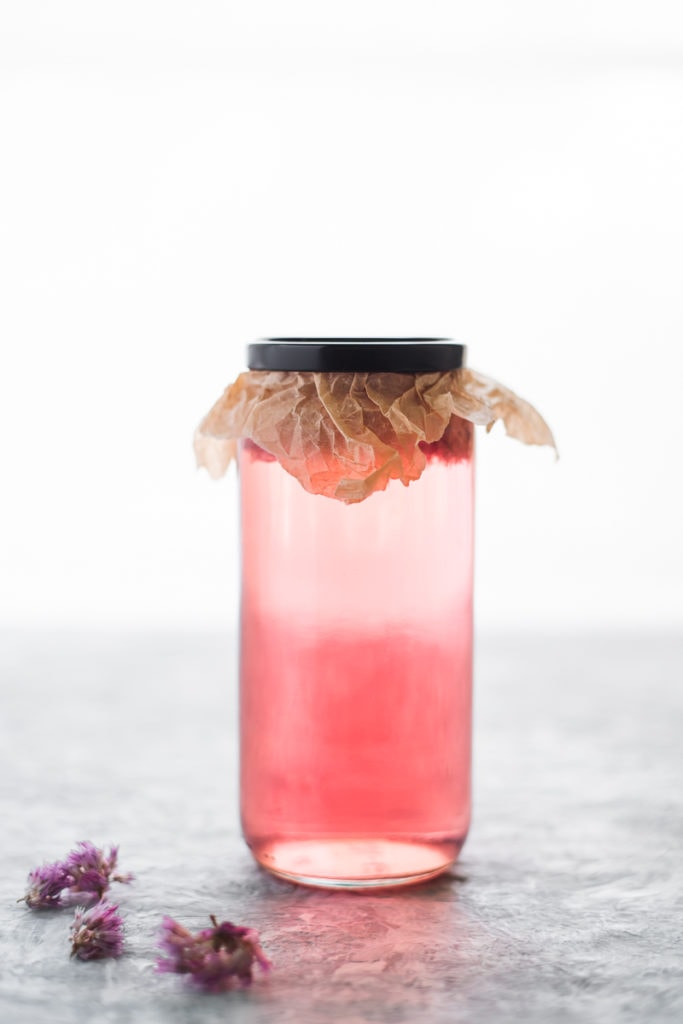 How to Make Chive Blossom Infused Vinegar
Picking and Drying Chive Blossoms
If you're picking your chive blossoms fresh, you only need a handful for a batch. Once you've gathered what you need, place them in a colander and gently rinse them under cool water.
After they're all rinsed off, they'll need to dry. You can do this two ways. The quicker way is to spread them out on a flat surface (or a drying wrack) and leave them in the sun for an hour or two.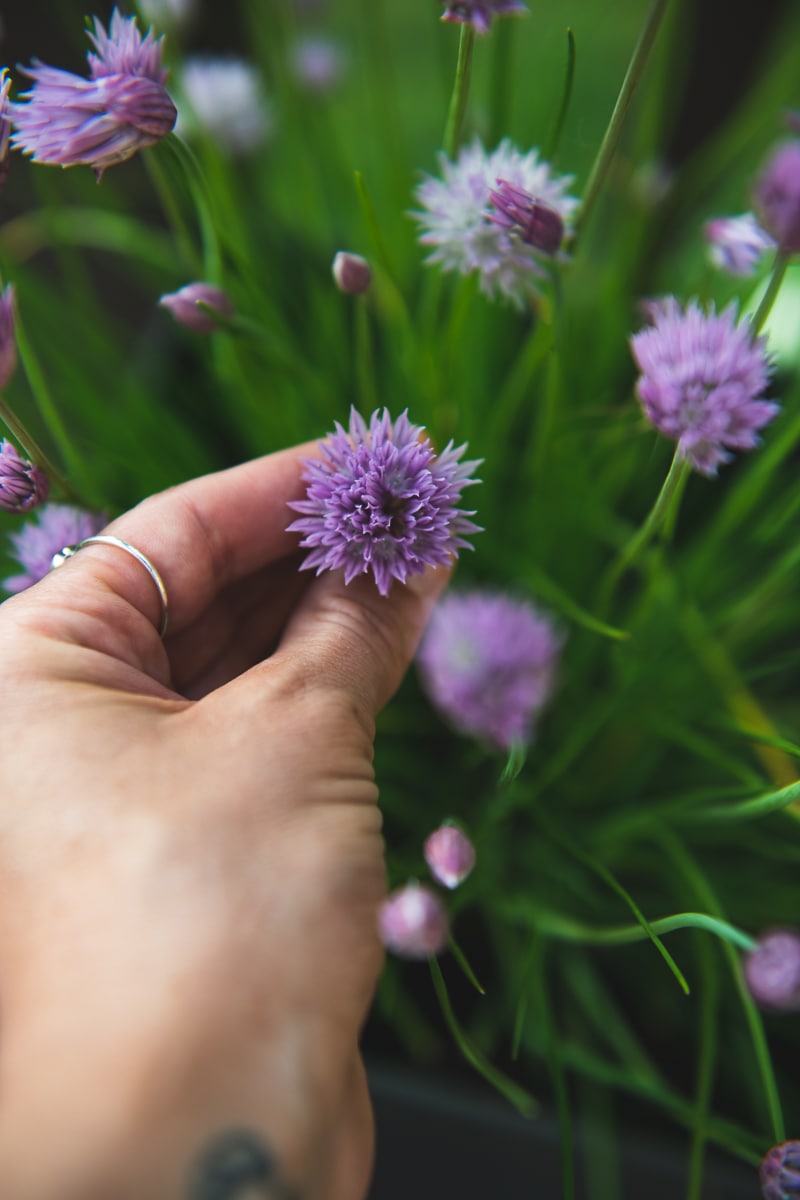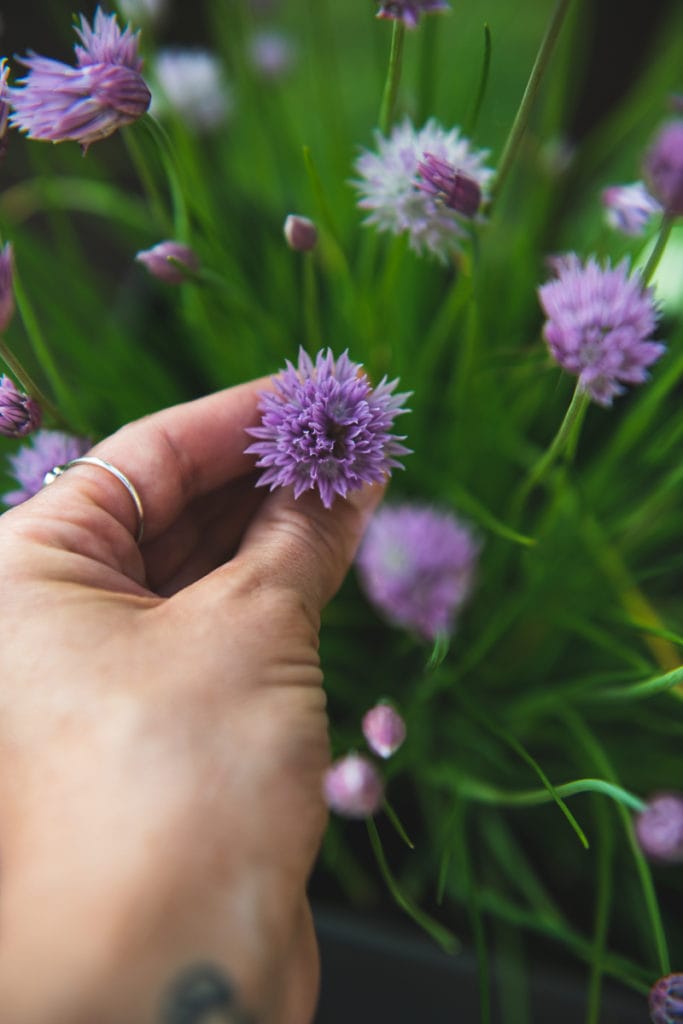 The second takes a bit longer. However, it's perfect if you need to pick the flowers before they turn but don't have time yet to prepare the vinegar. All you need to do is spread the freshly rinsed chive blossoms out on a clean, flat surface (or drying wrack) in a well-ventilated area and leave them for 24 - 48 hours.
I should also note, whether you dried them in the sun or not, once they are dry, they will keep. You can seal them in a jar to preserve their freshness until you're ready to use them. That being said, the longer they sit, the less potent the nutrients and flavour will be.
What You'll Need To Make Chive Blossom Infused Vinegar
Once your chive blossoms are nice and dry, it's time to add them to some vinegar! You'll need just a few things.
A Sterilized Jar
Parchment Paper (preferably unbleached)
Jar Lid / Jar Ring / Elastic Band
A 500 ml bottle of Vinegar (You can use White Wine Vinegar, Rice Vinegar or Apple Cider Vinegar)
A Handful of Chive Blossoms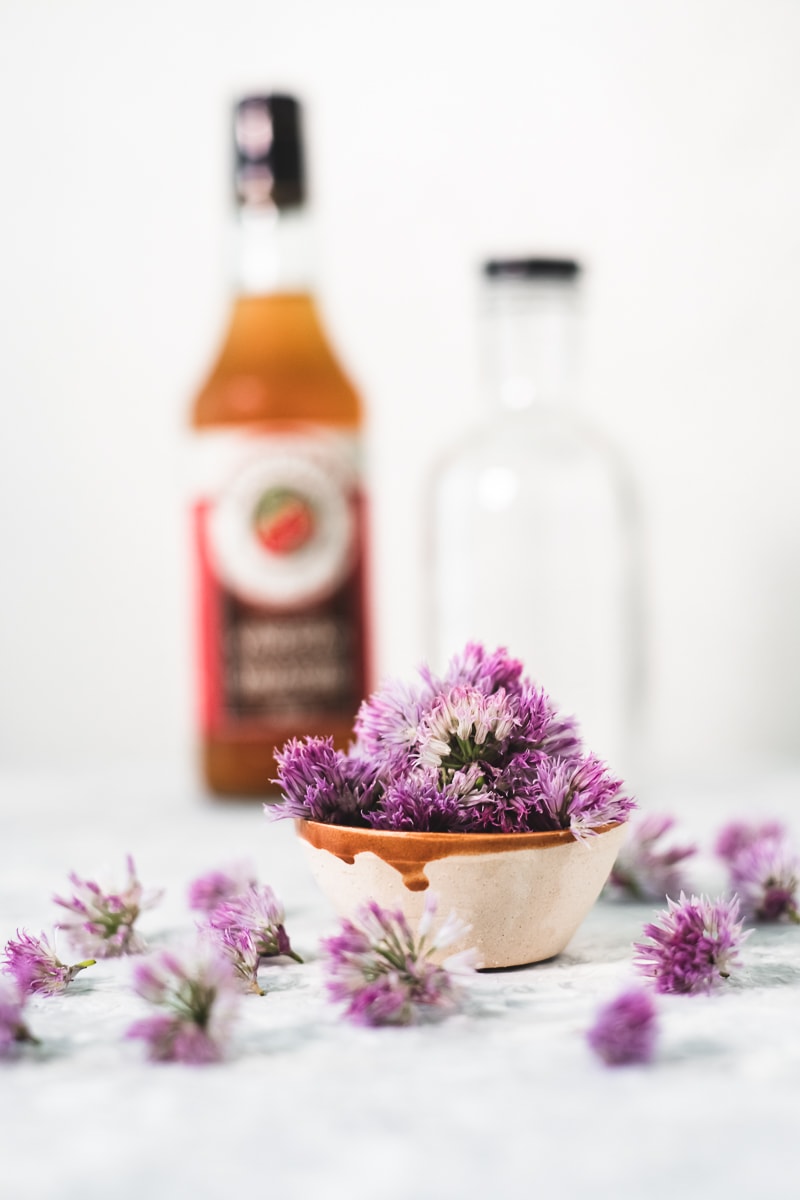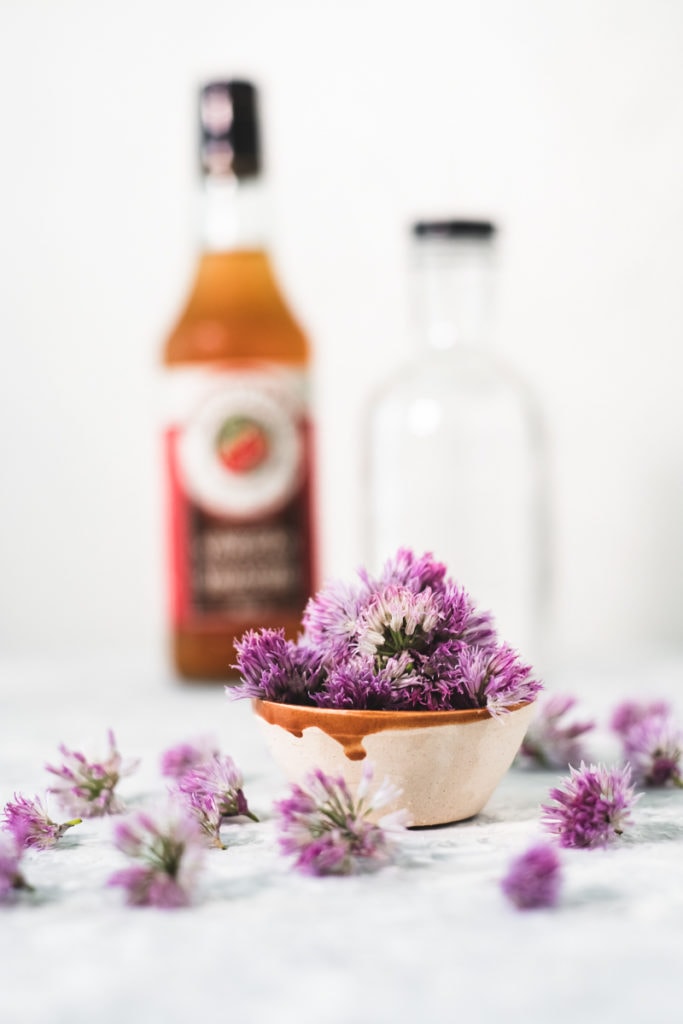 Infusing Your Chive Blossom Vinegar
Step 1 - Sterilize Jar
First, you'll need to make sure your jar is sterilized. You can do this by placing it in a bath of boiling water for about five minutes.
Step 2 - Add Chive Blossoms & Vinegar To Jar
Next, add your rinsed and dried chive blossoms to your sterilized jar. Then pour your vinegar of choice over top of the blossoms (I like using apple cider vinegar, white wine vinegar or rice vinegar).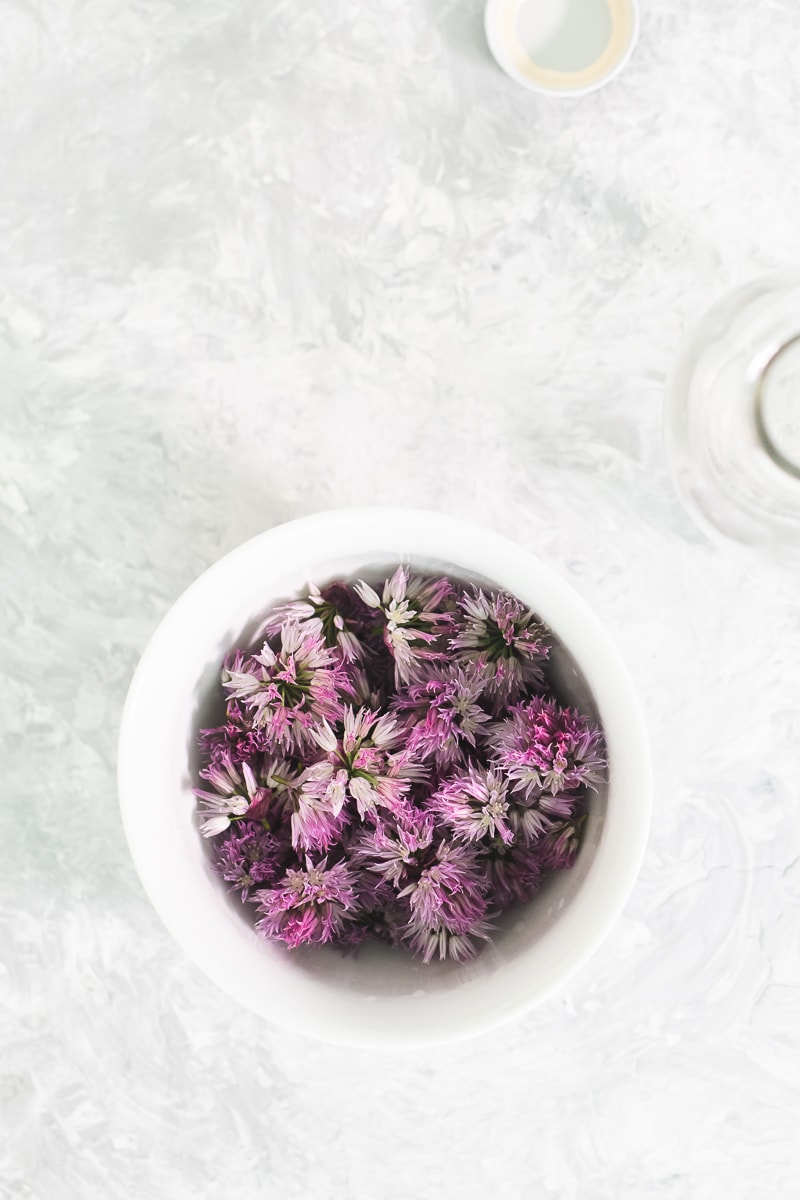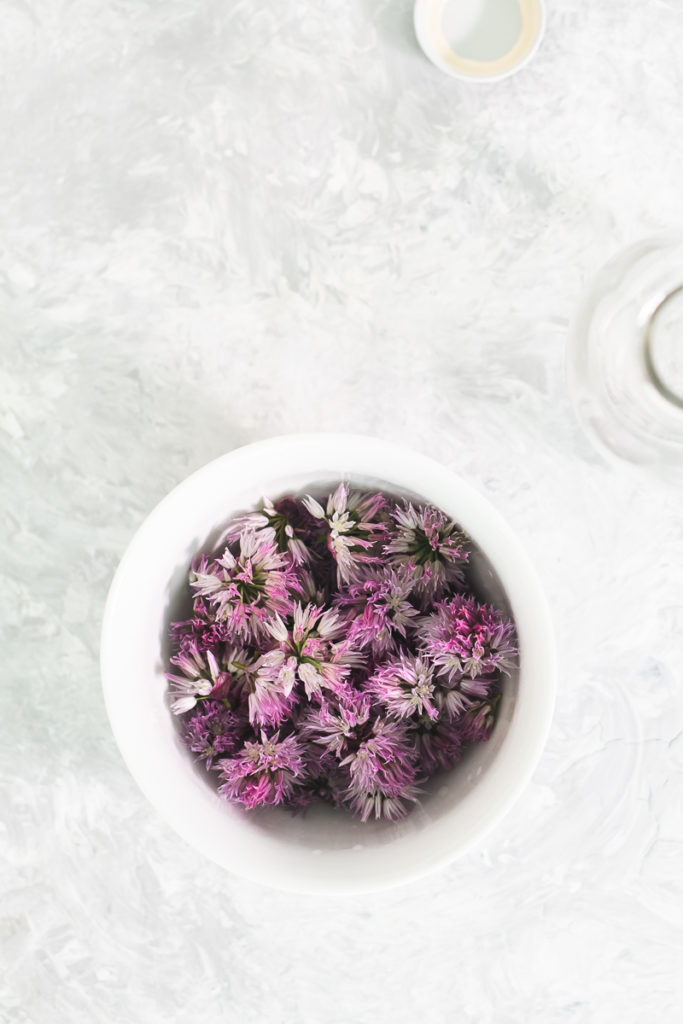 Choosing A Vinegar
Some use regular white vinegar. However, I try to avoid using it for consumption as it can be quite harsh on our gut flora. It's great for cleaning but not so much for eating. If you are going to use white vinegar for consumption, make sure it's distilled.
If you're looking for the most nutritious vinegar to use, definitely go with apple cider vinegar. Although I should note, it stays slightly amber and doesn't take on as pink a hue. So, if you're looking to get the most vibrant pink hue, use either rice vinegar or white wine vinegar.
Step 3 - Cover or Seal with Parchment / Non-Metal Lid
Once you've poured your vinegar over the chive blossoms and filled the jar, all you have to do is cover it and let your vinegar infuse. The acidity in vinegar is known to react with metal, so it's best not to use regular metal canning lids for this. You can use a piece of parchment paper and seal it with a jar ring or an elastic. You can also use a clean cloth, cork or a plastic canning lid.
Step 4 - Infuse for Two Weeks
Now for the easiest part, place your jar of Chive Blossom Vinegar in a cool, dark place for up to two weeks. You can leave it for just a few days. However, both the flavour and colour become much more potent when you let it infuse for about fourteen days.
Step 5 - Strain & Store
Once your chive blossom vinegar is infused and looking vibrant, it's time to strain out the blossoms and transfer it into a bottle to store in.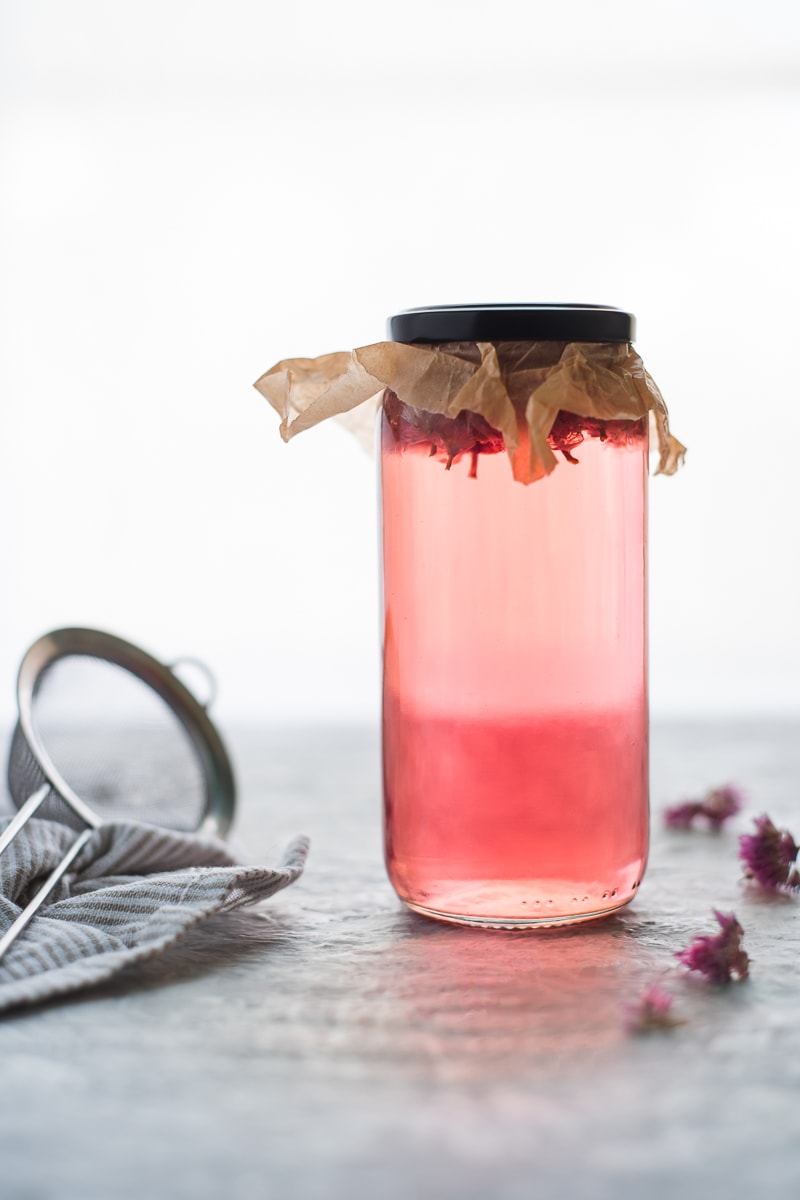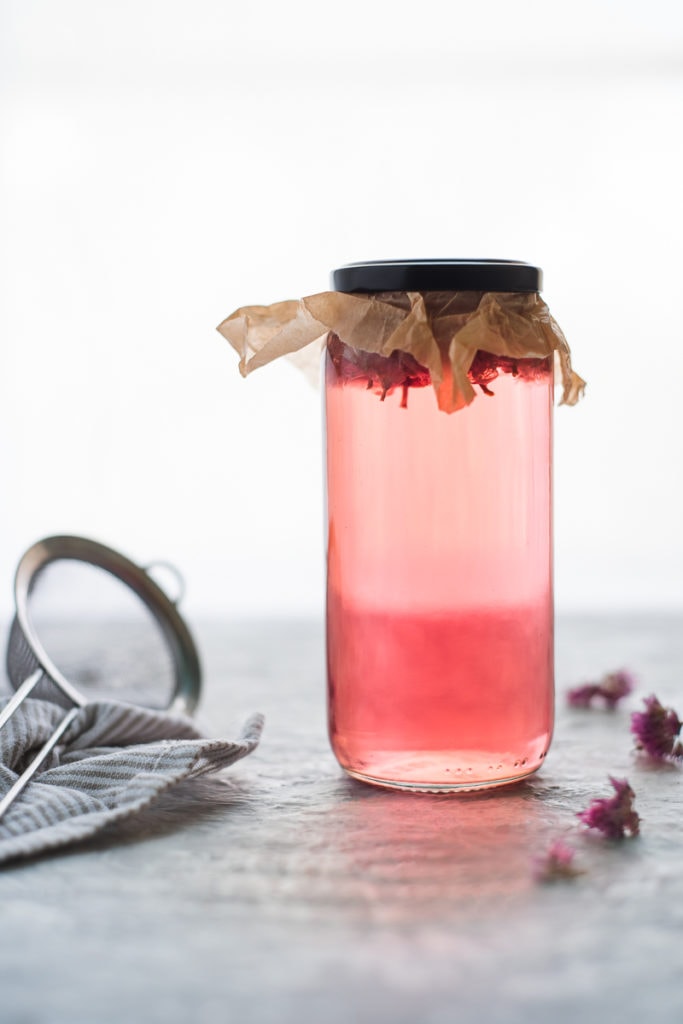 I find it easiest to place a small strainer or sieve over a liquid measuring cup, pour the vinegar through and then transfer the strained vinegar to a glass jar to store. Again, I prefer not to use metal lids for storing infused vinegars. Corks, flip-lids or salad dressing bottles work wonders.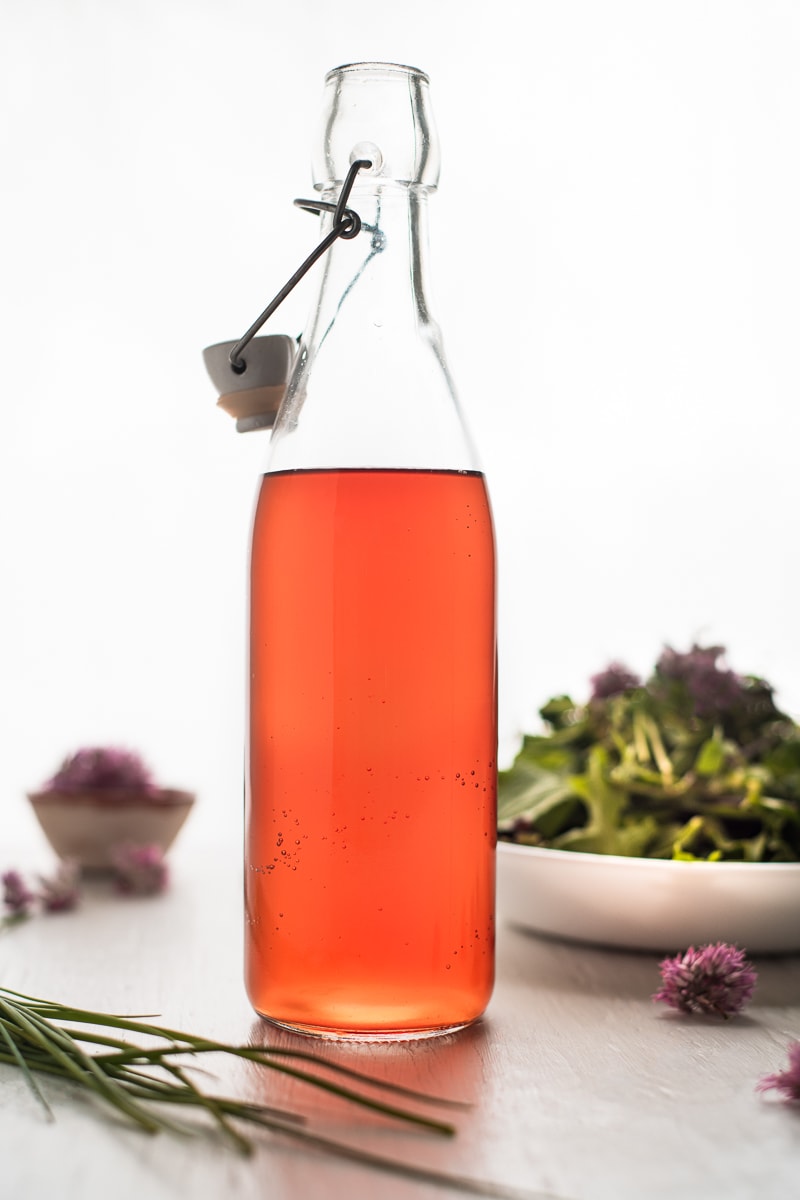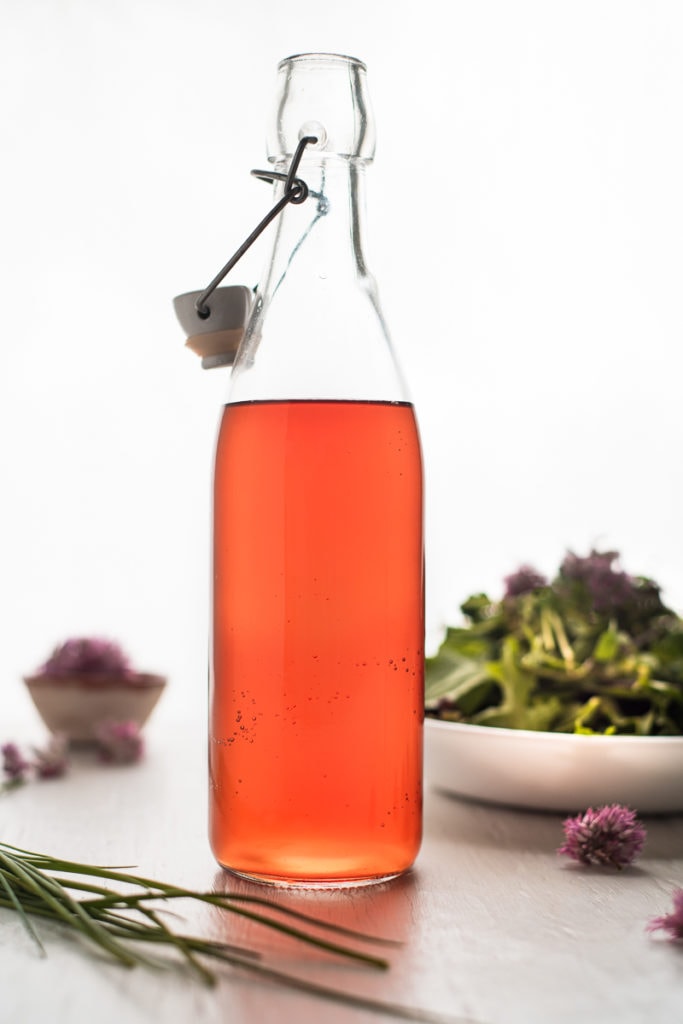 How Long Does Chive Blossom Vinegar Last?
Vinegar is self-preserving, giving it quite a long shelf life. If sealed and stored correctly, Chive Blossom Infused Vinegar can last up to three to five months in a cool, dark place. When stored in the refrigerator, it will last for six to eight months. Infused vinegars usually start to lose their colour and take on a brown hue when they are past their prime. However, if you use apple cider vinegar, it stays more of an amber colour rather than taking on a pure pink hue.
More Healthy Cooking Staples You Might Enjoy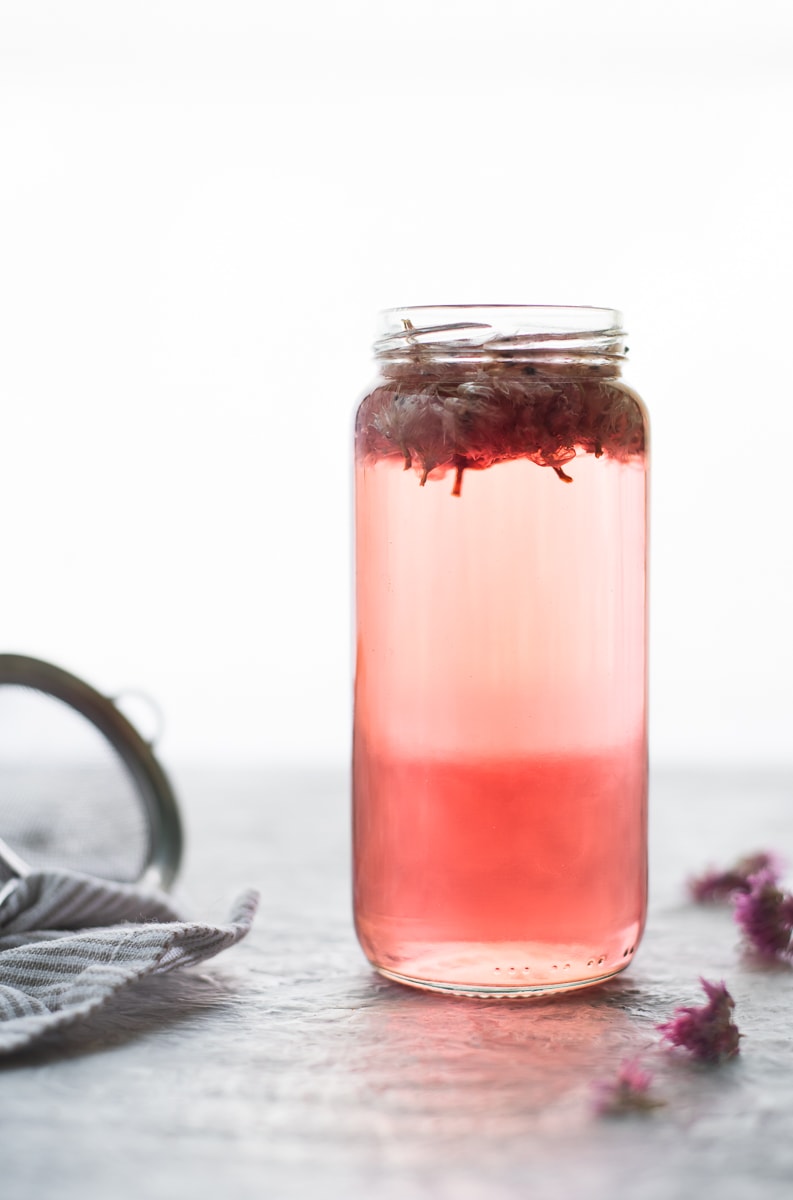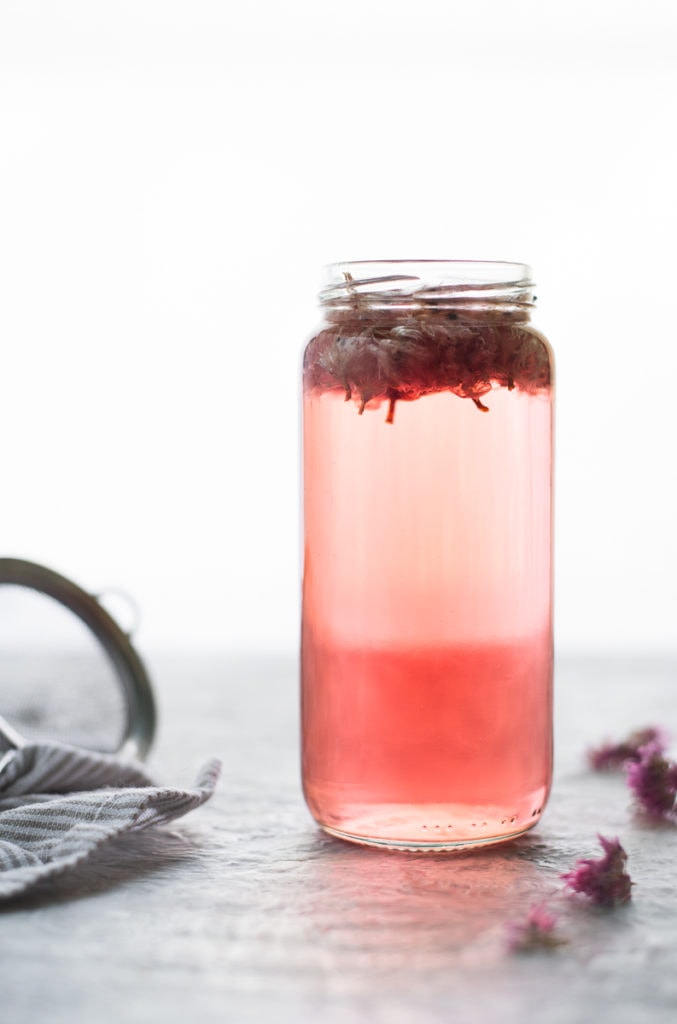 If you try this Chive Blossom Infused Vinegar recipe, let me know how it turns out by leaving a comment and/or a rating below! And make sure you're following along on, Pinterest, Instagram and Facebook for more wildly nutritious recipes!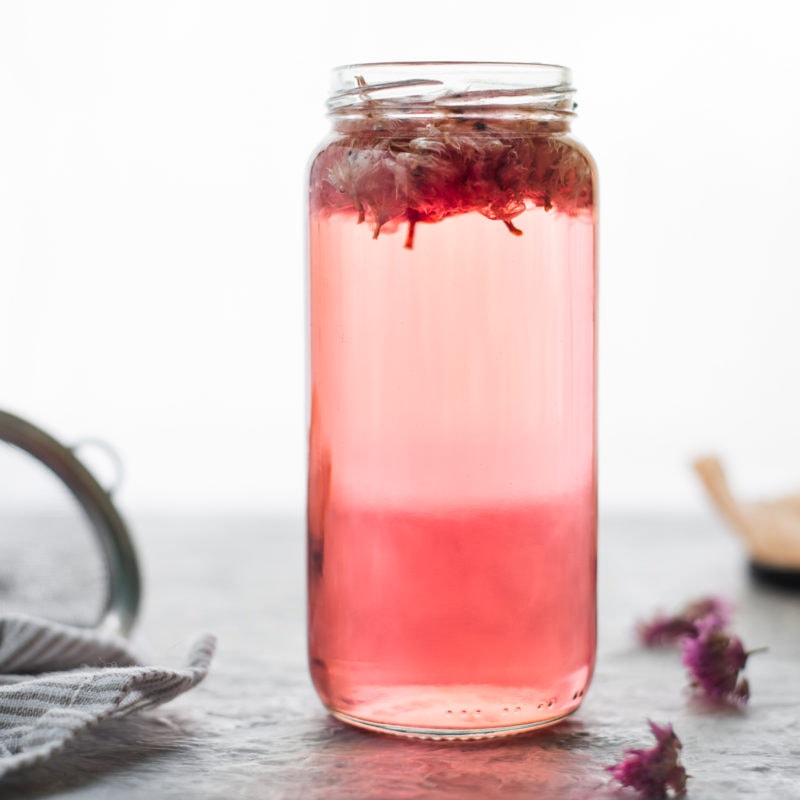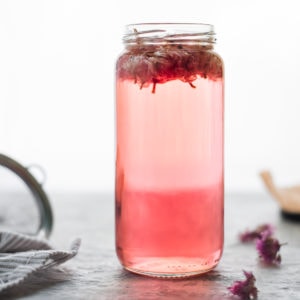 Easy DIY Chive Blossom Infused Vinegar
A vibrant, nutritious and delicious chive blossom infused vinegar!
Pin Recipe
Rate Recipe
Equipment
Sterilized Jar

Jar Lid / Jar Ring / Elastic Band

Strainer
Ingredients
1

handful

Chive Blossoms

1

bottle

White Wine Vinegar / Apple Cider Vinegar / Rice Vinegar
Instructions
Rinse a handful of chive blossoms in a fine mesh strainer.

Spread the rinsed blossoms our out on a flat surface or on a mesh drying rack. Either place in direct sunlight for an hour or two, or place in safe place that has good airflow for 24 - 48 hours.

Once the blossoms are dry place into a sterilized glass jar.

Pour your choice of vinegar over top. (*See notes for details on choosing a vinegar).

Place a peice of parchment paper overtop and seal with the jar lid/ring or an elastic band. The acidity of the vinegar can react with metal, so it's best practice to use parchment paper. However, you can also use a bottle with a quork, a clean cloth (sealed with an elastic band) or a plastic canning lid.

Once you have let your vinegar to infuse for up to fourteen days, it's time to strain out the blossoms. Place a strainer overtop a measuring cup, bowl or wide-mouth jar and pour the vinegar through. Toss the blossoms in the compost and pour the strained vinegar into a jar to store. Salad dressing bottles work great for this!

Use as you would other vinegars.

You can store this Chive Blossom Infused Vinegar in fridge for up to eight months.
Notes
*If you're looking for the most nutritious vinegar to use, definitely go with apple cider vinegar. Although I should note, it stays slightly amber and doesn't take on as pink a hue. So, if you're looking to get the most vibrant pink hue, use either rice vinegar or white wine vinegar.
---
This vinegar is great for salad dressings! It goes great with a little olive or flaxseed oil and drizzled over fresh some leafy greens.
---
Nutrition
Serving:
1
tablespoon
|
Calories:
1
kcal
|
Carbohydrates:
1
g
|
Protein:
1
g
|
Sodium:
1
mg
|
Potassium:
1
mg
|
Vitamin A:
1
IU
|
Vitamin C:
1
mg
|
Calcium:
1
mg
|
Iron:
1
mg
This post contains affiliate links where I may earn a small commission for purchases made through the links. I only recommend products and brands that I trust and use myself. All opinions and information provided have come from my own experience and research. Please read my full disclosure and privacy policy for more information.