Ever look at the ingredients in most pre-made, packaged vegetable broths? They're not usually made with the most nutrient-dense ingredients and are more often than not, filled with sugars, gums and preservatives (not exactly health-promoting). Well, this Homemade Vegetable Broth utilizes leftover vegetable scraps, so it's easy on the wallet and packs a serious nutritional punch! It's also gluten-free, vegan and depending on what veggies you use, it can be made keto-friendly!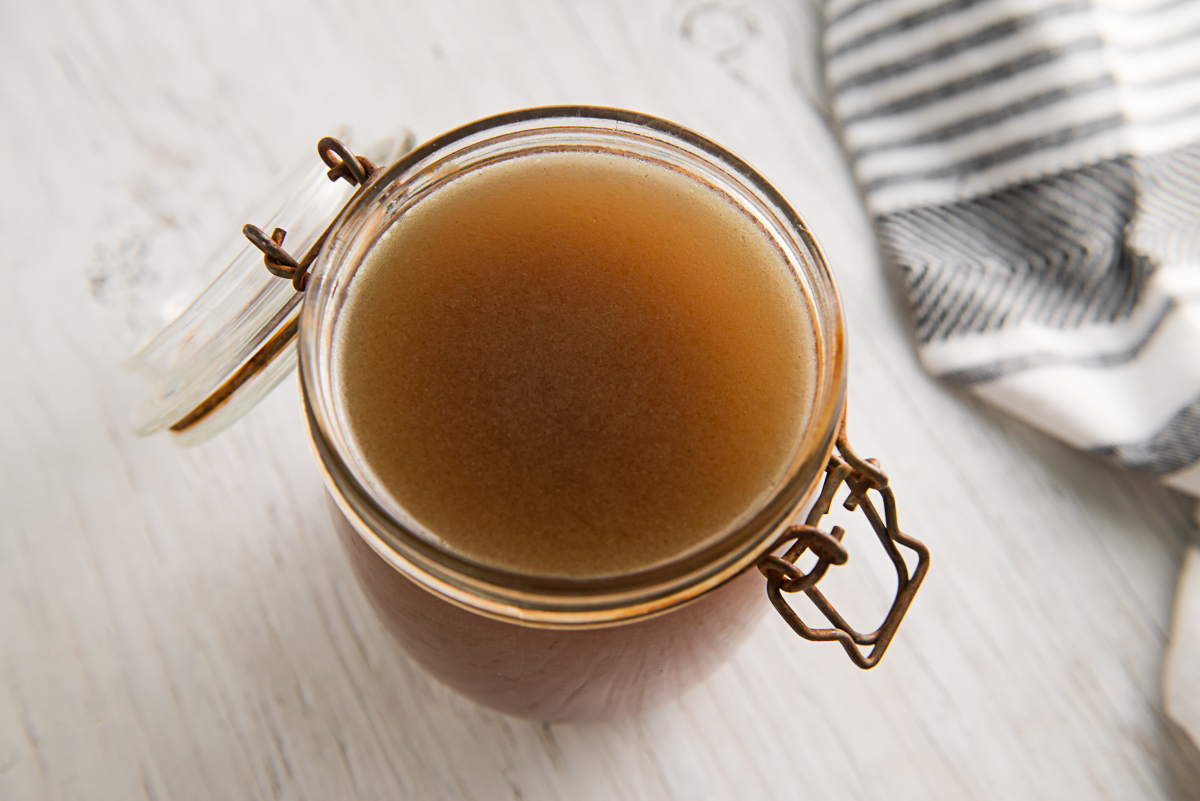 I love making my own vegetable broth for many reasons.
For one, it's surprisingly simple and not as time-consuming as one may think. Another reason is that it saves money on buying store-bought. Plus, it's much more nutrient-rich when you make homemade, as you can control what exactly goes in.
However, one of the main reasons I love making homemade vegetable broth is that it's a great way to cut down on waste! Believe it or not, I never actually spend money on fresh vegetables to use for veggie stock. I freeze almost all of my veggie scraps (the bits and ends I would typically throw in the compost). Then, whenever I'm in need, I use the frozen scraps to make a fresh batch of broth. As long as it's not mouldy or buggy, pretty much anything goes - from veggie ends and shavings to kale stems and citrus rinds! It's also a great way to save and use your produce that's wilted or about to expire. The options are endless!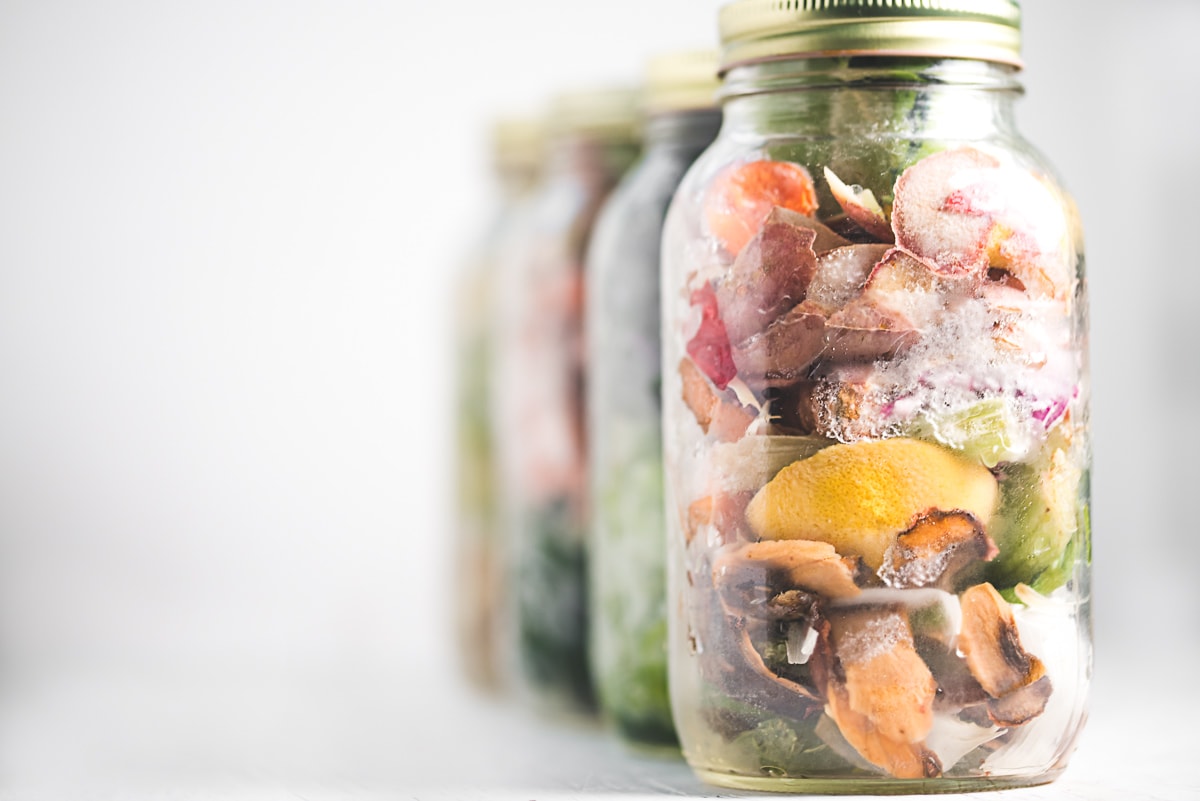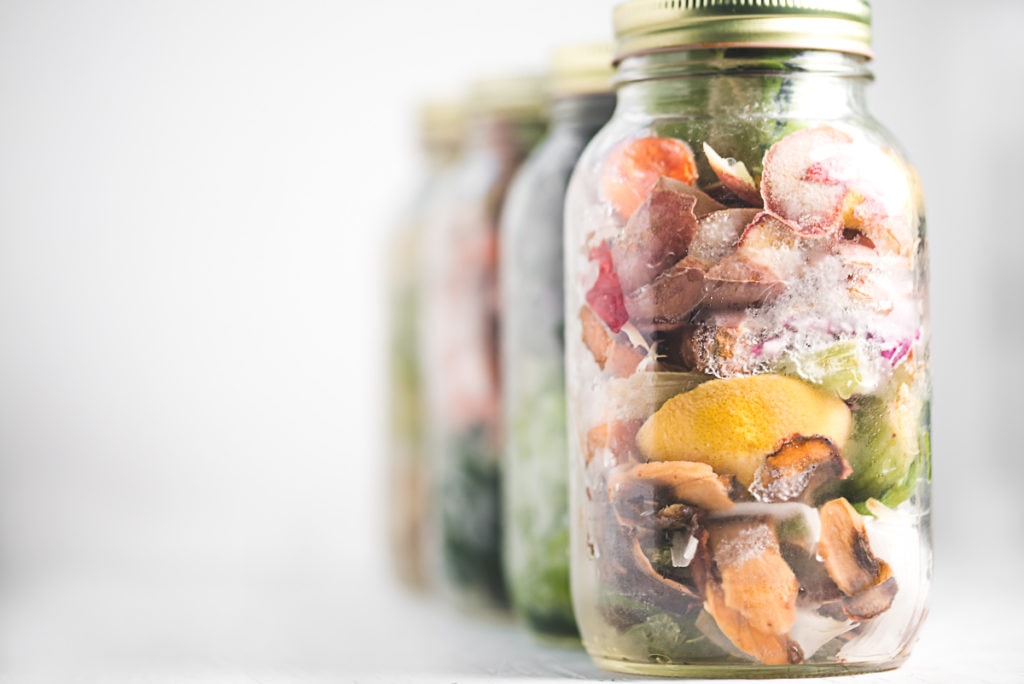 Why Homemade Vegetable Broth Is Healthier
Many store-bought vegetable broths contain added sugar, too much sodium and are made mainly with vegetable and herb powders. The problem with these powders is that we don't know the quality of the ingredients they're made from. The vegetables and herbs used are probably not in good enough shape to sell (or even eat for that matter). Some of the lower quality vegetable broths even add gums, fillers and artificial flavours (which can be a chemical concoction just barely passing as "food grade."
Making homemade vegetable broth is the best way to ensure your broth is made from real food! The nutritional value of your veggie broth will vary, depending on what you put in. Using organic produce is highly recommended as there is a much less chance they contain harmful glyphosate and other pesticides. Making homemade stock is a great way to control the flavour and increase the nutritional value to your soups, stews, rice and sauces.
Great Veggie Scraps to Save​
Garlic and Onion Skins (If Organic)
Carrot, Potato & Beet Shaving (If Organic)
Ginger & Turmeric Ends and Skin
Wilted Greens & Herbs
Lemon Rinds (If Organic)
Veggies Near-Expiry
Broccoli & Kale Stems
Celery Ends and Leaves
Mushroom Ends
Any other Vegetable Ends or Peels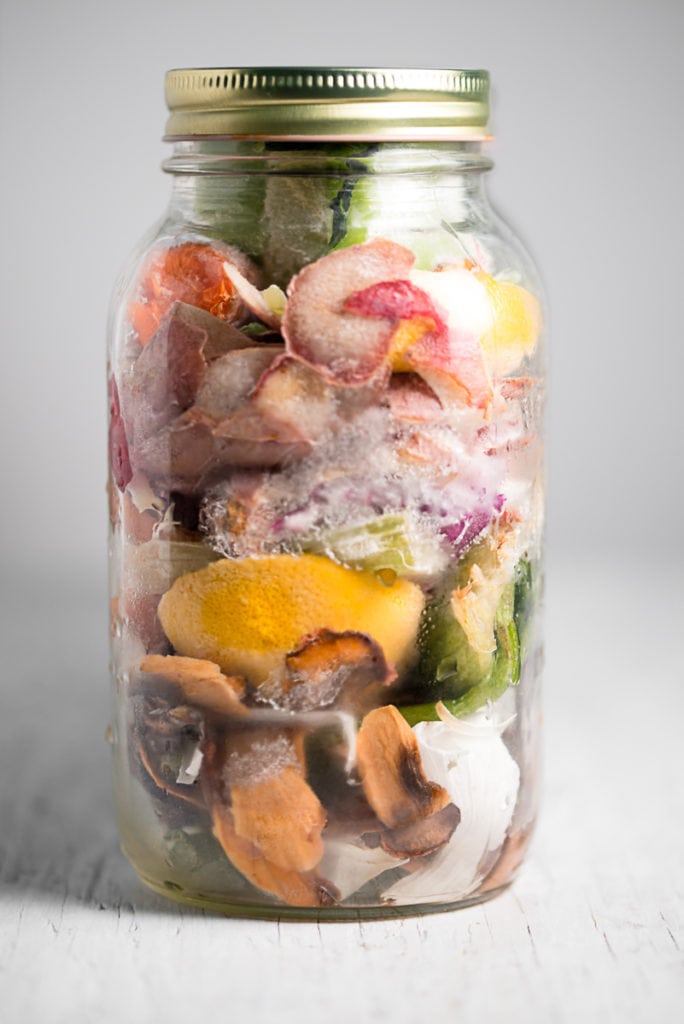 Making Your Vegetable Broth
This vegetable broth is seriously so easy to make! All you need is about one hour and some frozen vegetable scraps (or fresh veg if you prefer), some oil, garlic and onion. You can even omit the oil, garlic and onion if you are on a low FODMAP diet (it's just used for a little extra flavour, but isn't necessary). Simply skip the first step if you are omitting.
First, heat the oil in a large pot. Then add the onion and garlic and cook until fragrant. Add in your vegetable scraps (sometimes this takes a bit of work to remove from your jars. I like using a butter knife to break off chunks). Once you've added your scraps (or fresh vegetables), pour in the water, making sure to cover all the veg. Some like to float to the top, so use a wooden spoon to press down. It's okay if not all veggies are submerged, you can stir them around once they start to boil.
Add in bay leaves and any other herbs and spices (except salt) at this time. Turn up the heat and cover to bring to a boil. Once boiling, reduce the heat and allow it to simmer for at least one hour. You can then scoop out the vegetables with a large slotted spoon or strain with a colander or fine-mesh sieve (making sure to pour your broth into a bowl and not down the sink!).
Allow your broth to cool and then pour into a clean, sealable jar. Once opened, make sure to use your vegetable broth within seven days.
Uses For Your Veggie Broth
Although vegetable broth is most commonly used to make nutrient-dense soups, it also makes a great addition to many other dishes! You can use it instead of water to cook your rice or pasta in. It can also be added to sauces, gravies, marinades and pretty much any other savoury recipe that calls for water! Adding homemade vegetable broth is a great way to add extra nutrition and that umami flavour, especially to plant-based dishes.
What to Make With Your Broth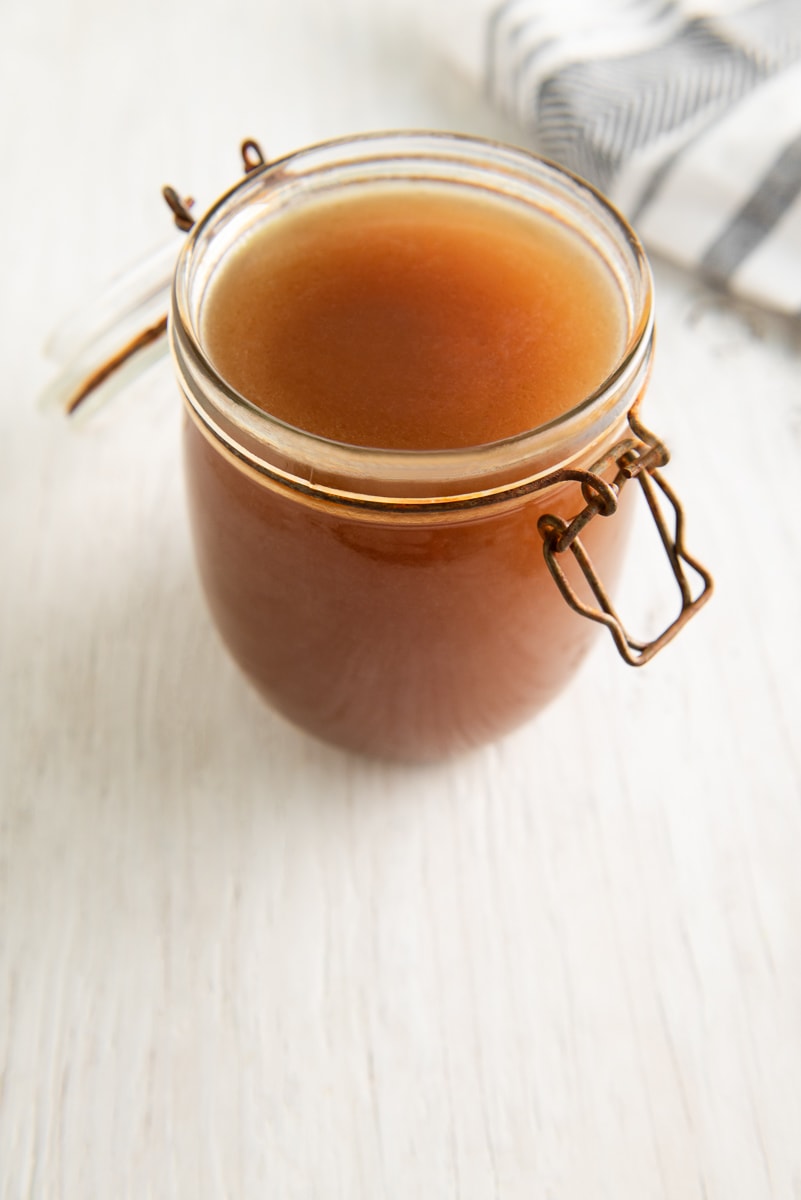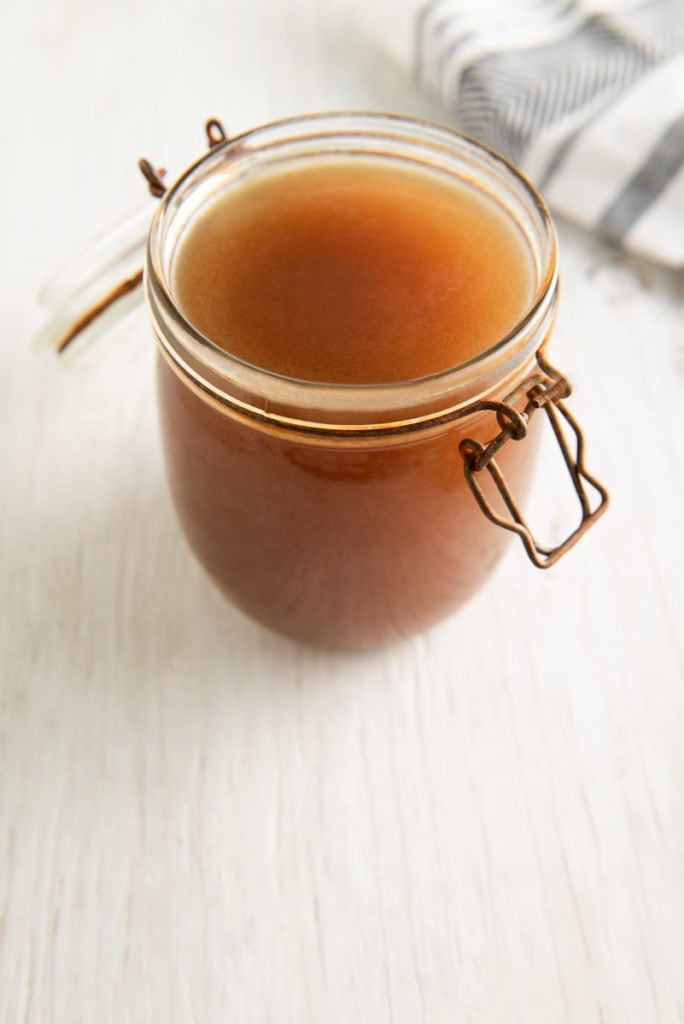 If you try this recipe, let me know how it was by leaving a comment/rating below! And make sure you're following along on Pinterest, Instagram and Facebook for more deliciously healthy recipes!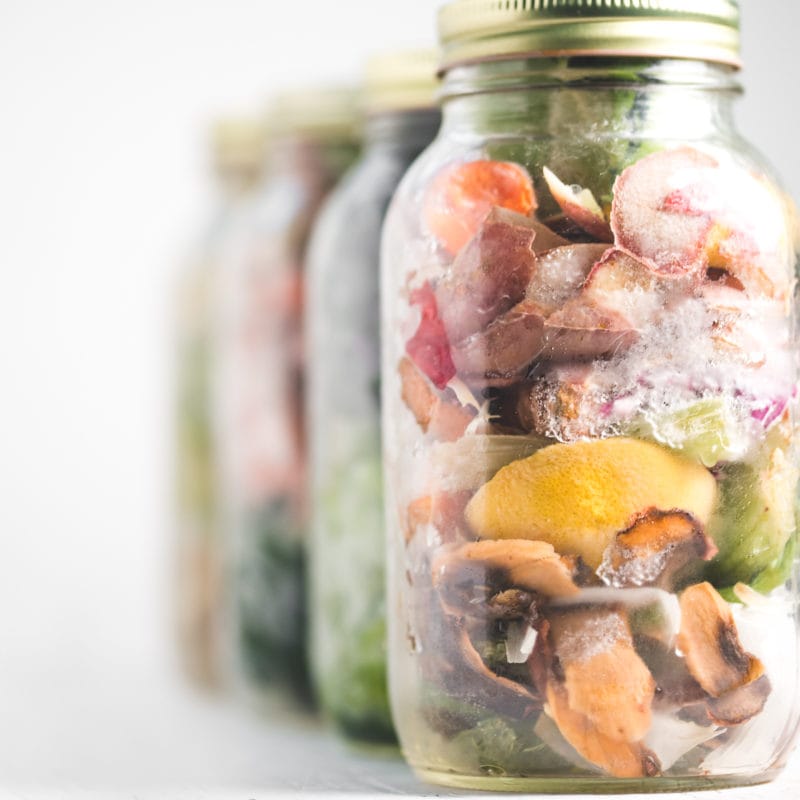 HOMEMADE VEGETABLE BROTH
Learn how to make a flavour-rich, affordable, waste-reducing Homemade Vegetable Broth that's easy, nutrient-rich, low in sodium and free of unnecessary additives.
Pin Recipe
Rate Recipe
Ingredients
4-5

cups

Vegetable Scraps

8-10

cups

Filtered / Spring Water

1

medium

Onion

(chopped)

1-2

Garlic Cloves

(minced)

1-2

tablespoon

Avocado / Olive Oil

1-2

Bay Leaves

Himayayan / Sea Salt to Taste

(optional)
Instructions
Heat the oil in a large pot over medium heat. Add in the onion and garlic and cook until fragrant and transparent.

Add in vegetable scraps, followed by the water, making sure the water covers all the veggies.

Bring to a boil and then reduce to low. Cover and let simmer for at least 1 hour.

Scoop out veggie chunks with a large slotted spoon or strain broth through a colander. Then strain again through a fine-mesh sieve.

Pour into a clean jar and let cool.

Store in the refrigerator for up to 1 week.
Notes
I usually don't add any salt to my vegetable broth since it often gets added to a dish where I'm adding spices and salt anyway. If you wish to add salt to your broth, add it once it has cooled for a few minutes (just before jarring).
---
*The longer you let the vegetable scraps simmer, the more the water will evaporate, and the stronger it will taste. If it turns out stronger than you desire, you can always mix in some fresh water to dilute it!
---
*Try to buy organic produce whenever possible to reduce exposure to harmful toxins and xenoestrogens.
Nutrition
Serving:
1
cup
|
Calories:
25
kcal
|
Carbohydrates:
2
g
|
Protein:
1
g
|
Fat:
2
g
|
Saturated Fat:
1
g
|
Polyunsaturated Fat:
1
g
|
Monounsaturated Fat:
1
g
|
Sodium:
18
mg
|
Potassium:
56
mg
|
Fiber:
1
g
|
Sugar:
1
g
|
Vitamin A:
228
IU
|
Vitamin C:
6
mg
|
Calcium:
14
mg
|
Iron:
1
mg